The First Cannabis-Friendly Hotel in Las Vegas Opens in Time for Summer
Enjoy topless sunbathing, after-hours parties, and the sweet taste of legal consumption.
Courtesy of The Lexi Las Vegas
Courtesy of The Lexi Las Vegas
Las Vegas has a complicated relationship with cannabis. Dispensaries and recreational use have been legal for years, and anyone over 21 with an ID can buy the stuff. But despite what you might smell in parking garages and hotel hallways, public consumption remains limited by law to private residences. Most resorts don't want anything to do with it, especially those with casinos on the property that wouldn't dare risk their gaming licenses. You need a squeaky clean image to have one of those—the mob no longer runs this town.
So it's about time The Lexi came along. The 64-room, casino-free boutique hotel just west of the Strip at Sahara Avenue and Interstate 15 is proudly marketing itself as the first cannabis-friendly resort in Las Vegas.
"It's not cannabis-centric," clarifies Alex Rizk, CEO of Elevations Hotels and Resorts, the company that runs The Lexi. "It's cannabis-inclusive."
That means you're free and clear to get high but don't whip out your lighter and bong just yet. The Lexi is now accepting reservations and welcoming guests, but management has made it clear that they won't allow marijuana use on-site until long-awaited laws for public consumption are expected to be approved later this year. While some of the best Las Vegas dispensaries plan to open lounges when legally permitted, why hang around a lounge when you can pop gummies and light blunts inside your hotel room?
"Would you want to go to a liquor store and drink in the corner?" managing partner Nick DiFerdinando asks. "It's not just stoner culture anymore. There's a lifestyle that goes along with that, from doctors and attorneys to executives. We want to give them an exclusive private environment [to consume in]."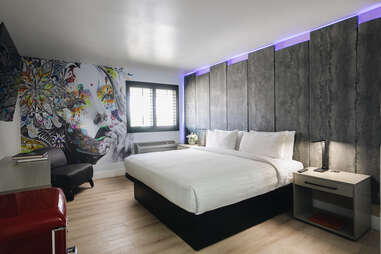 The Lexi was originally a Travelodge when it opened in 1979. Over the years, it evolved into the Artisan, an adults-only playground with topless sunbathing and after-hours parties for those who didn't want to go home after the action at the clubs tapered off. Pro Hospitality Group—Elevations's real estate investment component—bought the property for nearly $12 million in 2022 and spent at least $3 million on renovations.
The units on the fourth floor, known officially as "420 rooms," are cannabis-friendly with commercial-grade RestorAir filtration systems to eliminate any smells. Smaller versions of the air purifiers are plugged into other rooms despite a no-smoking policy. You know, just in case.
In fact, all rooms were remodeled with a few goals in mind: comfort, style, and eliminating anything that could trap or soak in lingering smells. Hanging artwork was removed from the walls and replaced with hand-painted murals. Carpets were ripped out, with laminate flooring now in place. There are no drapes in sight. Instead, dark wooden shutters cover up the windows. There are also no closets, but there is open shelving and hangers in a modern-rustic wood-and-pipe layout. The rooms also include a freestanding Galanz retro mini-fridge for some added munchies storage.
Those familiar with the Artisan will notice a few more changes throughout the property. The lobby, which was known for its dark and moody atmosphere with Renaissance-inspired artwork, was brightened up and redesigned with more contemporary furnishings. The towering neoclassical indoor fountain is still around, sandblasted to look as good as new, with old-school chandeliers repurposed from other parts of the hotel for a timeless accent. A secluded wedding chapel is now a private dining room with a sleek, linear fireplace. Prefer booze to blunts? A craft tequila and whiskey lounge is also in the works.
The intimate pool deck remains a charming hangout to soak in the sun with cabanas, daybeds, and a DJ booth, while an adjacent lawn-covered courtyard is on standby for overflow lounge chairs. And, yes, the hotel remains 21-and-over with topless ("European-style") sunbathing allowed by the pool.
The Lexi further tips its hat to the old brand with its renovated Artisan Lounge, a cocktail parlor with a tight, efficient food menu that covers plenty of ground, from kalbi short rib nachos to lobster mac 'n cheese and a prime Allen Brothers strip loin. The tree-lined driveway and porte-cochère—where parking is valet-only—give the property a vintage Hollywood touch, with bronze dogs guarding the front entrance.
Not looking to stray too far from its predecessor's legacy, The Lexi is planning to bring back pool parties, after-hours events, and special DJ nights. One infamous aspect of the Artisan's history—a reputation as a favorite for swingers or the "lifestyle community"—remains the elephant in the room, even in a town as provocative as Sin City.
"We are not a swingers hotel per se," DiFerdinando says. "I know the Artisan was considered that. If the right group came to us and wanted to buy us out, we'll have a conversation just like any hotel would."
But he's also careful to note that in such a situation, things wouldn't get too crazy. No public nudity is permitted outside topless sunbathing, and, as always, sexual activity would be kept behind closed doors.
It's clear the hotel prefers to hang its hat on a cannabis-friendly reputation and identity. Elevations isn't jumping into this lightly. The company already has a successful proof-of-concept: The Clarendon in Arizona lit up the marijuana scene in Phoenix with a consumption-friendly policy last year.
So who is Lexi anyway?
"Lexi represents…a classy girl in town," Rizk says. "She's a muse who invites you into her fold."
The name suggests temptation and a cheeky playfulness—perhaps an ode to vices past and present, which continue to evolve in the sinful city of Las Vegas.
Rob Kachelriess
has been writing about Las Vegas in Thrillist for more than nine years. His work has also appeared in
Travel + Leisure
, Trivago Magazine, Sophisticated Living, Modern Luxury, Leafly, Las Vegas Magazine, and other publications. He doesn't smoke in hotel rooms. Follow him on Twitter
@rkachelriess
.