Flickr/Nevada National Security Site
Flickr/Nevada National Security Site
A tour of the Nevada National Security Site doesn't begin with a champagne toast. It gets underway with a sip of water and a warning to drink at least one full bottle during the day-long excursion. It's hot out there in the desert, especially when exploring the rugged and vast landscape the US Department of Energy used to test close to a thousand nuclear weapons during the Cold War.
Yet it's only 65 miles northwest of Las Vegas. In a town that includes an Adele residency and Formula 1 grandstands, visits to the Nevada National Security Site (NNSS) are among the hottest tickets around, offered to the general public just once a month.
Tours for the first half of 2024 (January 22, February 5, March 11, April 8, May 6, and June 3) are up for grabs when an online registration link goes live Monday, August 28, at 10 am Pacific Time. The good news is that they're free. (The US military is more about spending money than accepting it.) The bad news is that they get snatched up almost instantly. If you miss out, those with memberships at the Atomic Museum get a crack at less competitive VIP tours three times a year, so consider signing up.
The museum is actually where the tour begins, ushering about 50 participants aboard a single bus for the drive out of town. No cell phones or cameras are allowed. Everyone is required to wear long pants and closed-toe shoes. This isn't the Grand Canyon. Yes, you're a tourist, but also an official guest of the US government. You'll wear a badge the entire time, taking it off only when taking part in one of four group photo moments.
After passing a security check at the main gate, the bus enters Mercury. Call it a town, village, or military base. It's basically a combination of all three and the largest sign of civilization on the site, yet still extremely small and quiet. The "hot spots" are the post office and a cafeteria attached to a steakhouse (officially a "designated shelter-in-place area"). It's more of a special event space than a real restaurant, although the displayed prices for New York Strips under $25 are a nice change of pace from Vegas. Dinner isn't included on the tour, but there's a choice of subs, chips, and cookies for lunch at a glorified conference room dubbed the "Bistro."
Most of your day is spent on the bus, covering up to 250 miles from beginning to end. It's never boring with a historic point-of-interest perpetually on the horizon to capture your attention. Otherwise, you may spot antelopes, burros, coyotes, or wild horses. After all, it was their land long before the military moved in.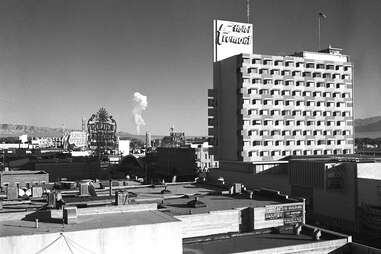 Formerly known as the Nevada Test Site, the 1,350-square-mile space saw 928 nuclear weapons tests between 1951 and 1992 (with 126 additional US tests taking place in the South Pacific and a few other scattered locations). A hundred of them were "atmospheric," which means they erupted above ground with mushroom clouds visible from Las Vegas. The phenomenon ushered in the Atomic Age with viewing parties at hotels like the Fremont, Binion's, and Desert Inn. Tests often occurred right before dawn, prompting spectators to party all night in anticipation with "atomic cocktails." Mushroom clouds became synonymous with Sin City culture, appearing on billboards, postcards, and even on the cover of Las Vegas High School's 1953 yearbook. (Go Wildcats!) A Copa Girl from the Sands was famously photographed in an outfit that resembled an atomic blast, but contrary to popular myth, there was never a Miss Atomic Bomb beauty pageant.
The era is documented throughout the Nevada National Security Site with ghost town qualities in various pockets. Frenchman Flat, a dry lake bed where the site's first nuclear weapons detonation took place, is especially poignant. The bus pulls over near remnants of a concrete bridge, built just to see how such a structure could withstand the blast. (Answer: Not well. Most of the top was blown off.) Various bunkers and "hotel rooms" were also built to gauge the power of the explosions. An assortment of nuts and bolts, tossed around by the wind and scattered throughout the dirt are relics of a different time.
A pair of two-story homes–one brick, one wood–are more ominous than any haunted house, leftover from a town constructed with the sole purpose of seeing how it would respond to nuclear might. They were fully built, furnished, and stocked with groceries to match the style of the mid-1950s, complete with dummies dressed in JCPenny clothing. It's amazing how well these two houses resisted the 29-kiloton blast from a little more than 7,000 feet away. (Other structures weren't as lucky.) The tour pulls over by the wood home, which had its paint scorched off. The stone chimney shifted, too, but it's still standing. Ground Zero is now a staged disaster site (with a plane and railroad wreckage) to train first responders in an environment with still-detectable traces of low-level radioactivity.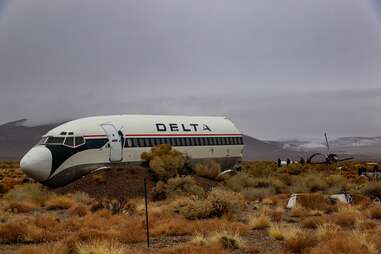 In case you're wondering, tourists don't have to worry about this stuff. According to staff, the levels of radioactivity would merely add up to two chest X-rays if you hung out in contaminated areas for an entire year without leaving.
For many visitors, the Sedan Crater is the main event of the tour. Created by an underground blast that displaced more than 12 million tons of earth, it's the largest human-made crater in the United States, stretching 1,280 feet wide and 320 feet deep. It was part of the Plowshare Program, which aimed to show that nuclear detonations could be used for construction, mining, and other purposes that had nothing to do with war. By this point, you've gotten used to seeing rows of smaller craters scattered throughout the site, but the Sedan Crater is unusually impressive.
Other glimpses into the past include rickety wooden benches used by officials to view detonations, an abandoned drill yard with equipment untouched since 1992, and Icecap–the site of an unfinished underground nuclear test, still surrounded by a 152-foot tower that could disassemble into six pieces for reuse in additional tests. It's now preserved in place and enhanced as a museum of sorts, making it one of the few stops on the tour that actively embraces its role as an attraction. Others simply occupy their moment in history, subject to the whims of neglect and the burden of outlasting an original purpose.
The Nevada National Security Site remains active today, playing a vital role in the security and management of the nuclear weapons stockpile and testing more conventional firepower at BEEF (Big Explosives Experimental Facility). At various points, the tour guide may point out an abandoned test aircraft alongside a mountain or an old subway car used to research the effects of a backpack explosive. These guys are up to all sorts of stuff. Then again, you're just a mountain range away from the always-mysterious AREA 51, and the highway leading to the site passes by Creech Air Force Base, where drones routinely take flight. What you're allowed to see only scratches the surface of what's happening in the Nevada desert.
The Atomic Museum (formerly the National Atomic Testing Museum) is far less secretive and a worthy companion piece to any tour at the Nevada National Security Site. Exhibits go in-depth on fascinating topics about the site itself, from a partnership with NASA that experimented with nuclear-powered rocket engines to a rare moment of Glasnost-era diplomacy when Soviet officials visited Nevada to see what the operation was all about. There's even a 4D theater that recreates a nuclear weapons test, complete with wind, light, and the rumble of a shockwave. It's the closest thing to reliving what it was like at the old Nevada Test Site during the Atomic Age, a time of uncertainty when the balance between global politics and scientific ingenuity was nearly as delicate as splitting an atom.
Rob Kachelriess
is a full-time freelance writer who covers travel, dining, entertainment, and other fun stuff for Thrillist. He's based in Las Vegas but enjoys exploring destinations throughout the world, especially in the Southwest United States. Otherwise, he's happy to hang out at home with his wife Mary and their family of doggies. Follow him on Twitter
@rkachelriess
.