MGM's Skyline Terrace Suite features two levels' worth of high roller accommodations, with half of the 1300sqft of penthouse real estate comprising an outdoor patio so breathtaking you'll be like "Dude... I can't breathe... this thing is taking all of my breath". Need a floor-by-floor-by-terrace breakdown? Yes, yes you do: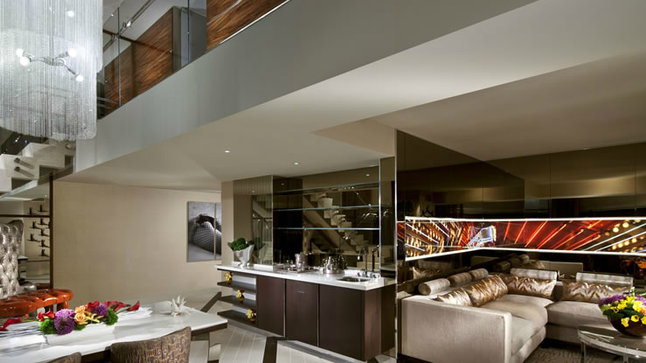 The Downstairs: The sheer number of different chairs here would seriously upset/intrigue Seth Rogen and Paul Rudd -- in the living room alone there's a five-piece, L-shaped sectional and four Mayan wood-carved ass-resters, and that doesn't even take into account the mustache-shaped lounger and Tetris-shaped couches in the dining room. Beyond chairs, there're two-story vaulted ceilings, a personal bar/kitchenette, a massive tv, and a bathroom for the guests you don't want stinking up...
The Upstairs: Sleep like a king monarch chairman of the executive council president on a presidential pillow-top mattress, then check out the master bath, which's packed with an over-sized whirlpool tub, his-and-her sinks (!!), and a separate shower, or what every dude in prison ever asks Santa for.
The Terrace: You can see, like, the entire Strip from here, either from another one of those mustache couches near two tree-stump coffee tables, the six-seat dining table, or the sheer-curtained mini living room, which's so awe-inspiring you'll be all, "Man, I'm so inspired... by all of this awe".