Photo coutesy of Halo
Photo coutesy of Halo
Halo is a different kind of car rental service—one that puts a new spin on the idea of driverless vehicles. Place an order, and an employee will pilot an electric car via remote control to wherever you are in Downtown Las Vegas. Hop behind the wheel, and you're free to use the vehicle for however long you like.
"The car comes to you when you want, where you want," CEO & Founder Anand Nandakumar says. "That's it."
The remote drivers operate from the second floor of Halo's headquarters in the Downtown Arts District, using FTE and 5G technology to communicate with the car. The room is dark to discourage conversation and distraction, almost like a movie theater. Each pilot sits in front of a system that resembles an advanced version of a video arcade driving game, complete with a steering wheel and foot pedals. Each car has three cameras in the front and three cameras in the rear, giving the remote driver a full 360-degree view of the vehicle's surroundings, with radars and ultrasonics providing additional data.
Another version of the service, with cars dropped off and retrieved by an actual in-person driver, is in effect throughout the rest of the Las Vegas Valley, excluding the airport. Either way, once you receive the car, you can drive it to wherever you like—the Strip, Hoover Dam, Red Rock Canyon, even out of state—as long as you return it somewhere in Las Vegas.

The price is $12 per hour (with a four-hour minimum) or a flat $92 per day. Taxes and insurance are extra. A sporty, all-electric Kia Niro subcompact arrives with a full charge, and customers aren't required to "refill" the battery when returning the vehicle. However, if you need a boost while on the road, the EVs are compatible with Level 2 and Level 3 chargers, which are common in Strip casino parking garages.
"There are two types of customers we're tracking at the moment." Nandakumar says. "The first is tourists who are coming into Vegas and feel it's good for them to have a car. The second is locals. They already have a car but have friends or family visiting and want a second car."
While that second market is a welcome surprise, it could be a driver of long-term revenue. Nandakumar believes that once the service catches on, it will encourage two-car households to let go of the extra vehicle. The CEO notes that cost is the top reason people are hesitant to buy electric cars for themselves, and services like Halo will give sustainable driving a boost.
"The long term goal of the company is to transition the world away from gasoline cars to electric cars as fast as possible," he says.
Halo is also exploring a rideshare model in the near future, in which customers could pay per ride or book shorter time frames with the flexibility to stop for lunch, run errands, or pick up friends along the way. "We'll be able to offer that 50% cheaper than a regular Uber ride," according to Nandakumar.
He knows the industry well. Nandakumar formerly led engineering and self-driving technology departments at Uber before founding Halo in San Francisco. He relocated the company to Las Vegas due to Nevada's combination of pro-business regulations and progressive views toward sustainable technology.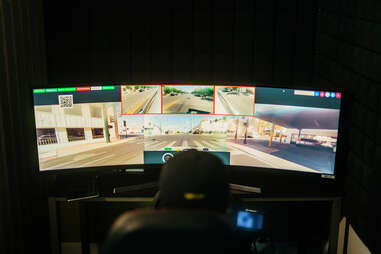 In recent years, Las Vegas has become something of a business incubator for forward-thinking ground transportation alternatives. Amazon-owned Zoox is already testing driverless robotaxis on public roads while Motional has relationships with Lyft and Uber to bring autonomous electric vehicles to rideshare customers. Elon Musk's The Boring Company is constructing an underground EV tunnel system that currently operates between the Las Vegas Convention Center and Resorts World with 81 stations approved as part of the Vegas Loop. (It's worth noting the system uses Teslas with human drivers and has critics who say, "Why not make it a subway instead?" The Boring Company's Hyperloop system, which has conducted tests outside Vegas, seems quiet of late, though Musk has floated the idea of using the high-speed technology in his tunnels.)
Nevada has one more advantage for Halo: "The topography is flat," Nandakumar says. "There are no hills and little rain. It's a very clean testing environment for us."
Some other issues need to be sorted out, however, like what happens if a police officer pulls over a driverless car. The Halo team quickly points out that remote drivers undergo extensive background checks and training; are more focused on the road than the average driver; and don't have phones, entertainment systems, and other distractions. Still, unexpected incidents could happen, and Halo is currently working with the Nevada state government and DMV to initiate new laws that would apply. Long story short: Remote drivers are just as responsible for the car as in-person drivers.
Halo has been testing its technology and system for four years and is now operating in "stage three," which means a chaser car still follows the remote car during service. See what it's all about by going online and ordering a car to wherever you happen to be in Las Vegas right now. Drivers must be 25 or older and have a valid driver's license.
Rob Kachelriess
is a full-time freelance writer who covers travel, dining, entertainment, and other fun stuff for Thrillist. He's based in Las Vegas but enjoys exploring destinations throughout the world, especially in the Southwest United States. Otherwise, he's happy to hang out at home with his wife Mary and their family of doggies. Follow him on Twitter
@rkachelriess
.