Giving you a reason (other than being broke) to step away from the $1,500/hand Pai Gow poker table, the Neon Museum's a two-acre bastion of Vegas history that collects, preserves, and pays homage to over 150 of the coolest, most iconic signs and statues to ever line the streets of Sin City.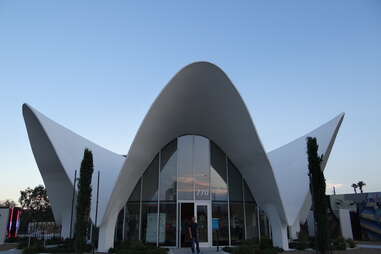 Yep, even the museum's entrance is repurposed. You might recognize the visitor center and gift shop from its previous life as the lobby of La Concha motel. Might.

Dubbed the Neon Boneyard, the outdoor exhibit space is open to guided tours seven days a week.

And also at night, when the lights warm up and the signs slowly come back to life.
Showcasing signs that date back to the 1930s, tours offers a glimpse into Vegas' storied past. This Stardust Hotel sign stood as a symbol of the city back in the '60s, its lights visible up to 60 miles away -- the "S" alone contained 975 lamps.
Other hotels repped include the Moulin Rouge, the Desert Inn, Caesars Palace, and, at the end of the dirt path...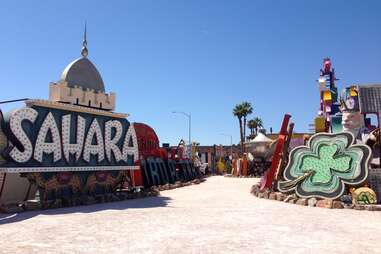 ... bam(!) -- The Sahara Hotel. Shuttered in 2011, the hotel was a frequent stomping ground for Frank Sinatra, Dean Martin, Sammy Davis Jr, and Judy Garland in the Rat Pack days. The actual building is currently being transformed into the luxury SLS Las Vegas hotel, set to open by Labor Day 2014.
Along with the signs, you'll also find fiberglass and metal sculptures such as Aladdin's Lamp from Planet Hollywood, the Coin Castle king from Fremont Street, and the pool player who stood on the roof of Doc 'N' Eddy's Pool Hall.
Also, this giant skull from the Treasure Island.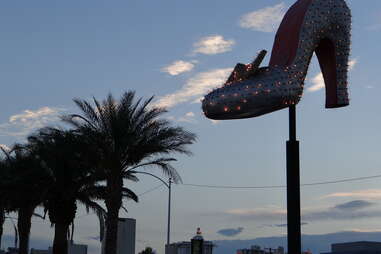 After meandering through the Boneyard, stroll down Las Vegas Boulevard and see eight classic signs (part of the museum's Urban Gallery/The Las Vegas Boulevard Signs Project) that've been refurbished and restored along the road, including Binion's Horseshoe, 5th Street Liquor, the Hacienda Horse & Rider, and the Silver Slipper.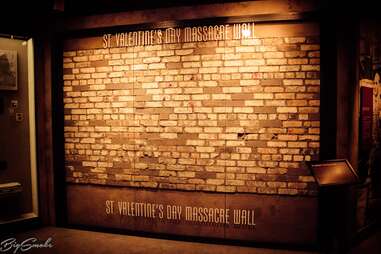 Seen enough neon? Cap off your day of Vegas culture at the Mob Museum, where you can spy vintage mafia memorabilia (zoot suits, Tommy guns, etc) while practicing your shooting accuracy in their firing range simulator.