Vegas bachelor parties are about pools, tables, clubs, strip clubs, buffets, and desperately trying to pick up women at all of them, except for the buffet. But what good is convincing a lovely lady that you're a billionaire fighter pilot with a master's in Muppet poetry if you don't have the room that seems to prove it? Presenting: the seven most spectacularly lavish suites in Vegas right now that normal people not named "I'm Michael Jordan and I gamble a lot" can actually get. Book one.
The best view of the bunch, hands down. This twin-story palace sits atop the MGM Grand with a downstairs living area that you will feel like death in come morning, a wet bar to ensure that happens, an upstairs master bedroom which allows you to watch your groomsmen do stupid things below, and a gigantic terrace allowing you to party outside with at least infinity girls who are working their way through UNLV med school.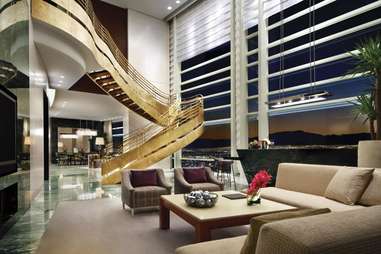 These puppies range up to 7000sqft, are equipped with TVs everywhere you look including the bathroom, and also offer private check-in, cut-the-line passes at the buffet, a complimentary iPad/laptop during your stay, and a key-entry private elevator. And, most importantly, those stairs.
It's got a basketball court. And a locker room. And a dance floor. And room for 350 people to party. And three Shaq-sized Murphy beds that pop out of the walls ringing the hoops court.
You won't even want to ever see the outside world thanks to a TV wall and billiards table in the living room, a wet bar they'll pre-stock with whatever you want (Midori, duh), complimentary limo service from the airport, a personal assistant to do literally anything you tell him, including, "Go get more Midori, personal assistant!", and a hydrotherapy soaking tub and chromatherapy steam shower allowing you to detox each day before re-toxing all over again.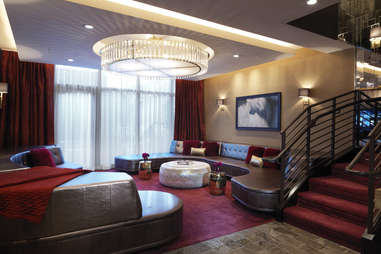 Two levels, MGM? Try this three-floor bungalow with its own terrace, outdoor kitchen, and plunge pool that boasts direct access to superclub Marquee (the suite, not the pool). When you aren't partying, you've got a "media lounge" on the ground floor with a bar/kitchen and no annoying Peter King asking for Red Dogs, plus wraparound sofas that could sleep 5-6 people, and a second-level master bedroom with a private jacuzzi.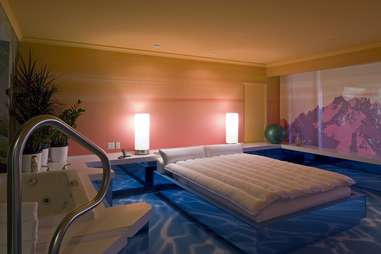 Not only men named Dmitri love a vodka-themed suite that features 20ft floor-to-ceiling windows, its own dance floor, a stocked wet bar, and four bedrooms, one of which, as you see here, looks like a pool, and has a jacuzzi right next to it.
It's not the largest of the Hard Rock suites, but it certainly comes ready for a bachelor party with a fully stocked bar, a full mirror on the ceiling of the bedroom (for, like, combing your hair while lying down and stuff), a stripper pole in the center of the living room (for, like, strippers), and two private booths which may or may not be specifically designed for lapdances. They are. They totally are.