Travel
Sponsored by
The Best Eats, Drives, and Photo Ops in Las Vegas
Sponsored by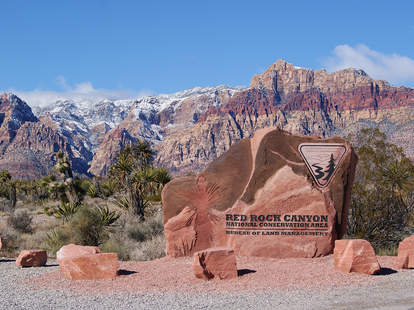 Even though Las Vegas is unrivaled on glitz and showmanship, a good Vegas vacation is all about balance. In other words, hit the Strip for all its excess and antics -- but then go hike among ancient rock art. That's Las Vegas at its finest. Here's how to do it right.
DRIVE
Red Rock Canyon
The Las Vegas might sparkle, but Red Rock Canyon is the valley's true gem. It's stunning and stunningly close to the Strip, about 16 miles from downtown. The scenic drive alone is worth the trip, but if possible, hit the dirt to discover the truly wild side of Vegas, with its thousands of plants and animals from deer and hawks to the rare gila monster. For an easy, picturesque hike, try the half-mile Lost Creek-Children's Discovery trail, and see if you can catch the seasonal waterfall. Bring water and be warned: You may never want to leave.
 
Seven Magic Mountains
They're big, colorful, and highly unexpected, so it's easy to see why the Seven Magic Mountains are such a popular Instagram destination. And while it's true that the dayglow boulders look great in photos, they're also a subtle commentary on the sparkling city that awaits: a loud, neon spectacle surrounded by indifferent desert. The outdoor artwork by Swiss-born Ugo Rondinone was originally supposed to stand for two years, but thanks to its 1,000 daily visitors, it'll stay until at least 2021. Go at sunset for maximum color-poppage, and sure, go ahead and snap a selfie.
Eldorado Canyon/Nelson, Nevada
If you want to be transported to the Wild West, look no further than Eldorado Canyon. Hidden in the mountains along the Colorado River is a mining town that seems frozen in time. After cruising down a stretch of Highway 95, turn off on Nevada State Route 165 for a scenic drive into Nelson where you'll find an old general store, a small airplane graveyard, giant abandoned mines, and, at the end of the road, the Colorado River, waiting for you to take a cool dip. Wander the grounds of the general store for great photos, and be sure to check out the bedroom next to the restrooms. Hint: It's out of this world.
Advertisement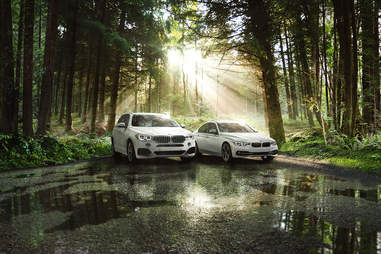 BMW
However you explore a city, the way you get there matters. Our vote: Do it from behind the wheel of a BMW. Right now you can buy your own luxury ride for an accessible price with a factory-backed warranty and 24/7 roadside assistance. Plus, every BMW Certified model is less than four years old and has been reconditioned by trained BMW technicians. So hurry in for exceptional offers on 2015-2017 BMW Certified models, and get where you're going the right way. Because good things come to those in the know.
The Vox Agency/ Flickr
SEE
Neon Museum
Ever wonder what happens to old neon signs when they retire? They're rescued by this beloved cultural institution and given a new place to shine. Highlights include "old Vegas" icons like the atomic-age Stardust casino sign and newer favorites like the giant pirate skull from Treasure Island (seriously, check it out on Google maps). Go at night to see the signs in their full glory, and buy tickets online to save a couple bucks.
Golden Knights game
Hockey games are always cool, but have you been to a Vegas Golden Knights game? The over-the-top theatricality makes VGK games worthwhile even to the sports-averse. From the LED-lit "drumbots" drum line to that one time they brought out a live tiger, the show is sure to win over a crowd, even those in rival jerseys. Vegas didn't have pro sports until recently, but the Golden Knights -- who made it to the Stanley Cup finals in their first season -- prove that Vegas can do sports just as well as it does sports betting. 
 
Opium
From the geniuses who brought us Absinthe, the hilariously raunchy circus-like show, comes Opium, its younger-but-not-to-be-outdone sibling. This adults-only variety show at The Cosmopolitan takes its cues from intergalactic B-movies, and the story follows the wildly inappropriate crew of the OPM 73 as it makes its way from Uranus to Las Vegas. Prepare for clowns, contortionists, acrobats, and lots of body parts presented with, shall we say, an element of surprise. The Cosmopolitan is known for its great dining options, too, so go early and see if you can find the hidden Secret Pizza window or the bar-bites speakeasy Ghost Donkey.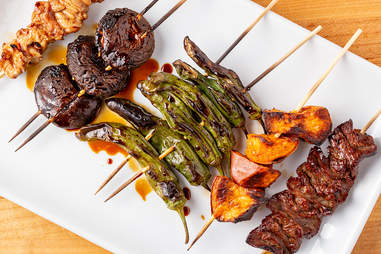 Sabin Orr
EAT
Pho Bosa
Let's be honest, it's Vegas and you're gonna need hangover soup at least once. Pho Bosa makes the tastiest pho in town, with a fragrant ginger-onion beef broth and consistently fresh ingredients. If you're feeling adventurous, try a Vietnamese specialty like Bun Bo Hue, a spicy beef lemongrass soup that comes from the middle of the country, or Bun Rieu, a bright tomato-based broth topped with fresh water crab. Also, get the spring rolls, which ditch beef and shrimp in favor of pork sausage and a crunchy fried stick. And if you ask nicely, they might even give you ibuprofen for that headache.
 
Bouchon
Spoil yourself on the Strip at Bouchon, one of three of Chef Thomas Keller's bistros by the same name. At brunch, order everything if you can, but if you can't, start with a plate of pastries or beignets and move on to an omelet, smoked salmon Benedict, or chicken & waffles served with a sauce chasseur so rich you'll feel faint. At dinner, a dozen oysters should do the trick, and any of the entrées will make it clear why Anthony Bourdain called Bouchon "the best restaurant, ever."
 
Hatsumi
Owned by Chef Dan Krohmer of Other Mama, downtown's newest cool kid is a yakitori spot that models itself after a 1980s bar in Tokyo. The extensive skewer list includes all manner of chicken (wing, breast, thigh, skin, heart, liver), lots of vegetable options (okra, eggplant, mushroom, potato), and bold standouts like veal sweetbreads and beef tongue. Hatsumi is in the newly renovated Fergusons Motel complex, home to the Big Rig Jig sculpture from Burning Man and various events, so it's a great place to start or end an evening on East Fremont Street.