This Quirky Gambling Town Is Basically a Cheaper Mini-Vegas
Here's the craziest thing about Laughlin, Nevada: It didn't even exist 55 years ago. In 1964, pilot Don Laughlin was cashing in as the owner of the 101 Club in North Las Vegas and, while flying his plane over the Colorado River, saw a world of potential in a strip of Nevada land across the river from Arizona's Bullhead City. At the time, the area was home to less than a thousand people. "He took a big risk by taking everything he had and investing it into an old boarded-up eight-room motel," says his grandson, Matt Laughlin. "From there, success took over."

That motel added casino games and eventually evolved into the Riverside Resort, with two massive towers. The town itself -- about a 90-minute drive from Las Vegas -- became official when postal services were established. ("You can't have a post office without having a town name," says Matt, now COO of the Riverside Resort.) The postmaster at the time was of Irish heritage and liked the name Laughlin, so all the stars seemed to align.
But Don was just getting started. Over the years, his civic projects would include an airport expansion, flood control work, and the opening of a ranch that provided beef to Laughlin's restaurants. He even financed a bridge that crossed the water between Nevada and Arizona -- right next to the Riverside Resort, obviously.
In case you're wondering, Don Laughlin is still going strong at 88 years and living in a penthouse at the top of his resort. The town that shares his name is now home to about 8,000 people and 9 casino hotels, 10 if you include the Avi Resort about 15 miles south on Native American land.
"Laughlin is a more relaxed Las Vegas," Matt says. "We've created a niche with Nevada-style gaming, but without the high-speed lifestyle of the Las Vegas Strip."
Riverside Resort

| Courtesy of Rob Kachelriess
Things come and go quickly in Vegas, with near-constant development and change on the Strip. By comparison, Laughlin's newest hotel was built in the mid-'90s.
And people seem to like that just fine. Laughlin is old-school, big on return customers who appreciate the familiar. It's a family-friendly destination that draws folks from California, Arizona, and the rest of Nevada (in that order). They love prime rib and they love country music. It's Middle America, it's Old West, and it's mostly conservative. But Laughlin is about kindness and convenience more than any sort of culture clash. It's the sort of place you go to escape the modern woes of Twitter.
Just northeast of Vegas, a hotel in Mesquite markets itself as "how Vegas used to be," but that tagline seems to fit Laughlin just as well, if not better. You can gamble, have dinner, see a show, and book a room with a resort fee that's well under $10. Parking is free and easy, the staff actually does recognize regulars by name, and the river, well, the river is just right there.
A hundred miles downstream from the Grand Canyon, Laughlin's Colorado River water is so blue and clear, you can even see to the bottom at night. Casinos and restaurants overlook it, and when the weather is right, the obvious move is to swim, boat, float, and Jet Ski in it. You can also take a two-hour sunset dinner cruise on The Celebration, which is super affordable and more than likely comes with an Elvis impersonator.
The coolest way to get around town is by water taxi. These small boats, piloted by certified captains, zip around on the river from one property to another. Most casinos have their own dock and if you stand around on one, a water taxi will show up fairly quick. A single ride is $5, although wristband deals are available for unlimited rides. (Don't forget to tip your captain a few bucks.)
New Pioneer

| Courtesy of Rob Kachelriess
The kitschy casino hotels might be the best part
Riverside Resort
Laughlin's signature casino resort feels pretty old-school and is almost always going through renovations. A rooftop pool deck has been updated with cabanas and a modern circular bar. The classic car collection in the lobby adds to the 1960s ambiance.
New Pioneer
For those drawn to the spirit of the Old West, New Pioneer has a Tombstone-like facade and a gift shop full of kitsch items like goat's milk soap and cowboy hats. It also has River Rick -- a double of Vegas Vic, the iconic neon smoking cowboy that once stood outside the original Pioneer Club in Vegas.
Laughlin River Lodge
This hotel barely lights up at night -- making it the most aesthetically boring resort in the skyline. But it has a fun casino rewards system, allowing players to cash in points on tangible prizes. Need a new crock pot or microwave? This is your place.
Tropicana Laughlin
Located on the west side of Casino Drive, the Tropicana is the only hotel not on the Riverwalk. It recently added a taproom for Brew Brothers -- a homegrown Reno favorite -- that's probably the best place for beer in town.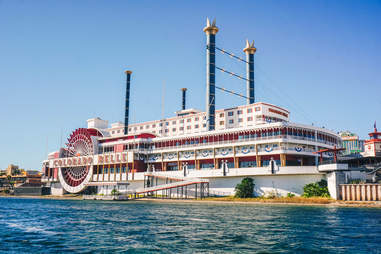 Colorado Belle

| Courtesy of Rob Kachelriess
Colorado Belle
Looks exactly like a vintage paddlewheel riverboat, but it doesn't actually go anywhere. (That doesn't stop guests from calling the front desk to ask when it's leaving port.) The casino floor has a classic old-school style that wouldn't look out of place in Mississippi or New Orleans. The koi fish in the front moat are a nice touch.
As for the rest, Harrah's is at the south end of the casino strip, at a slight bend in the river, which makes it feel more secluded without really being that far away. Edgewater is large and centrally located, but somewhat uneventful aside from its concert theater. Golden Nugget has something of a boutique hotel vibe with just a few hundred rooms. The Aquarius is the largest resort with 1,900 rooms and a centralized casino with restaurants around the perimeter. If you want a small locals' casino with no hotel attached, the Regency is your destination.
Catch a concert, but don't expect clubs
Aside from hanging out on the river, the most common excuse to book a trip to Laughlin is a show at the
Laughlin Events Center
. The versatile outdoor amphitheater hosts events ranging from rodeos and racing to concerts by arena-level acts, like Brad Paisley or KISS. The town also draws crowds for the
Laughlin River Run
motorcycle rally in April,
Spartan
races in November, and SNORE
Rage at the River
off-road racing competition in December.
If someone directs you to anything described as a "nightclub," be warned it won't be anything like Vegas. They're mostly lounges with live bands and line dancing. Bikini Bay Bar & Nightclub is really a sports bar with pool tables and drinks served by girls in bikinis who dance on countertops. It's probably the closest thing you'll find to a strip club in Laughlin -- and oddly enough, it's at the outlet mall.
One local gem is Losers' Lounge, a two-level drinking spot where the walls are decorated with framed photos of "losers" throughout history, like OJ Simpson and Tonya Harding. The gallery stays surprisingly up to date -- recent additions include Bill Cosby and Lori Loughlin.
Courtesy of Rob Kachelriess
Steak, fried chicken, and bacon whiskey jam
OK so, unlike Vegas, you're not going to discover some incredible
under-the-radar food scene
here. Laughlin isn't trendy, but that's kind of the point, and it's quirky dining establishments are certainly not without their charms:
Bumbleberry Flats
A Laughlin original, open 24 hours a day. This place loves its beer; every booth has a pair of self-serve draft handles, and an eight-ounce brew is presented as a "garnish" alongside the Bloody Mary. The move for breakfast is fried chicken with bacon cheddar waffles and a side of whiskey bacon "jam," which is more like a chunky syrup. If you've left a drop behind, you did it wrong.
Gourmet Room
The Gourmet Room at Riverside is a total throwback with chandeliers, plush red furniture, and a live piano player. Floor-to-ceiling windows overlook the river. The menu, under the direction of Chef Richard Ross, mixes steaks, seafood, French, and Italian without feeling like it's having an identity crisis.
The Range
This Harrah's restaurant over-delivers with not only its steaks, but a killer French onion soup (served in a carved-out onion) and sweet potatoes shaped to look like hockey pucks, drizzled in a brown sugar butter sauce.
El Burro Borracho
Laughlin avoids the celebrity chef culture that dominates Vegas. The one exception is Guy Fieri's El Burro Borracho at Harrah's, which specializes in margaritas and nachos served in a small trash can. It actually opened in Laughlin first, before a Vegas version arrived at the Rio, proving that on occasion, this little resort town by the river can be a step ahead of Sin City.
Oatman

| Courtesy of Rob Kachelriess
No trip to Laughlin is complete without a detour to Oatman, a Route 66 ghost town in Arizona that has become a bit more touristy over the years. The new
escape room at the local jail
is fun. But be sure to visit the
Oatman Hotel
for lunch. The restaurant has killer buffalo burgers and the walls (and even parts of the ceiling) are covered with dollar bills.
But the real draw is the burros roaming Oatman, whose ancestors were brought in to work during the mining days. A few unwritten rules to follow: first -- burros and dogs don't mix. Second -- don't feed the burros carrots, which are high in sugar and do a number on the digestive tract. You're more than welcome to feed them alfalfa squares, sold in bags for a dollar. Finally -- when the burros are in the middle of the road (which they frequently are), they have the right of way. Cars have to wait, no matter how long it takes. No honking, revving engines, or doing anything else to encourage them to move along. According to Jake Benz of Oui Experience, an off-roading tour company: "The burros own the town."
For another out-of-town excursion, Jet Boat tours travel nearly 60 miles down the river from Laughlin to Lake Havasu. You can hang out in the town for a few hours and check out London Bridge, a historic structure that actually spanned the River Thames and was brought over brick by brick. Along the way, the boat travels past the California town of Needles, the Havasu National Wildlife Refuge, and vantage points that can only be seen from the water, including petroglyphs in Topock Gorge.
Laughlin Labyrinths

| Courtest of Rob Kachelriess
Pause for a meditative moment at the Laughlin Labyrinths
The
Laughlin Labyrinths
are a series of ground-level rock formations just off Thomas Edison Drive near the Tropicana. They were built by Wes Dufek, to facilitate moments of meditation and reflection in the sand dunes overlooking the casino strip. Each labyrinth takes months to design and build, and Dufek is the sole person who maintains them... which is all to say, being respectful is nice.
"Truth is, all I get is people looking for selfies and quick look-sees, or others that don't respect the intention of them," says Dufek. "The more people that visit, the more intentional or unintentional damage occurs."
So if you're looking for a selfie station, take a photo with River Rick instead. Or at the Losers' Lounge. Or at any one of the other gems in Don Laughlin's little resort town.
Rob Kachelriess has been writing about Las Vegas in Thrillist for more than six years. His work has also appeared in Travel + Leisure, Modern Luxury, Leafly, and Luxury Estates International's seasonal publication. He needs more water taxis and whiskey bacon jam in his life. Follow him on Twitter @rkachelriess.