10 Weekend Getaways Within 5 Hours of Las Vegas
From historic mining towns and beachside getaways to beautiful national parks, these are the best places to escape the city this spring.
Zion National Park, Utah

| Galyna Andrushko/Shutterstock
Zion National Park, Utah

| Galyna Andrushko/Shutterstock
Las Vegas is more exciting than ever, but spring is a great time to hit the road and leave the bright lights of Sin City behind for a weekend. Driving through the desert has its charm, but if Vegas has taught us anything, it's this: Convenience is everything. So plan ahead and maximize your time by visiting the hottest and, in a few cases, most overlooked travel destinations within a five-hour drive of Las Vegas. Between historic mining towns, beachside getaways, and beautiful national parks, you've got endless opportunities for adventure and relaxation in the Southwest.
Ely, Nevada
Drive: 3 hours, 45 minutes
Nevada is one of the nation's largest and least populated states, with miles of wide open spaces to explore. And less than four hours north of Las Vegas, Ely sits on the Eastern edge of Highway 50, famously dubbed the "loneliest road in America" by Life Magazine. And while Ely is a welcome splash of civilization in the middle of nowhere, it's built on an Old West identity that contrasts sharply with the bright lights of bigger cities like Vegas and Reno.
Surrounded by mountains, downtown Ely has a timeless collection of shops, saloons, and restaurants, including the Cellblock Steakhouse, where you can have dinner behind bars inside the Jailhouse Casino. Ely also has subtle devotion to the arts, from its collection of galleries and street murals to events like June's Schellraiser Music Festival, featuring a diverse alternative and punk rock lineup. The Renaissance Village is a collection of small homes, formerly used by miners but restored to celebrate art and history, effectively operating as nearly a dozen mini-museums.
The Northern Nevada Railway Museum is one of the best-preserved historic rail sites in the United States, with 60 buildings on more than 50 acres. Take a vintage train ride, powered by a steam locomotive, through mountains, canyons, and tunnels to the Ruth Copper Mining District.
Ely is a short drive from Great Basin National Park, home to Wheeler Peak (the second-tallest mountain in Nevada), an amphitheater for stargazing, and the Lehman Caves, which host guided tours to marvel at stalactites and other underground rock formations. It's one of the least visited and most quiet national parks in the United States. Detour to Ward Charcoal Ovens State Historic Park, named after six towering beehive-shaped charcoal ovens that once processed silver and were sometimes used as hideouts for bandits.
Stay: The best accommodations are at the historic Hotel Nevada, the tallest building in the state when it opened in 1929, and the Prospector, a quirky, contemporary retreat with playful lobby decorations and a pet-friendly casino. La Quinta Inn is one of the more modern hotels in town, with complimentary breakfast included.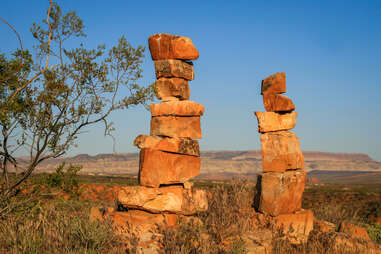 St. George, Utah
Drive: 2 hours, 15 minutes
St. George, already the largest city in Southern Utah, just keeps growing its reputation as a worthy vacation destination. The weather isn't much different from Vegas–and whether that's good or bad is up to you–but you are closer to a wider variety of outdoor adventures. St. George is best known as the gateway to Zion National Park, a ridiculously photogenic collection of sandstone cliffs, rivers, and slot canyons with some of the most rewarding hikes in the Western United States. The city is even closer to four distinctly different state parks: Explore Snow Canyon (hikable rock formations), Sand Hollow (a reservoir surrounded by red sand), Gunlock (waterfalls and rock formations), and Quail Creek (a remote beach with trees creeping out of the water). Bring the kids to the St. George Dinosaur Discovery Site, built on a farm where dino tracks were discovered.
Downtown St. George is an engaging mix of art, culture and history. The city's Mormon heritage can be explored with visits to the newly renovated St. George Utah Temple, Brigham Young Winter Home, and Ancestor Square, a collection of historic brick structures that now include restaurants like George's Corner, Cafe Feelove, and the stellar Painted Pony with food prepared with local ingredients in a rustic fine dining environment. Utah's drinking laws are notoriously strict, but have loosened a bit in recent years, so grab a cocktail at Spiritual Parlor or a pint of beer at Station II, an old firehouse that's now a taproom.
The local art scene is strong, whether exploring the sculptures throughout downtown or watching a traveling Broadway show at Tuacahn Amphitheater with an outdoor stage surrounded by desert scenery. Take the time to drive out to Kayenta, an art community with galleries, food, and live music in a remote area.
Stay: The Advenire, a 60-room boutique hotel, is easily the best place to spend the night in St. George. It has a great location across from Ancestor Square, an excellent lobby cocktail bar and restaurant, and large soaking tubs on rooftop decks. Red Mountain Resort thrives on the energy of the great outdoors with a focus on health and wellness near Sand Hollow State Park, while Inn on the Cliff lives up to its name with a perch overlooking the St. George valley.
Laughlin, Nevada
Drive: 1 hour, 30 minutes
If Las Vegas feels too crowded and corporate these days, Laughlin makes for a nice alternative. The casino town is about 100 miles south of Sin City, sitting comfortably along the Colorado River between Nevada and Arizona. Like Vegas, Laughlin has shows, slot machines, and buffets –all at a fraction of the price. The Laughlin Event Center is an easy walk from the hotels along the river, featuring a spring lineup heavy on country (Dierks Bentley, Brooks & Dunn) and classic rock (Journey, Lynyrd Skynyrd).
Take advantage of the river. Travel between the casinos on water taxis, zip around on a Jet Ski, and unwind on a sunset dinner cruise while the casino lights reflect off the water. Spend more time outdoors exploring petroglyphs at Grapevine Canyon or on the beach at Big Bend of the Colorado State Recreation Area. ATVs are popular too. Take a ride on one through the desert to Oatman, an old mining town. Hang around the saloons or feed alfalfa grass to the burros that famously roam Main Street.
Stay: Don Laughlin's Riverside Resort is the one that started at all, evolving from a motel in 1966 to a property with more than 1,400 rooms today. The on-site car museum is a nice bonus. Other top resorts along the river include the Golden Nugget, which has a boutique Old West feel with just 60 rooms, and Harrah's, farther down the river with a private beach.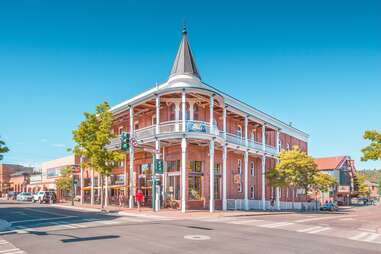 Flagstaff, Arizona
Drive: 4 hours
Unlike Vegas, Flagstaff has four real seasons. Between the ski slopes at the Snowbowl resort and the desert rock of Walnut Canyon National Monument, you can sometimes experience all of them in one day. The city is also home to Northern Arizona University and the college town feel is reinforced with a slew of breweries, independent restaurants, and art galleries. Just wander the walkable downtown district and see what catches your attention.
The Lowell Observatory is famous for discovering Pluto (and yes, Flagstaff collectively agrees it's still a planet) and mapped the surface of the moon for the Apollo 11 astronauts. Flagstaff takes pride in its lunar legacy and has light restrictions in place to maximize stargazing.
The scenic south rim of Grand Canyon National Park is just a 45-minute drive north. You can also explore Sunset Crater, a volcano that erupted about a thousand years ago, leaving behind molten lava that's now preserved as hikeable hardened black rock.
Stay: The historic Hotel Monte Vista has a distinctive neon marquee and is said to be the most haunted hotel in Flagstaff. The Residence Inn by Marriott is more modern and luxurious with a similar, convenient downtown location. Spend the night surrounded by nature at the Little America Hotel inside the private 500-acre Ponderosa Pine Forest.
Laguna Beach, California
Drive: 4 hours
Driving from Vegas to Los Angeles is an experience all by itself. However, if you're willing to navigate SoCal's complicated highway system, you can bypass the city proper and head directly to Laguna Beach. The Orange County community has more hotels per square inch than anywhere else in the state, balancing a knack for oceanfront hospitality with a preference for art and the eclectic
The rocky shoreline is gorgeous, spanning seven miles with the bright blue water of the Pacific Ocean feeding into tide pools and sea caves while bouncing off cliffs and other rugged rock formations. Skip Main Beach in favor of smaller, more secluded options like Thousand Steps Beach (accessible by a long staircase), Crescent Bay Beach, and Victoria Beach, where an abandoned pirate tower is a popular backdrop for photos. Purists may complain about the excessive presence of hotels, but book an oceanview suite and spare yourself the hassle of competing for parking on the Pacific Coast Highway.
The community is easy to navigate in the beachside tourist areas. Check out the Sandpiper Lounge, a dive bar with live music that's been a fixture in the Laguna Beach nightlife scene since 1942, or The Deck, a restaurant with a spacious patio overlooking the Pacific.
Laguna Beach also boasts more than 100 art galleries and studios. A few (like Richard MacDonald and Vladimir Kush) also have a presence in Vegas. The Laguna Art Museum, however, is the only museum dedicated exclusively to California artists with a permanent exhibit representing Laguna Beach. The waterfront location is close to the outdoor pathways in Heisler Park.
Stay: Big spenders love the upscale Surf and Sand Resort, home to Splashes Restaurants, where guests can dine alongside windows that open wide to the Pacific Ocean. Capri Laguna isn't ultra-luxurious, but has a fantastic location on the beach with reasonable prices for the area. The Inn at Laguna Beach has a beach bungalow vibe and balconies overlooking the main beach.
Lake Havasu City, Arizona
Drive: 2 hours, 30 minutes
Lake Havasu City is often called the Jet Ski Capital of the World, so it's no surprise this engaging Arizona community is a top spring break destination. Most of the top hotels are near the Bridgewater Channel, which flows underneath the London Bridge, which formerly spanned the River Thames and was brought over to the States and rebuilt brick by brick. The channel feeds out to Lake Havasu, which interrupts the Colorado River while offering endless opportunities for boating and water sports. The coastline is full of secluded beaches and coves, but Lake Havasu State Park offers the most immediate access and easy parking for fun in the sun.
The nightlife scene isn't as indulgent or over-the-top as the nightclubs in Vegas, but you'll still have fun dancing at Kokomo or line-dancing to country music at the Flying X Saloon. However, the best parties are often on the water in Copper Canyon, when boats crowd together and swimmers go rock jumping. Overall, Lake Havasu thrives with an easy, breezy mentality with affordable bars, restaurants, and hotels. Expect business to pick up in late April with the Desert Storm Poker Run, the largest boating run and parade in the Western United States.
Stay: The Nautical has a timeless art deco design with suites that open up to a lawn and beach on Thompson Bay. Heat has a more contemporary vibe and rooftop bar. The London Bridge Resort has large suites with full kitchens.
Palm Springs, California
Drive: 4 hours
Palm Springs is more than golf courses and retirement homes. It represents a more carefree, inland version of the SoCal lifestyle that's rich in culture, art, and desert scenery. Spring is one of the best times of year to visit, not just for the mild weather, but proximity to big events like the Coachella Valley Music & Arts Festival (back with another eclectic lineup this year) and Desert X, a collection of outdoor art installations that returns every two years. You're in luck. It's back right now and currently running through May 7.
Get familiar with downtown with the weekly Thursday night Palm Springs VillageFest and make sure to check out the boutiques and art galleries in the Uptown Design District and Movie Colony, a historic neighborhood that was once a favorite of celebrities during Hollywood's Golden Age. Palm Springs has one of the most prominent LGBTQ communities in the world with numerous gay-friendly bars and drag shows throughout the city with an especially strong presence along Arenas Road.
The Palm Springs Aerial Tramway elevates passengers 2.5 miles on the world's largest rotating tram car, from the Sonoran Desert to the alpine wilderness of Mount San Jacinto State Park. Feast on dry-aged steaks while soaking in the views at Peaks Restaurant. The Living Desert Zoo and Gardens in nearby Palm Desert is home to more than 500 animals in comfortable environments with a mission of conservation. There are three hiking trails throughout the nature preserve.
Stay: In recent months, Palm Springs welcomed the openings of Sensei Porcupine Creek (a private ranch transformed into a wellness retreat in the Santa Rosa Mountains), Blackhaus (16 poolside bungalows that operate like a hybrid between a traditional hotel and an Airbnb-style rental), and a newly renovated Azure Sky (originally built in the 1950s, but now a stylish adults-only escape). Hotels in neighboring Desert Hot Springs like Two Bunch Palms and the minimalist Hope Springs motel have pools filled with mineral-rich spring water. A few resorts are clothing optional. Begin with Tuscany Manor and continue your Google search from there.
Death Valley, California
Drive: 2 hours
Don't let the name fool you. Death Valley is actually quite beautiful, especially when visiting during the relatively mild spring season before the scorching summer heat returns. Explore the national park and you'll come across otherworldly rock formations, vast desert landscapes, and Badwater Basin, a salt flat that marks the lowest point in North America. You'll also want to check out the Artists Drive Scenic Loop (named after the pastel-like color patterns in the rock), the Mesquite Flat Sand Dunes, and the sweeping lookout points at Dante's View or Zabriskie Point.
The season is prime time for wildflowers, which should be more noticeable this year after an unusually wet winter. A Death Valley superbloom isn't in the forecast for 2023, but the rangers at the Furnace Creek Visitor Center will gladly point you in the right direction to see the most colorful flowers.
The outskirts of Death Valley National Park provide their own unique attractions, from the hot springs and craft beer of Tecopa to the spooky remnants of Rhyolite, a creepy Nevada ghost town near the old mining hub of Beatty.
Stay: The Inn at Death Valley provides the most luxurious resort accommodations in the town. The property dates back to 1927, but has seen extensive renovations over the years with the addition of 80 casitas (each with its own golf cart for getting around). The Ranch at Death Valley, about a mile away near the visitor's center, is a more casual sister property with the world's lowest-elevation golf course and a charming Last Kind Words Saloon. Book a room at one of the newer cottages. Both options have spring-fed swimming pools.
Lake Powell, Arizona
Drive: 4 hours, 30 minutes
Drought worries aside, the reservoir and its surrounding community continue to be a popular vacation destination. Spring is when the area starts to come alive with kayaking, paddleboarding, and boat tours, including a nice sunset dinner cruise down-lake at the Wahweap Marina. You can also tour Glen Canyon Dam, the towering concrete structure responsible for creating the lake or snap some pics of the landmark from a scenic overlook.
Most of the action, though, is in Page, where the dining options are quaint, but match the casual spirit of the remote vacation town. Try the fried chicken at BirdHouse or sit down and enjoy the scenery at Rimview Terrace, the closest thing in the area to a fine dining restaurant.
South of the lake, Horseshoe Bend is named after the manner in which the Colorado River twists and turns around a sandstone cliff. You'll pay to park, then take a short paved hike to the fenced-in overlook to soak in the beauty of the landmark. The photos are especially impressive at sunrise. Antelope Canyon is another must-see outdoor attraction, but is on tribal land and only accessible via an official Navajo Nation tour (like this one). The lower canyon is a more challenging hike, while the upper canyon is a photographer's dream with beams of light that filter through the cracks of the red, orange, and brown slot canyons.
Stay: Lake Powell Resort is on the Wahweap Marina and the only hotel within the Glen Canyon National Recreation Area. The on-site restaurant has great views; Just remember to request a space facing the water. Page has plenty of familiar hotel and motel chains. Go with Home2Suites by Hilton, which is modern in design, a short walk from the Glen Canyon Dam overlook, and a close drive to the Horseshoe Bend overlook.
Sedona, Arizona
Drive: 4 hours, 30 minutes
If you can handle an overabundance of shops selling crystals, you'll love the easy, but eccentric character of Sedona, where art and adventure come together within gorgeous desert landscapes. Just driving around town is a spectacle, surrounded by bright pink and red sandstone buttes and cliffs. Signs are quick to identify where to pull over for trailheads and overlooks, including Bell Rock, believed to be one of four vortexes in the area with especially strong energy. The Chapel of the Holy Cross, a striking sight built into the rocky terrain, is another popular stop.
Travel south of Sedona on the Red Rock Scenic Byway and head to Montezuma Castle National Monument, towering cliffside dwellings carved into limestone that were home to indigenous tribes more than 700 years ago. The federally protected land carries over to Montezuma Well, a surprisingly large sinkhole filled by a natural spring with additional dwellings near the rim.
You're also just east of Arizona's wine-rich Verde Valley, a convenient detour when driving back home to Vegas. Stop at Jerome (an Old West mining town that hasn't changed much over the years), Cottonwood (a timeless collection of businesses and tasting rooms), and Tuzigoot National Monument, a hilltop of Pueblo ruins and spectacular valley views.
Stay: Sedona is known for its variety of bed-and-breakfast accommodations. However, it's hard to beat L'Auberge de Sedona, a luxurious retreat on Oak Creek with a fantastic restaurant and someone always ready to hand you a glass of wine. The Wilde is a more stylish, contemporary option in the heart of the city, while the Amara is a boutique hotel with a layout that embraces the outdoor environment.
Rob Kachelriess
has been writing about Las Vegas at Thrillist for more than nine years. He also contributes stories about travel and dining to numerous local and national publications with a focus on the Southwest United States. Follow him on Twitter
@rkachelriess
.