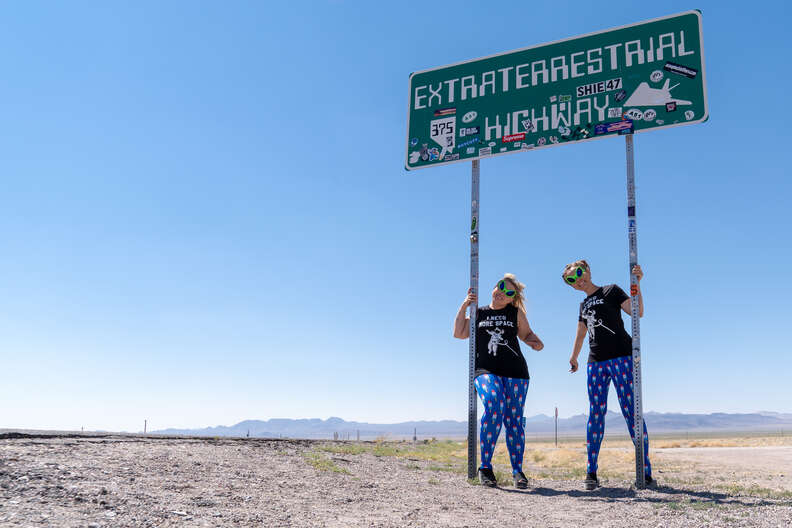 Extraterrestrial Highway

| melissamn/Shutterstock
Extraterrestrial Highway

| melissamn/Shutterstock
Fasten your seatbelt and adjust your mirrors—this is Rerouting, your one-stop-shop for mapping out the ultimate summer road trip, no matter what gets your engine going. Cruise over to the rest of our coverage for pit stops at offbeat roadside attractions, sweeping desert panoramas, epic mountaintop vistas, oceanfront oyster bars, dynamic public art, and so much more.
Were you one of those people who were 100% ready to Storm Area 51 back in 2019? Have you already embarked on a Nevada stargazing road trip and want to delve even deeper into the cosmic possibilities? Do you believe the truth is out there? Then pack your bags, because have we got the excursion for you.
Area 51 tourism is an actual thing, and has been for quite some time—so much so that there are a number of alien-themed hotels, cafes, souvenir shops, bars, and even a brothel along what is known as the "Extraterrestrial Highway" and all throughout this part of the state.
On this route, you'll start in Las Vegas and head straight into the heart of rural Nevada, making a giant loop by Area 51 (or as close as you can get without being arrested and/or shot), past all kinds of bizarre points of interest (both alien-themed and otherwise), and right back to Sin City. Here's where to stop along the way.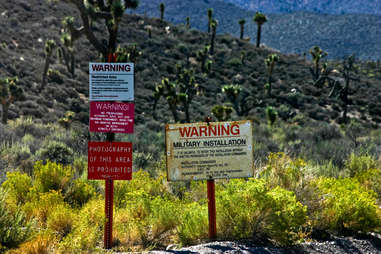 First: What is Area 51?
You've probably heard something about aliens hanging out in far-flung Nevada, but do you know what Area 51 actually is?
Conspiracy theorists will tell you that it's a top-secret military base somewhere in the southern Nevada desert where they experiment on aliens. In reality, it's a covert, 5,000-square-mile United States Air Force testing facility where highly-classified military aircraft are trialed. (It's so secret, in fact, that the government didn't officially acknowledge its existence until 2013.)
Along with the former Nevada Test Site, Area 51 is now part of the Nevada National Security Site. It's restricted to both land and area use, and the restricted airspace above the base covers about 575 square miles.
That's the gist of the situation, but because the desert tends to be fertile ground for alien conspiracies (see also: Roswell), the unidentified flying objects allegedly spotted in Area 51's airspace were assumed to be extraterrestrial UFOs, and not the more-obvious but far-less-exciting advanced military aircraft prototypes that they actually were. Locals quickly leaned into the alien lore, and thus, an entire quirky tourism industry centered around the base was born.
Go UFO-hunting along the Extraterrestrial Highway
Starting in Vegas, take I-15 north to US Route 93 (Great Basin Highway). In a little over 90 minutes, you'll end up in Crystal Springs, where you'll find the second most famous road sign in Nevada, the Extraterrestrial Highway Sign.
It's located right at the split between S.R. 318 and S.R. 375, and there are two alien-themed points of interest immediately in either direction. Go left at the fork and you'll hit the Alien Research Center, a kitschy souvenir shop that greets you with a giant metal alien figure standing in front of an aircraft hangar. Stop in for a dose of Area 51 lore, a shot of Alien Tequila, and extraterrestrial-themed paraphernalia to take home.
In the other direction, snack and souvenir shop E.T. Fresh Jerky offers a variety of dried meats and other excellent road trip provisions, so stock up. But more importantly, while you're there take some selfies in front of the massive UFO-themed mural that runs the entire length of the building's exterior while you're there.
From here, head north on S.R. 375—aka the "Extraterrestrial Highway," a lonely, 98-mile stretch of rural desert road that takes you as close as you can actually get to Area 51. In addition to all of the cows and Joshua trees, there is plenty more alien kitsch to see along the route. Within minutes, you'll come upon the Black Mailbox, an unofficial gathering place for UFO-seekers and all those who believe. The current Black Mailbox is not the original, but passionate enthusiasts keep the tradition alive every time it is dislodged, vandalized, or stolen.
Keep heading north to the town of Rachel—which proudly calls itself the "UFO Capital of the World"—where you'll find the famous Little A'Le'Inn, a motel/diner/gift shop that goes all-in on the alien theme. After a day of extraterrestrial exploration, you might want to rest your head for a night here. At the very least, pop in and order an Alien Burger at the bar, chat with the owners, and pick up some acid-green alien head coffee mugs as souvenirs. And of course, don't leave Rachel without a stop at the other Extraterrestrial Highway sign.
Spot stars and seriously creepy sights in Tonopah
As the Extraterrestrial Highway ends, continue west on US Route 6 to Tonopah. Once named the "#1 Stargazing Destination in America," Tonopah is home to some superb dark skies at Clair Blackburn Memorial Stargazing Park.
There you'll find cement pads designed for telescopes, monthly star parties throughout the summer, and around 7,000 stars visible to the naked eye. Download their "Star Trails" map for a guide of paved and unpaved paths to maximize your star-tripping fun.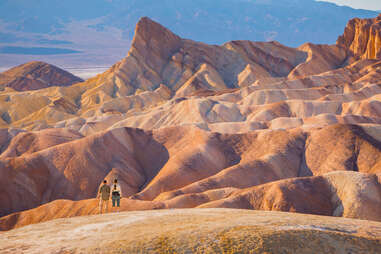 Dive into Death Valley
Head south on 95 on your way to Death Valley National Park. You'll pass by Beatty, a quintessentially oddball old mining town in rural Nevada and the "Gateway to Death Valley," as well as the Rhyolite Ghost Town.
Take S.R. 374 into the national park, which straddles Nevada and California across its 3.4 million acres. The landscapes here are otherworldly and utterly extreme, from the Mesquite Flat Sand Dunes and the mysterious sailing stones (which some think are the work of aliens) to the salt flats of Badwater Basin. Death Valley is also a Gold Tier Dark Sky Park—the highest level awarded by the International Dark Sky Association—so if you can, stay late to catch a truly phenomenal view of the heavens.
After Death Valley, head back towards Beatty then south on 95. If you skipped the Mesquite Flat Sand Dunes, climb the slopes at Big Dune, an area most tourists miss. This is a great spot to camp out and soak in the night sky in what is considered one of the darkest regions in the state—all the gloriousness of Death Valley's cosmic skies, with none of the crowds.
Head back to Sin City via an alien-themed brothel
As you make your way back to Vegas, there are a couple more alien-themed attractions of note right by Big Dune—namely, the Area 51 Alien Travel Center, which has a gas station, a 1950s-style diner, a gift shop with lots of alien-themed merch, and…a brothel! Yep, sex work is fully legal in this part of Nevada, and the Alien Cathouse has the distinction of being America's only themed brothel. One minute, you're driving through the sun-bleached desert; the next you're inside a dimly lit room, nodding along as your lingerie-clad tour guide points out the features of the BDSM room, promising sci-fi sexual fantasies for the cosmically horny traveler. That's just how it goes in Nevada.
Once you're back in Sin City, the bizarro fun doesn't have to stop: Pay a visit to the National Atomic Testing Museum, a Smithsonian affiliate where you can steep yourself in the history of Nevada's atomic age and Area 51. (In non-pandemic times, they also lead comprehensive monthly tours of the Nevada National Security Site.)
And if you don't want to commit all THAT much time and effort to browsing alien tchotchkes in rural Nevada, you can also take an Area 51 day trip from Vegas with Adventure Photo Tours, the only company on Earth to offer such a tour.
Please be aware that you do NOT get to go inside the military facility—the closest you can get to it is still 15 miles away—but you will be able to see the armed guards stationed along the perimeter. (You know, the ones with permission to shoot you if you try to storm it.) Along with Area 51, the tour hits several unusual natural sights and aforementioned points of interest before returning you to Vegas in the evening just in time to party.
Nicole Rupersburg lives in Las Vegas, which is a weird enough place even without any aliens. She has been working on her Naruto run for The Storming, but will probably just get schlitzed next to a bonfire while wearing a green alien spandex suit like pretty much everyone else there. Follow her on Instagram.