Area 51 has been in the news lately. There's all that Storm Area 51 fervor, an Alienstock Festival, and even an Area 51 Basecamp event complete with live music and art installations. But the truth is, us desert locals have known about this kitschy paradise for quite some time and its eccentricities and otherworldly attractions should be enjoyed year-round. And, shockingly, will probably be more enjoyable when the facility's armed guards aren't on high alert.
 
All "they can't stop us" jokes and internet memes aside, Area 51 tourism is an actual thing, and has been for quite some time -- so much so that there are a number of alien-themed hotels, cafes, souvenir shops, and even a brothel along what is known as the "Extraterrestrial Highway." Read on if you're legitimately curious about Area 51 and the sights to be seen -- except, of course, those pesky aliens.
Recommended Video
Please Don't Hang Up: The Best Things to See, Eat, and Do in Seattle, WA
What is Area 51?
You probably know that it's something-something-aliens, but do you actually know what Area 51 is? Well, according to decades of conspiracy theories, it is the top-secret military facility in the middle of the southern Nevada desert where they test on aliens. In reality, it is a 5,000-square-mile, highly classified testing facility of the United States Air Force, administered by the Edwards Air Force Base in Southern California, where top-secret military aircraft is tested. (It is so secret, in fact, that the government didn't officially acknowledge its existence until 2013.) Along with the former Nevada Test Site, it is now part of the Nevada National Security Site.
 
The area is restricted to both land and area use, and the restricted airspace above the base covers 575 square miles. That's the gist, but because the desert tends to be fertile ground for alien conspiracies (see also: Roswell), the unidentified flying objects allegedly spotted in Area 51's airspace were assumed to be extraterrestrial UFOs, and not the more obvious but far less exciting advanced military aircraft prototypes that they actually were. Locals leaned into it, however, and a whole quirky boutique tourism industry has sprung up around the base.
How far is Area 51 from Las Vegas?
The nearly 130-mile drive takes about three hours, depending on the route you take. But, if you want to check out Area 51 and also want to party in Vegas but don't want to really commit all that much time and effort, book a day tour with Adventure Photo Tours to the guarded perimeter of the base. Be aware that you do not get to go inside the military facility -- the closest you can get to it is still 15 miles away -- but you'll be able to see to the armed guards stationed along the perimeter. This tour also hits many extraterrestrial points of interest, as well as some otherworldly natural sights. Once the tour ends in the evening, you'll be back in Vegas to party.
Crystal Springs to Warm Springs
This lonely, 150-mile stretch of State Route 375 takes you as close as you can get to actual Area 51, and is loaded with alien kitsch. Keep an eye out for roaming cows that lay right in the middle of the road. Plus, be sure to stock up on plenty of water, food, and gas every time you see a gas station because there aren't many of them and cell service is mostly nonexistent. You'll also see endless fields of Joshua Trees on this road trip, which are alien-looking enough in their own right.
Rachel
This motel/diner/gift shop goes all-in on the alien theme, and are sold out for the weekend of Alienstock (of course), though camping is still available. Any other weekend this is a great place to stay overnight, but even if you're just making this a day trip be sure to stop in here, order an "Alien Burger" at the bar, chat with the wonderful owners, and pick up some green-alien-head coffee mugs as souvenirs to take home.
Crystal Springs
You'll know you've found the Alien Research Center when you see a giant metal alien figure standing in front of the door to a corrugated metal dome. This is the Alien Research Center, a souvenir shop located in the ghost town of Crystal Springs, and they will be throwing a "Storm Area 51 Festival" on September 20 and 21 with food trucks, live bands, games, and entertainment. But if you can't make Alienstock, don't worry: Any other day, seven days a week, the center is great for Area 51 lore, a shot of Alien Tequila, and plenty of paraphernalia.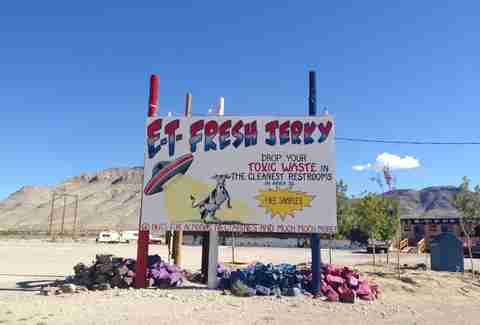 Crystal Springs
Just 15 minutes from the Alien Research Center, you can get your fill of a variety of jerky flavors (sorry, but none of them are "alien"), "Martian" soda, and other extraterrestrial-themed snacks for the road. (And also items like butter toffee peanuts, which are not alien-themed but still delicious.) Munch on some samples and take a selfie next to the alien cowboys in the massive UFO-themed mural that runs the entire length of the building's exterior.
Las Vegas
Located in Las Vegas, the National Atomic Testing Museum also leads comprehensive monthly tours of the Nevada National Security Site, where you can steep yourself in the history of Nevada's atomic age and get a better sense of what might actually be going on inside Area 51 by proxy.
Amargosa Valley
Everyone knows that prostitution is legal is certain parts of Nevada, so don't act otherwise. Welp, there is an alien-themed brothel that is part of the Area 51 Alien Travel Center, about an hour and a half from Las Vegas featuring the "Cosmic Kittens from the planet Venus 69." It's America's only themed brothel, and there's a gift shop onsite.
Amargosa Valley
No, this is not a euphemism for a service provided at the Alien Cathouse. The Devil's Hole is a 60,000-year-old fissure on the edge of Death Valley that opens up into the sprawling system of geothermal water-filled caves beneath. The full size and depth of this water system has never been reached or recorded. It is also the exclusive home of the ancient and endangered Pupfish, and thus a highly monitored National Wildlife Refuge. This obviously needs to be the basis of a future sci-fi feature film, also featuring aliens. Someone get on that already!
Sign up here for our daily Vegas email and be the first to get all the food/drink/fun in town.