The Best Neighborhoods in Las Vegas to Spend a Weekend
There's so much beyond the Strip.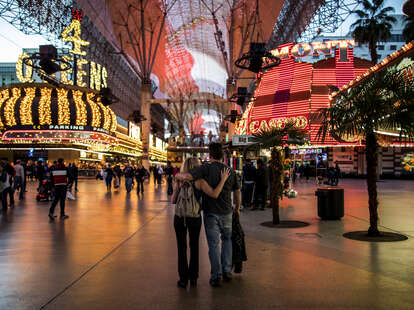 Photo courtesy of Joe Buglewicz / Las Vegas News Bureau
If you think a trip to Sin City is all about the Strip, guess again. Las Vegas is one of the fastest growing destinations in the country with new neighborhoods popping up nearly as often as law firm commercials on TV. Its evolution from hotels to home communities is influencing what's possible for tourism, whether it's the neighborhood dining scene or attractions that shift away from casino culture. Just look at the sudden emergence of Vegas as a sports town with the success of the Golden Knights, the recent arrival of the Raiders, and the possible addition of the team currently known as the Oakland Athletics. This doesn't happen in a city dominated by tourists alone.
In between the glitz and neon, Las Vegas is surrounded by natural beauty, ranging from the cliffs of Red Rock Canyon to the (dwindling) waters of Lake Mead. This desert town has more to offer than most outsiders realize. Do you really want to cram everything into just a few days? Or should you exhale, take your time, and focus on one specific neighborhood to maximize your efforts? Consider the second choice. You can always come back. We've even got an airport right next to the Strip with its fair share of dirt cheap flights. So whether you're looking to mix things up during your next Vegas getaway or you're already here and need to decompress with a staycation, pick out a neighborhood, plan ahead, and enjoy the weekend you deserve.
If you're coming to Las Vegas for the first time, you're probably laser-focused on the Strip—a place that falls somewhere between the Jersey Shore and Monte Carlo. The stretch of Las Vegas Boulevard runs a little more than four miles between Russell and Sahara, dominated by bright lights, giant marquees, and mega-resorts loaded with restaurants, nightclubs, and other attractions. Don't let locals scare you away by saying the Strip is overrated, expensive, and not as good as it used to be. While those observations might be true for some (and we wish the mob still ran the casinos too), we're living in a new era. Time to make the most of it.
Where to stay: If you want something fresh and contemporary, it's hard to resist the new Resorts World, the first Strip casino hotel built from the ground up in more than ten years. It's full of cool stuff. If you prefer your mega-resort to come with an over-the-top theme, Caesars Palace, the Mirage, or Mandalay Bay may be more your speed. If you're looking for something family-friendly, the Luxor (an Egyptian pyramid) or Excalibur (Camelot with slot machines) will do the trick. The MGM Grand originally had a Wizard of Oz theme, but is pretty much just an emerald green hotel now. The Waldorf Astoria, Aria, Vdara, and the Cosmopolitan still have a like-new, modern feel, while over on the quiet north end of the Strip, The Strat and Sahara are both benefiting greatly from recent renovations. However, a pair of twin properties—Wynn/Encore and Venetian/Palazzo—offer the best bang for the buck (although it's a big buck) and follow an all-suites format. While their resort fees are among the highest on the Strip, there isn't a parking charge. Take your victories where you can.
Things to do: You're in Vegas. See a show. There are currently six Cirque du Soleil productions on the Strip in the process of reopening following the pandemic-related entertainment shutdown. Otherise, spend a few bucks on a big-name residency at the Park Theater (Bruno Mars and others to be announced soon, including the return of Lady Gaga) the Colosseum (Keith Urban, Sting, Usher, Rod Stewart), or Zappos Theater (Shania Twain and Gwen Stefani). A new Resorts World Theatre is opening later this year with Celine Dion, Carrie Underwood, Luke Bryan, and Katy Perry. In most of these cases, it's a rare opportunity to see a chart-topping act play a venue much smaller than an arena or stadium. And the magic shows here do more than just pull rabbits out of hats, especially Piff the Magic Dragon, Matt Franco, Penn & Teller, Mac King, and David Copperfield. If you just want to laugh, there's a reason Carrot Top has been in Vegas for more than ten years.
Most attractions on the Strip live up to the hype, including the High Roller wheel and AREA 15 (the home of Omega Mart, Meow Wolf's elaborate art installation modeled after a grocery story). There's even a few things to do for free, including the Bellagio Fountains and Mirage volcano. If you're here during hockey season, grab tickets to see the Vegas Golden Knights play a game at the T-Mobile Arena. The energy is hard to beat and you'll get a glimpse of what being a local is really all about. Just want to gamble? You'll find the most customer-friendly games at the Cromwell.
Breakfast and lunch: If you're on the run, the egg sandwiches at Eggslut and seared-with-a-blowtorch cinnamon rolls at District Donuts are great grab-and-go options at the Cosmopolitan. Pronto by Giada at Caesars Palace is another safe bet with the choice of coffee and wine in the same place. Della's Kitchen at the Delano prepares breakfast and lunch favorites with fresh Nevada-sourced ingredients. For something in the opposite direction, Guy Fieri's Vegas Kitchen & Bar is a tourist-friendly overdose of calories at The LINQ with over-the-top, Instagram-ready dishes. Looking to save money for lunch? Flights at the Miracle Mile Shops has a great happy hour that runs throughout the entire day. Eataly at the Park MGM will cook Creekstone Farms steaks on the spot at retail prices to take back to your room.
Dining out: If money really isn't an issue, upscale French restaurants like Joel Robuchon, L'Atelier de Joel Robuchon, and Restaurant Guy Savoy put together some of the most complete dining experiences in town, often with multi-course tasting menus crafted with precision by well-trained kitchen teams. If you feel a need to cross a steakhouse off your "Things I Did in Vegas" list, Bazaar Meat, Delmonico Steakhouse, Jean-Georges, and Cut are top options to consider. Throwback supper clubs like the brand-new Delilah and Mayfair Supper Club mix indulgent meals with live entertainment.
Drinks and nightlife: Vegas is a great town for drinking—and you can't go wrong with all the cocktail lounges in the big resorts—but the prices add up fast. That's even more true when ordering bottle service at Las Vegas nightclubs like Omnia, Hakkasan, and XS, but you'll spend the night with some of the biggest DJs in the world. Pool parties like Encore Beach Club, Ayu, Marquee, and Daylight know how to mix booze with beats day or night.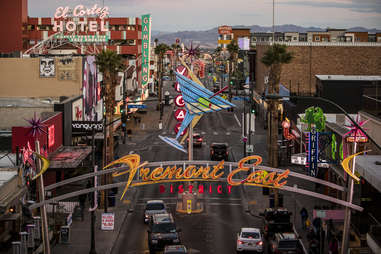 Downtown
Downtown is where you want to be if your idea of Vegas was formed by watching videos by U2 or The Weeknd. It's the second-largest tourist corridor behind the Strip and while most out-of-towners make a point to visit once in the middle of their Vegas vacation, it's also worthy of its own weekend getaway. These days, Downtown is mostly divided between tourist-oriented Fremont Street and the authentic locals' energy of the emerging Arts District surrounding Charleston Boulevard.
Where to stay: There's a new king in town. Circa is the largest and most luxurious hotel in Downtown Las Vegas: a commanding high-rise that mixes old school imagery with modern accommodations. It's also 21 and over. The Golden Nugget is another big resort on Fremont Street, but choose your room wisely. The Carson tower is older and full of families with noisy kids. The Spa Tower is newer and much more quiet. The Downtown Grand and The D were both renovated from older casinos, but almost feel brand new. The Oasis at Gold Spike is a boutique hotel geared toward younger travelers.
Things to do: You'll have to dodge too many street performers, but walking down the Fremont Street Experience is something everyone needs to do at least once on a weekend trip to Vegas. The five-block pedestrian mall is covered by the Viva Vision overhead canopy with the largest high-def video screen in the world. In true Vegas style, it plays shows (images matched to music) every hour. Head across Las Vegas Boulevard and you'll enter Fremont East, a neighborhood we like to pretend is "for locals." It's a hub for bars, restaurants, and an outdoor shopping mall built from old shipping containers. For more authentic local flavor, head to the Arts District, which is growing by the day with new places to eat and drink, plus second-hand shops loaded with Vegas character. Around the edges of all this, you'll find some cool and weird museums, including the Mob Museum to celebrate our city's affection for criminal activity, the Neon Museum, where vintage signs and marquees go to die, and the Old Morman Fort, left over from 19th century settlers.
Breakfast and lunch: Downtown totally outperforms the Strip when it comes to coffeehouses and fortunately, these places have great food too. The Arts District is home to Makers & Finders with a weekend Latin brunch and Vesta, whose bites include locally baked, buttery croissants. PublicUs scores points for making a coffee drink look like an Old Fashioned. Golden Fog is vegan-friendly and doesn't charge extra for plant-based milks.
Dining out: Oscar's (named after former mayor and mob lawyer Oscar Goodman) and the Triple George Grill are both steakhouses with a cool old-school Vegas vibe, although Vic & Anthony's is the only downtown restaurant with certified Kobe beef. But if you really want to nail the downtown dining scene (and spend a few less dollars), check out Carson Kitchen for a fresh take on New American, and Esther's Kitchen for Italian.
Drinks and Nightlife: Speakeasy-style cocktail bars like the Downtown Cocktail Room, Velveteen Rabbit, and the Laundry Room inside Commonwealth prove it's possible to have better cocktails than most bars on the Strip at a lower price. Just want a glass of wine? Garagiste is your place. Inspire and the Gold Spike aren't quite nightclubs, but both know how to pick up the pace with live DJs on the weekends. The Downtown Las Vegas Events Center hosts several Las Vegas music festivals throughout the year.
Henderson is the second-largest city in Nevada, although it kind of feels like the southeast corner of Las Vegas. It's highly residential and full of shopping malls and chain restaurants. Yet it also has a ton of parks, mountain trails, and casino resorts that offer plenty of value compared to the Strip. Henderson is best navigated by car, making it attractive to those driving in from nearby states like California and Arizona. It's also a bit closer to the Hoover Dam, Grand Canyon, Lake Mead, and Lake Las Vegas, helping you get in touch with nature and other attractions beyond the urban sprawl of Sin City.
Where to stay: The M Resort is the nicest hotel in Henderson. It's right off Interstate 15 with a nice modern feel and sweeping outdoor pool deck. Green Valley Ranch is a close second with a Mediterranean theme and big, badass pool deck of its own (plus a standalone spa). Boulder Station, Eastside Cannery, and Sam's Town are just outside Henderson on the Boulder Highway strip, offering value to customers focused on blackjack and slot machines.
Things to do: Exciting things are happening in the Water Street District, a stretch of vintage bars that's going through a rejuvenation period with the addition of bars, restaurants, and the Lifeguard Arena for minor league hockey. Cool off at the Cowabunga Bay water park or mingle with exotic animals at the Lion Habitat Ranch. For something sweet, take a free tour of the Ethel M Chocolate Factory, which has an outdoor, three-acre botanical cactus garden with more than 300 species of plants.
Breakfast and lunch: The Stove is a great breakfast and lunch spot in Anthem. Between the champagne cocktails, tea service, and tableside Bananas Foster pancakes, you'll be in great shape to start the day. CraftKitchen and Kitchen Table are two other brunchy restaurants that are just as good, if not better, than anything you'll find on the Strip in the same category.
Dining out: Hank's at Green Valley Ranch is easily the best steakhouse in Henderson and carries real, certified Kobe beef and Hokkaido scallops. For more casual stuff, Hardway 8 is a sports bar with food so good, we named it one of the top new Vegas restaurants of 2019. Tokyo Boys is an old 50s-style diner transformed into a Japanese restaurant with carefully sourced seafood and ingredients. Just pull up to the bar and ask the chef for an omakase experience based on your budget. Looking for incredible pizza? Try Pizza Rock or Settebello in the Green Valley area and Rebellion Pizza farther north in Anthem.
Drinks and nightlife: The Las Vegas Distillery, Vegas Valley Winery, Grape Expectations (for custom wine barrel blends), and two breweries (CraftHaus and Bad Beat) are all part of a business park known as the Henderson Booze District. Two more breweries (Lovelady and Mojave) are top destinations on Water Street. Not into beer? Try the cocktails and whiskey at Biscuits and Bourbon.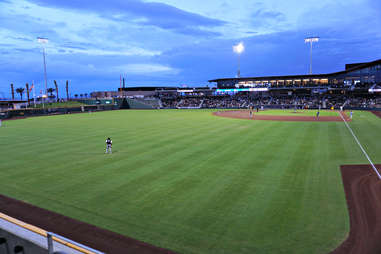 Summerlin
The west valley of Las Vegas is dominated by Summerlin, a master-planned community for people who love parks, trails, and extra HOA fees. It's a great alternative to the Strip, because you can get more value for your dollar at the hotels while being closer to attractions like Red Rock Canyon and Mt. Charleston. If you take your first Vegas vacation on the Strip, then your second should be in Summerlin.

Where to stay: Red Rock Resort is the closest thing to a luxury Strip-style hotel here. You get a well-rounded restaurant lineup, a big casino, and a killer pool deck. (They also have a big kids club to keep those pests occupied while you're out having fun.) The JW Marriott is another great choice based on recently remodeled rooms and some incredible landscaping with waterfalls, palm trees imported from Iraq (really), and more grass than Las Vegans know what to do with.
Things to do: See a game at the new Las Vegas Ballpark, which is part of the Downtown Summerlin dining and shopping complex. It's home to the Las Vegas Aviators minor league baseball team. Everyone loves the stadium so much, it doesn't really matter if the team wins or not. It's got open-air views, great food from local restaurants, and probably the most comfortable seats in any sports venue ever. There's also a swimming pool in the outfield. Plus, they love the outdoors in Summerlin. If you happen to be biking in the Blue Diamond area near Red Rock Canyon, stop by Cottonwood Station, a rustic bistro with early morning breakfast bites, fresh-baked pizzas, and even some beer and wine on tap (which offers some incentive to just hang out on the patio and forget that bike ride altogether).
Best restaurants: Toasted Gastrobrunch covers all the bases for brunch seven days a week: great cocktails, overloaded pancake and even a sticky-sweet coconut pistachio kanafee. For dinner, La Strega does Italian so well, it isn't just one of the best restaurants in Vegas, but one of the best new restaurants in the country. You'd be nearly as happy with a big hunk of steak at T-Bones Chophouse inside Red Rock Resort, but you can probably spend half as much at Echo & Rig and get a meal just as good. The steakhouse at the Tivoli Village shopping plaza has its own butcher shop in view of the host stand to get your juices flowing before you even sit down.
Bars and nightlife: When it comes to bars, Summerlin isn't really known for its craft cocktail scene or even its beer scene, so stick with the better restaurants if you want a better drink and you'll be fine. That being said, the Hop Nuts Taproom at Tivoli Village has its charm and, if you want a back-in-college nostalgic feel, Public School 702 has all the draft beer and shuffleboard games to last you well into the night.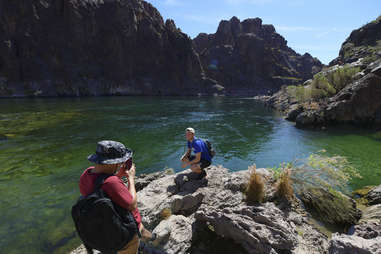 Boulder City
No gambling and no cannabis dispensaries. Are you still in? Boulder City is a charming community southeast of Las Vegas that mixes an easy residential lifestyle with history and culture with frequent weekend events at a few different parks. Much of the city's identity and culture is based on the Hoover Dam. Sometimes the town feels like a slice of Southern California, but it's really the place where Vegas began.
Where to stay: Boulder City is full of hotels and motels, presumably for Arizonans too tired to finish their drive to Vegas. But if you're staying for the weekend, look into the historic Boulder Dam Hotel, which was built in 1933 and has a free walk-through museum dedicated to the history of the Hoover Dam in the lobby. Just outside city limits proper, the Hoover Dam Lodge and Railroad Pass are the closest hotels with a casino.
Things to do: If you don't head out to see Hoover Dam, you're doing this whole Boulder City thing wrong—although the whole experience was much cooler back in the old days when you could drive right over the top. (Traffic now detours over a seperate bridge that spans the Nevada and Arizona side of the Colorado River.) Make the most of your proximity to Lake Mead with rafting, boating, and kayaking by Black Canyon River Adventures. Continue to scratch that itch for a nature fix with a hike on the Gold Strike Hot Springs Trail, but if that sounds like too much work, relax in Hemingway Park, where bighorn sheep travel down from the mountains and graze on the grass. Flightlinez Bootleg Canyon provides a hiking tour to the top of Red Mountain and four separate ziplines.
Breakfast and lunch: The Coffee Cup Cafe is your place for breakfast. Think of it as an elevated greasy spoon with beat-up license plates and out-of-town coffee mugs hanging on the wall. Milo's Inn is a cool little wine bar in the historic district that's so chill, it just seems to work better for lunch than dinner.
Dining out: The Dillinger is a restaurant and bar renovated from an old bank with the best burgers in Boulder City. Fox Smokehouse is your top destination for barbecue while Toto's has been the go-to Mexican restaurant for nearly 30 years. The Southwest Diner specializes in old-school favorites (like meatloaf and BLT sandwiches) with a homemade touch and drinks served in mason jars.
Drinks and nightlife: Boulder City isn't exactly known for its nightlife. There's always the cheap drinks of the Backstop Sports Pub (a dive bar with history) or the wine at Milo's Inn. The recent reopening of Cleveland's Lounge shows promise, a throwback speakeasy in the basement of the Boulder Dam Hotel. Beer lovers will prefer the outdoor garden at the Boulder Dam Brewing Co., where the stout is used in the chili and the hefeweizen makes an appearance in the "Breuben" corned beef sandwich.
Chinatown
What can we say? We love Chinatown. It's not typically a place to spend a weekend, but the neighborhood is conveniently close to the Strip and overloaded with so many good restaurants, you could really enjoy eating your way through it for a few days. For the most part, parking is tight and traffic sucks, making a reliable ridesharing app your best friend. Chinatown is almost entirely on Spring Mountain Road between Interstate 15 and Rainbow.
Where to stay: Chinatown doesn't have any hotels to call its own. Some of the closer resorts include mid-Strip favorites like the Wynn, Venetian and Treasure Island. The Rio and Gold Coast are just south of Chinatown on Flamingo Road. The latter is home to Ping Pang Pong, easily one of the best restaurants in Las Vegas for dim sum.
Things to do: Massage parlors, footspas, and late-night karaoke. Need more? Chinatown Plaza, which marks where the neighborhood started, and the new Shanghai Plaza are both full of businesses to explore without the stress of hunting for parking spaces.
Breakfast and lunch: Shanghai Taste is killing it during lunch right now with hand-made soup dumplings that draw big crowds. Or you can just do fun Asian-inspired burgers at Fukuburger.
LaMoon is almost like a French bistro and coffee bar with a heavy Thai and Chinese influence.
Dining out: Despite the name, Chinatown covers all sorts of ground: the classic Chinese cuisine of Joyful House, the spicy flavors of Chengdu Taste, the robata grill of Raku, a modern take on Vietnamese at District One, and the high-end Japanese omakase at Sushi Kame or Yui Edomae, The biggest surprise is how good the non-Asian restaurants are, including Partage for French, EDO for Spanish, and Sparrow + Wolf, which disregards categories altogether for an array of global flavors.
Drinks and nightlife: The nightlife is mostly relegated to the karaoke scene, but if you want to stay up late with tequila and mezcal, Mas Por Favor is a stylish speakeasy and lounge hidden behind a taco shop. Other top drink destinations include the Sand Dollar Lounge with live music every night, Golden Tiki, a tiki bar with more to offer than sugary tropical stuff, and the Leatherneck Club, a Marine bar where (to paraphrase an old Olive Garden slogan) everyone is family.
Although technically part of Henderson, Lake Las Vegas feels like a world of its own, even though it's just a short drive away. The community of homes and hotels is built around a giant man-made lake that's perfect for boating, water sports, or just hanging around with a drink while checking out the scenery. Concerts, food festivals, and wine-tasting events are great excuses to visit. So book a hotel room for a few nights and check things out. Lake Las Vegas had an especially tough time recovering from the 2008 recession and is still pretty quiet all these years later. Whether that's good or bad is up to you.
Where to stay: The Hilton is a Mediterrean-style hotel with a scenic courtyard and easy walking access to shops and restaurants. The Westin is more contemporary with a dual-level pool and an indulgent spa, adding up to a romantic weekend if you book a couples massage. If you prefer an even more quiet atmosphere with extra privacy, hunt for a good condo with Airbnb.
Things to do: Lake Las Vegas Water Sports has watercraft rentals ranging from paddle boats to La Contessa, a two-level yacht with (here's the important part) two bars on board. The company will also let you bounce around the inflatable Aqua Park obstacle course. Nearby hiking trails have sweeping views of both the Strip and Lake Mead. Reflection Bay Golf Club has a course personally designed by Jack Nicklaus, but it's true calling seems to be for weddings, food tastings, and other outdoor parties. Ultimately, if you just wander around the shops and restaurants at The Village and lounge on the grassy slope that overlooks the lake, it's not a bad way to spend an afternoon.
Breakfast and lunch: Seasons Grocery is a place to grab some supplies for your hotel room or condo, but it's also a quick stop in the morning for coffee, fresh-squeezed juices, and breakfast and lunch bites. Take things up a level with fresh-baked pastries, espresso, and sandwiches (including a popular Croque Madame) from Le Cafe Du Lac. The ooey, gooey cinnamon rolls are a must-try.
Dining out: The Mexican food at Sonrisa Grill is the most in-demand option, but don't overlook ONE5 Lakeside for French and Luna Rossa for Italian. Bayside Grill, featuring the cuisine of Scott Commings and Antonio Nunez, has an outdoor terrace for sunset views at Reflection Bay. Marssa serves Japanese steak and seafood at the Westin and is probably the closest you'll come to fine dining at Lake Las Vegas.
Drinks and nightlife: Outside of the hotels, you'll find your share of bars and restaurants in The Village, a social hub of shops and restaurants near the southwest tip of the lake. The Pub is a laid-back sports bar with corned beef tacos, beer, whiskey, and pool. Vino del Lago is a bit more sophisticated; a wine bar for live jazz with string lights on the patio. The Speakeasy is a newcomer and while not secluded or secretive like more authentic speakeasy-style bars in Vegas, it has its charm as a cigar and cocktail lounge.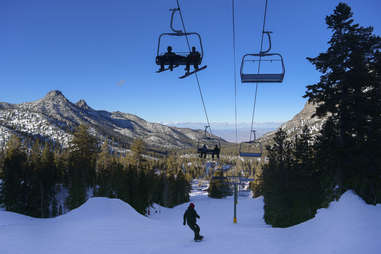 Mt. Charleston
If you need a change of pace—and some serious elevation—the best thing you can do is hit Mt Charleston. The tallest mountain in Southern Nevada is about an hour drive from the heart of Las Vegas, yet it's the quickest way to trade out the dry, brittle, allergy-ridden air of the valley in favor of some welcome pine-fresh mountain scenery. Drive up in the winter and you'll see families tubing alongside the road before you even reach the ski resort. The juxtaposition between the mountain and the desert lifestyle a few miles away couldn't be more evident.
Where to stay: Switch things up from all those Las Vegas hotels and rent a cabin near the Mt. Charleston Lodge. More adventurous visitors are welcome to camp or RV year-round at McWilliams Campground. Bring some food and chains when it's snowing. If you prefer a more standard hotel room, try the quiet 64-room Retreat at Charleston Peak, formerly known as the Resort at Mt. Charleston. The place has been around since 1984 and has seen better days, although things are slowly starting to turn around under new ownership. It's always worth checking out what's available on Airbnb since Mt. Charleston has an intriguing mix of private properties, ranging from quaint to contemporary.
Things to do: Lee Canyon has skiing, snowboarding, and tubing all winter long and hiking, disc golf, and archery in the summer with the elevation canceling out the sweltering seasonal heat that makes life difficult for everyone else down in the valley. Mt. Charleston is part of the Spring Mountain National Recreation Area, where miles and miles of forest are a great backdrop for picnicking any time of year.
Breakfast, lunch, and dinner: The Mt. Charleston Lodge has a full menu with pizzas, bison and elk burgers, and a semi-legendary chili recipe (customizable with your choice of beans). It's your best place on the mountain for breakfast, lunch, and dinner. Be ready for long lines during busy hours. Lee Canyon has the sleek Hillside Lodge with the Bighorn Cafe service counter for beer and burgers and the Brewin' Burro to warm up with coffee and hot chocolate. Over at the Retreat at Charleston Peak, there's a 24-hour cafe for hot drinks and small bites as well as Canyon Restaurant, which has breakfast and dinner buffets with live music on Friday nights.
Drinks and nightlife: Mt. Charleston isn't exactly known for an apres-ski culture. Nightlife is pretty nonexistent in this sleepy mountain town, but that doesn't mean you can't get a stiff drink in this day-trip destination. The Mt. Charleston Lodge is famous for its boozy Mt. Charleston Coffee (fueled with drambuie and brandy) and other hot cocktails with live music on weekends. The Retreat at Charleston Peak has a small tavern with cocktails, beer, and mountain views.
Sign up here for our daily Vegas email and be the first to get all the food/drink/fun in town.
Rob Kachelriess
has been writing about Las Vegas in Thrillist for more than seven years. His work has also appeared in
Travel + Leisure
, Trivago Magazine, Sophisticated Living, Modern Luxury, Leafly, Las Vegas Magazine, and other publications. He treats every weekend like a vacation in Las Vegas. Follow him on Twitter
@rkachelriess
.