Thrillist takes your liver through 600yrs of beer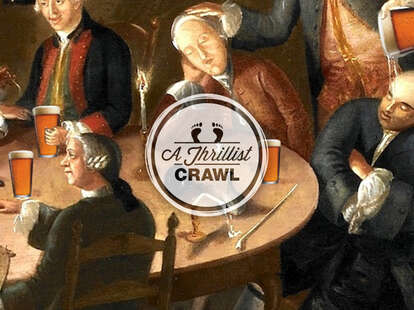 London has lots of two things: pubs, and stuff that happened... most of it in pubs. That's why we put together a pub crawl that chronologically works its way through six full centuries of boozy tradition. Cheers!
Stop One: Begin your quest in Mayfair, where The Guinea started serving beer in 1423. That's a few centuries before we discovered Australia. Back then, Mayfair was just fields, and this was a country pub. After the plague/great fire one-two punch, rich folks moved their way in, and it wasn't more than a quarter of a millennium later that the place finally felt confident enough to start serving steaks. Serve yourself with an ironically named Young's on draught.
Stop Two: Just a short jaunt away, exactly halfway between Parliament & 10 Downing Street, you'll find The Red Lion, which quickly became the "favoured watering hole of the political elite" after being established in 1434. The law of averages tells us that means it's responsible for the besotted invasion of at least one country. Pretty much every PM ever has popped in for a pint, and it's where the first-ever trade unions were figured out. Develop your own union with the strong lineup of cask ale (Bengal Lancer pale, honey ale, etc)
Stop Three: Hop on the tube and head South to Wapping, where The Prospect of Whitby lies on the banks of the Thames. The flooring's the very same as when it was laid in 1520, the bar is still made from parts of an old ship, and past historical guests include Dickens, Paul Newman, Princess Margaret, and a dude named Judge John Jeffreys, who tied smugglers up at low tide and enjoyed a beer while watching them drown. Drown yourself in via one of the 50+ taps, which include Harvey's and Black Sheep Bitter
Stop Four: Head across the river to The Mayflower (est. 1621), where a certain ship originally set sail (and picked up some dudes in Plymouth or whatever), lending a lot of weight to the theory that America was just a drunken bet that got waaay out of hand. While you're there, discover a pint of the house ale, Mayflower Scurvy
Stop Five: It's back to Central, where you can pop into De Hems Dutch Bar: built in 1685, owned by a bareknuckle boxer, bought by a Dutch sea captain called "Papa", the headquarters of the Dutch resistance during WW2, and currently serving the biggest selection of Netherlander draughts in the city. Go Dutch with your liver on taps of Oranjeboom, three types of Leffe, and Grolsch
Stop Six: Roll on to Covent Garden's Lamb & Flag (1722), and grab a pint of Seafarers Ale w/ a chaser of Blavenie Doublewood from their vast whiskey collection. Drink it in the stone courtyard, then ask the bartender why they changed their name from "The Bucket of Blood" back when that same courtyard had bareknuckle boxing, and the alleyway leading to it was used to ambush & literally kill dudes.
Stop Seven: Next up is East London for Dirty Dicks (hahaha!), whose debut clocks in at a modest 1745. It still houses the dead cats that were originally on display (for whatever messed up reason), and was founded by a dude who, after his wife died, refused to clean either himself or his place even once. Today they have very-much-live music, plus pints of the gloriously named Butcombe Bitter
Stop Eight: Staying East, make your way to The Eagle, cobbled together in 1825. Original features include the bar & floorboards, but cooler still is the fact that it's name-dropped in the "childrens" poem Pop! Goes the Weasel, which is apparently actually about desperately alcoholic local workers pawning tools for booze. If you've got the tools, they've got a "Czech pilsner, German lager, American craft, or British cask ale" with your name on it in their heated beer garden
Stop Nine: Skip forward to 1894 and you'll be at Whitechapel's The Blind Beggar, the very place where famed gangster Ronnie Kray shot and killed a dude named George Cornell in front of witnesses. The bullet's still lodged in a wall in the upstairs bar. It's also where The Salvation Army was created, so maybe it evens out? Take a couple of shots yourself after downing an appropriately named Courage Best Bitter
Stop Ten: Now it's back to Central for The French House. Dating back to a paltry 1910, it was founded by a German dude right before WW1 (awwwkwaaaard), so they changed the name. During WW2, de Gaulle wrote his speeches here. They still institute a rule of "no music, no machines, no television and no mobile phones", which has been harder to police since the invention of a couple of those things. You'll find deliciously oaky Breton hard cider, a house lager (just called "beer"), and 30 French vinos.
Stop Eleven: Throttling forth into the 1970s, there's Islington's Hope and Anchor, whose stage was host to an explosion of punk music, including early gigs from the likes of The Pistols, The Clash, The Cure, The Police, The Pogues, Dire Straits, U2, and Joy Division. If you're still standing, snag a Greene King, or an Old Speckled Hen on tap
Stop Twelve: Ready to wrap things up? The Thirsty Bear opened in but 2012, and hails the glorious future as "London's first self-service pub". Beer taps & iPads are built into both mismatched wooden tables and a "barman-less bar", where you can pour yourself any measure you want of their various brews, and'll be charged literally by the milliliter. You can also surf the web, control the jukebox, and order food from them too.