While the Eurostar trip from St Pancras International to Gare du Nord will be getting some upgrades over the next year or two (including some new restaurants, like the Éclair de Génie and Five Guys), there's no reason to wait that long to take a trip to Paris. Here are a few tips for how to do a weekend in Paris like a true local.
Stay central
You don't want to waste your time in the City of Light underground in the Metro. It can take days to sift through hotels and Airbnbs, so booking a luxury apartment at Paris Perfect is a great idea… if you've got the ducats. Their brand-new location on Île de la Cité, in a gorgeously renovated 17th-century building, is as central as it gets, and there's always someone in the lobby to answer any questions you may have. The apartment living will set the tone for a relaxed weekend, away from crowds and lines, allowing you to really soak up the Paris lifestyle.
Just trust the chef
Try to reserve a table at Semilla, a few blocks south from the Île de la Cité. The menu changes often, but just go for the tasting menu, so you can let the chef decide what you need to eat that night (this is Paris, after all -- chef knows best). Afterwards, stroll the banks of the Seine, across Pont des Arts, for a view of the Eiffel Tower, which sparkles on the hour.
... or opt for a classic bistro dinner
Try a classic French bistro dinner at A la Biche au Bois or Chez Paul down by the Bastille. Sure, you'll rub elbows with tourists, but locals still love being able to get French cooking like grandma used to make. Finish off the night with a drink at any nearby café terrace that is still open, and watch the Parisian night owls heading home.
Go for the best version of a classic
Head for coffee at Caféothèque, just behind City Hall, and pair it with an exceptional chocolate croissant -- or even one of its gluten-free cakes. We swear, these won't leave you nostalgic for the days when wheat wasn't considered practically poisonous.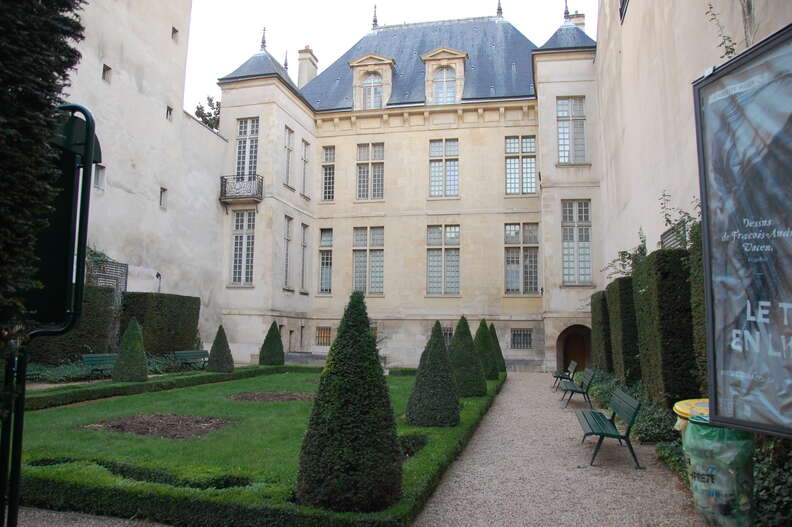 Pretend to be more cultured than you really are
While Paris is full of gorgeous museums, you may want to take an hour or so to duck into the lesser-known Musée Cognacq-Jay. This 16th-century mansion houses the private collection of a 19th-century mogul. Entry is free, and it's always virtually empty.
Go shopping
Stroll the Marais and its tangle of boutique-lined streets. For shoes, check out Faguo, a French company that makes both men's and women's footwear. Every purchase means a tree will be planted by the company somewhere in the world, so your shopping trip is basically charity. Next, head to the Upper Marais for the unique perfumes at Liquides, where different artisanal fragrance makers sell their wares, like the young creator behind Les Eaux Primordiales. Head to their "perfume bar" to test out many high-quality scents.
Spice up your life
Stock up on spices after heading to the well-known culinary hub Thiercelin. This aptly named sniffing bar allows you to get a whiff of the many herb and spice mixes, like the exotic 1001 Nights, or tonka beans.
You're in Paris -- try the chocolate
Pop into the confectionary world of Jacques Genin to sample his amazing chocolates, and other sweet creations. His salted butter caramel -- especially the one with passion fruit -- is a must-try. Stay for a coffee and pastry if you have some time.
... and probably some wine, for good measure
Before heading back to the Gare du Nord, stock up on a bottle of wine (or two) from one of the bottle shops open on Sundays. Stroll westward from the Centre Pompidou, under the newly reopened Canopy at Les Halles before heading north up rue Montorgueil. Check in at either Le Repaire de Bacchus or Nysa, both open on Sundays.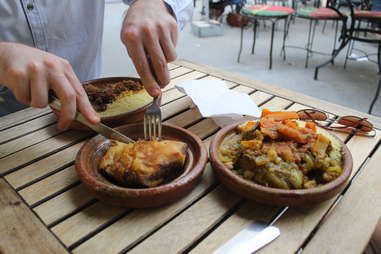 Go international for lunch
It's worth seeking out the Marché des Enfants Rouges off rue de Bretagne in the Upper Marais: this old, covered market houses a mix of international cuisines, including North African, Italian, and Caribbean food. Check out Chez Alain, where patience is rewarded with phenomenal crepes and sandwiches.
... or go for lunch with a view
Have a light lunch (maybe one of the excellent croque monsieurs) on top of the museum at Georges, soaking up the magnificent views of the city. You can take the external escalator -- akin to a hamster tube -- all the way to the top, where both indoor and outdoor seating is possible.
Spend the day people-watching
In the afternoon, avoid the tourist traps and live the life Parisian: if it's a lazy day, stroll the Canal Saint-Martin, and sample coffee at Ten Belles or Radiodays. Or give French coffee a break, and try the Portuguese offerings at the brand-new Donantonia pastry shop, including a custard-filled pastel de nada.
Definitely stock up on pastries
If there's time, pick up a few eclairs or other pastries from Stohrer, the city's oldest existing patisserie. Try the baba au rhum, which was created in the store, as well as its award-winning eclairs. See if you can make them last the entire Eurostar journey back, though it's pretty likely they'll be gone by the time you exit the tunnel on the UK side.
Sign up here for our daily London email and be the first to get all the food/drink/fun in the capital.
Bryan Pirolli is a Paris-based writer, photographer, tour guide, and PhD candidate at the Sorbonne who is more than likely currently drinking wine. Follow him on Twitter right here.