London is one of the world's most visited cities, and with good reason: it's home to so many iconic attractions that you can easily fill a vacation checking items off your lifelong bucket list. But what if you've already been there, done that, and got the T-shirt? Or you just don't like fighting the crowds? Or maybe, just maybe, you want to scratch beneath the surface and discover the London that Londoners love, away from the fridge-magnet sights and double-decker tour buses.
Don't get me wrong, Buckingham Palace, Big Ben, and co have their place -- but it's not on this list. Instead, consider this your chance to delve deeper into London's characterful neighborhoods, get the lowdown on lesser-known things to do, and enjoy this global capital on a local scale -- just like the natives do.
Recommended Video
Please Don't Hang Up: The Best Things to See, Eat, and Do in Milwaukee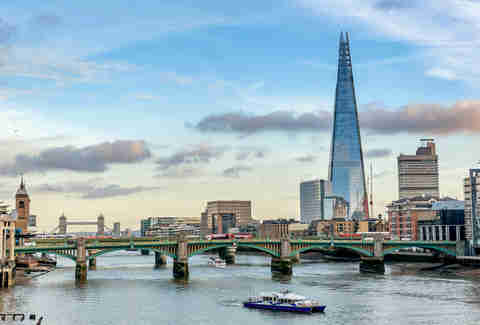 Take the world's highest yoga class
$$$
Test out your balance by taking a yoga class at the top of the Shard (not literally on the pointy bit though, don't worry). It's a bit of a pricey indulgence, but a cool (and challenging) way to experience the view from the tallest building in Western Europe.
Catch a cruise down the River Thames
$$
This city was built around the river, so it goes that you get some of the best views by hitting the water. You can catch a cruise to suit your taste, be it fine dining and live jazz, a high-speed RIB (Rigid Inflatable Boat) or pretty much anything in between. In summer, board a film cruise and combine sightseeing with a classic or modern movie.
Take in the international flavors of Brixton Market
$
A good market will transport you to a different place, and Brixton Market does just that. Street food, Caribbean wares, art, coffee, booze, atmosphere, exotic fragrances… it's got it all. If you haven't yet satisfied your sweet tooth, pop over to Ms. Cupcake nearby and grab, yes, a signature vegan cupcake, a brookie (a divine combo between a cookie and a brownie) and a "vegan milkshake" (which wasn't even in my vocabulary until now).
See graffiti at Leake Street tunnel
Free
If you're being dragged to the London Eye by a straight-up sightseer, at least make them follow you to this nearby street-art wonderland. Housed in a tunnel below Waterloo station, this constantly evolving canvas was started by none other than Banksy himself. As you admire the art, chances are you'll see artists putting the finishing touches on a newly minted masterpiece. But don't get too precious about your favorite works, as they're likely to be painted over within a few weeks.
Free
Extensive, comprehensive, essential. A true highlight is the First World War Gallery, which, let's be honest, most of our history classes skimmed over so they could get to the sequel. Go and learn what it was actually like to be stuck in a muddy trench for years on end. You'll leave with a new appreciation of, well, everything.
Walk up oh-so pretty Primrose Hill
Free
Take a walk down the picture perfect high street, then hoof it up the actual Primrose Hill for some astounding skyline views. It's wonderful by day, but even better at night, when the darkness of Regent's Park contrasts brilliantly with the lights of the city. Tip: If you're approaching from Regent's Park, don't look back until you've climbed all the way to the top. Trust me.
Hit some super-Instagrammable bookstores
Free
You can barely walk a hundred yards in London without seeing the former home of some author you CliffNoted in high school, so it goes without saying that the bookstores are high-caliber. Daunt Books in Marylebone and Libreria in Spitalfields are two prime examples, or there's Word on the Water, a book-boat on a canal. Yeah, the point of a bookshop isn't necessarily to add a cool pic to your heavily curated Insta prof, but it's a bonus.
Ride the Mail Train
$$
While a postal museum doesn't usually flutter the heart, this one is surprisingly wonderful. Like so many of London's museums, it's very well-curated and provides a hefty dose of history. But the real draw is the chance to board the mail train and go on a death-defying ride through the under-city tunnels used by the Royal Mail service for most of the 20th century.  
Get up to no good in Kings Cross
$$
Sure, a certain boy wizard might have popularized the area around the train station, but nowadays it's Google and Facebook that are working magic. The new office buildings are part of a flurry of development, with new restaurants and bars popping up all over, including the audiophile's dream saloon Spiritland and the upcoming Coal Drops Yard complex. And sure, go ahead and get your damn photo at Platform 9 ¾ too.
Shop smart in Shoreditch
$$
While it may have lost some of its "cool" status to nearby Dalston, Shoreditch still has a lot to offer. Whether it's picking up a gift for your niece at The Play Box or getting high-end design at stores like Aida and SCP, you'll appreciate the area's design-forward attitude. Hit the Dinerama open-air street food arena (yes, arena) afterwards to resupply your energy, if not your wallet.
Drink Pimm's in the Royal Parks
Free + the cost of a tinny
London is home to a TON of green space. Use it! It's free, it's beautiful, and you're gonna need a break from the tourist crowds. First, pop into a store and grab the local favorite, a ready-to-guzzle cocktail-in-a-can like Pimm's or gin & tonic. Then plop down on a blanket, and watch the many people with their many dogs go by. If pup-watching isn't your thing, you can spot some deer in Richmond Park or hang out with the resident pelicans of St. James's Park.
Hit a brewery (or three) in Bermondsey
$
Known as the Beer Mile, Bermondsey is the epicenter of craft brewing in London (and some would argue the UK). Stretching from Fourpure to Southwark Brewing Company, and containing such London gems as Hiver, Partizan, and Eebria, you'll no doubt discover new favorites, and can walk off the pints as you go.
Get down with the dinosaurs at a world-class museum
Free
Chances are you've already seen the Natural History Museum on film, in Paddington and, erm, Jupiter Ascending. Regardless, it's a first-rate museum with some of the finest specimens of rare plant and animal life on the planet, housed in an imposing Victorian-era building. Of particular note is the dinosaur collection, complete with a mildly terrifying animatronic T-Rex. Oh, and like most museums here, it's free.
Listen to live jazz in Camden
$
The leather threads, spiky hair, and Dr. Martens on show will tell you that Camden Town is still very much a punk pilgrimage site, but the music scene is actually much more varied. Traditional and modern jazz acts play at the intimate Jazz Cafe, while it's all about soulful blues at the Blues Kitchen. When you're not dancing, nosh on some southern comfort food (and some Southern Comfort too, if you want).
See a show outside the West End
$-$$$
London's Broadway-equivalent is the West End, but some of the city's best theater experiences lie further afield -- try the Bridge Theatre, the Old Vic, and Shakespeare's Globe, all in the borough of Southwark. There are countless pub venues too, where you can catch small-scale performances. The Gate Theatre in Notting Hill and the Pleasance Theatre in Islington are two lesser-known favorites that host plays as well as comedy from top British names, including Jimmy Carr and Graham Norton.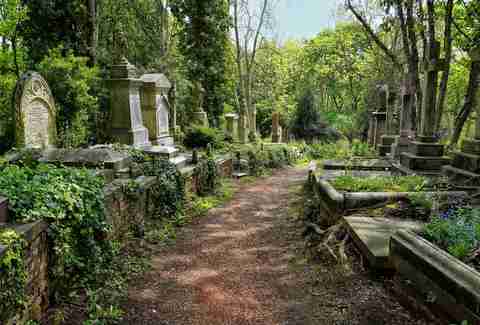 Pay your respects at the magnificent cemeteries
Free, or cheap
London is home to "The Magnificent Seven": a collection of beautiful and prestigious Victorian-era cemeteries. Abney Park and Tower Hamlets are worth a visit (and free), but the most famous is Highgate Cemetery (£4 entry), where you can lose yourself in the peaceful groves and pick out the weather-worn gravestones of people such as Karl Marx and Douglas Adams. Afterwards, grab an ale at The Flask, supposedly one of the most haunted pubs in London.
$
In a city this old, history is everywhere. Instead of simply walking around with your face glued to Google Maps, let an amiable, affable, tour guide tell you some of London's many great stories. Sure, this may sound more like something your grandparents would be after, but take a chance on a Jack the Ripper or Dickens-themed tour and learn about London in the grisly 1800s. In any case, walking tours are an easy, inexpensive way to explore, and sometimes come with perks like free beer.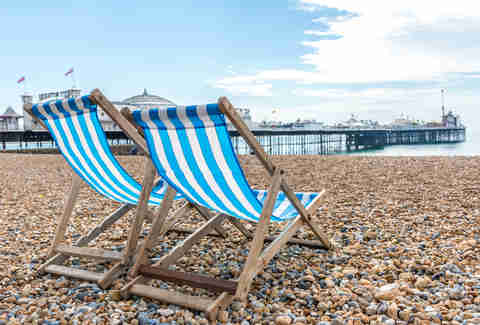 Take a day trip to the sea
$ if you book train tickets in advance, $$ last minute
Look, sometimes you just need to GTFO of the city. Choices abound, but you can't go wrong with the 50-minute train ride from central London to Brighton. Its south coast location makes it a breath of fresh, salty air. The city is a pub enthusiast's dream, and its rows of independent shops give off a bohemian vibe all their own. Grab a picnic and some tall boys, and lounge on the rocky beach (which is surprisingly comfy to sit on) for a perfect end to the day.
Sign up here for our daily Thrillist email and subscribe here for our YouTube channel to get your fix of the best in food/drink/fun.