The Best SoCal Airports to Fly Out of Besides LAX
LAX is the worst, but luckily it's not your only option to fly out of Southern California this holiday season.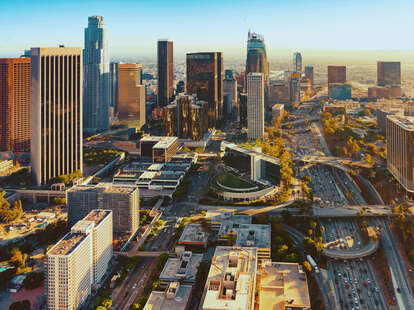 Los Angeles

| TierneyMJ/Shutterstock
Los Angeles

| TierneyMJ/Shutterstock
Travel is magic, a way to broaden your experience, refresh your spirit, and find new appreciation for the world at large. But traveling can also suck, especially if you happen to be flying out of LAX, and even more so if you happen to be flying out of LAX around the holidays. LA's major airport is crowded and inconvenient, with inadequate public transportation, expensive parking, long lines, and endless construction mucking everything up. Allegedly, the ongoing construction will be completed and lack of public transit options will be resolved ahead of the 2028 Olympics, but in the meantime it makes traveling through the hub a wild card of inconvenient adventures.
Luckily, it's not the only option for flying out of the LA area—there are several other airports near LAX within relatively easy driving range, each of which is smaller and more manageable. But they also have strengths and weaknesses of their own, depending on your destination. To help you figure out which one best fits your needs, here's everything you need to know about other airports around LAX. And if you're looking for a guide to San Diego International Airport, we've got you covered there, too.
Hollywood Burbank Airport

| Angel DiBilio/Shutterstock
Adding Hollywood to the name in 2017 may have been a gently misleading marketing move on Burbank's part, but the airport also known as Bob Hope remains the region's most charming. It's tiny, with just two terminals and fewer than 15 gates, so you'll zip through security every time. Burbank's location at the mouth of The Valley also makes it a convenient airport for a large swath of the city—if you live in the central, north, or eastern parts of town this is the only airport where asking for a ride from friends is easier than asking them for a kidney donation.
Where you're going: As a small regional airport, it's most useful if you're flying around the West, either up and down the coast or inwards to Utah, Colorado, or Texas. There are one or two non-stop flights per day to destinations like NYC and Nashville, but if you want good people watching, the best flight out of Burbank is the Friday afternoon jaunt to Vegas, an eclectic crowd united by a desire to cut loose.
Where to eat: The food and drink options at BUR are scarce, so you're better off bringing snacks from home or stopping somewhere on the way in, maybe for breakfast burritos at Corner Cottage or sandwiches from Cahuenga General Store. Failing that, Bob Hope Airport is also the official LA embassy of Flavortown, with four Guy Fieri-branded establishments, serving Sammiches, Burgers, Highballs, and more.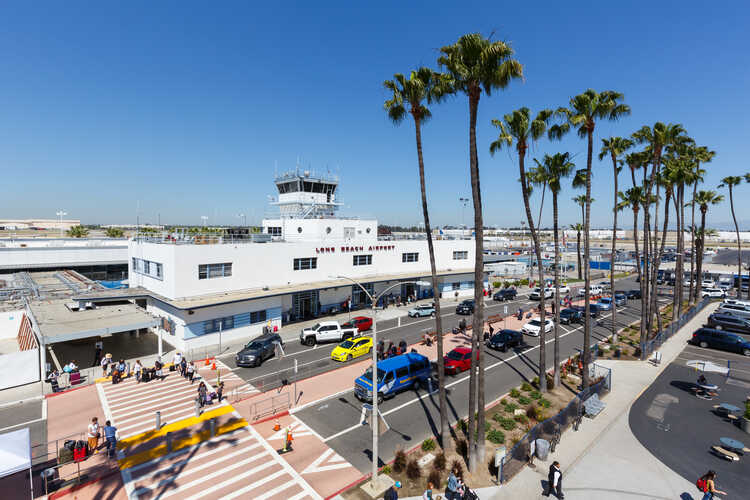 Long Beach Airport

| Markus Mainka/Shutterstock
Long Beach is a hike from the northern parts of LA, but coming from the middle, east, or south side it may not be any farther than LAX. The airport itself is charming and quaint, with a vintage nautical main terminal framed by palm trees. It's even smaller than Burbank, with just one terminal and 11 gates, so it makes for a particularly easy and pleasant pick up or drop-off.
Where you're going: This will be a theme among these airports—the best places to fly from our smaller airports are destinations around the West, mostly through Southwest Airlines. If you're going to Phoenix, Vegas, or Northern California this airport is a good choice, and there's one fun extra for LGB—they have more flights to Hawaii than other comparable airports, including direct flights to Kahului and Maui via Hawaiian Airlines.
Where to eat: Once again options within the terminal are relatively scarce, with the usual scattering of chains, burgers, coffee, and drinks. But if you make it to the area with some time to spare, there are good options nearby, including two of our favorite food halls—SteelCraft just to the west, and The Hangar, which is built into a former aviation hangar just outside the airport.
If you live in the Inland Empire, ONT is an easy winner, but it's also underrated for people who live closer to central LA. The airport is much more manageable than LAX, though not as tiny as Long Beach, with a nice balance of convenience and practicality. And it's typically under an hour's drive from downtown, which isn't much farther than LAX even if the area code is different. If you have to drive yourself, there's also the added bonus that it offers more affordable airport parking compared to LAX—just $13/per day.
Where you're going: Most flights from Ontario depart for other destinations in the Western part of the country, but it's also a great airport for connecting flights, largely through American Airlines' hub in Dallas and United's hub in Denver, but also to Atlanta for Delta connections. ONT is also an international airport, and its most popular international route is nonstop to Guadalajara on Volaris, and there are also some direct flights to San Salvador and even Taipei.
Where to eat: ONT has a full complement of standard airport dining options, so you'll probably do as well as could be expected at spots like Rock & Brews, Wolfgang Puck Pizza, Einstein Bros Bagels, and Wahoo's Fish Tacos. If that just won't do, there are options nearby like World Fried Chicken and the Ontario outpost of Mr. Fries Man, and it might be worth the detour for some of Kra-Z-Kai's Laotian Barbecue.
Orange County's only commercial airport is also the second-busiest in the region, with considerably more passengers and flights than Burbank or Ontario. And yet it remains relatively easy to manage—or maybe it's just that everything feels calm compared to LAX. John Wayne Airport, which gets the confusing code SNA for Santa Ana, is a great choice for the Disney-bound, and it's also a good airport for visiting or leaving from OC's beach communities like Newport, Huntington, or Laguna Beach.
Where you're going: With a higher flight volume comes a little more diversity of destination, with lots of flights around the West Coast but also more options headed to places like Newark, Chicago, and Nashville. It's also an international airport with flights to Mexico and Canada, including daily direct flights to Puerto Vallarta and Vancouver.
Where to eat: Like Ontario, SNA has a fine-enough set of options, including California Pizza Kitchen, Jamba Juice, and several full-service bars. But if you have the time, the airport is quite close to a lot of great food and drink options, particularly if you like Japanese food—udon and soba specialist Meiji Seimen, tonkatsu legend Kagura, and the excellent food court at Mitsuwa are all extremely close by. If you've got more time to kill, nearby Green Cheek makes some of the best beer in the country, especially if you like IPAs.
Palm Springs International Airport

| duluoz cats/Flickr
It would almost never be worth the drive from LA to fly out of Palm Springs International Airport, but it's important to remember that it exists—if you have friends coming in for a desert getaway or Coachella next spring, you may want to gently suggest PSP over LAX. As a small regional airport it's another easy pickup, and it's practically right in the heart of town so it's hardly a hassle at all if you're already out in the desert.
Where you're going: Because travel to and from PSP is largely driven by tourists, the destination map is broader than you might expect for an airport of its size. There are regular flights to the Twin Cities, Des Moines, Boston, and New York. And it is an international airport as well, with flights to cities all across Canada including Toronto, Vancouver, Edmonton, and Calgary, presumably for Canadians looking to bake in the desert sun.
Where to eat: As a small airport, food and drink options are fairly minimal, though there are several full-service restaurants if you want somewhere to sit and have a drink while you wait for your flight. Many of the options are located in the Bono Courtyard, an open-air section between security and the gates. There is also an official PGA Tour Golf Shop—this airport knows its audience. If you want to eat elsewhere before your flight, all of Palm Springs is within an easy drive.
Ben Mesirow is an Echo Park native who writes TV, fiction, food, and sports. At one time or another, his writing has appeared in
TheLA Times
,
Litro
,
McSweeney's Internet Tendency
,
Los Angeles Magazine
, and scratched into dozens of desks at Walter Reed Middle School.