Don't Miss Out on These Quick but Awesome LA Adventures
When you're in Los Angeles, there's a tacit agreement that your time will occasionally be sucked up by things like traffic jams or Instagram models blocking an ENTIRE sidewalk for a photoshoot. But, in return for tolerating these annoyances, you'll be treated to sunbathed days and experiences that are so serene you make the world jealous by posting them to Instagram (which involve jamming up an entire sidewalk). To float above the legion of snake oil schemers, scenesters, and snobs you'll encounter, turn to these simple joys in LA.
Meditate in the most meditative setting possible
Self-Realization Fellowship Lake Shrine
As soon as you pass through the gilded lotus gate that contains some of Gandhi's ashes, you know things are about to get downright transcendental. The 10-acre interfaith setting is packed with lush gardens, swan lakes, a Dutch windmill chapel, and a Mississippi houseboat. The whole place is practically one big meditation shrine.
Get a rubdown at a 24-hour Koreatown spa with rooftop access
Wi Spa
Strip away your stress and worries (and clothes) to be born anew inside of Wi Spa, the mother of all K-town saunas. In this temple of self-care you'll be treated with body scrubs, a combo of Swedish and Shiatsu massages, dry and steam saunas, hot tubs and enough kimchi stew to replace the calories you've burned in the sleeping room. Come during the day to take advantage of the canopied coed rooftop terrace with a view of downtown.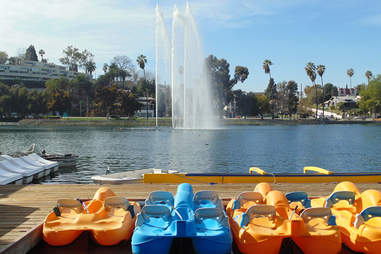 Maggie Mbroh / flickr
Pedal a boat around a lake
Echo Park Lake
LA's reigning hipster hood has changed drastically from a decade ago, as evidenced by the the renovations to Echo Park Lake. Today you can jog and picnic in the cleanly park area, though the most serene experience comes when taking to the lake by pedal boat, canoe or even gondola. You may see some famous geese (there's a fan club), the fountains reflecting a rainbow, or a floating librarian drifting around.
Picnic like the cultured folks do
Barnsdall Art Park
An unassuming pocket park of the fringe of Los Feliz, Barnsdall is a secluded alternative to Griffith with, you guessed it, a ton of public art installations. Set up shop beside the Frank Lloyd Wright-designed Hollyhock House with a basket of groceries from the adjacent Jons International Marketplace, or if you're feeling more sumptuous, a churro ice cream sandwich from Churro Borough.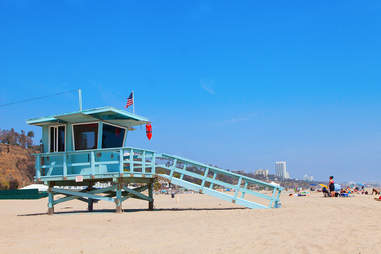 Kjell Leknes / Shutterstock.com
Be alone with your senses…
Various
Santa Monica Pier and Venice Beach are many things, but relaxing is not one of them. When you're in need of a beach day without the crowds and egregious parking costs, work your way north up the PCH. Spots like Will Rogers State Park with volleyball courts and wildflowers or Point Dume littered with viewpoint bluffs and craggy coves will make for idyllic sunset venues.
…or shut them down altogether
Pause Float Studio
For those who are uninitiated to the fine art of flotation therapy, an appointment in a sensory deprivation tank is in order. Lean back into a giant sound-proof, light-proof pod where your body will be buoyed by therapeutic epsom salts. This type of treatment will give your body a chance to decompress and your brain time to drift into that sweet half-awake, half-dreaming state where all your ideas seem extraordinarily creative. If you're stressed out, inside the tank is your solution.
Do yoga in a park with The GOAT of goats
Bette Davis Picnic Area, Griffith Park
As the only place in the U.S. where you can get a Master's degree in yoga, Los Angeles is flooded with yoga options: Hot yoga, baby yoga, disco yoga, 420 yoga, or astral projection yoga. None of these can contend with the latest yogi trend of goat yoga, hosted by the animal lovers at Hello Critter Care. If you haven't reached into bakasana alongside a baby goat named Spanky, you have not yet ascended.
Make a pilgrimage to someplace proudly weird
Joshua Tree
Sometimes the best way to relax in Los Angeles is to get the frick out of Los Angeles. A low-stakes drive a few hours east of the city will land you in pioneer towns surrounding Joshua Tree and the welcome bizarreness of Salton Sea and Salvation Mountain. A banana split at the International Banana Museum sounds good right about now, but for some fun shopping, follow your exoteric pop cultural bliss at Hoodoo!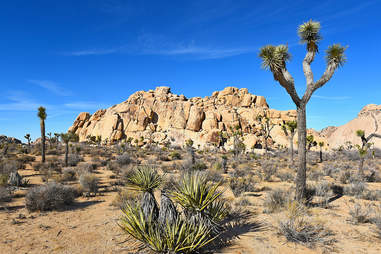 Steve Cukrov / Shutterstock.com
Hike local weirdness without yielding to celebrities
Eaton Canyon
Unlike Runyon Canyon, you probably won't run into Channing Tatum or an errant Kardashian hiking here in Pasadena. Nope, the true star power here lies in the simple joy of climbing to a peaceful waterfall basin. Here, the only real star is the waist-deep water of the canyon amphitheater you can wade into and just chill. Instagram can go uninformed about this one.