Any piece of tourism material for SoCal inevitably features waves from the blue Pacific lapping up against sandy, crescent-shaped beaches, and a svelte surfer clutching a board while strolling out to sea. It's unavoidable. While the southern half of the state is so much more than just sand and water (there's art! a world-class culinary scene! Mario Lopez!), there's no denying that our beaches are pretty outstanding. In fact, we've got so many worthwhile shore stops that it can be hard to figure out the perfect place to plunk down your cooler, work on your tan, and attempt to not check your phone for the day. 
To make your choice less difficult, we've scoured the coast and selected our absolute favorites to experience spectacular sand and surf, from San Diego to Ventura County. We've also included some helpful tips to make the most of your time, and recommendations for where to eat/drink while you're there -- this is about as foolproof as it gets.  
If you're looking specifically for beaches in Los Angeles, San Diego, or the rest of California, we've got in-depth guides to those areas as well.
Recommended Video
Please Don't Hang Up: The Best Things to See, Eat, and Do in Seattle, WA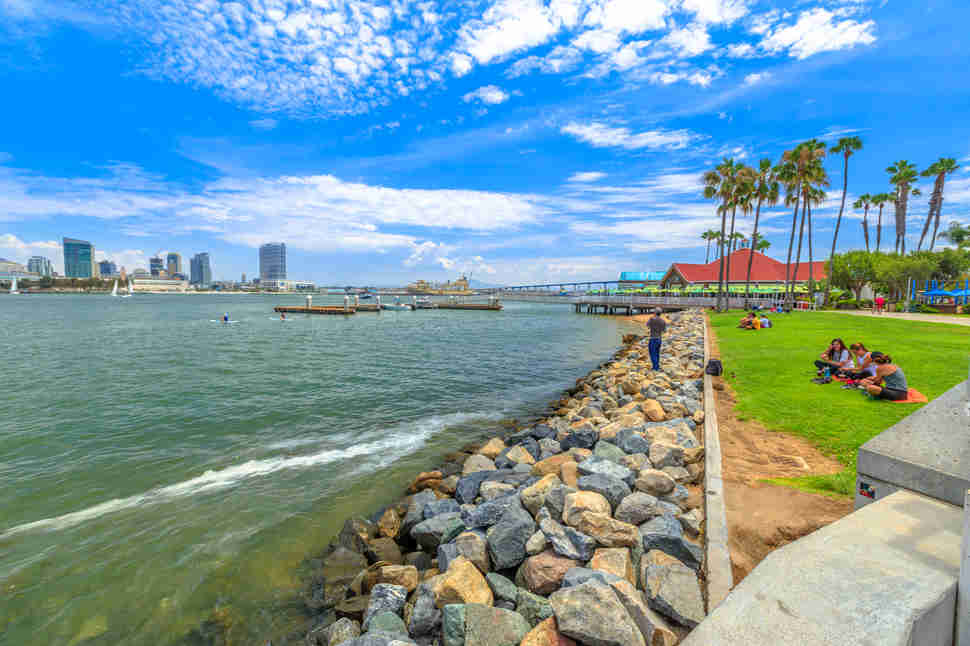 Coronado Beach
San Diego
An island beach near one of San Diego's most iconic resorts
Even if you've never set foot in San Diego, you'll probably recognize the iconic Hotel del Coronado: the sprawling, red-roofed Victorian-style property built in the late 19th century. Though Coronado Island is synonymous with the resort, its nearly two-mile-long white sandy beach is indeed open to the public, including the portion in front of "The Del" which is especially popular with boogie boarders and bodysurfers. You'll find killer views from Point Loma down to Mexico, and since the public beach is bordered on both sides by beaches belonging to the island's naval base, keep an eye out for and naval ships and aircraft carriers.
Know before you go: Even if you decided to forego a stay at the hotel in favor of a cheap(er) Airbnb, you can still rent lounge chairs, umbrellas, and day beds from its rental service. If you've got your dog in tow, note that nearly all areas of the beach here prohibit pups, but they are  allowed (off-leash!) at the sandy area on the north end of the beach that's been creatively dubbed Coronado Dog Beach. 
Where to eat/drink: You'll want to stroll through the resort while you're on the island, and it's a good option for a convenient-albeit-pricey cocktail or a bite. Otherwise, try local hangout Leroy's Kitchen + Lounge, a gastropub with a good selection of area microbrews. And speaking of beer, Coronado Brewing Co. is an easy-going, dog-friendly brew pub with basic bar food, burgers, and wood-fired pizzas.
La Jolla Cove Beach
La Jolla
Crystal waters great for snorkeling and diving
The term "picture-perfect" is a tired one, but you're allowed to bust it out when describing this tiny crescent of a beach with its golden sand, crystal blue water, and dramatic rocky point soaring out into the ocean. Because the water is so clear (with up to 30 feet of visibility) and surf is pretty light in summer, this is a prime spot for snorkeling and diving, though you might very well be able to see down to the ocean floor without donning any gear at all, depending on the conditions. You've also got a good chance of spotting some of La Jolla's famous seal and sea lion residents, who never seem to be having a bad day.  
Know before you go: Some area outfits offer guided snorkeling and kayak tours, if you're interested in getting further out for a few hours and learning a bit more about local marine life. If you time your visit right, you can catch some of the La Jolla Cove Swim Club's special swim meets, when aquatic members take part in events like a 10-mile relay, nighttime swims, and that blue-lip-filled New Year's Day Polar Bear Plunge. 
Where to eat/drink: George's at the Cove is one of the area's best-known upscale restaurants with seriously unparalleled views... and they don't come cheap. The place offers multiple concepts on different floors, so for something a little wallet-friendlier try the venue's cocktail-centric Level 2, which does a variety of cocktails for $9 each during happy hour running from 3:30pm to 6:30pm weekdays. The lunch menu offers the same crafty taco plates served at modern Mexican sister spot Galaxy Taco.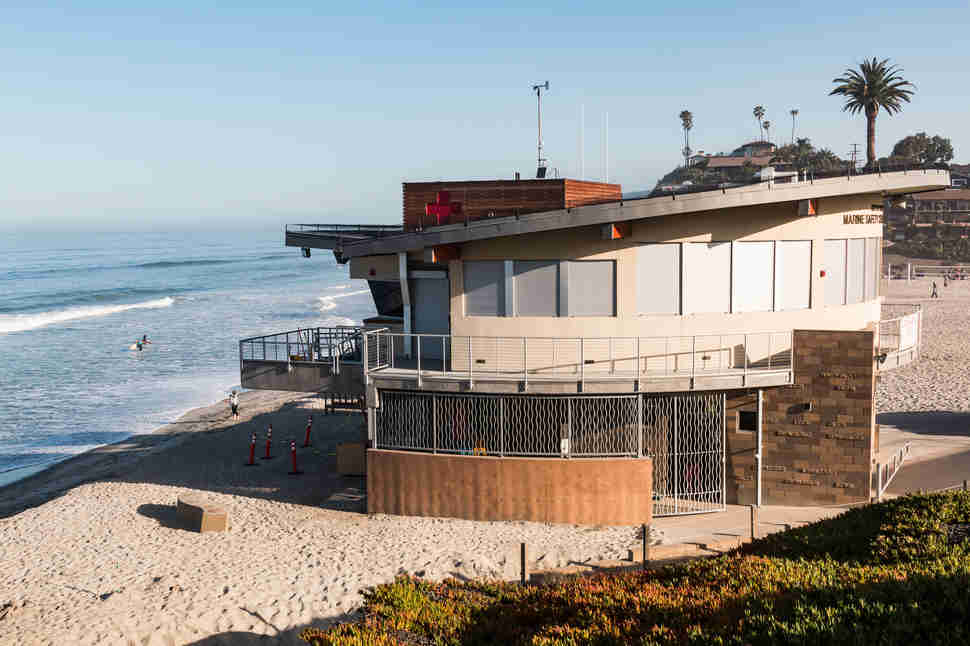 Moonlight Beach
Encinitas
Family-friendly beach in a SoCal surf town
North County San Diego is home to some of SoCal's most glorious beaches, but if you have to pick one, make it this wide, sandy shoreline that serves as the main beach for quintessential surf town. The low-bluff-backed beach is both beautiful and heavy on amenities (and thus, families with kids) including year-round lifeguards on duty, restrooms, showers, volleyball courts, fire rings (a rarity in SD County), picnic tables, and a playground. It also plays host to competitions and events throughout the year. 
Know before you go: There is a paid parking lot with an entrance off C Street, but it often fills up quickly, so come by mid-morning to secure a spot and feel free to make a lap to see about street parking nearby first. If you've got a lot of gear and at least another person in tow, you can make a stop at the drop-off area at the end of B Street to unload. 
Where to eat/drink: When in fish taco country... uh, eat a fish taco. The Fish Shop Encintas lets you choose from nearly a dozen seafood options, from ahi to sea bass to swordfish, and then customize your seasonings and style. The Taco Stand is a growing group of Tijuana-inspired taco joints that got its start in La Jolla, and offers tacos of all types -- including a bomb battered Baja fish taco -- and most are under $5 (a find in these parts). For a happy hour deal, head a couple miles north to Fish 101 in Leucadia, which does $3 fried or grilled fish tacos and $4 Dos Equis on tap weekday from 4pm to 6pm.
San Clemente State Beach
San Clemente
Easy-access beach with a pier, busy downtown, and plenty of food options
If you can't decide between LA or San Diego, this OC beach town is a solid choice that's just about halfway between the two. While it doesn't have the national notoriety of Laguna or Newport, the area's home to beautiful beaches, a surfing scene, and a groovy little town boasting lots of classic Spanish architecture and plenty of independent businesses. The city's long stretch of coastline runs about four miles featuring narrower beaches bordered by brush-covered bluffs in most parts. The main action takes place in and around San Clemente Pier City Beach on both sides of the 1,300-foot-long old wooden pier, with lifeguard stations, lots of grassy areas behind the beach, plenty of nearby parking, and an easy walk to nearby restaurants, bars, and retailers.   
  
Know before you go: If you're looking to test out a car-free day, this is the place to try it. The train station is steps from the beach and the Metrolink runs from multiple cities around SoCal, including Union Station in Downtown LA.  
Where to eat/drink: Many restaurants that have snagged coveted pier space are tourist traps that locals stay away from, but you'll find plenty of residents frequenting The Fisherman's Restaurant and Bar. Situated at the base of the pier with its umbrella-dotted deck providing perfect ocean views, this spot also has a solid offering of cocktails, seafood sandwiches, tacos, bowls of mussels and clams, and multiple versions of fish and chips. For a mid-day cooldown, grab an iced Stumptown coffee on draft or a cone of gelato at nearby Caterina's.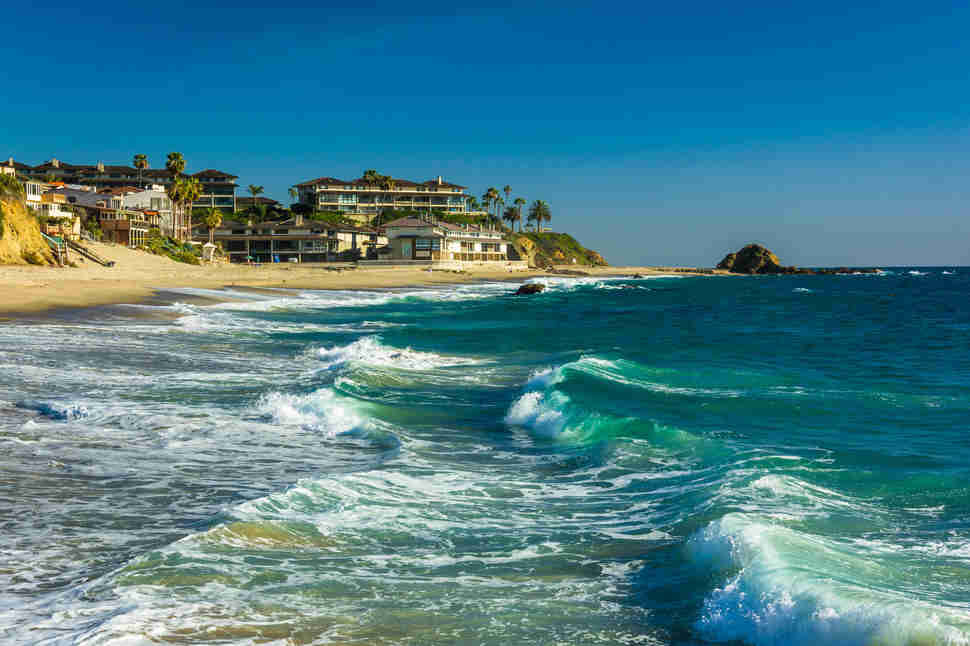 Victoria Beach
Laguna Beach
Secluded beach with old stone tower, good for skimboarding
It's hard to choose a single beach in luxe Laguna, in part because the city wedges in so many excellent options along its seven miles of coastline. That said, Victoria has many of the requisite best-beach offerings along with some unique additions to make it a top contender. Even though it's pretty well-known, there's still an element of seclusion thanks to the surrounding sandstone cliffs and access via a narrow set of steps between beachfront homes. It's got a mix of jagged rock clusters and long, smooth sandy swaths that make it perennially popular with skimboarders (Laguna actually takes credit for being the birthplace of the sport). Victoria, however, is probably best known for its wild 60-foot-tall castle-style "Pirate Tower" that dates back to the '20s, when a wealthy senator had the concrete-and-stone structure built as an enclosed staircase to get him to the beach. You can't go inside, but it's a definite stop for a social snap. Look for a (man-made) concrete pool nearby that may or may not be filled during your visit. 
Know before you go: Part of why Victoria Beach doesn't get as crowded as you'd imagine is the bear of a parking situation, with scarce spots available since it's a residential area. Still, if you come early (and patient) enough, you can look for a metered spot on PCH -- Victoria's entrance is on Sunset Terrace, which intersects with PCH. Better yet, park somewhere a bit further from the main drag, grab a rideshare, and pat yourself on the back for making your day that much simpler. What a time to be alive. 
Where to eat/drink: The rooftop lounge atop hotel La Casa del Camino is a fine spot to spend some of the afternoon gazing at panoramic views of the Mediterranean-looking coastline over sangria, small plates, and some solid salads (try the chopped lobster). A little further north, closer to Table Rock (another beach worthy of checking out), you'll find Coyote Grill: a locals' hangout for Mexican fare and margaritas with a busy bar scene, good happy hour, and the ocean within eyeshot.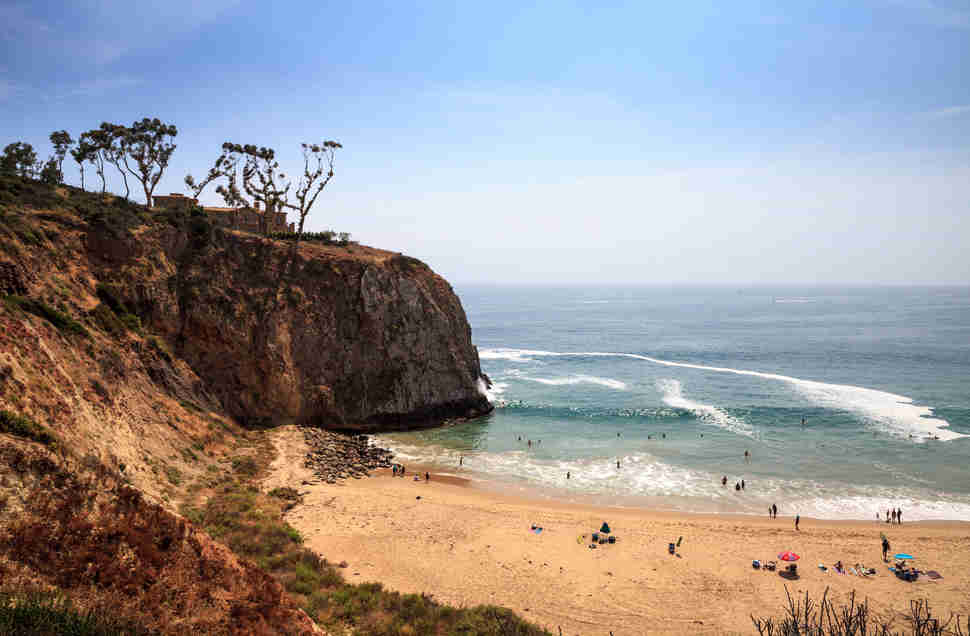 Crystal Cove State Beach
Newport Beach 
Beach portion of a state park with tidepools, coves, and cottages
You don't have to look hard in Newport Beach to find plenty of wealthy folks flaunting their dollars, but the 3.2-mile stretch of unspoiled beach that makes up the coastal edge of the Crystal Cove State Park has a decidedly different feel, bursting with natural beauty in the form of peaceful coves, creeks, and tidepools. The Moro Beach section is especially well-suited for kayaking and stand-up paddle boarding thanks to its calmer waters, though its popular Historic District stretch is an always-jamming 12-acre portion flanked by a hillside of two dozen vintage cottages. 
Know before you go: For a one-of-a-kind experience, consider trying to get in on one of those straight-out-of-a-time-capsule cottages, built between the '30s and '50s. They're not super luxe, but when else are you going to get to stay in a good-old-fashioned beach house with knotty pine walls and decks perched over the Pacific for around $250 a night (which, split between six people, ain't bad). You can also book a private room in some of the dorm-style offerings for $75 a night. They book out six months in advance (and will undergo renovations a few at a time over the next several years, shrinking the pool even further), so plan ahead and keep your eye on the site for cancellations. 
Where to eat/drink: The Beachcomber offers extensive breakfast, lunch, and dinner menus with a side of ocean views, and holds a daily "martini and flag raising" at 5pm and again at sunset, which is just an excuse to order a fresh drink to use to use for toasting. To experience some of the aforementioned glitz and glam in the evening, head across the PCH to Crystal Cove Shopping Center with outposts of Neapolitan pizzeria Settebello, swanky seafood/steakhouse Mastro's Ocean Club, and French bistro Marche Modern.
Manhattan Beach
Los Angeles County
Wide beach with bike path, pier, volleyball, and plenty of nearby bars 
If you're familiar with the 90210 college-era seasons -- and of course you are -- this is where Kelly and Donna had their beach house. And who wouldn't want to live here? The wide beach is just about perfect, with oceanfront bike and pedestrian paths, an old-fashioned pier reaching out over the sea, and a serious surfing and beach volleyball scene, not to mention killer sunsets. The only real downside, in fact, is that home prices here are some of the highest in the entire state. Maybe just swing by for a visit?
 
Know before you go: There's a reason homes are so crazy expensive here: there are some absolutely breathtaking over-the-top mansions with floor-to-ceiling glass, outdoor kitchens, and a dizzying number of decks, all right there on the beach. You can gawk at these opulent houses while strolling the MB section of "The Strand," the walking lane and bike path that runs south to Redondo Beach and north to Malibu. Each summer, the AVP Manhattan Beach Open takes place: a massive beach volleyball tournament that's free to spectators, and a super fun way to spend the day. If you miss it, don't worry, as you'll likely spot non-pros playing some serious games any weekend you visit.
Where to eat/drink: You don't have to look hard for a bite and a drink, as restaurants and bars abound on every block in these parts. The Strand House is the place to watch the sun go down over the ocean with a scratch-made cocktail in hand, but for a tasty post-beach dinner, hit either Manhattan Beach Post for seasonal small plates, intricate cheese and charcuterie boards, and impressive bar offerings; or Cal-Italian Love & Salt, where exec chef Christopher Feldmeier does handmade pastas, and turns out pizzas and veggie plates in the wood-fired oven. If a sea-salty dive bar is more your speed, head directly to Shellback Tavern for a pitcher of beer and a sub-$8 burger, unheard of in these parts.
Marina del Rey
Los Angeles County
Lower-key alternative to Venice and SaMo, good for boat and bird watching 
When it comes to beach recs in the heart of LA's Westside, Santa Monica and Venice get most of the attention. And rightfully so: between them, the adjacent beach towns boast two piers (one with a small amusement park on it), a world-famous beachfront boardwalk, and some of the city's top places to eat. For a less frenetic afternoon on the sand, though, try cruising a little further south to this quieter, residence-lined beach that runs from the Venice Pier to the north jetty fronting the main channel (which allows boats to access its namesake marina). It's wide, relatively quiet, and a great place for bodyboarding, swimming, and playing a few good old-fashioned games (there are plenty of volleyball courts but bringing some bocce balls or a beach paddle set is never a bad idea.) 
Know before you go: While there's a massive parking lot at the end of Washington Boulevard, near the pier, that's also the most crowded section of the beach (though it's good for being steps from the bustling bars and restaurants that line Washington.) Instead, park about a mile south at the metered spaces that line Via Marina along the north jetty, and set yourself up on this mellow end of the beach. If you want to stretch your legs, take a stroll down the Grand Canal's walking path (which begins just across from the metered parking), where you can gawk at a variety of resident majestic birds and resident rich people's really nice homes. 
Where to eat/drink: An afternoon can quickly turn into a late night while hitting every bar on Washington, but if you only have time for a couple, make sure to hit historic dive bar Hinano, which cooks up the best burgers in town just behind the bar; and The Pier House, a good stop for stiff cocktails and innovative seafood plates. If you're looking to sailboat-gaze from a marina-fronting venue, try the 3-6pm happy hour at the newly revamped Cafe del Rey, which does discounted dishes like truffle fries and mussels mariniere along with drink specials every day of the week. It's a bit more upscale, though, so you'll need to change out of your bathing suit and wash that sand off.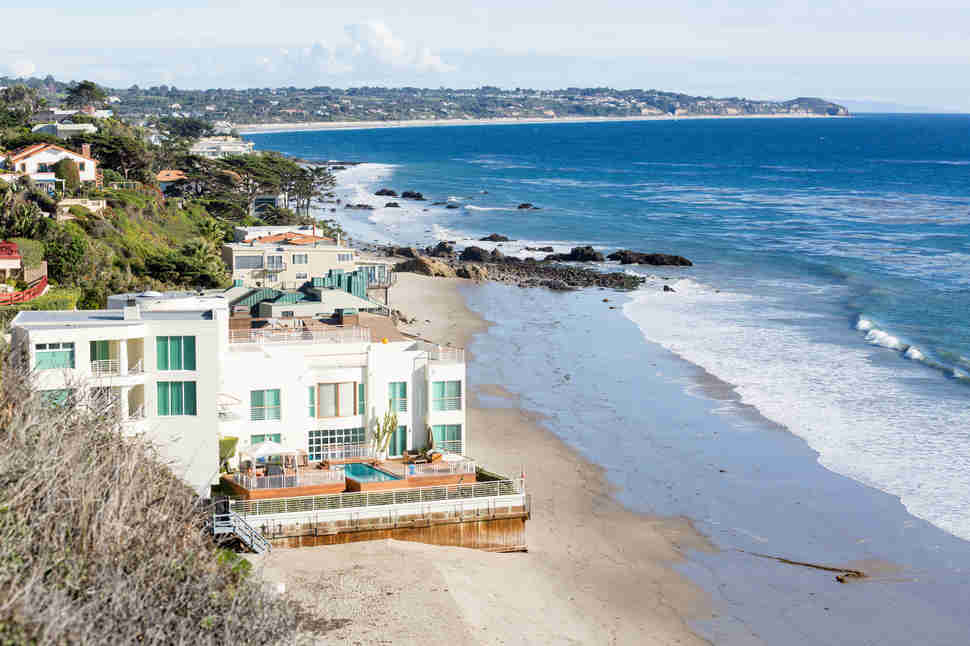 El Matador State Beach
Malibu
Photo-worthy beach with coves, cliffs, and rock formations 
Yes, Malibu is known for its celebrity residents and massive mansions, but the reason for both is its beaches: some of the loveliest in LA, making up a massive 21 miles of coastline. While Zuma is probably the area's most notable, El Matador is only another five miles up the coast and may very well be our favorite. Its multiple cliffside coves are separated by wild rock formations jutting out of the water, forming some cool natural caves and tunnels and making El Matador feel completely different than every other beach on this list.
Know before you go: An easy-access metered parking lot is just above the beach, along the PCH. From there you'll take a stairway trail down the bluffs to the sand. Note that since it's so rocky, it's not the best area to choose if you want to spend the day swimming and splashing. Sunset here is fantastic as well, but it can be crowded with folks staging photo shoots.
Where to eat/drink: Two words: Neptune's Net. The antithesis of fancy-schmancy spots like Nobu and Soho House to your south, head north to this seafood shack-meets-dive-bar-meets-biker-hangout that keeps its deep fryer busy with platters of fried fish, shrimp, scallops, calamari, and clams, all served with a side of fries for good measure.  If breaded seafood cooked in a vat of oil isn't your thing, go for a seared ahi plate, a bucket of peel and eats, or a garden salad if you must ... but at least wash it down with a beer, for God's sake.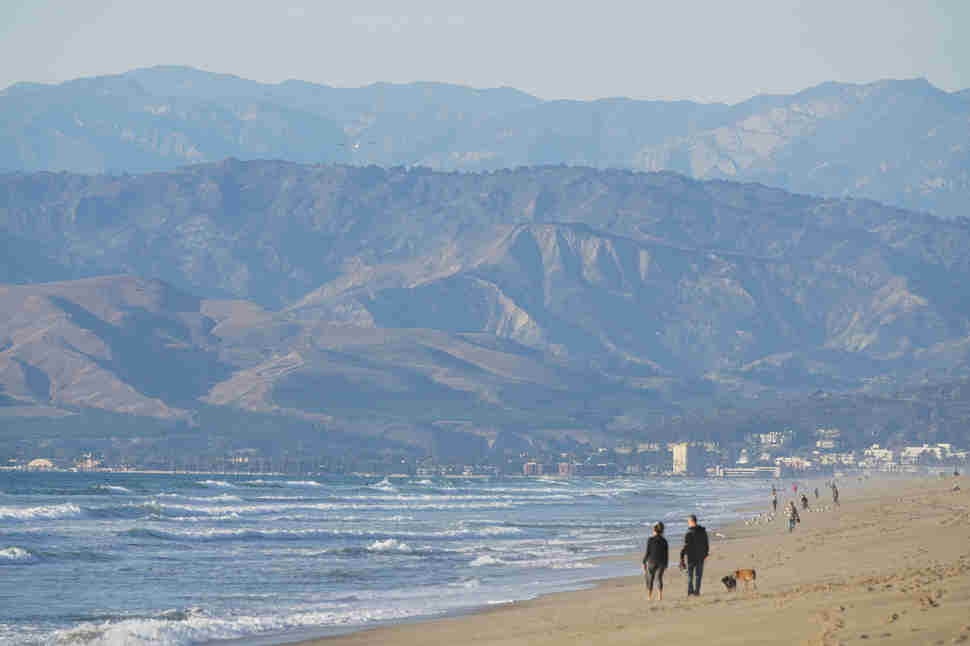 Oxnard Beach State Park
Oxnard
Beach with adjacent grassy knolls and bike paths in a quiet community 
If you're not from around here, you're probably not super familiar with the city of Oxnard. It's often overshadowed by scene-stealing neighbors to the north and south, doesn't have a ton of vacation-y hotels, and has a name that doesn't suggest sun and palm trees. The beaches here have an almost East Coast feel, with rolling wild grass-covered dunes lining the sand, and the 60-acre Oxnard Beach State Park is probably the most action-packed of the city's beaches with bike paths, lots of grassy areas, and a big playground. For something a bit less populated, try Hollywood Beach (so-named for the movie stars who came here for weekend getaways back in the day). 
 
Know before you go: Oxnard's beaches are lined with homes of all types, and renting a beachfront option will most likely run you less than in just about any other area on this list. It's also a great place for pet owners, since most beaches are dog-friendly. If you do get to spend a few days here, make a trip out to the relatively untouched Channel Islands. Boats to the cliff island of Anacapa (the closest one to the mainland) leave right from Oxnard Harbor, only take about an hour, and can arrange to bring kayaks along for you. Once there you'll find nesting seabirds, wildflowers, and a place that's gloriously free of anything commercial. 
Where to eat/drink: The father-son duo behind dockside Fishermen's Catch come from an Italian fishing family and both own and operate their own fishing boats, so this is the place to hit if you're looking for a fresh local catch. Depending on the season, look for halibut and white seabass on the menu along with stone and spider crab in the attached market. If you're looking for both a hidden gem and an old-school spot with menus that feature that age-old sketch of a mustachioed chef giving the OK sign, head straight for Dominick's Italian restaurant for garlic bread, iceberg salads, chicken parm, and icy martinis.
Sign up here for our daily LA email and be the first to get all the food/drink/fun Los Angeles has to offer.