Get Totally Freaked Out with These 12 Halloween Events in LA
From horrific theme parks to creepy corn mazes, haunted houses, and more.
In Los Angeles, Halloween isn't just a night, it's a whole damn season that begins in mid September and ends sometime in early November. Perhaps it's due to our status as the entertainment capital of the world, but each year for almost the entirety of fall, we're treated to a zombie super-horde's worth of costumed actors, creepy corn mazes, and decked-out haunted houses, plus interactive plays that bring Halloween's classic tales to life. And after a year off due to COVID, you can be sure they're ultra psyched to make you scream in terror this year. Here are the best places to get ridiculously scared this year, plus a few slightly less spooky experiences for those who just want candy and Instagrammable moments.
Universal Studios (Universal City)
Thursdays through Sundays until Halloween
Basically the granddaddy of LA's obsession with Halloween, HHN feels just a bit tamer this year, although maybe that's just because our anxiety's been at 11 for the past year and a half. This theme park with rides and experiences that pay homage to classic Hollywood films gets outfitted with terrifying mazes that bring horror movies and TV shows like The Exorcist and AMC's The Walking Dead to life. Perhaps as a nod to our last year of quarantine, this year's theme is "Never Go Alone" and the special effects in the mazes are incredible, per usual: Regan actually floats in The Exorcist maze, you can smell the "meat" in Texas Chainsaw Massacre, and the walls in The Haunting of Hill House are literally full of ghosts. VIP here is totally worth it: without the upgrade, the lines are the scariest thing you'll see all night.
Cost: $69 and up
2640 Pomona Blvd (Pomona)
Thursdays through Sundays until November 21; also October 20 and 27
If Halloween Horror Nights are the granddaddy of Halloween, Delusion is its gold standard: the ultra-interactive "haunted plays" have become deeply embedded into LA's Halloween culture. Since that sort of interaction was obviously impossible in the height of COVID last year, creator Jon Braver's doubled down on the participatory elements this year—be prepared to explore haunted attics, get down on your knees to squirm through crawl spaces, and maybe even have some firearms training when you hit this year's edition, which returns to the attraction's haunted house roots by taking over a century-old Victorian mansion (and its entire grounds) in Pomona. The VIP add-on is worth it if you're especially into the storytelling or still spooked by crowds: it's an intimate add-on with only four people allowed in at a time.
Cost: $89.99 and up
Janss Marketplace (Thousand Oaks)
Fridays and Saturdays through November 6; also October 24, 28, and 31
Originally a haunted house-style DIY attraction, Reign of Terror has become a must-visit for horror aficionados thanks to its expansiveness (the attraction is composed of over 130 different interconnected rooms) and its cast, who seem to really get the wait-until-the-right-moment memo for maximum fear. The newest addition is called "Unhallowed Ground," a section that's populated by a realm of pagan monks; for those who want to maximize their scares, the final night is a "lights out" edition of ROT, with the only illumination one glowstick per group.
Cost: $30-$55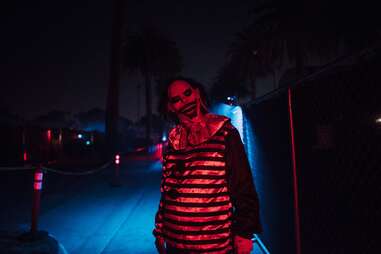 Ventura County Fairgrounds (Ventura)
Thursday-Sundays through Halloween; also October 26 and 27
This brand-new, totally open-air attraction is sort of a beginner's haunt: not ultra-themed, not insanely scary, but still full of enough jump-scares and fog (SO MUCH FOG) to freak anyone out, or for families with older kids (it's not recommended for kids under 13). The "fear" grounds are divided into three sections: the chainsaw-guy-enhanced Fright Train, The Cage (with a lot of clanging and banging), and The Terror Trail.
Cost: $29+
Griffith Park (Los Feliz)
Thursday-Sundays through Halloween, also October 13, 20, 25, 26, and 27
Now in its 13th year, the Haunted Hayride has become synonymous with Halloween fun, toeing the line between campiness and actual horror. This year's no exception, with the newest addition a maze that starts in a haunted '70s diner, plus attractions that include a Midnight Mortuary with a staff that's eager for new business, a themed town called Midnight Falls, and everything from killer clowns to killer aliens on the hayride itself. VIP affords you shorter wait times, which could come in handy considering how popular the hayride is likely to be this year.
Cost: $29.99+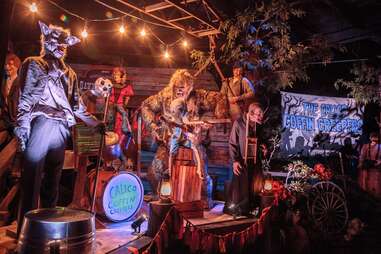 Knott's Berry Farm (Buena Park)
Thursdays-Sundays through Halloween
Knott's Scary Farm claims to be the biggest haunt in SoCal and when you're there it's clearly not a misnomer: the entirety of Knott's Berry Farm is taken over with Halloweeniness, with nine mazes (ranging from a new hypnosis-themed maze to classics including the Pumpkin Eater maze, which culminates with the most gigantic squash you can imagine), as well as Halloween overlays on some of the rides and shows including the hilarious improv-minded "Puppet Up!: Uncensored."
Cost: $53+
6100 Topanga Canyon Blvd (Woodland Hills)
Every day through Halloween
Launched last year as a drive-thru attraction, this year's Haunt O' Ween is a family-friendly ready-for-Insta event that leans more towards the treat side of trick-or-treating: there's candy distributed throughout the event, which also includes Halloween-themed tunnels and a recreation of the Addams Family mansion—perfectly timed as a tie-in for the new animated movie.
Cost: $35+
ZJU Theater (North Hollywood)
Urban Death: Fridays and Saturdays through Halloween and 10/31; Vampire's Puppet: Sundays and Mondays through 10/25
Notorious in the underground haunt scene for full nudity and how'd-they-get-away-with-that gore, Zombie Joe's may be the actual-scariest haunt on this list. This year they're offering two totally different experiences: their classic Urban Death attraction, which takes participants through an extraordinarily claustrophobic maze before a show that's essentially a series of darker and darker macabre vignettes, and the new Vampire's Puppet, presumably a more traditional stage play...but, honestly, you should come prepared for anything. (A toned-down, family-friendly version of Urban Death is happening on Saturdays and on Halloween at 7 pm)
Cost: $20
Magic Mountain (Valencia)
Fridays through Sundays until Halloween and October 28
Not only does Six Flags have the best rollercoasters in SoCal, which run with their lights off all night through this Halloween extravaganza, but they deck the park out in a bevy of "scare zones," which this year includes a new one featuring cyberpunk zombies (eat your heart out, William Gibson—literally). There are also mazes, shows, and themed snacks and cocktails.
Cost: $65+
York Manor (Highland Park)
Fridays-Sundays through Halloween
If you can't fathom conjuring the dead without a cocktail in your hand, this attraction's for you: it's one part interactive theater, one part haunted house, and many parts schmancy cocktail party. Each ticket comes with four drinks (!), which you'll consume while exploring an open-world haunt inspired by Russian and Scandinavian folk tales.
Cost: $65+
Your house
Ongoing
This at-home Halloween experience is basically an at-home escape room game plus pizza and was launched during the pandemic. This year it's returned with an all-new experience. Order the pie, play the Roaring 20's-themed game, and win real-world prizes, including passes to some of the other attractions listed above.
Cost: $29 per person
King Gillette Ranch (Calabasas)
Wednesdays through Sundays until Halloween; and October 25 and 26th
By design, the least scary attraction on this list, Nights of the Jack is the perfect Halloween experience for those who want to get into the spirit of the season without being freaked out. Organizers create beautiful light installations using thousands of pumpkins on a totally immersive trail; there's also live pumpkin carving, a craft beer bar, and a bevy of LA's best food trucks.
Cost: $9.99+
Jeff Miller would love to know about any home haunts, or any major ones he missed. Hit him up at
@jeffmillerla
on Insta.