We're always wary of people who say they hate Halloween. Oh, you don't like cool parties, pumpkin carving, crazy costumes, lots of candy, and a bunch of strangers scaring the bejeezus out of you in tight dark spaces? If that's the case, you should stop reading right now and go back to planning how you can stay late at work. For the rest of us, the month of October is a mix of both the fun and the frightening from haunted theme parks to scary movie screenings to big bashes. Here's every major event you'll want to hit this Halloween season.
Spending Halloween outside of town? Check out our guides to the best Halloween parties and events in NYC, Chicago, Las Vegas, Houston, Nashville, San Francisco, New Orleans, Miami, Seattle, Portland, Atlanta, DC & Boston.
Fridays-Sundays through October 13; Nightly October 16-20 and October 23-November 2
Griffith Park 
After more than a decade, one of LA's favorite haunted haunts has been relaunched with new and revamped attractions centered around this year's theme of Midnight Falls, a bizarre town that's both stuck in 1985 and always celebrating Halloween. (Better than, say, 1975 and always celebrating Easter). The Haunted Hayride from hell is a regular screamfest, as are the new mazes including the open-air Roadkill Ranch, full of back-from-the-dead wildlife, and Midnight Mortuary, which will have you trying to find your way out of a dark and winding funeral parlor (what could go wrong?) While LAHH utilizes plenty of hi-tech magic, it also does a great job of making you feel like you're in the middle of a kitschy old-school horror flick, with excellent attention to detail like those VHS tapes strewn about and ghouls with ghastly '80s mullets. Oh, and beware of that clown popping out of the ice cream truck. He's still haunting us. 
Price: $35-110
Thursdays-Sundays through November 3
Universal Studios, Universal City
The iconic LA horror event returns this year, with 10 new mazes that promise to send chills up your completely disoriented spine, some of which are themed around creepy TV shows and movies like Stranger Things, Ghostbusters, The Walking Dead, and Us. It's worth splurging on the front-of-line upgrade passes, which will let you cut the line for each maze (as many times as you like if you go for the Universal Express Unlimited) is worth it. The price may be a little scary, but without that upgrade the lines can run an even more terrifying three hours long. Plan your visit on an '80s-themed Throwback Thursday for live bands, DJ sets, and all things Beetlejuice.
Price: $64-299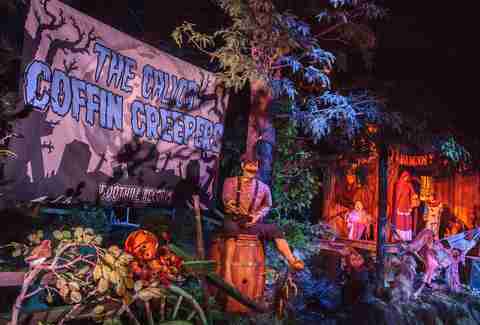 Thursdays-Sundays through November 3
Knott's Berry Farm, Buena Park
The classic Halloween attraction with the punny name is also amping up its maze offerings with a couple of new ones this year, including Wax Works which is set inside an abandoned wax museum (a disturbing venue even when it's fully operational). You can also expect haunted houses, horror-themed shows, scare zones, and access to the park's crazy coaster. 
Price: $43-158
Sunday-Thursday through October 31
E.P. & L.P., West Hollywood 
The outdoor movie series will be screening frightening flicks all month long, from Scream to The Sixth Sense to Silence of the Lambs (along with lighter fare like Beetlejuice and Harry Potter, for those who don't want to spend the night with their head in their hands.) Movies take place on the roof deck's 16'x19' big screen, with individual wireless headsets and a concession stand selling snacks and cocktails. If you opt for the $65 dinner-and-a-movie package, you'll get a three-course meal at Cal-Asian eatery E.P. downstairs and reserved VIP seating for the screening. Come Halloween night, the venue will host a ticketed carnival-themed Halloween party on the roof with an open bar, appetizers and scary shenanigans.  
Price: Move series tickets are $27-65; Halloween Carnival tickets are $65-500
October 23-24
Mayan Theater, Downtown 
The bawdy blend of Mexican masked wrestling, burlesque acts, roller girls, aerial acrobatics, raunchy comedy, and complete over-the-top-ness returns to the grand old LA theater for two nights of Halloween-themed performances. If you've been, you know how bananas the whole thing is normally, but Halloween always promises a special kind of crazy -- and costumes are, of course, encouraged. 
Price: $40-55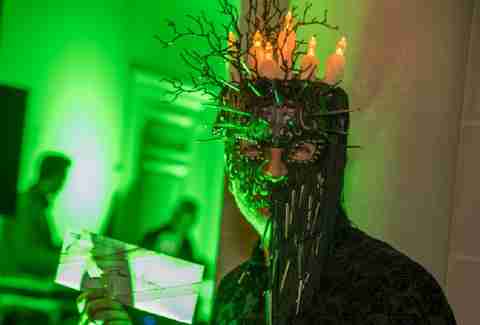 October 24
Greystone Mansion & Gardens, Beverly Hills
The UCLA Jonsson Cancer Center Foundation's second-annual event at the stunning Greystone Mansion is donating its proceeds to its most promising research initiatives aimed at making a cancer diagnosis a little less scary for those dealing with it. In addition to knowing you're giving to a good cause, this year's party will include cocktails, candy, hors d'oeuvres, a trick-or-treat experience and a silhouette artist ready to recreate your profile on paper (which, for some of us, can be its own spooky experience). Costumes aren't required, but masks centered around the enchanted creatures theme are, and there'll even be a prize for the most magnificent one, so you'd better start surfing Amazon now. 
Price: $125
October 24-27
TBD, Hollywood 
The notorious dining club's second annual Halloween dinner party series centered around food, fright, and immersive theater is all about the profane world of literary character Dorian Gray this year. That means musical performances, dancing, and drama, along with what will surely be a pretty killer dinner: a four-course feast by longtime LA chef Laurent Quenioux (Bistro LQ) with curated cocktail pairings and caviar from East Boston Oysters all taking place in a private attic space. Oh, and there's also a fancy gift bag to look forward to. If it all sounds over-the-top, it certainly is. You do, after all, get what you pay for...  
Price: $250
October 25-27 & 30-31
Ace Hotel, Downtown
Live orchestra music + classic Hitchcock film + gorgeous historic theater = one unique Halloween event. During its annual residency at the Ace, the LA Opera Orchestra performs the spine-chilling score from Psycho (all that violin screeching sounds even spookier live) while the famous flick plays on the big screen. The special presentation will have a six-show run between the 25th and 31st and, on Saturday the 26th, the Ace will also put on A Hitchcock Halloween costume afterparty taking place inside the theater with music, cocktails, and DJ sets. Why do we feel like we'll see more than a few Norman Bates there?
Price: $25 and up.
October 26 and 27
El Cid, Silver Lake 
Dubbed an immersive literary cabaret (ugh, another one?) the interactive performance company founded in NYC blends burlesque, art, music, and, yes, poetry inspired by the old-timey bordellos of New Orleans and Paris. Expect the shows to be sexy and sultry, with an extra dose of mystery and magic including tarot card readings and aerial performances. The two back-to-back performances are slated to be completely different: Saturday night's theme is an Eyes Wide Shut-style soiree while Sunday will feature a Creatures of the Night ghostly gala.
Price: $40 and up or $50 for both nights.
October 26
Hotel Figueroa (Downtown) 
Private Sunset Strip club Giorgio's is moving the party Downtown and taking over the historic Hotel Figueroa. The disco-inspired bash will create three different rooms for Halloween festivities and feature multiple DJs including Tensnake and Bears in Space. As for the Hotel Fig's coffin-shaped pool… well, that's no Halloween trick. It's always that way. 
Price: $35-55; $1000 for eight-guest VIP tables with bottle service.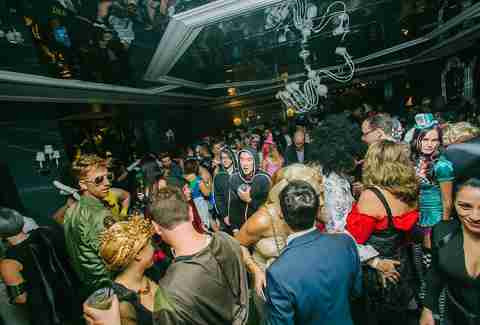 October 26
The Viceroy, Santa Monica
This big bash by the beach -- usually with around 1,000 guests in attendance -- boasts five bars, two dance floors with two different DJs, a "professional" psychic, and a costume contest, which will be hosted by a guy who's been on both The Bachelorette and Bachelor in Paradise. (What a time to be alive.) Costumes are required for entry but, even though the party is hosted by matchmaking service Three Day Rule, single status is not. 
Price: $30-85
October 26
W Hotel, Hollywood 
This double-venue Halloween fete taking place across two of the hotel's bars – Station Hollywood on the patio and The Living Room in the lobby -- will feature three DJs, dancing, candy, and cocktails via the cash bar, all going till 2am. Organizers are also offering VIP tables, booths, and bottle service available, along with a $2,000 cabana for 12 in case you're dressed up like a baller and really want to live the part. If you want to come back for more, there's a big masquerade ball up on the rooftop on the 31st. 
Price: Tickets range from $63 for GA to $2045 for the top-of-the-line VIP cabana for 12.
October 27
Little Tokyo (Downtown)
The DTLA hood will host Halloween activities throughout the month including multiple movie screenings as part of the Haunted Night in Little Tokyo Film Festival, a pumpkin patch, and neighborhood ghost tour. The haunted happenings close out with a big block party boasting plenty of food offerings, a beer garden sponsored by Wolf & Crane, retail pop-ups, live music, and a costume contest. 
Price: Free
October 30 
LA Plaza de Cultura y Artes (Downtown) 
Boyle Heights History Tours historian and community organizer Shmuel Gonzales will take participants on special Halloween walking tour to share LA's haunted history. The three-hour tour (and we know how those usually end) will hit the city's centuries-old pueblo, multiple burial sites and cemeteries, the Avila Adobe, and Union Station, and share ghost stories, tales of infamous killings, and other creepy tidbits. 
Price: $25
October 31
West Hollywood
If you're looking to give your holiday a lot more fun and a little less fright, you'll want to hit the biggest Halloween party in LA... or pretty much anywhere, given the 500,000 revelers who show up annually to do said reveling in costume on the streets of WeHo. Yes, it's crowded and it takes a bit of planning to get there (one word: rideshare), but being part of this big old block party -- complete with DJs, a parade, and the crowning of the annual Halloween Kings and Queens -- is something you've got to do at least once during your time in LA. Note that there's no drinking allowed out in the street, so you'll need hit one (or more) of the many, many area restaurants, bars, and clubs if you care to imbibe. Keep your eyes peeled for our updated guide to how you can make the most of the Carnaval.
Price: Free
October 31-November 2
Hollywood Palladium (Hollywood) 
Psychedelic surf rock band The Growlers headline three shows in a row at the legendary Sunset music venue for its annual Halloween performances. The all-ages shows promise art installations, oddities, and surprise guests. Costumes are, of course, encouraged. 
Price: $39 and up
Thursdays-Sundays through November 3.
The Row (DTLA)
Now in its fifth year, the immersive Creep is a mix of performance art, satire, and we're here-to-freak-you-out scenes. This year, the 75-minute experience centers around a satirical (and, also terrifying, promise organizers) take on our social-media obsessed culture. In a nod to the wacky Instagrammable museum (of pizza, of ice cream, et al) trend, participants will explore a nightmarish offering of a dozen installations (including disturbing puppet shows and plenty of dark spaces) meant to shock, scare and blur the lines between reality and the show. Uh oh. Better put your phone away and focus. 
Price: $69
Thursdays-Sundays through October 20; Nightly October 24-November 3 
King Gillette Ranch (Calabasas)
Christmas lights have been a thing forever, so in the age of Instagram it makes sense that Halloween has jumped on the holiday-lights-display bandwagon. The experience features thousands of illuminated jack-o-lanterns (many with seriously impressive carvings), hanging from trees around the ranch and lining a half-mile trail. You can also expect a "Spookeasy" cocktail bar, food trucks, and an Are You Afraid of the Dark pre-show. And, since it's family-friendly, the event has partnered with Nickelodeon this year to put on some SpongeBob-themed installations. 
Price: $27 adults; $22 children
Thursday-Sunday nights through November 2
Queen Mary (Long Beach)
The Queen Mary's fabled nautical Halloween activation includes a multitude of monster-filled mazes as usual this year. The latest addition, Rogue, tells the story of a ship that's hit a rogue wave and turned completely on its side and is now taking in water while the captain and crew have lost control and chaos ensues. It kind of sounds like a certain mildly successful James Cameron film ... and we know how that one ended. If you're looking for some liquid courage or need a little help finding your sea legs, you can hit up one of the QM's hidden bars. 
Price: $29-$229
Wednesdays-Sundays through November 23
Dragon & Meeple (Downtown) 
This wild, immersive theater experience that gained a cult following after it launched back in 2011 is going with a pared-down, 20-minute "micro-experience" this year with an interactive show written and directed by John Braver. The event -- created as a spin-off chapter of his time-traveling-themed play Delusion: The Blue Blade -- will also offer a dinner+drinks+games option as it's taking place at a tabletop gaming bar/restaurant. 
Price: $38 show; $73 show and dinner
Sign up here for our daily LA email and be the first to get all the food/drink/fun Los Angeles has to offer.