How to Get Rejuvenated at LA's Finest 24-Hour Korean Spas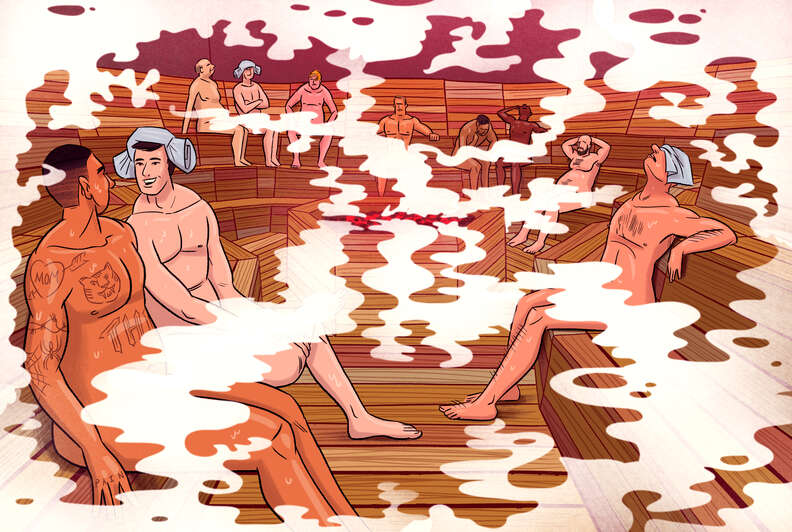 Jason Hoffman/Thrillist
Jason Hoffman/Thrillist
Life in Los Angeles, unsurprisingly, can be pretty stressful. We spend most of our time in our cars navigating some of the worst traffic in the world, all in the name of competing for rapidly diminishing occupational, financial, and romantic prospects -- it's no wonder many of us regularly see therapists just to talk it out.
Fortunately, LA is home to the perfect antidote for all these daily stressors: Korean spas. These specialty sanctums offer a relaxing-yet-invigorating range of treatments and services you'd be hard-pressed to find anywhere else, ranging from gold-leaf masks to the ever-popular Korean scrub. Best of all, many of them are open 24 hours a day, meaning it's never too late (or early) to treat yourself. Here's everything you need to know to get in on the action.
What makes Korean spas different
LA's Korean spas trace their heritage back to Korea's rich bathhouse tradition, which itself dates back to the 15th century (although the practice of bathing in natural hot springs goes back more than a thousand years). Families would travel for weekly scrubs, meet up with their neighbors, and even share eggs boiled in the hot bathing waters. It was seen as a way to prepare for the week to come, and rather than dipping and dashing, interacting with your community was a very important part of that process.
That practical, communal atmosphere is still a big part of what separates Korean spas from their western counterparts. Massages, scrubs, and spa treatments are a bit more vigorous, aimed at getting the blood flowing rather than pure relaxation. There's plenty of space to hang out, both in the gender- and non-gender divided areas -- and most facilities will also feature a full-service restaurant where, in addition to hard-boiled eggs (still a snack staple), you can chow down on generously portioned Korean dishes like bibimbap, galbi-jjim, and bulgogi.
At any given time, a Korean spa can simultaneously serve as a location for family weekends, a respite after a night of heavy drinking, and a hideout for couples looking for the kind of privacy they might not get in multi-generation homes. You'll often notice an influx of people after the bars close at 2am, enjoying the facilities alongside early risers and the select few who use the spa as a de facto hotel for the evening. (Many offer luggage storage surfaces for this very reason.)
What to expect on your first visit
Korean spas operate on a first-come, first-served basis, which makes them great for last minute plans. That said, if you're going during the weekend or directly after work, it might make sense to book your spa treatments in advance. You'll pay an entry fee (between $15-45 dollars, although Groupon frequently has specials) and receive a pair of oversized shorts and a shirt, a towel, and a wristband that'll open your locker and allow you to purchase additional items (which you'll pay for when you leave).

First, you'll enter the locker rooms and wet areas. In addition to showering and changing into your uniform, this is where you'll find a steam room, hot tub, cold tub, and treatment areas -- all gender segregated, and fully nude. Think of it as an exercise in body positivity; you'll quickly discover no one is impressed.
If you want to do more than just use the facilities, consider booking a spa treatment such as the popular Korean scrub, where an attendant armed with a scratchy towel will help you shed what feels like a pound of skin (along with whatever's left of your inhibition). Wing, breast, thighs, it doesn't matter: every part of your body gets scrubbed down with equal vigor. You can also opt for a massage or facial as well. Be sure to ask what's available at the front desk, as many spas will waive the entry fee for treatments over a certain price point.
Your camp-like uniform is for the co-ed gathering room; they're a staple of every spa complex, and the only spot where you can hang out with your friends of different genders. It's here you can dip in and out of the mix-gendered saunas lined with rocks, salts, and minerals that devotees claim can cure a laundry list of ailments. Experts recommend 10-20 minutes in each room, followed by a cool down session in the "Ice Sauna," a room filled with ice which will help your body temperature return to normal.
The jimjilbang/community room is where, if your spa has a cafe, you can grab traditional Korean dishes like bibimbap or bulgogi. You can then take some time to digest by napping it off in one of the rest areas, where you can usually count on a nearby television to help you catch up on your Korean soaps.
Game for a one-of-a-kind cultural experience without leaving the city? Here are our favorite places to spa, day or night. (For those who keep earlier hours, Hugh Spa, Wilshire Spa, and Olympic Spa are all local favorites that generally close around 10pm.)
MacArthur Park
This place is many people's first Korean Spa experience; it's also the spot where you're most likely to see multiple generations of families bonding via steam rooms, snacks, and scrubs. In fact, the facilities are so popular it's rumored that many Hollywood players use it as a personal clubhouse. (While this can neither be confirmed nor denied, Conan O'Brien did film a segment here.) There's a reason Wi Spa's multi-level 48,000-square-foot facility has been called the Disneyland of K-spas. Lounge on mats in the extra-large jimjilbang, which during peak hours can look like the world's coolest sleepover, and sink into the extra deep clay sauna (a hot room with a sea of clay balls, not dissimilar from a sort of adult Chuck E. Cheese). Spa treatments are cut off at midnight, but you can head up to the roof day or night to put the lounge chairs to use and enjoy the city breezes.
Cost: Entry fee: $25, waved with treatments over $120
Koreatown
Just because Spa Palace's swimming pool is often bathed in disco lights and dance music doesn't mean this isn't a required stop for relaxation. Go for a swim before the party begins (usually late afternoon into the evening), and grab a glass of wine or a beer at the bar. Go easy on the booze, though, as the heat you'll absorb from saunas and hot tubs means you'll feel it much quicker. Feel like royalty in their gold-lined sauna, which they say promotes energy, immunity, and anti-aging, or give your lungs a treat and head to the forest room: a rest area which Spa Palace claims has oxygen content similar to an actual forest.
Cost: Entry fee: $25, $35 after 8pm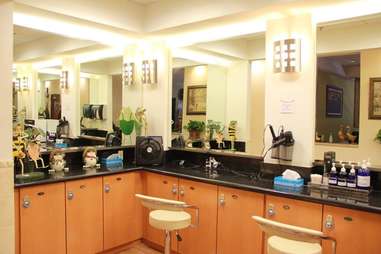 Koreatown
While most Korean spas offer a slate of treatments similar to their Western counterparts (again, get a scrub -- it'll change your life), Grand Spa is the place to go when you want to up your skin care game. Highlights include the Scrub and Green Tea massage, or the pure gold massage which, as the name implies, incorporates a gold-leaf mask into your treatment. After you've achieved that apres-treatment glow, hang out in the Hwangto Sauna, where you can relax for longer in lower temperatures. And because nothing gets the party started quite like a spa day, there's also a karaoke room.
Cost: $15 before 10pm, $30 after 10pm-6am
Koreatown
Hyundae Health Center takes the Korean spa tradition of hospitality and community to heart, and works to create an environment you'd actually want to hang out in. After you've grabbed a massage (a bargain at $50 for an hour), try your hand at billiards, karaoke, or table tennis -- which even has regular league meets. They do helpfully suggest you can also play "for fun," so fellow klutzes should take heart.
Cost: $10 during the day, $15 at night
Koreatown
Crystal Spa gets an honorary mention here, because unlike its all-night kin, it takes a six-hour break every day to recharge. If you're looking for spa treatments between 6am and midnight, though, this is your stop -- and they tend to be flexible on the time you leave, with some patrons reporting last call around 4am. Crystal Spa is run in partnership with AVEDA, so you can expect to find high end body treatments, cosmetic and skin-care products for sale, and even loofas in the locker room. It's a smaller facility than most, so come prepared to get your zen on in silence -- like the famous 'Till Tuesday song, voices carry.
Cost: $30 general admission, $15 before 8:30am on weekdays, $20 on Wednesdays
Sign up here for our daily LA email and be the first to get all the food/drink/fun Los Angeles has to offer.