It's a very scientifically proven fact that summer was made for road trips. So, before another one breezes past you, it's time to gas up and hit the pavement. From outdoorsy adventures near water to boozy adventures through vineyards, we rounded up some of our favorite destinations that range from an hour-and-a-half to five-and-a-half hours from LA with minimal traffic (hahaha). And, no, you won't find Vegas on here because we're pretty sure you know that route.
Recommended Video
Please Don't Hang Up: The Best Things to See, Eat, and Do in Seattle, WA
Temecula
Distance from LA: 85 miles southeast; 1.5 hours
Why it made our list: A shorter drive than most of those other "wine countries" with the added bonus of hot-air balloon rides and a casino. With over 40 vineyards, Temecula has garnered increasing praise and awards from wine fans in recent years. While you can opt for one of many wine tours (including one in a vintage pink Cadillac and another on horseback), if you're choosing particular vineyards, favorites include the laid-back Vindemia, the award-winning Callaway, and the spacious Monte De Oro. Get a bird's-eye view of the vineyards on one of the many hot-air balloon tours or just lie low in historic Old Town and grab a bite at E.A.T. Marketplace. And if you're looking to gamble, Pechenga has your number (and probably your money).
Pro tip: If you need a break from wine, take a tour of Temecula's craft breweries.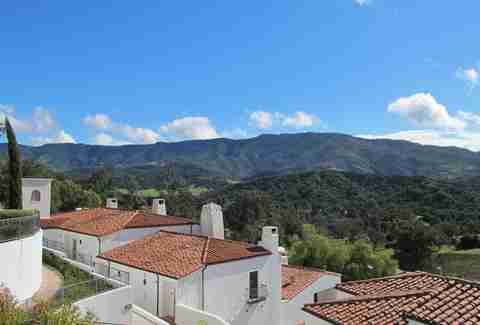 Ojai
Distance from LA: 81 miles northwest; 1.75 hours
Why it made our list: Whether you're more the spa/vineyard-type or the outdoorsy/adventure-type (or all of the above!), this picturesque bohemian town has plenty to offer without the hassle of a long drive. If you're looking to treat yo' self, unwind at spots like The Oaks at Ojai or the Ojai Valley Inn & Spa, then cruise around Downtown to scope out galleries and boutique shops. For a farm-fresh lunch actually on a farm, stop by Farmer & The Cook or grab dinner with live music at the Ojai Deer Lodge. For more rugged options, you could mountain bike through citrus groves and down the GoT-sounding Sulphur Mountain, see the foothills up-close while rock climbing, or just take a hike.
Pro tip: Taste local wine, olive oil, and craft beer, all while soaking up the stunning scenery (and somebody else drives!) on the Cloud Climbers Jeep Tours. And while you could make Ojai a day trip, better to enjoy the weekend while staying at the Ojai Rancho Inn, a rustic and stylishly updated '50s roadside motel.
Carlsbad
Distance from LA: 87 miles southeast; 1.5 hours
Why it made our list: While cruising down to the city of San Diego can be a blast, just over the county line in Carlsbad you can find a much more laid-back destination with less of a drive. Whether you're surfing or just strolling, you can opt for impressively wide South Ponto beach or more secluded Terramar. To sip some local brews, there's the Scavengers Brewery Tours or take in a bit of culture at the Museum of Making Music or the totally tubular California Surf Museum. And, of course, there's Legoland, which is probably half the reason you're here.
Pro tip: If you're looking for some quality digs that won't break the bank, the West Inn & Suites is a good option and offers shuttle services to a lot of the nearby attractions.
Solvang
Distance from LA: 128 miles northwest; 2.5 hours
Why it made our list: Take a European vacation while barely leaving the 101 (or involving Chevy Chase) at this charming Danish-themed village complete with windmills and tributes to Hans Christian Andersen. Sure, it's a bit touristy, but once you've stuffed your face with æbleskiver (round Danish pancakes), explored the wine and beer tasting rooms, checked out the outdoor theater, wandered through the Vintage Motorcycle Museum and visited Ostrichland, you'll find yourself embracing the kitsch. Plus, you can make Solvang your homebase with modern digs at The Landsby and check out nearby wineries with Uber WINE.
Pro tip: Take a Sideways detour to sip wine and eat steak at The Hitching Post II in nearby Buellton and have a few bowls at the iconic Pea Soup Andersen's.
Joshua Tree
Distance from LA: 145 miles east; 2.75 hours
Why it made our list: Good ol' JT might get a little toasty during the summer months for hiking, but there are still plenty of cool spots to check out in the area to avoid heat stroke. Plus, summer sunsets in the desert rule. Over the years, the artists of Joshua Tree have left their mark with plenty of weird installations, many of which you're able to just wander through like Noah Purifoy's Outdoor Museum, the Krblin Jihn Cabin, and the World Famous Crochet Museum. Or head up the road for a sound bath at the Integratron. Grab a bite at Pie for the People, Crossroads Cafe, or Sam's Pizza for an Indian Pizza and grab a cold one at the Joshua Tree Saloon. And if you're making a weekend of it, consider shacking up at one of the funky trailers of Hicksville or the newly renovated Pioneertown Motel.
Pro tip: No trip in this direction is complete without a stop (or three) at Pappy and Harriet's for some live music, stiff drinks, and BBQ.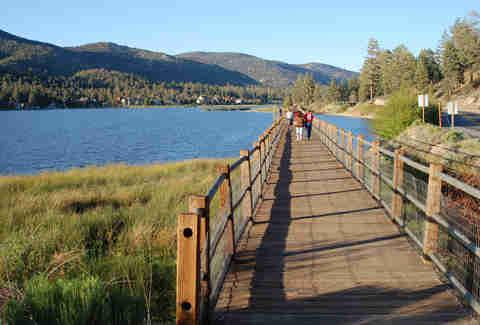 Big Bear Lake
Distance from LA: 110 miles northeast; 2.5 hours
Why it made our list: While many think of this mountain town for skiing/snowboarding, hitting the lake during the summer months is an excellent -- and slightly less crowded -- way to spend a weekend. There's plenty of hiking and biking to be done around the lake, as well as kayaking, jet skiing, sailing, and more to be done on the lake. Fuel up for the day at Big Bear Coffee Roasting Co. or Amangela's, get the Double Double-esque The Director at Get The Burger, visit Bone-Side Down for BBQ and Big Bear Lake Brewing Co. for a brew. And because glow-in-the-dark bowling should always be an option, The Bowling Barn has you covered.
Pro tip: While there's plenty of lodges and motels in the area, you can often find a deal on a private cabin through AirBnB or Cool Cabins, especially if you're going with a crew.
Paso Robles
Distance from LA: 212 miles Northwest; 3.5 hours
Why it made our list: Another excellent destination for wine that isn't as far or crowded as Napa/Sonoma, Paso also has plenty else to explore besides 200+ vineyards. For starters, you can play "human beer pong" and cornhole at BarrelHouse Brewing Co., play 18-hole disc golf on a vineyard at Castoro Cellars, and chill out in a hot springs tub at River Oaks. For beer and a bite there's always the excellent Firestone Walker Brewery, or for a killer, farm-centric dinner, check out Artisan. Oh, and if you are looking for the vino, Halter Ranch, Justin, Whalebone, and Eberle (tour the cave cellar!) are good places to start. And the Tobin James tasting room is just a party in a bottle, er, many bottles.
Pro tip: Stop by Villicana Winery to check out their Re:Find distillery and grab a bottle of their gin, vodka, rye, or limoncello to take home.
Valle de Guadalupe, Mexico
Distance from LA: 200 miles southeast; 3.5 hours
Why it made our list: Because you want to take the party south of the border, but you've grown weary/wary of Tijuana, the beautiful Valle de Guadalupe offers an unexpected alternative with great wine and food. The region has a long history of wine making, but only recently has it begun to receive more international recognition with vineyards like Las Nubes and Mogor Badan. For food, there's several must-visit spots that feature some of the best cooking of Baja, much of which is grilled over wood and served outdoors, including Deckman's, Troika, and Finca Altozano. If you're looking for luxe accommodations, La Villa del Valle should fit the bill, or for the more adventurous, the modernist pods overlooking a vineyard at Encuentro Guadalupe are a solid option.
Pro tip: If you're looking for a bit of guidance on your trip south, Club Tengo Hambre offers food and wine tours in the area and is run by writers from LA and Mexico.
Lake Havasu City, Arizona
Distance from LA: 300 miles east; 4.5 hours
Why it made our list: Once all the spring breakers have cleared out, this oasis just over the other border offers a funky and fun destination if you're willing to make the drive. Take to the water for boating, swimming or, you know, jet packing, or head inland for hiking, biking, or off-roading. For pizza and a brew overlooking the lake, check out Barley Brothers Brewing, and for brunch or a burger hit up Juicy's. And yes, there's an actual former London Bridge spanning the lake, which the city's founder bought for a cool $2.4 million and had reassembled block-by-block. It's insane.
Pro tip: Drive a little further down the road to Kingman to tour the Desert Diamond Distillery and sample some of their award-winning rum.
Big Sur
Distance from LA: 340 miles northwest; 5.5 hours
Why it made our list: It's hard to deny the jaw-dropping beauty of Big Sur, and while many coastal travelers attempt to squeeze it into the itinerary, it's worth taking time to really enjoy with a dedicated visit. Whether you're looking for an easy trek with waterfalls or more rugged terrain through the woods, there are plenty of great hiking options in the area. If you're the outdoorsy-type, you'll want to see about securing a campsite as early as possible, and if you're hoping for a cabin, try for a weekday or book waaaaaaaay in advance. Otherwise you can try your luck at the Big Sur Lodge or one of the other local inns. Check out Nepenthe for view with your meal, Big Sur Roadhouse for a modern and locally sourced dinner, and Big Sur Bakery for wood-fired everything (seriously, you could eat every meal here).
Pro tip: Make a reservation for a late night visit to the Esalen hot springs, which overlooks the ocean. Totally worth the drive.
Sign up here for our daily LA email and be the first to get all the food/drink/fun Los Angeles has to offer.