The Best LA Road Trips to Take This Spring
From Baja to the North Coast, here's everywhere to explore and where to stop and eat along the way.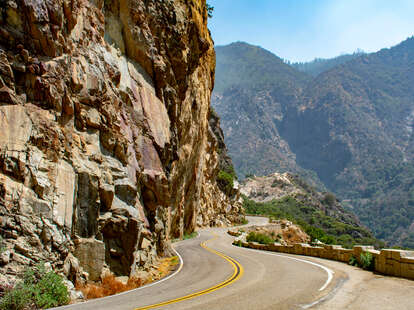 Kings Canyon National Park Scenic Byway

| Michael Vi/Shutterstock
Kings Canyon National Park Scenic Byway

| Michael Vi/Shutterstock
When you're thinking about getting out of town, it's easy to focus only on the destination, to let your mind jump to 'when we get there' and euro-step right by 'on the way.' But that's a rookie mistake. California is a great state for road trips, and that's not just because of the beautiful places at the end of the road. Whether you're going north along the length of the state, headed south toward the border, or east into the desert, there are many fantastic spots within easy driving distance that also have plenty of fun stops along the way.
To help guide you, we've compiled a list of ten of the best road trips from LA. There are places to visit in every direction, with some route guidance for the best stops to make your journey as fun as the destination. Here are the 10 best road trips from LA right now.
Paso Robles
Distance from LA: 3 hours
Central California's wine country is an easy skip up from Southern California, but that doesn't mean you have to burn rubber all the way. It's usually a little faster to take the 5 and cut over through the mountains, but it's a lot more pleasant to drive up the 101. Then you can pop out for coffee in Ventura, a snack in Santa Barbara, stretch your legs in the Santa Maria Valley, and enjoy the cool beach air on the way up. You're probably going to Paso for wine, and there are many great choices, but don't overlook the food and beer. Try ramen and cookies at Paso Market Walk food hall, The Hatch for modern Southern dining that's become a local institution, wood-fired pizza at Lebber's, and Central Coast BBQ tri-tip at Cregor's. There's also Barrel House, Silva, KiloKilo, and legendary Firestone-Walker breweries.
Sacramento
Distance from LA: 6 hours
California's capital city is often maligned as a backwater "cow town," but if you haven't been in a while it may be time for a revisit. The city has a lovely farm-to-table food scene with great modern Mexican food, some outstanding coffee shops, and a beautiful waterfront along both banks of the Sacramento River just west of downtown. You can also visit all sorts of California landmarks, from the capitol building and its surrounding park to the Stanford Mansion and more. On your way up, take the 99 freeway to breeze through Bakersfield for a Basque banquet, Fresno for their vaunted brewery district, and a swing through Merced for some retro small town charm.
Napa Valley
Distance from LA: 6.5 hours
Plenty of physical and digital ink has been spilled about the Napa Valley, California's most prestigious and fanciest wine region, and there are a ton of fantastic reasons to visit. That includes wine, of course, but also all of the luxurious things that spring up in places where people with disposable income congregate—fine dining, spas, hot air balloons, glamping, golfing, bocce ball, and more. On the way up, pull off the 580 in Pleasanton in the East Bay for Southeast Asian noodles and the jelly dessert Kuih Lapis at Nyonya Cafe, followed by spectacular coffee and more gorgeous desserts at Kamurocho.
Valle de Guadalupe
Distance from LA: 4 hours
There is also wine country to the south of LA, a few hours across the border in the Valle de Guadalupe. Like Napa, Paso, and Santa Barbara to the north, Baja's wine country has fantastic juice, beautiful natural landscapes, and a special food scene that's more than worth a visit. On your way to your idyllic eco-conscious luxury resort in the Valle, you may want to hop out for a bite in San Diego. Then you'll likely cross the border into Tijuana, which gives you the opportunity to take advantage of that city's thrilling food—seek out birria, mariscos, adobada, and so much more at various stands around town, or pop by Telefónica Gastro Park to check out some new-wave vendors in the TJ scene.
Phoenix
Distance from LA: 6 hours
It's weird to recommend a road trip outside of California—this isn't the East Coast, where you can accidentally visit like eight states on a casual afternoon drive. But Arizona is closer than you think, and there are fun things to do in Phoenix, even though baseball's spring training is over. The food scene is fun and diverse, there's electric nightlife, and the Desert Botanical Garden is a miracle if you are interested in desert plants. The drive over is a straight shot on the 10 East, so next time you get a little fed up with that 110 North connector, maybe keep going another six or so hours through the desert. You'll pass through Palm Springs and right by Joshua Tree before drifting across a few hundred miles of peaceful, flat desert landscape that makes for a surprisingly soothing and meditative drive.
Kings Canyon National Park
Distance from LA: 4.5 hours
Everyone should visit Yosemite as often as they can, but limiting your adventures in the Sierras to Yosemite is like playing "Grindin" on repeat and ignoring Hell Hath No Fury. Kings Canyon is less popular than its neighbors but no less stunning for it. There are giant groves of Sequoias, hidden waterfalls, and the most remote scenic drive in America. The road to get there brings you on the 99 through the heavily agricultural Central Valley, and it's worth taking a minute to appreciate the landscape that provides so much of the world's produce. Or just pop out in Bakersfield for tortas ahogadas at Loncheria Otro Rollo, coffee at Cafe Smitten, or a beer at Dionysus.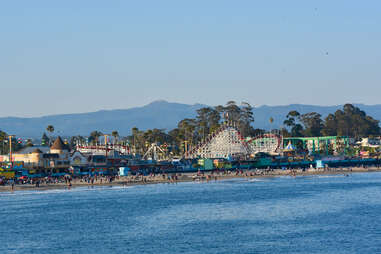 Santa Cruz
Distance from LA: 5.5 hours
There is no shortage of funky beach towns up and down the California coast, but if you're headed out for a road trip, you may as well go to Santa Cruz, the funkiest of them all. The city has managed to maintain its chill vibes even in the face of an influx of digital nomads from San Francisco, and the bay's killer surf break isn't going anywhere. All of the usual outdoorsy adventures are at the tip of your toes, from surfing to hiking to kayaking and beyond, and the area's wine and beer scenes are top-notch. Check out Sante Adairius or Humble Sea for some of the best beers in California, stop into Apero Club for fun and accessible natural wines, or browse Bad Animal for wine, books, and snacks. Cut over from the 5 and land in Paso Robles, which is a perfect halfway point to stretch your legs and grab some food for the second half of the drive through the Central Coast.
The Grand Canyon
Distance from LA: 8 hours
The line between iconic and cliche is a fine one, and a road trip to the Grand Canyon dances back and forth across it. You could end up in Joe Dirt, National Lampoon's Vacation, or countless other movies and TV shows. But there's a reason the Grand Canyon gets so much shine in popular media—it lives up to its billing as one of the few legitimately awe-inspiring places in the country. The drive from LA to the South Rim takes you northeast through the Mojave Desert. That means there aren't a ton of obvious stops along the way, but it's nevertheless a beautiful and unique drive.
Sea Ranch
Distance from LA: 8 hours
If you want your road trip to take you off the grid, consider the small North Coast community of Sea Ranch. The collection of architecturally significant homes was first developed in the 1960s as a place where dwellings would blend in to the natural landscape, built using local wood and designed to allow as much natural light as possible. There are some 50 miles of trails to explore, in addition to tennis courts, playgrounds, a library, and a deep sense of tranquility that blankets the stretch of rugged coastline. There are homes for rent, and The Lodge has just reopened its restaurant, bar, cafe, and store after a lengthy renovation, and is set to begin accepting guests for single rooms this summer. The route from LA takes you up through Oakland, Marin County, and Petaluma, which means you've got a ton of fun stops to make on the long drive up to the remote coast.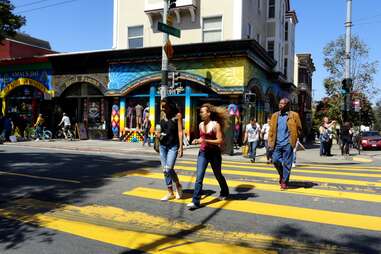 San Francisco
Distance from LA: 6 hours
California's most obvious driving destination is probably the best, so don't overthink it—San Francisco is an incredibly fun place to visit. The food, art, history, and natural beauty are all great reasons to make the trip, even if it's not precisely the mellow Beatnik paradise it used to be. You'll probably drive right up the 5 without any particularly interesting stops, though you can always pop over the 152 freeway through Gilroy and into the South Bay to get up to the city. It adds a few minutes—especially at rush hour—but it opens a whole world of places to get out along the way, from snacks and tech history in San Jose to breweries in San Mateo and outstanding baked goods.