Where to Find Glorious Forests, Wineries, and Waterfalls in Santa Barbara
There's something for everyone at this popular coastal destination.
For good reason, Santa Barbara has been called "The American Riviera" for the better part of a century. It boasts a cool, Mediterranean climate and strikingly resembles France's' Côte d'Azur, including all the wealthy residents and former royalty who call it home. Sandwiched between the dramatic Santa Ynez Mountains and the Pacific Ocean, the city is perched on one of the most stunning sections of the California Coast. It's a haven for food lovers, culture buffs, and adventure seekers. But the reason it's one of the most popular weekend getaways from Los Angeles is its proximity. It's only a two-hour drive or two-and-a-half-hour train ride from LA. Plus, Santa Barbara's compact neighborhoods are so walkable that there's no reason to bring a car unless you plan to make some excursions outside of town. Whether it's tasting your way through the Urban Wine Trail, kayaking through the kelp forests at Santa Cruz Island, or relaxing at one of the city's top spas, here are the best things to do in Santa Barbara.
Take advantage of Visit Santa Barbara's current Third Night Free hotel promotion that runs through June. The self-explanatory promo offers a third night for free for guests who book two nights at participating hotels, including Hotel Santa Barbara, the recently-opened, designed-forward Drift Santa Barbara, and the recently renovated 1930s Mar Monte Hotel, which was a favorite of visiting celebrities, like Marilyn Monore, back in the day.
The Santa Barbara Urban Wine Trail extends from Summerland to Goleta and now includes around 40 wineries and tasting rooms. Head over to The Funk Zone to spend an afternoon walking from tasting room to tasting room. One of the newest additions to the area is Rhone-specialist La Lieff Wines, where founder and owner Gretchen Lieff has set up a feminine space wholly run by and dedicated to women. Skyenna Wines' tasting room was also recently upgraded into an eclectic industrial space that opens into a modern art gallery. Check out the works after tasting the selection of Rhone-style wines with owner and winemaker Lenny Germano, who is often on-site on weekends pouring himself. While you're in the neighborhood, make sure to head over to Kunin Wines' The Valley Project tasting room, one of two tasting rooms the highly-respected winery operates right in SB (the other location is Downtown). If you want to check out a winemakers' favorite, book an appointment to visit Whitcraft Winery, which lies in an industrial part of town but is well worth the slight trek for its impressive lineup of low-intervention pinot noirs, chardonnays, and more.
Relax at Santa Barbara's best spas and studios
Did you know that Santa Barbara is home to North America's largest Himalayan salt cave? Now you do. Located right on State Street, Salt offers a mix of relaxing experiences, ranging from simple 45-minute sessions in the cave and weekend sound baths to facials and massages. Nearby Palma Colectiva, a new wellness studio, hosts various events, including mantra meditation and sound healing, breathwork workshops, and plant meditation. Those looking for a more luxurious healing session—with a price tag to match—might want to consider booking a facial or massage on The Ritz-Carlton Bacara's rooftop. You can get a full-body deep-tissue rubdown there while overlooking the pool and enjoying the cool sea breeze. Lap swimming is also available at the spa pool with limited hours.
Take a hike
Get up close and personal with the towering Santa Ynez Mountains on one of the area's many hiking trails. Tangerine Falls is a popular but challenging hike in Montecito with impressive waterfall and ocean views. The 230-acre Ellwood Mesa Sperling Preserve, a short drive away in Goleta, attracts hikers, horseback riders, and 100,000 Monarch butterflies every fall. It's all gorgeous, but make sure to check out the 78-acre eucalyptus grove on the north side if you go. Also in Goleta is the UCSB North Campus Open Space, a 136-acre preserve with many habitats, including grasslands, ocean bluffs, coastal dunes, the Devereux Lagoon, and the Ellwood Butterfly Preserve.
Last fall, Stearns Wharf celebrated its 150th anniversary. There are several ways to experience the iconic landmark and California's oldest wooden working wharf. Sit on a bench to admire the views of the coast. Learn about local marine animals at the Santa Barbara Museum of Natural History. Or fill up on fresh local seafood at Santa Barbara Shellfish Company while watching the sunset or boats cruise to and from the harbor. You can't go wrong with anything at the waterfront spot, but the clam chowder served in a bread bowl is one of the classic and more affordable dishes on the menu.
The family-owned shop originated in Santa Barbara and has been serving creamy scoops since 1949. Order a scoop of Sweet Cream Caramel Brownie, or better yet, go for a pint. McConnell's has two locations in Santa Barbara (one on State Street and one in The Funk Zone) open for curbside pickup, walk-up, or third-party delivery.
Santa Barbara's mile-long State Street pedestrian promenade, which extends from Sola to Gutierrez streets, has revitalized the downtown corridor and instilled the city with a festive European atmosphere. In response to COVID, in May 2020, the city's leaders moved to temporarily close down the area to car traffic and fill it with designated dining areas on the streets. It is now a permanent fixture in the city, and they are considering plans to make it even better. Pop into shops such as celebrity designer Catherine Gee's new boutique, the quirky Cat Mewseum, and record shop Paradise on State Street. Grab a coffee at Dawn at the Drift Hotel or, if it's later in the day, stop by its agave-based cocktail bar Dusk. Likewise, The Good Lion is another classic cocktail spot. But if you really want to take advantage of the promenade, plan to visit for its Tuesday afternoon and Saturday morning Farmers Market or on Thursday afternoons, when the city hosts a street market where you'll find local businesses and artisans showcasing their wares in pop-up tents along the street.
Explore the food scene
Santa Barbara has so many good restaurants it's hard to know where to start. For a flavorful and easy lunch, hit up Corazón Comedor, chef Ramon Velazquez's latest outpost featuring his mother's homestyle cooking with tamales, tacos, and slow-cooked meats, such as a fantastic cochinita pibil, at an incredibly reasonable price point. Acme Hospitality's fine dining stalwart the Lark, casual Cali-Mexican La Paloma Cafe, and Spanish spot Loquita are always top-notch dining options. If classic Italian is more your speed, consider checking out Toma Restaurant & Bar, which has just been taken over by hospitality vets Sam Grant and Julian Sanders, who hasn't changed anything about the institution besides improving the wine list.
For impressive selections of natural and low-intervention wines, head to State Street. Bibi Ji, a colorful, modern Indian restaurant, has an excellent selection by the glass and bottle and one of the best Champagne lists around. Down the road, Satellite also offers a wide range of thoughtfully made wines paired with a farm-to-table vegetarian menu that is so flavorful and filling that even the most diehard carnivores won't miss the meat. The hip spot also hosted the inaugural Natural Coast Wine Fest, featuring natural wine producers from Los Angeles to San Francisco.
If you have a car or don't mind Ubering, Bettina offers excellent Italian cuisine and stand-out pizzas made by two former Roberta's NYC chefs. And one Michelin-starred Sushi by Scratch Restaurants in Montecito is an obvious choice if you're craving a one-of-a-kind omakase experience, as long as you get your reservation in early and are ready to spend some cash.
Start Sunday Funday with brunch
Start the day of tastings or whatever else you decide to do with brunch at one of the city's best breakfast spots. The Lark, one of Santa Barbara's top restaurants, serves a great weekend brunch in the Funk Zone. Fill up on garlicky Hangover Fries, Cast Iron Baked Shakshuka, Duroc Pork Belly Benedict, or Farmer's Market Frittata, alongside its must-try Pecan Caramel Sticky Bun and cocktails before walking it off around the neighborhood. Just across the road from Stearns Wharf, Jeanine's (which also boasts a few other locations scattered throughout the area) has been serving top-notch breakfast and lunch dishes, like Breakfast Burritos, Lobster Benedict, and Kahlua Banana French Toast to locals for 30 years. At Hook & Press' new location off State Street, creative from-scratch donuts are paired with tartines and sandwiches like The G.O.A.T., a mix of fried egg, goat cheese, bourbon bacon jam, and arugula on a buttermilk biscuit. In addition to its perfect croissants and pastries, Alessia Patisserie & Cafe in the Presidio neighborhood also offers a solid menu of savory items like Blue Crab Crepe, Duck Confit Hash, and Seasonal Hand Cut Pasta. Or, if you're looking for a boozy situation, head to Costa Kitchen + Bar for its B.Y.O. Mimosa kits featuring multiple juice and wine options.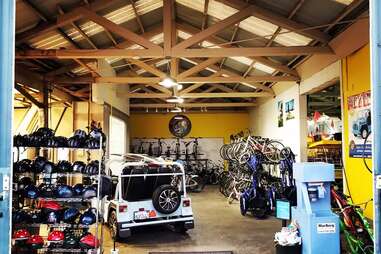 A bike ride along the coastline with palm tree-lined streets and a view of the Santa Ynez Mountains? Um, yes, please. Wheel Fun has the largest bike rental selection in California and is located a block from the beach in The Funk Zone. Helmets are offered, or you can bring your own. The city also recently established Santa Barbara BCycle, an electric bike share program that makes it easy to get around town.