You can always find a good excuse to get away to Santa Barbara, whether it's for beautiful beaches, fresh seafood, ample wine-tasting options, or just to chillll. It's only about a two-hour drive from LA, and there's something for everyone -- plus, over the summer, it's usually 10-20 degrees cooler than LA, which means a respite from those 100-plus-degree days. Here's everything you've got to do to have the best weekend there possible:
Sure, it might take a little longer to get there, but it's well worth the trip, and let's be honest, you will be doing some drinking (lots of it, in fact). Besides, who wants to sit on the 101 anyway? You get to cruise along the coast in big comfy seats, order food without having to leave your seat, and have an excuse to take the Amtrak -- and then once you get there, you don't have to drive, and they have ride-share services. Like, seriously, no car necessary.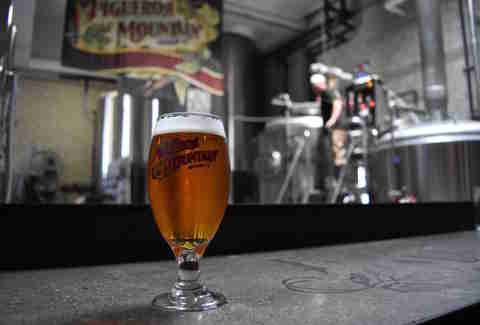 This hip warehouse district is about a block away from the ocean, so before you head out to catch some rays, enjoy a few glasses of wine at the rows of boutique tasting rooms. If you would rather have a cold beer, pop into Figueroa Mountain Brewing Co., in the heart of the Funk Zone, and try any of the rotating specialty beers on tap, or taste a flight of four beers for $8.
Your family-style dinner at this lauded New American restaurant will probably come out looking more like a piece of art than an edible arrangement. But then you'll get over it, and realize that your plate is filled with ingredients so fresh they were probably picked from the farm that morning. The cocktail program (which uses seasonal fruits and veggies) is on-point, too.
The open-air venue is pretty much like the Hollywood Bowl's cousin, but way more intimate. The lineup this year includes Ben Harper & The Innocent Criminals, Thievery Corporation, and, um, Journey, so get on it. Make sure to visit the Scranton Overlook above the seats, where you can get a glass of wine or beer, and enjoy the views from Carpinteria to the bluffs of Hope Ranch.
The family-owned shop originated in Santa Barbara, and has been serving creamy scoops since 1949. While you stroll through the heart of Downtown Santa Barbara, stop by the State St location to cool off.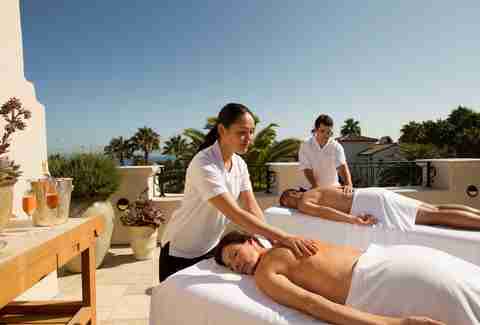 If you're looking for a little R&R, escape to the Bacara Resort for its open-air rooftop terrace massage. You'll get a full-body deep-tissue rubdown while overlooking the ocean and enjoying the cool sea breeze. Sound luxurious? It is (and so are the prices).
If you're with a big group, pack a lunch and picnic at this quaint park with stellar views of the coastline. There's a $65 fee to reserve a table, but it's got BBQ grills, horseshoes, and access to the beach and hiking trails.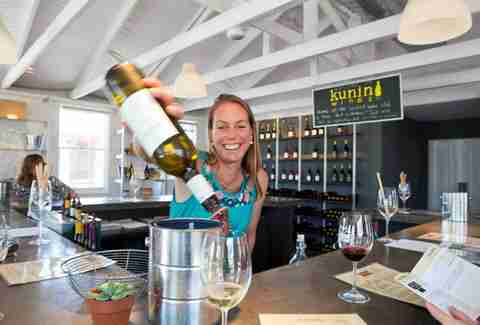 Once you've hit up the retail shops on State St, take a short walk over to the Urban Wine Trail -- basically, over 20 tasting rooms in and around the Funk Zone area. If you like Bordeaux, check out Grassini Family Vineyards, which is a small-production tasting room that pours only Bordeaux varietals. Other notable tasting rooms include Riverbench and Cottonwood Canyon Winery. You can also order a pedicab to take you along the trail, or hail one down on the streets.
The view of the harbor itself at this seaside restaurant is worth the price of the meal. Request a seat outside or grab one at the bar facing the view (it's worth the extra wait). Once you've started to feel like you're on vacation and ready to eat, order seafood. Don't think about ordering anything else. The Cajun seabass, salmon, or beer-battered fish & chips are all good options. So is washing it all down with a cold beer.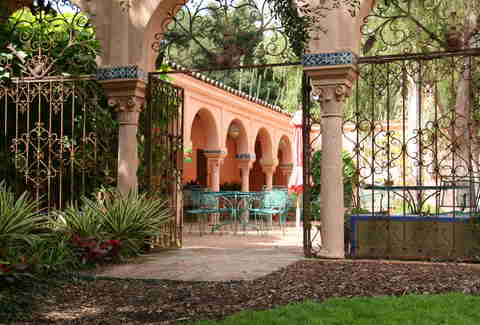 Named after the Polish singer, the 37-acre garden of rare and exotic plants has been frequently listed as the one of the 10 best gardens in the world. Make sure you visit the Lotus Pond -- which was originally the estate's swimming pool, and is now overrun with foliage.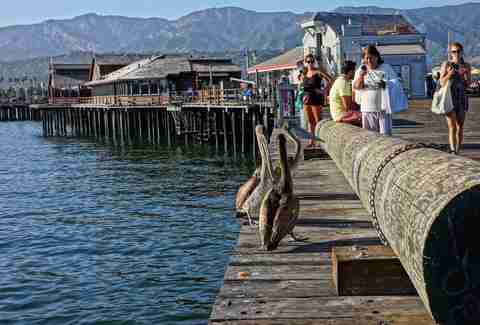 You can't go to Santa Barbara without having at least one clam chowder sourdough bread bowl or a chill-out session on the pier, so why not kill two birds with one stone? The bread bowl at Santa Barbara Shellfish Company is probably the closest you'll get to the real New England deal without a plane ticket, and while you're there, you can watch the sailboats set sail and wish you were on one... except then, you wouldn't be eating clam chowder. So you're winning anyways.
A bike ride along the coastline with palm tree-lined streets and a view of the Santa Ynez Mountains? Um, yes please. Wheel Fun has a huge selection, and is right on the beachfront. Bingo.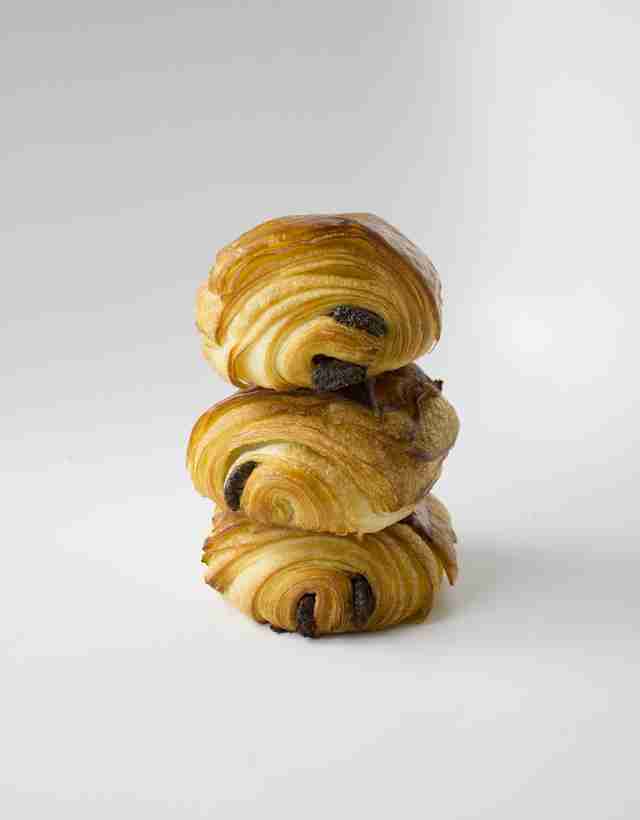 This little Parisian bistro serves pastries that are comparable to the ones you'll find in Paris. While it serves food-food, the pastries are the real reason you're coming here. Stop by for a mid-day treat (or two), and try the perfectly flaky almond or chocolate croissants or any of the 10 different flavors of macarons.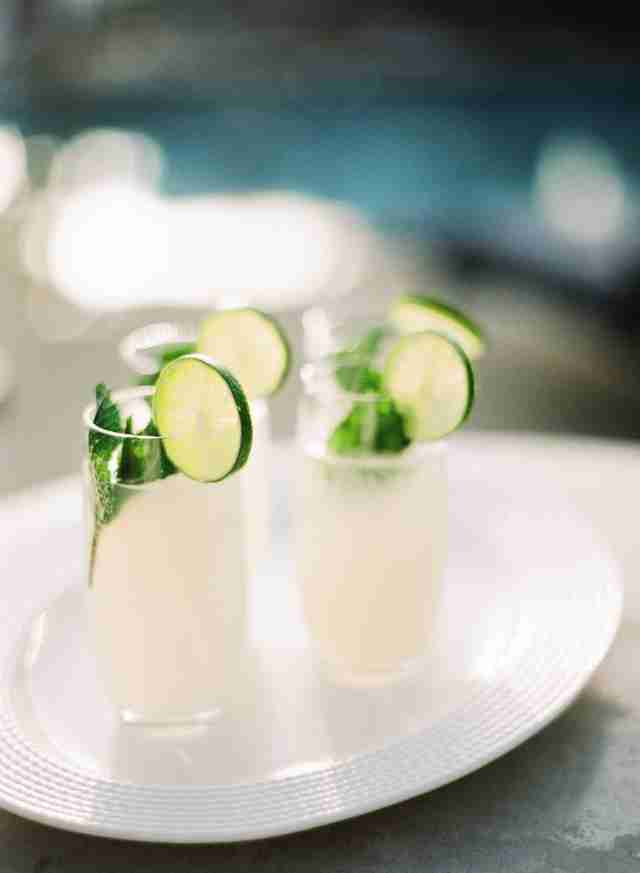 Here's what you do. Reserve a seat on the terrace, order yourself a glass of wine, sit back, and enjoy the killer sunset and panoramic views of Santa Barbara. Seriously guys, it's pretty amazing.
Cold Springs Tavern is a little saloon off the beaten path that looks like Little Red Riding Hood's cabin from the outside with taxidermy plastered all over the inside. It's famous for its tri-tip BBQ sandwiches (on Saturday and Sunday only), but also serves wild game if you're into that. Blues and classic rock bands play on Sundays, which often draw nearby biker groups. Authentic!
Every Sunday, over 200 local artisans display their original artwork during this European-inspired art fair that has been running for 50 years strong along Cabrillo Blvd. All the artists are Santa Barbara locals and create the art themselves, so you'll get to meet and talk to the artist themselves and, if you're lucky, watch them in action.
If you're feeling adventurous, hit up Santa Barbara Adventure Company and paddle through some of the largest sea caves in the world, then snorkel over protected kelp beds. They've also got excursions that go rock climbing, surfing, and more.
The hike starts off with a relatively easy uphill climb. When you see the fork in the road, steer to the right for Tangerine Falls. The path becomes moderate and rocky, but is packed with scenic views (and poison oak -- be careful!).
This brewery is like having a beer in your friend's well-stocked backyard: the patio's got all your favorite drinking games like giant Jenga, Connect Four, and two olympic-style bocce courts. It also pours by the Reinheitsgebot law, and offers $5 beer flights.
Sign up here for our daily LA email and be the first to get all the food/drink/fun Los Angeles has to offer.