18 Awesome Things to Do in Santa Barbara
Have the best weekend ever.
Getting out of town for a summer road trip is the move at the moment and Santa Barbara is the perfect weekend getaway for its beautiful beaches, fresh seafood, ample wine-tasting options, or just to chillll. When city officials were forced to rethink the city streets with the new COVID-19 guidelines, they were quick to close off nine blocks on State Street to create a pedestrian promenade. Citywide ambassadors are also patrolling the streets to ensure locals and visitors are in compliance with the new guidelines.
Santa Barbara is only about a two-hour drive from LA, and there's something for everyone -- plus, over the summer, it's usually 10-20 degrees cooler than LA, which means a respite from the dog days of summer. Here is a list of outdoor activities you can do in the American Riviera to have the best weekend possible (while still social distancing).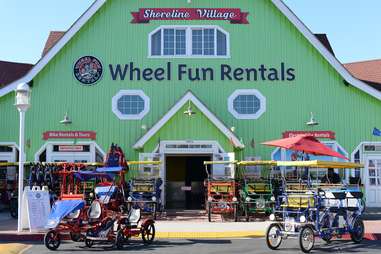 A bike ride along the coastline with palm tree-lined streets and a view of the Santa Ynez Mountains? Um, yes please. Wheel Fun has the largest bike rental selection in California and is located a block from the beach in The Funk Zone. Helmets are offered or you can bring your own.
The seaside restaurant on the harbor currently offers patio dining and a limited takeout menu. In addition to the seating on the upstairs patio which has been arranged six feet apart, the iconic Santa Barbara restaurant has added extra seating in front of the Santa Barbara Maritime Museum to accommodate more outdoor diners. Once you've started to feel like you're on vacation and ready to eat, order seafood. Don't think about ordering anything else. The Cajun salmon or beer-battered fish & chips are both good options. So is washing it all down with Brophy's Bloody Mary.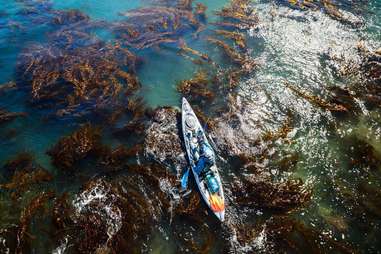 If you're feeling adventurous, hit up Santa Barbara Adventure Company and paddle through the north coast of Santa Cruz's Island on the Prisoners Harbor Tour (all other snorkeling and kayak tours are currently closed). Other activities include surfing, rock climbing, and wine tours which are limited to 10 guests per shuttle and eight guests for all other outdoor tours. Or, better yet, book a private tour and go worry-free. Check-in for all tours are completed outdoors and all water equipment will be disinfected after each use.
This boho beach chic hotel is just steps away from the sand and a 20-minute walk from The Funk Zone. Lounge by the pool or go for a run on the beach across the street. The hotel uses hospital-grade cleaning supplies and communicates with guests via text using a service called Zingle so you can do contactless check-in and check-out, and request concierge services.
The family-owned shop originated in Santa Barbara, and has been serving creamy scoops since 1949. McConnell's has two locations in Santa Barbara (one on State Street and one in The Funk Zone) which are both open for curbside pick-up, walk-up, or third-party delivery. For walk-up service, customers are not allowed inside the shop but instead, can order at the front door where gloved and masked staff are taking orders.
When was the last time you went to a drive-in movie? Throw it back and get a little nostalgic watching family-friendly films like Friday Night Lights and Pelé on the big screen for free. The ongoing UCSB Arts & Lectures Summer Cinema program moved their annual series to the West Wind Drive-in to offer free shows once a week through August 19. Shows are first-come serve, gates open at 7:30pm and will feature a rotating list of food trucks so you can enjoy concessions during the movie. FYI: masks are required when outside of a vehicle.
Your family-style dinner at this lauded New American restaurant will probably come out looking more like a piece of art than an edible arrangement. But then you'll get over it, and realize that your plate is filled with ingredients so fresh they were probably picked from the farm that morning. The cocktail program (which uses seasonal fruits and veggies) is on-point, too. The Lark offers outdoor seating on the newly extended patio in the parking lot which shares space with their sister restaurant The Lucky Penny, best known for wood-fired specialty pizzas. Reservations are highly recommended as this place can get busy.
You can't go to Santa Barbara without having at least one clam chowder sourdough bread bowl or a chill-out session on the pier, so why not kill two birds with one stone? The bread bowl at Santa Barbara Shellfish Company is probably the closest you'll get to the real New England deal without a plane ticket (which you probably won't be booking these days anyway). Sit outside on their limited outdoor patio, or order takeout to enjoy your meal on the beach and while you're there, you can watch the sailboats set sail and wish you were on one... except then, you wouldn't be eating clam chowder. So you're winning anyways.
This lesser-known hiking trail in Goleta is a protected land that attracts hikers, horseback riders, and 100,000 Monarch butterflies every fall. The 230-acre Ellwood Mesa Sperling Preserve is an open space with 78 acres of eucalyptus groves on the north side. It's free to visit and hike the trails and don't forget your pup, dogs are allowed on a leash. And so is alcohol.
Skip the overly crowded Funk Zone and head east to the Presidio Neighborhood adjacent to many of the city's preserved architectural buildings where you can enjoy a few glasses of wine at Carr Winery, Potek Winery, or Samsara in Goleta. Reservations are a good idea (and required for select wineries) so make sure to plan ahead.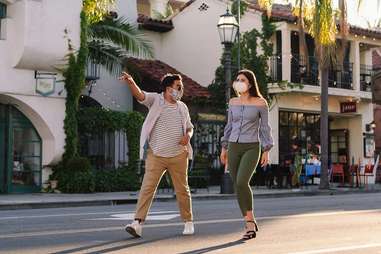 The City of Santa Barbara moved pretty quickly to close off nine blocks on State Street between Gutierrez and Victoria Street to create a promenade which will be open through Labor Day weekend. Temporary parklets, or designated dining areas on the streets have also popped up around town. Start with a leisurely walk post-wine tasting (you'll need it) and then enjoy tapas outdoors at Milk & Honey.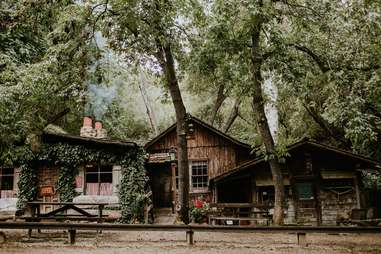 Cold Springs Tavern is a little saloon off the beaten path that looks like Little Red Riding Hood's cabin from the outside with taxidermy plastered all over the inside. While the popular weekend BBQ and live music is on hold due to COVID, the famous tri-tip BBQ sandwich isn't going anywhere. You can still order the tri-tip sandwich on the menu (and you should) but they also serve wild game if you're into that. Currently, they only offer a full-service lunch menu which is available Thursday through Monday, and outdoor seating is available.
Fun fact: It's actually legal to drink alcohol in Santa Barbara county parks and beaches, like the Santa Barbara County Courthouse Sunken Garden or Lookout Park which overlooks Summerland Beach. Pack a lunch and pick up a cocktail kit from Shaker Mill or The Good Lion bar, and picnic at this quaint park with stellar views of the coastline.
Backyard Bistro is a mobile dining concept that was born out of COVID by Slate Catering. The Santa Barbara catering company created a private bistro experience on a decked out van overlooking Stearns Wharf (or another location of your choice). For two hours, you get bespoke cocktails, a cheese and charcuterie plate, and epic views. Or, kick it up a notch and get the mezcal experience which can be self-guided using detailed notes or with a private bartender to walk you through the history and tasting.
Book one of the 92 private cottages at Belmond El Encanto and then make a dinner reservation for a seat on the outdoor dining terrace, order yourself a glass of wine, and enjoy the killer sunset and panoramic views of Santa Barbara. In response to COVID, the hotel also crafted a menu of unique experiences to add to your stay like a private gourmet sail with executive chef Johan Denizot or an al fresco movie screening on your private terrace. It's just like having a home on the French Riviera (err, American Riviera).
The hike starts off with a relatively easy uphill climb. When you see the fork in the road, steer to the right for Tangerine Falls. The path becomes moderate and rocky (i.e. not for beginners), but is packed with scenic views and poison oak -- be careful!
If you're looking for a little R&R, escape to the The Ritz-Carlton Bacara for its open-air rooftop terrace massage or facial. You'll get a full-body deep-tissue rubdown while overlooking the pool and enjoying the cool sea breeze. Lap swimming is also available at the spa pool with limited hours. Sound luxurious? It is (and so are the prices).
This little Parisian bistro with three locations in Santa Barbara County serves pastries that are comparable to the ones you'll find in Paris. While it serves food-food, the pastries are the real reason you're coming here. All of their locations have large outdoor sitting areas but they also offer curbside pick-up, to-go, and delivery service as well. Try the buttery almond or chocolate croissant or any of the 10 different flavors of macarons.
Sign up here for our daily LA email and be the first to get all the food/drink/fun Los Angeles has to offer.
The best way to do Santa Barbara is on a whim! Leila does it so often, she now has a Santa Barbara playlist, just ask nicely on Instagram or Twitter @leilaslist.