With its canyons, parks, nature preserves, and forests, Los Angeles boasts a ton of hikes, but not many end with the reward of a majestic waterfall. And since we can all agree there's something magical about watching a stream of water cascade over rocks, especially after sweating your way there, here are 10 excursions that -- drought willing -- lead to terrific tumblers, with a difficulty-out-of-five scale on each to guarantee that you don't put too much effort into your trek.
Recommended Video
Lovers Are Making the Pilgrimage to Kiss In This Hidden Alleyway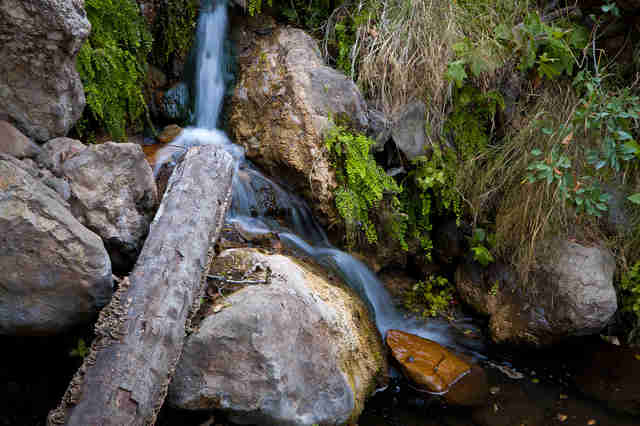 Solstice Canyon Falls
Malibu
Hike less for the exercise and more for the bragging rights? This 2.1-mile nature walk masquerading as a hike is your jam. A kid-friendly path leads to a modest 30ft waterfall and creek, as well as the ruins of the Roberts Ranch House that burned down in a 1982 wildfire (meaning you get to play Indiana Jones and explore the crumbling remnants of the estate). For a more serious workout, continue onto the Rising Sun and Sosotmo Trails, two slightly more taxing hikes with an ocean view payoff, or the Dry Canyon Trail, which ends in a taller seasonal waterfall.
Difficulty level: 1
Escondido Falls
Malibu
Fair warning: Escondido Falls is the tallest waterfall in the Santa Monica Mountains, so this approximately 3.8-mile hike is mobbed on weekends. Start on a steady ascent along residential Winding Way, then traverse a dirt trail until you reach the lower tier of the falls. Think you're done? Nope. The real challenge is making it to the upper tier via a pathway to the right -- involving a slippery, steep incline, a length of guide rope, and serious bravado -- where you can scramble up for a better view of the gushing 150ft tumbler.
Difficulty level: 5
Sturtevant Falls
Sierra Madre
City dwellers yearning for an escape will find it in this picturesque and mostly shaded 3.5-mile hike, starting at the Chantry Flats trailhead in sprawling Angeles National Forest. Along the way, you'll spot rich foliage, occasional wildlife, and a handful of privately owned rustic cabins nestled in the forest. Be prepared for a few obstacles -- like shallow stream crossings and a hilly incline toward the end -- that make you feel as if you're in a real-life Super Mario Bros. game.
Difficulty level: 3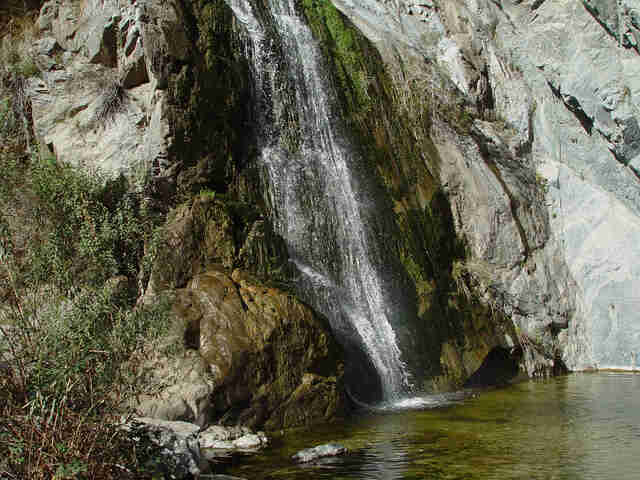 Fish Canyon Falls
Duarte
Unless active rock quarries interest you, the start of this nearly five-mile hike is boring, but the scenery improves dramatically once you cross a metal bridge over Fish Canyon Creek to the lush main pathway. Bear with the trail, which is narrow in parts and abundant with poison oak (wear long pants!), because the final destination -- a three-tiered waterfall that drops over 80ft into a clear punchbowl at its base -- is a satisfying sight.
Difficulty level: 3
Eaton Canyon Falls
Altadena
Just when you think you've aced this moderate 3.4-mile hike, it does a big 180, switching to rocky, rugged terrain that's trickier (but admittedly more fun) to navigate. You'll never be lonely on this trek, which is wildly popular with slow-moving families and dogs on the weekends, so be prepared to share the stunning sight of the 40ft-tall cascade with a crowd of other waterfall-seekers.
Difficulty level: 4
Monrovia Falls
Monrovia
For proof that size doesn't matter, head to Monrovia Falls. What this 30ft cascade in the San Gabriel Mountains lacks in height, it makes up for in consistency, thanks to an underground spring that keeps the water flowing no matter what time of year. That same water source also means verdant foliage flourishes everywhere, providing a shaded canopy (and relief from the sun) along the mostly level, less-than-two-mile trail.
Difficulty level: 2
Paradise Falls
Thousand Oaks
Pro: 40ft Paradise Falls in Wildwood Regional Park flows impressively year-round, even when it's not rainy season. Con: because its source is sewage runoff (yep, gross), the water isn't clean, so refrain from allowing Fido (or anyone else) to splash around in there. Numerous routes can lead you to the falls, with most trails ranging from a few miles to over four.
Difficulty level: 3
Trail Canyon Falls
Tujunga
Though the infamous Station Fire ravaged this area in 2009, the all-levels trail has since reopened and been repaired. The approximately four-mile hike in a quiet, secluded canyon includes a handful of stream crossings, gorgeous greenery, and 700ft of elevation gain -- all leading to a pretty 30ft waterfall.
Difficulty level: 2

Switzer Falls
La Canada Flintridge
To see a waterfall without putting in a lot of work, try this hiker-approved excursion in the San Gabriel Mountains. Clocking in at just over three miles, the easy-in, easy-out path snakes across a photogenic stream lined with oak trees. Unlike other waterfall hikes, this one doesn't quite lead you to the base (unless you're a somewhat skilled climber), but enjoying the 50ft tumbler from a short distance is good enough for most.
Difficulty level: 2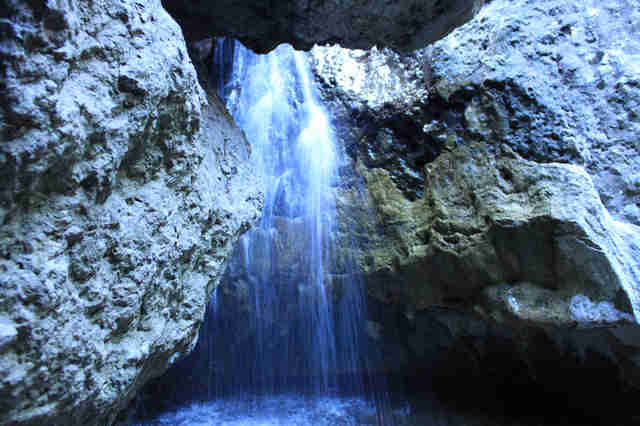 The Grotto
Malibu
Brush off your bouldering skills for this truly unique three-mile expedition, which takes you to a small, slightly hidden grotto surrounded by giant rocks. You'll find a mini waterfall at the grotto's base and -- as long as you're willing to get a little dirty -- plenty of opportunities to explore.
Difficulty level: 3
Sign up here for our daily LA email and be the first to get all the food/drink/fun Los Angeles has to offer.
Tiffany Tse is a freelance contributor to Thrillist and always channels Indiana Jones when hiking. Follow her on Twitter: @twinksy.