11 Weekend Getaways Within 5 Hours of LA That Are Perfect for Fall
Desert, beach, vineyards, mountains, and more.
Summer has finally given way to fall, which honestly doesn't mean much to those of us who call Los Angeles home. Aside from vaguely cooler temperatures and shorter days, our city remains as green and temperate as ever. But if you're keen to experience a dash of autumn in the form of a day or weekend trip, we've got plenty of options ranging from luxurious wine country destinations (and no, we're not talking about Napa), to stunning desert locales and mystical mountain towns—all of them just a few hours drive away. So grab a mask, sanitizer, and all the gear you'll need for a memorable fall road trip, here are 11 weekend getaways to bookmark for the next time you're itching to skip town:
Go country in Santa Ynez Valley
Escape the city and head to the wine region in Santa Barbara County for a relaxing getaway without the crowds you'll find in northern Napa or Temecula Valley to the south. Get your day started with coffee at Pony Espresso or Queen Cup Coffee in the quaint historic town of Santa Ynez, followed by some shopping at the eclectic Santa Ynez General, where you'll find home decor, candles, fragrances, and gifts to take home with you. After soaking up the old Western vibes in the downtown area of Santa Ynez, head to Los Olivos and cool off with wine tasting.
Over in Los Olivos, you'll find the streets lined with wine shops and tasting rooms, with standouts that include Liquid Farm, Stolpman Vineyards, Story of Soil Wine, Future Perfect Wine, and Dragonette Cellars. Stop for a bite to eat at the new Nella Kitchen & Bar (owned by the same people behind the popular Santa Ynez Valley eatery S.Y. Kitchen) for modern Italian eats and a wine list featuring local and global labels housed within the iconic Fess Parker Wine Country Inn. The Inn also represents a tempting overnight option, with amenities that include a complimentary bottle of wine in your room, wine tasting for two, and a heated on-site pool. For a wine tasting experience nearby, head to Roblar Winery, in the heart of Santa Ynez Valley.
Once you hit the road again, stop by Bob's Well Bread's newest location a few miles away in Ballard for breakfast or lunch. The original, just a little further north in Los Alamos, is a local institution with must-try coffee and pastries, but their breads are truly something to write home about (or take home with you).
Just a ten-minute drive from Los Olivos, Solvang will transport you to an authentic Danish village, without the lengthy plane ride. Founded by Danish settlers over a century ago, the charming streets, homes, and businesses were constructed to resemble a small Danish town (yes, there are windmills), with bakeries on every corner. Some standouts include 70-year-old Birkholm's Bakery & Cafe, along with Danish Mill Bakery, Mortensen's Danish Bakery, Olsen's Danish Village Bakery, and The Solvang Bakery. But make peasants FEAST your first stop and savor homemade eats from chef/owner Michael Cherney, who has worked at Michelin-starred kitchens like L'Atelier de Joël Robuchon.The slow-cooked carnitas and roasted mushroom tacos and Feast Burger represent some of the most popular menu items, but save room for their frozen key lime pie that uses a family recipe. Around the corner is another farm-to-table hot spot, Sear Steakhouse, where you'll find hearty steaks, seafood options, and produce that's fresh from the garden. There's even a tiki bar in town, the High Roller Tiki Lounge, where the cocktails are made with a wine base.
Shop for souvenirs at The Book Loft, and learn the history behind your favorite fairy tales at the Hans Christian Andersen Museum that's above the store. The Copenhagen House features an Amber Museum and Viking exhibit, and the Elverhøj Museum of History & Art is a great spot to learn more about Danish culture. Be sure to stop by Solvang Spice Merchant for unique spices, and take home some fresh cheeses at Cailloux Cheese Shop.
As you're heading out of Solvang, stop by Ostrichland to feed ostriches before heading to more wine tasting. A little further outside of Solvang's main town is Buellton where you'll find the landmark Hitching Post 2; you'll need a reservation for dinner, but you can walk in for lunch at their tasting room Hitching Post Wines that's next door. Here, owner Frank Ostini and his winemaking partner, Gray Hartley, select wines that pair perfectly with their wood-fired fare.
Drive: 2.5 hours
Stay: Hotel Ynez, a modern retreat that sits on two private acres; The Winston, a smaller luxury hotel in Solvang; Vinland Hotel & Lounge in the heart of Solvang's town; the fancier The Fess Parker Wine Country Inn in Los Olivos; the off-the-beaten-path Ballard Inn and Gathering Table in Ballard; and the six-room, rustic-chic The Inn at Zaca Creek in Buellton.
Fly high in a hot air balloon over Rancho Santa Fe
Sitting on the outskirts of San Diego is the little suburb of Rancho Santa Fe. Here, neighboring the affluent communities of Del Mar and La Jolla, is a small community where you can escape from city life. Discover the local art scene at Rancho Santa Fe Art Guild, play a few holes on the legendary Rancho Santa Fe golf course, and enjoy the local farmers market on Sundays. A quick drive away are the legendary beaches of Del Mar and La Jolla, where you can do paragliding, kayaking, snorkeling, sea lion-watching, and more.
Check out the famous hot air balloon rides in the region—the Inn at Rancho Santa Fe has even partnered with Sky's the Limit Ballooning Adventures to provide aerial tours of the region. The Pony Room, named after the strong horse riding community in North San Diego County, offers sunset views dotted with hot air balloons that float overhead, plus a New American menu that features local seafood and produce, with over 100 labels of tequila, signature craft cocktails, craft brews, and an impressive wine list. Stop by after dark when the venue comes alive with live music. Less than 15 minutes away from Rancho Santa Fe is chef Michael Mina and Ayesha Curry's new restaurant International Smoke in Del Mar.
Drive: 2 hours and 10 minutes
Stay: The Inn at Rancho Santa Fe is a 21-acre Spanish-style property that's been open since 1923. For the sporty set, Rancho Valencia is a must—the property houses 14 on-site tennis courts, four pickleball courts, and 95 fitness classes a week.
Live the luxe life in Montecito
Home to Oprah Winfrey, Harry and Meghan, and plenty of other A-listers, the once-sleepy town of Montecito that used to be a place you just drove through on your way to Santa Barbara is now its own must-stop destination. Grab lunch at Honor Bar, where they don't take reservations and lines can be long, but their menu of elevated shareables, burgers, and sandwiches is worth the wait. Head to the Folded Hills Tasting Room for wine tasting before checking out the iconic Rosewood Miramar Beach that's been dubbed the American Riviera for its stunning architecture and sweeping landscapes.
Grab a bite to eat at Rosewood's on-site restaurants like Caruso's and Miramar Beach Bar, enjoy the ocean views just on the other side of the train tracks, or head to the beach—just east of the hotel is a public beach for all to enjoy. Guests and locals can take part in curated picnics offered by the hotel in partnership with Moët Hennessy. Select a chef-curated menu of sandwiches, snacks, salad, and desserts paired with wine for up to 12 guests, and find a spot to spread out on the property's 16 acres, including on the beach. For dinner, visit Lucky's Steakhouse—a Montecito institution that recently expanded to a second location in Malibu. Top Chef-testant Phillip Frankland Lee's omakase sushi experience Sushi|Bar is a high-brow sushi experience ($125 per person) that just earned a Michelin star and is located in the Montecito Inn.
Drive: 1.5 hours
Stay: The quaint Montecito Inn is located in the heart of town, but live like the locals (read: royals) and treat yourself with an over-the-top stay at the Rosewood Miramar Beach hotel. And of course, there's the creme de la creme San Ysidro Ranch, where the Kennedy's honeymooned in 1953 if you want to keep up the living like a royal theme.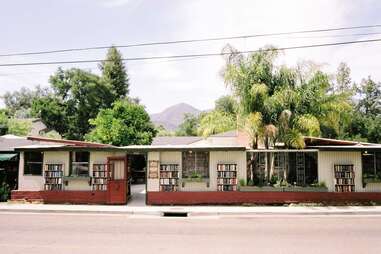 Experience farm-to-table dining in Ojai Valley
Ojai Valley is known for many things—hot springs, olive oil, wine, and their fabulous farm-to-table fare. Sample the local olive oil and grab a bottle (or two) to go at Ojai Olive Oil Company, followed by wine tastings at Casa Barranca and The Ojai Vineyard. Browse titles at Bart's Books, the largest independently owned outdoor bookstore in the world, and visit the Ojai Valley Museum for a dash of culture. For a day trip to the region, be sure to pack a swimsuit and hiking books as there are many trails in the nearby Los Padres National Forest. Dip into popular Willett Hot Springs before checking out the town's culinary offerings including farm-to-table eats at Azu, The Farmer and the Cook (check out their pizza nights), and The Farmhouse at the Ojai Valley Inn. At The Farmhouse, guest chefs like Evan Funke, Josiah Citrin, Neal Fraser, and Nancy Silverton make the trip up north from LA to take over the kitchen for weekends at a time. If you can't stop dreaming about those perfectly ripe tomatoes you had at dinner, check out the Ojai community farmers' market on Thursdays from 3-7 pm and the Ojai Certified Farmers' Market on Sundays from 9 am–1 pm. The oldest restaurant in town may not serve garden-fresh eats, but remains a must-stop: Deer Lodge is a small tavern with live music and cozy fire pits outside.
Drive: 1.5 hours
Stay: Ojai Valley Inn is the main hotel in the area, perfect for families and couples with activities that include arts and crafts for children, golfing for adults, a spa and more on their sprawling grounds. For motel-like lodging, check out the Ojai Rancho Inn. The Blue Iguana Inn is a tried and true B&B, while the Thacher House is more like a homey co-op farm; or get closer to nature with one of the airstreams at Caravan Outpost.
Soak up the fresh air in Yosemite
There's a reason Yosemite is one of the most famous national parks in the country. Not many places envelope you in pure, unabashed nature the way Yosemite does. It's not unlike the Grand Canyon; no matter how many gorgeous photos you see, it's somehow still not overrated. Yosemite's underlying beauty is front-and-center during the winter, which makes it a premiere choice for camping.
Whether you want to keep it as chill as birdwatching and relaxing under the stars, or as active as biking and horseback riding, this is going to be an outdoorsy weekend. There's a lot of joy in cooking your own food when you're camping, but if you don't feel like racing against the light or taking a chance on if fires are allowed, you might want to make things easy by grabbing some food on your way into the park. If so, Mariposa Take-N-Bake Pizza or Castillo's Mexican Restaurant are just the ones.
Drive: 5 hours
Stay: Find an amazing Airbnb near Yosemite, or stay at the Ahwahnee Hotel that's been open since 1927 and is located in the middle of the national park. Just two miles from the south entrance, there is Tenaya Lodge with cabins and dog-friendly rooms. For another historic cabin, check out the Evergreen Lodge or Yosemite Valley Lodge — both ideal for families. Treat yourself at Chateau du Sureau, located nearby in Oakhurst, for a luxury stay ideal for couples planning a romantic getaway. The chateau transports you to France with manicured gardens, fine dining, and nine luxe rooms.
Get weird in Idyllwild
There are many mountain towns that surround Los Angeles, but none of them are quite like Idyllwild. For starters, it's an unincorporated community in Riverside, which gives it a distinctly different vibe than the rest of the county. There's very much an Austin or Portland air about the people that live here; they pride themselves on being offbeat and weird. You really have to be, when you've elected a dog as the mayor. Mayor Max 2022.
You can always rent a generic cabin in Idyllwild, but you could drive for miles and never find a place more odd or wonderful than Hicksville Pines Bud & Breakfast. A block of differently-themed cabins (a la The Madonna Inn) that range from a haunted house, to a cheesy romantic honeymoon suite, to a shrine to the Twin Peaks' Log Lady. Take advantage of the titular bud (California, baby) and breakfast for sure, but picking up some of the incredible pizzas from Idyllwild Pizza Company is a must.
Drive: 2.5 hours
Stay: If you decide against Hicksville Pines Bud & Breakfast, another popular option is the Grand Idyllwild Lodge bed and breakfast, or book one of Silver Pines Lodge's creekside wooden cabins if you're looking to fish during your stay. Opt for a cabin at Quiet Creek Inn to be among the pine trees, or for a homey feel try Strawberry Creek Inn.
Rough it in Death Valley
If you're a normal person, scorching desert temperatures during the summer are a big no-no. Summers in Death Valley frequently top 120 degrees, but it's during the winter that you can actually have a nice stay. Take advantage of the rare 60 to 70 degree weather (but prepare for very cold nights) and explore the dunes in the least physically demanding way you can.
Zabriskie Point's crazy sunsets might be worth the whole trip, and since you won't be hoofing it down the mountain in 100+ degree heat, it's a no-brainer. You'll want to devote some time to staring at the sky, too—at night, the stars over the desert will be unlike anything you've ever seen, sprawling out above you like an observatory dome. Grab some beers to go from Panamint Springs Resort (they've got over 150 options), pop 'em open under the stars, and toast to Mother Nature. She's good at her job.
Drive: 4.5 hours
Stay: Find an amazing Airbnb near Death Valley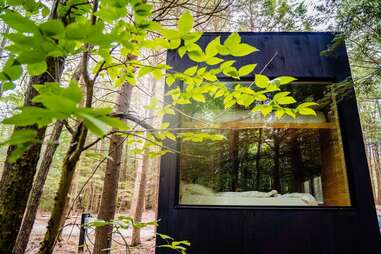 Unplug from society in Running Springs
Just west of Big Bear, Running Springs isn't going to top the charts of many vacation roundups. This is exactly what makes it the perfect place to disconnect, and Getaway House is here to help us do just that. Each of their tiny little cabin-houses come stocked with a functional bathroom, kitchenette, and hotel-quality bed situated next to a huge window that -- depending on which cabin they assign you -- sports a hell of a view. Outside each cabin they've provided fire pits (which unfortunately are only usable when the San Bernardino Forest isn't burning down) and a picnic table.
You'll want to keep dinner simple, so why not stop at one of the many terrific Italian delis in the Covina area on your way over (like Capri or Claro's) and set yourself up with some sandwiches or a charcuterie situation? Enjoy the fresh air and, trust us, take advantage of the cell phone lockboxes that they provide. It's nice to unplug. That's why you're here.
Drive: 2 hours
Stay: Find an amazing Airbnb near Running Springs
Enjoy the desert in Joshua Tree, CA
Joshua Tree is truly one-of-a-kind. The complete nothingness that emanates from the star-splattered sky at night here is an absolute titan of the California natural wonders hierarchy. It's scenic as hell during the day (which, during the fall and winter, is a lot more manageable), too, what with all the eponymous Joshua Trees and weirdly picturesque rock formations. Of course you could always stay in a hotel at the outskirts of town, but the only real way to take in the desert's beauty is to camp or rent one of the many dome houses on Airbnb. You need to spend the night under the stars, and we've got a whole Joshua Tree guide dedicated to helping you do just that.

Grab some sandwiches from Natural Sisters or burgers from Tyler's on the way in if you want to sample the eats that are available, and save energy because the wild nights at Pappy + Harriet's are back. Then again, maybe it's a skip-the-prepared-food-and-BBQ-your-own ribs kinda night. And with the most beautiful night sky Southern California has to offer stretching out above you, that'll be just fine.
Drive: About 2.5 hours
Stay: Most people here rent Airbnbs but if you want more amenities without trekking in from Palm Springs, check out the boho chic Sacred Sands and the iconic Joshua Tree Inn, located just five miles from the national park.
Gaze from the cliffs in Big Sur
Big Sur, like Joshua Tree, is one of those places that could turn even the most vehement East Coaster into a believer in California's undying wonder. If you're a cold weather camping addict, this is the place for you (Pfeiffer Big Sur State Park is only $35 a night). There's plenty of hiking around the area too, and when you get to the top, you can treat yourself to some unbeatable views from the cliff sides.
You'll need to pick up some beers and pork sliders (and don't forget sandwiches from the deli) from Big Sur Taphouse, but do your best to get over to Big Sur Bakery for cappuccinos and cinnamon rolls that just somehow taste better when you're staring at waves crashing against the rocks.
Drive: About 5 hours
Stay: You can find an amazing Airbnb near Big Sur, but those wanting the real Big Sur experience, should opt for one of the small area's mainstays: Deetjen's Big Sur Inn is a quaint inn just off the main road in the middle of the redwoods on Highway One. For more of a splurge, choose from the ultra-luxe Alila Ventana Big Sur, which offers glamping accommodations for those looking to stay in a luxurious tent cabin, among other idyllic rooms, or Post Ranch Inn with stunning cliffside views and unique accommodations include a sought-after treehouse room.
Ascend to the heavens in Sequoia
Yosemite's well-deserved popularity tends to overshadow its southern counterpart, but we're here to tell you that Sequoia National Park is a true showstopper in its own right. Skip the hotel and rent yourself a cabin, because this is a place where you want to be entrenched in nature.
To say that the natural beauty is stunning here would be a serious understatement; Sequoia is a place you'll be wanting to hike. The 14 mile-long Alta Peak Trail is an absolute jaw-dropper the whole way through, but especially so if you make it up to the peak at 4,000 feet. There are plenty of waterfalls and other trails throughout Sequoia too, so if you're looking to spend a day appreciating the planet we live on, there really aren't many places better.
Drive: About 4 hours
Stay: Find an amazing Airbnb near Sequoia
Wilder Shaw misses restaurants and bars so, so, much. Check out what he's ordering for takeout on Instagram and Twitter.

Ramona Saviss is an LA-native who has a finger on the pulse of everything going on in the city. She loves to have a packed social calendar and is always planning her next adventure; you can find her byline in publications like
The Hollywood Reporter
,
Variety
,
Time Out LA
,
Fodor's Travel
,
Business Insider
,
Billboard
,
Los Angeles Confidential
and
Angeleno
.