10 Weekend Getaways from LA That Are Perfect for Spring
All the best places for a weekend getaway from LA this spring, from camping and resorts to wine tasting and whitewater rafting.
The sense memory of our wet winter is already fading like the McFly family photo, growing dimmer with each sunny 70-degree day. Spring has arrived, and with it comes the real best reason to live in Southern California—not the industry, not Silicon Beach or Muscle Beach, but the majestic diversity of California itself. The state is full of beauty to explore, from high-traffic highways and famous forests, to rocky coastlines and quiet roads that lead into pristine desert, with funky fun towns to be discovered in every habitat.
Now that the weather has turned, it's finally time to take full advantage of the weekend and get out of the city; head for the hills—or for the desert or the beach. Make the most of your time off with these short weekend road trip ideas for spring, including some of the best day trips and weekend getaways from LA.
Palm Springs
Drive: 2 hours
Late winter into late spring is the best time of year to head to everyone's favorite weekend getaway, Palm Springs. For the next few months, temperatures are warm enough to nudge you into the pool but not so scorching that you have to stay in the whole time. Slip out of the water and into a margarita, a local craft beer, or maybe a glass of crisp natural wine in the wild desert town.
The area has a funny mix of retirees and revelers, folks coming out to golf in the dry desert air and folx coming out to party by the pool in a town with a long and illustrious history of queer representation. There are activities to appeal to both sets of visitors, but where the city truly stands out is in activities that appeal to both cultures—that is, among other things, restaurants, art, kitsch, and rowdy brunch. Check in to your campy fun motel, hop in a hot air balloon, then hit a stylish Michelin-recommended bar and restaurant, or just spend all weekend lounging by the pool.
Stay: The options are almost endless in Palm Springs, from massive resorts by all the major chains to stylish boutique hotels Azure Sky, funky retro revamps like the Orbit In, and everything in between. There are also plenty of homes available to rent through the usual suspects.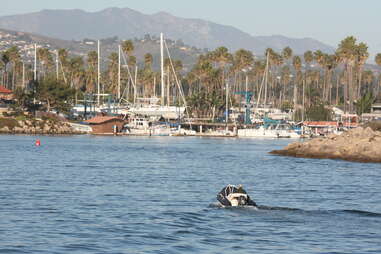 Ventura
Drive: 1.5 hours
For a beach vacation with small-town charm, it's hard to beat the fun and the proximity of Ventura. The drive is just long enough and the town is just cute enough that it feels like a real escape, but it's still close enough that a weekend feels like plenty of time to get up there.
The beach is lovely, of course, with sandy dunes and plenty of room to lay out. There is lots of nature to explore, from the oak groves and streams of Harmon Canyon Preserve in the hills above town down to the winding trail, WWII artillery installation, and Ventura River Estuary at Emma Wood State Beach. If you want to get out on the water you can rent boats, kayaks, and stand-up paddle boards at nearby Ventura Harbor. And if you're looking for a little more high-speed action, nearby Channel Islands Harbor in Oxnard has jet skis available through Southern California Jet Skis.
The food and drink scene is impressive in its own right, from the legendary fish tacos at Spencer Makenzie's to relative newcomers like the unimpeachable espresso drinks from Prospect Coffee Roasters. The area's craft beer scene is robust, with standouts like Topa Topa, MadeWest, and Casa Agria leading a crowded field.
Where to stay: There are plenty of hotels in the Ventura area, many of which boast ocean views and the sound of waves. Cliff House Inn is popular and quite nice. There are also a wealth of beach homes available to rent, which run the gamut from funky to luxurious.
Big Bear
Drive: 2 hours
Winter is the most obvious time to visit Southern California's mountain towns, but don't overlook them after this year's insane snowpack has melted. Big Bear is a particularly fun alpine community, with solid restaurants, a bit of a silly side, and plenty of extreme outdoor activities through the warmer months.
As a town built around a lake, watersports are an obvious choice. There are several marinas that offer boat rentals through spring and summer, with options from pontoon boats to kayaks, pedal boats to fishing boats and more. Hiking is another easy win in the gorgeous pine forest around town, but you can also get a lot more intense—try a zipline tour that hits speeds up to 35 miles per hour, or put those chairlifts to warm weather use after ski season ends at Snow Summit bike park.
Where to stay: There are hotels and rentable cabins all throughout the town and up into the surrounding mountains. If you're looking for a particularly stylish option, Marina Riviera just reopened after a big renovation, modernizing the Viking-inspired mid-century lodge into a luxurious cabin-style hotel with elevated woodsy touches.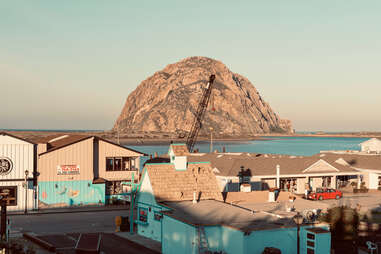 Morro Bay
Drive: 3.5 hours
Morro Bay flies a little below-the-radar, but its lovely Central Coast waterfront still fills with tourists—and sea otters—during peak season. The town is best known for Morro Rock, which looms over the Embarcadero and in the background of all of your pictures along the Morro Mural Mile. You can see it from on land, or you can check it out from the water with a customizable kayak tour with Wildheart Coastal Adventures, which can also take you into the estuary to see all sorts of wildlife. If you're interested in Central Coast seafood, you can go on a Seaweed Foraging Adventure with sustainable, worker-owned co-op Kelpful, or pick up fresh Pacific Gold oysters directly from the source at Morro Bay Oyster Company.
Because it's a destination town, there is plenty of good eating and drinking to be done, from coffee and pastries at Top Dog or Sun-N-Buns and fresh-caught seafood from Tognazzini's to classic roast beef sandwiches at Hofbrau der Albatross. Finish your evening with a fine craft ale from one of two great local breweries, the excellent sour and wild ale brewery Libertine or at the laid-back nano-brewpub Three Stacks & A Rock, named for Morro Rock and the three smokestacks from the now defunct Morro Bay Power Plant (which are actually due to come down within the next five years).
Stay: There are tons of hotels in Morro Bay. Among the local options with convenient access to the Embarcadero, the Sea Air Inn stands out for its recent renovation and great location. Cottages, surf shacks, and guest suites are also plentiful on various rental websites and directly through Morro Bay's official website.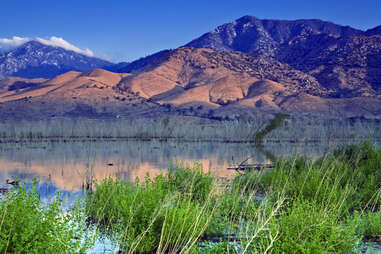 Kernville
Drive: 3 hours
Spring is prime time for adventures in nature, and no place has better access to the outdoors than Kernville, Southern California's gateway to the Sierras. The small town is located on the banks of the mighty Kern River, which has some of the best and most intense whitewater rafting in California, especially this year with the extremely high water level. Book a rafting trip through Kern River Outfitters, but don't stop there—Kernville is rich with other things to do outside, too.
You can head a few minutes south to Lake Isabella for year-round watersports, including top-notch windsurfing. If action sports are more your speed, Kernville has some of the best mountain biking and rock climbing around; you can book lessons and guided half-day or full day activities through Sierra South. If you prefer a slower pace, cruise down to Silver City Ghost Town, a museum in the shape of a town with more than 20 historic buildings restored into a state of "arrested decay" to show what they might have looked like after the gold rush but before they were totally abandoned.
Or stay in Kernville and kick back at Kern River Brewing Company, one of the best and most underrated breweries in California. KRBC was founded by two former Olympians, husband-and-wife whitewater kayakers Rebecca and Eric Giddens, who retired from medal-winning first careers (Rebecca has an Olympic Silver in Canoe Slalom, among others) and moved into medal-winning second careers in beer—Citra, their signature Double IPA, has taken home all sorts of hardware from competitions like Great American Beer Festival.
Stay: You can camp right along the river at campgrounds like Kern River's Edge, Rivernook Campground, or Camp Kernville. There are also fun cabins dotted all along the river and up into the mountains available through Airbnb. And there are plenty of rustic casual hotels and motels in the area, though none are particularly luxurious.
Big Sur
Drive: 5 hours
Big Sur's physical footprint is large, including 90 miles of rocky coastline and a redwood forest between Carmel and San Simeon. But its cultural footprint is truly massive, outstripping the physical space like the exhibit at the zoo where you compare your wingspan to a California condor. This is the area in which Henry Miller spent two decades, which inspired Kerouac and Brautigan and Huxley, which is still home to Esalen and the Zen mountain retreat Tassajara.
That counterculture ethos collides with a spate of luxury hotels and glamping experiences, not to mention a loose collective of rugged outdoors people who have come to Big Sur to live as close as you can get to "off the grid" while still maintaining reliable access to perfect pan au chocolate.
As a visitor that means your options run a truly wild gamut, from backpacking or camping at Pfeiffer State Park to the tasting menu and the award-winning wine cellar at Sierra Mar. Either way you should check out the windswept coastline and purple sand at Pfeiffer Beach or the cliffs at Garrapata. The Big Sur River Inn is almost 90 years old, with a solid craft beer tap list and good burgers, and they have chairs set up right in the freezing cold river so you can dip a toe while you wet your whistle. The Big Sur Bakery is the crown jewel of the area's dining scene, a rustic bungalow with an emphasis on local and seasonal ingredients; they kick out stunning pastries and brunch-inspired platess during the week, and a truly special weekend dinner service, where almost everything gets a spin through their wood-burning oven.
Stay: There's great car camping in the aforementioned State Park, and lovely cabins along the river at the Big Sur Campground & Cabins. The River Inn and Fernwood run towards the motel side. You can also get romantic at the classic Deetjen's or super luxurious at the Post Ranch Inn and Ventana.
North County San Diego
Drive: 2 hours
Few stretches in California have the versatility and universal appeal of the North County San Diego coastline, a chill run from Solana Beach to Oceanside, with good surfer vibes and plenty of culture.
If you're in for theme park stuff with the family, Legoland is right there and the San Diego Zoo and Safari Park (FKA Wild Animal Park) are a short drive away. If you're looking for more adult activities, San Diego's fantastic beer scene is almost too convenient, and you don't even have to venture out of North County to partake. If you're in the mood for fresh-caught sustainable seafood, head to Carlsbad Aquafarm for a guided tour where you'll learn about sustainable shellfish farming, how to shuck oysters, and conclude with a generous tasting.
Best of all, if you're in the area for a weekend you can do it all in one trip—breweries in town Friday night, catch some wildlife and hit the beach on Saturday, fine dining or a food hall that night, then put your toes back in the sand on Sunday before heading home.
Stay: The Carlsbad Inn is a lovely traditional beachfront option which also includes bikes and beach equipment for guest use. The Green Room is a boutique hotel that opened in 2021 in Oceanside with grab 'n go foam surfboards, beach cruisers, and a very stylish design. And Airbnbs are abundant up and down the coastal area.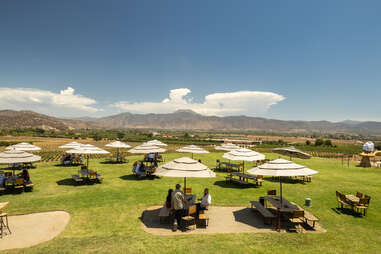 Valle de Guadalupe
Drive: 4 hours (but could be longer on the way back depending on the border crossing)
One of the greatest—and most underutilized—perks of LA living is our proximity to the US-Mexico border. Tijuana is an easy two and a half hour drive away, a straight shot down the I-5 to the San Ysidro border crossing. Once across, there is a world of amazing food, coffee, craft beer, and agave spirits to explore just minutes from the frontera. But if you push on another hour or so, you can make it to the Valle de Guadalupe, Baja California's wine region.
In recent years the Valle has exploded in popularity, which has been a boon for some local businesses while also bringing challenges for the area's limited infrastructure and resources. It is a fantastic, gorgeous, wild place, but be sure to be a responsible guest while you're there. There are too many great restaurants and wineries to count, but some of the high-end standouts include chef David Castro Hussong's Fauna at the Bruma winery, chef Javier Plascencia's Animalón, and chef Drew Deckman's eponymous restaurant at Mogor Badan winery. There are great traditional options too, from the adobada at Taqueria La Principal to the legendary breakfasts at La Cocina de Doña Esthela. If that sounds like a lot, well, you're right—you may want to consider a guided tour. WineNomada offers a good one, among many others.
Stay: Encuentro Guadalupe is romantic and chic with private decks and its own winery. Bruma also has villas and a boutique eight-room hotel in addition to the winery and Fauna restaurant. Uva Uva is a new-ish collection of four stylish solar-powered cabins with a sustainable and self-sufficient focus.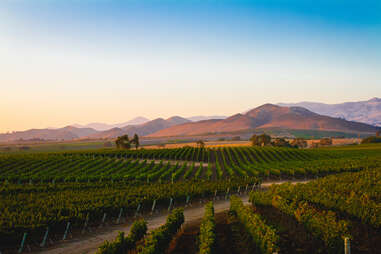 Santa Ynez
Drive: 2.5 hours
Escape the city and head to Santa Barbara County's wine country for a relaxing getaway without the crowds of Napa or Sonoma up north. Get your day started with coffee and old Western vibes at Pony Espresso or Queen Cup Coffee in the quaint historic town of Santa Ynez, followed by some shopping at the eclectic Santa Ynez General, where you'll find home decor, candles, fragrances, and gifts to take home with you.
The town of Los Olivos is the wine-tasting capital of Southern California, with dozens of wine shops and tasting rooms, including standouts like Solminer, Stolpman Vineyards, Story of Soil Wine, Future Perfect Wine, and Dragonette Cellars. Speaking of seafood and wine, stop for a bite at Bar Le Côté, the second restaurant from the team behind Michelin-rated French bistro Bell's in nearby Los Alamos, for Central Coast meets European coastal cooking. And if you prefer to taste your wine among the vines themselves, the drive up to Demetria is gorgeous, and the wines at the end of the trek are elegant and fun.
Once you hit the road again, stop by Bob's Well Bread a few miles away in Ballard for breakfast or lunch. The original, just a little further north in Los Alamos, is a local institution for pastries and sourdough bread, and the town itself is full of destination-worthy food and drinks.
For a taste of the area's iconic cuisine, head north to Nipomo to the legendary steakhouse Jocko's for titanic cuts of beef grilled over a live oak fire. Or head south to Buellton to the landmark Hitching Post 2; you'll need a reservation for dinner, but you can walk in for lunch at their tasting room Hitching Post Wines next door. Here, owner Frank Ostini and his winemaking partner, Gray Hartley, select wines that pair with their wood-fired fare.
Stay: Hotel Ynez, a modern retreat that sits on two private acres; The Winston, a smaller luxury hotel in Solvang; the fancier The Fess Parker Wine Country Inn in Los Olivos; the off-the-beaten-path Ballard Inn and Gathering Table in Ballard; the six-room, rustic-chic The Inn at Zaca Creek in Buellton; or, if you're really all about that bread, there are two cottages directly behind Bob's Well Bread in Los Alamos that come with free coffee and pastries at the bakery.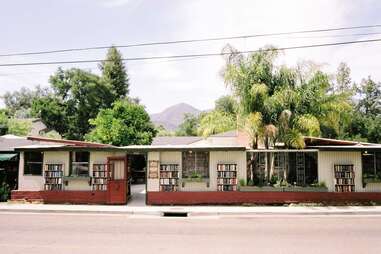 Ojai
Drive: 1.5 hours
Ojai Valley is known for many things—hot springs, olive oil, wine, and their fabulous farm-to-table fare. Sample the local olive oil and grab a bottle (or two) to go at Ojai Olive Oil Company, followed by wine tastings at Casa Barranca and The Ojai Vineyard. Browse titles at Bart's Books, the largest independently owned outdoor bookstore in the world, and visit the Ojai Valley Museum for a dash of culture. Light and Space Yoga is located in a converted gas station, but don't let the locale fool you—they also host classes in a local park—and whether you opt for indoor or outdoor, it's a great way to start your day.
For a day trip, bring your hiking boots to get out into Los Padres National Forest. Dip into Willett Hot Springs before checking out Lebanese-inspired skewers at Ojai Rotie, or farm-to-table eats at The Farmer and the Cook. For a different sip and snack combo, there's the Southeast Asian cuisine from Sama Sama, a window inside Topa Topa Brewing Co. And if you can't stop dreaming about those perfectly ripe tomatoes you had at dinner, check out the Ojai community farmers' market on Thursdays from 3-7 pm and the Ojai Certified Farmers' Market on Sundays from 9 am–1 pm. The oldest restaurant in town may not serve garden-fresh eats, but remains a crucial stop: Deer Lodge is a small tavern with live music and cozy fire pits outside.
Stay: Ojai Valley Inn is the main hotel in the area, perfect for families and couples with activities that include arts and crafts for children, golfing for adults, a spa and more on their sprawling grounds. For motel-style lodging, check out the Ojai Rancho Inn or Capri Hotel, which underwent a massive 2020 renovation. The Blue Iguana Inn is a tried and true B&B, while the Thacher House is more like a homey co-op farm; or get closer to nature with one of the airstreams at Caravan Outpost.