After a summer packed full of events within city limits, nobody'd blame you for wanting to break out of Los Angeles for a bit. One of the most beautiful things about our city is its proximity to excellent weekend getaways -- there are just so many fantastic road trips waiting to be taken, in just about every setting imaginable. Luckily for you, your old pals at Thrillist have whipped up a handy guide to some of the greatest weekend road trip destinations within five hours of LA, complete with mountains, beaches, campfires, and, duh, plenty of wineries. No need to thank us; it's literally our job.
Recommended Video
Please Don't Hang Up: The Best Things to See, Eat, and Do in Nashville
Best Food Getaway: Valle de Guadalupe, MX
In case you haven't been paying attention, Valle de Guadalupe is just about the hottest shit around right now. Though it's always been a monster when it comes to wineries -- there are more than 100 in the area -- it's recently made a name for itself as a culinary destination. There are a ton of great hotels (like El Cielo Winery and Resort and Encuentro Guadalupe) to offer you a beautiful stay, too, so take advantage of the exchange rate and get after it.
Uber even has its own service specifically down here, so feel free to imbibe without limits as you conquer all of the beautiful wines (give Xecue Vinicola or Casa Magoni a look) that the Valle has to offer. You'll probably want to do at least one dinner at Deckman's for some farm-to-table fare paired with fantastic local wine, and we'd be remiss not to tell you to go big with the six-course tasting menu at Corazon de Tierra. For a more affordable option full of beautiful dishes like fresh oysters and sautéed rabbit, hit up Malva.
Drive: About 4 hours
Best Wine-Soaked Getaway: Paso Robles, CA
Despite playing second (third?) fiddle to Napa and Sonoma in the national wine consciousness, Paso Robles isn't messing around with its wine game. The AVA has over 200 wineries to its name, spread among its 11 distinct wine regions, and with a bevy of party bus options available you should have no trouble making your way between each of them. There's also human beer pong, disc golf, and a hot springs spa, should you wish to pursue some non-wine activities during the day.
But who are we kidding: You're here for the wine, and there's lots of it, so much so that we've got a whole Paso Robles guide dedicated to deep-diving the stuff. Calcareous and Mitchella are must-hit wineries, but don't sleep on Villicana: they're also a distillery, and you can do a full tasting of all the spirits on offer. Have some decadent omelettes from Hunter Ranch Grill for breakfast, some farm-fresh fare for lunch at Thomas Hill Organics, and maybe braised pork shoulder from The Hatch Rotisserie for dinner -- that's a helluva a day right there.
Drive: About 4 hours
Best Outdoor Getaway: Joshua Tree, CA
There are lots of cities near beautiful woods and beaches, but there really isn't any place like Joshua Tree. The complete nothingness that emanates from the star-splattered sky at night here is an absolute titan in the California natural wonders hierarchy. It's scenic as hell during the day, too, what with all the titular Joshua Trees and weirdly picturesque rock formations. Of course you could always stay in a hotel at the outskirts of town, but the only real way to take in the desert's beauty is to camp or rent one of the many dome houses on offer. You need to spend the night under the stars, and we've got a whole Joshua Tree guide dedicated to helping you do just that.
"But what about food, what do I eat?" we hear you asking. Grab some upscale American at La Copine if you're feeling fancy as hell, or keep it simple with some sandwiches at Natural Sisters (or grab burgers from Tyler's on the way in). The one thing you cannot skip, though, is Pappy & Harriet's. If you leave without one big live-music-and-well-drink-soaked night at Pappy & Harriet's, why did you even come?
Drive: About 2.5 hours
Most Affordable Getaway: Big Bear Lake, CA
If you're heading over to Big Bear Lake in the winter, you're probably going to enjoy one of LA's best snowboarding/skiing options (with rates far cheaper than Mammoth, Tahoe, or other west coast go-to spots). What people don't know, on the other hand, is that Bear is just as great in the summer: all the lake sports you could want are in full swing, as well as a ton of beautiful trails for biking, or just plain hoofing it. Oh, and it's close enough to the beach that you could potentially go snowboarding and surfing in the same day.
Start your day with some tasty coffee from Big Bear Roasting Co., nab some BBQ from Bone Side Down for lunch, and regale each other with tales from the day over some beers at Big Bear Lake Brewing Company. Whatever time of year you come to Big Bear, one thing is for sure: a trip to Murray's Saloon & Eatery for some karaoke, the best burger in town, and some (read: many) shot skis is 100% mandatory. Don't leave without it.
Drive: About 2 hours
Best Bike Getaway: Carlsbad, CA
Biking through the woods or mountains is, of course, always gorgeous. That's hard, though; you're gonna need to be in great shape to pull off bike trips like that. Cruising along the California coastline is a different story, however. San Diego, La Jolla, and Encinitas tend to be no-brainers down south, but if you're looking to switch it up, consider Carlsbad. There are more than enough beautiful biking options here (Lake Calavera and the Coastal Rail Trail for instance), as well as some crazy sunsets to cap the day off. And let's be real: A quick ride over to Legoland actually sounds pretty great.
With so much great beer in the area, you may want to let somebody else do the tour-guiding for you; that's where Scavengers Beer & Adventure Tours comes in. Grab some sneak-attack-delicious ramen at Harumama Noodles & Buns (or perhaps you're more in a BBQ mood?) for some casual dining, but don't forget to also go big at Campfire for some grilled oysters, smoked duck, and other new American plates. Carlsbad is riddled with great food -- make sure you eat some.
Drive: About 2.5 hours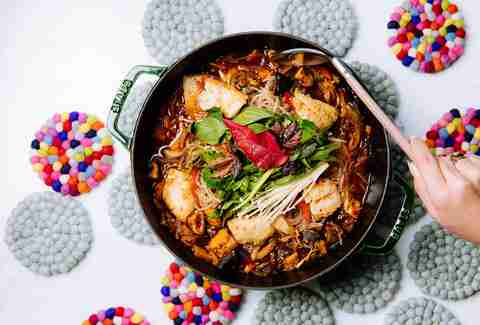 Most Misunderstood Getaway: Las Vegas, NV
If you struggle with an unquenchable thirst for dancing in nightmarish clubs, an unhealthy affinity for breakfast buffets, or a gambling addiction, you don't need to be sold on Las Vegas. But guess what? There's so much more to Vegas than just the strip, and if you've never explored Downtown Vegas, maybe now's the time. Skip Excalibur and grab yourself an Airbnb in the area where people actually live.
Our very own Roy Choi recently opened up Best Friend here, so hopefully that will give you the kick in the pants you need to start taking the Vegas dining scene seriously. Bone marrow from Sparrow + Wolf and BBQ oysters from Other Mama should be a part of every Vegas dining rotation, and oh-so-strong cocktails from Golden Tiki are in order as well. And don't forget, you'll need to pay your respects to Atomic Liquors as well, as it's Vegas' oldest freestanding bar.
Drive: About 4.5 hours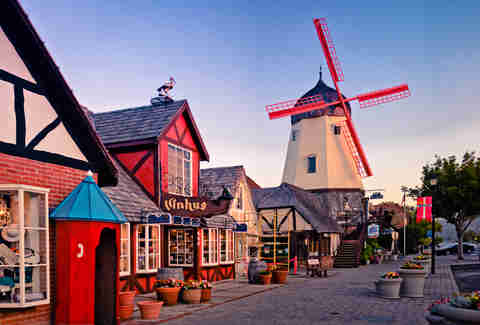 Best Cultural Getaway: Solvang, CA
Solvang is a straight-up time machine: you can get off the freeway in 2019 California, but you'll arrive in 1800s Denmark. The Hans Christian Andersen-inspired, windmill-adorned town is straight out of a fairytale, and with all the Danish immigrants who came here throughout the turn of the century who left their mark, the place is rich with history. Stay in one of the many annoyingly cute hotels (like King Fredderik Inn or Atterdag Inn) to maximize your fantasy, then check out some breathtaking old bikes at Solvang's Vintage Motorcycle Museum.
You'll obviously want to hit up Ostrichland and feed some giant birds/buy some giant eggs, but don't be afraid to lean into the touristiness a bit by hitting up Copenhagen Sausage Garden for some beers and sausages. You're free to break out of the Danish thing, too -- head over to Hummingbird Restaurant for some fun Caribbean food or swing by Hitching Post II for a more elevated steakhouse experience. And do we even need to tell you to stop at Pea Soup Anderson's on the way home?
Drive: About 3 hours
Best "Treat Yo'self" Getaway: Santa Barbara, CA
With a less-than-three-hour drive, Santa Barbara is a place that should be much more firmly rooted in your weekend getaway rotation. Besides the college wormhole that is Isla Vista (which you should avoid on Halloween weekend), Santa Barbara leans towards the upscale side of things, and it's built to host a weekend of luxury. Stay at the charming Belmond El Encanto or the beachside Harbor View Inn, go surfing, take a food tour, hit up some vineyards, go kayaking… the list of ways to spend your day here goes on and on.
Give Bella Vista a look in the morning for an Italian-inspired brunch as beautiful as the ocean view that comes with it, or satisfy the vegans at Mesa Verde. Of course, there's treat yo'self and then there's treat yo'self. If you're looking to go absolutely buckwild, take yourself over to The Silver Bough and buckle up for a $550 tasting menu from Top Chef-testant Phillip Frankland Lee. His Scratch|Bar and Sushi|Bar concepts are some of the absolute best restaurants in LA, and the stuff he's doing over at The Silver Bough is pretty incredible. If you can swing it, you just have to.
Drive: About 2.5 hours
Best Beach Getaway: Big Sur, CA
Sometimes a weekend trip is about getting away from people. Rather than diving into a town with tons of new faces, you might want to spend some time with California's undying natural wonder. In that case, Big Sur is your place.
Ripplewood Resort and Big Sur Lodge have all the wooden forest charm you could ever ask for, but if it's not too cold, you may consider camping (Pfeiffer Big Sur State Park is only $35 a night) to maximize said natural wonder. There's plenty of hiking around the area too, so do your best to maximize the drop-dead gorgeous cliffsides that the area has to offer.
You'll need some beers and pork sliders (and don't forget sandwiches from the deli) from Big Sur Taphouse, but do your best to get over to Big Sur Bakery for cappuccinos and cinnamon rolls that just somehow taste better when you're staring at all that beautiful greenery. One thing that can't be skipped: Scoot up a little farther north to Forge in the Forest in Carmel-by-the-Sea for some of the absolute finest French onion soup of your life.
Drive: About 3 hours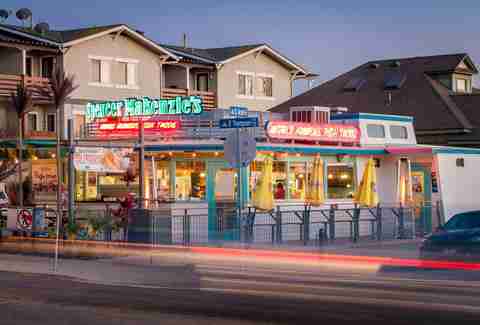 Most Underrated Getaway: Lake Casitas, CA
There's always been a load of great places to camp outside the LA area, but for some reason, nobody ever throws Lake Casitas into the conversation. The Ojai-adjacent campsite has plots for as little as $30 a night, tons of green space, well-maintained firepits, decent bathrooms, and of course, a lake. You can rent boats in the afternoon too, and a day spent out on the lake with some cold beverages is hardly a wasted one.
There's a cafe onsite -- and they do bottomless mimosas, which is another adventure in itself -- but you'll probably want to be cooking your own food, so grab some meats and killer beef jerky from The Corner Market on the way. When it's time to head home, you've still got options: hit up Spencer Mackenzie's for some waterside fish tacos, or give some more elevated seafood a look at Lure Fish House.
Drive: About 2.5 hours
Best Romantic Getaway: Palm Springs, CA
Palm Springs is known for a lot of things: pool parties, obnoxious Instagram influencers… hell, even Coachella is right next door. If you're looking for a couples' desert getaway that doesn't involve wandering around Joshua Tree, look no further than Palm Springs. Book a nice hotel (like Sparrows Lodge or The Ace), hang by the pool, get kicked off the Aerial Tramway for too much PDA, propose in front of some giraffes... you've got all kinds of couple-centric options. 
The romantic dinner selection is bountiful here too, so make the most of your nights. Wine and tapas at Counter Reformation is a strong option, but you could easily grab some seafood at Miro's or some classic new American fare at Trio. Wherever your dinners are spent, consider Farm for a French-inspired brunch… or just lock yourselves in your room and order room service.
Drive: About 2 hours
Best Mountain Getaway: Sequoia National Park, CA
You already know all about Yosemite; we don't need to tell you more about that. Yosemite's incredible popularity (extremely well-deserved, of course) tends to overshadow its southern counterpart, but we're here to tell you that Sequoia National Park is a true showstopper in its own right. Skip the hotel this time, and rent yourself a cabin. You'll be more entrenched in nature, and you'll also be closer to some of the local watering holes, like Jake's Saloon and River View Restaurant.
You're here for the natural beauty, so Sequoia is a place you'll be wanting to hike. The 14 mile-long Alta Peak Trail is an absolute jaw-dropper the whole way through, but especially so if you make it up to the peak at 4,000 feet. There are plenty of waterfalls and other trails throughout Sequoia too, so if you're looking to spend a day appreciating Mother Nature, there really aren't many places better than here.
Drive: About 4 hours
Sign up here for our daily LA email and be the first to get all the food/drink/fun Los Angeles has to offer.