Get a Taste of Fall at These 10 Weekend Getaways Within 5 Hours of LA
Dealer's choice: desert, beach, or mountains?
As the bullet train of 2020 continues to speed towards the end of the year and the most significant election of our lifetime, you might just find yourself in need of a break from everything. While traditional travel is both risky and complicated, road trips are a great way to get away without having to set foot in any public spaces.
Our city boasts a wonderful proximity to excellent weekend getaways—there are just so many fantastic road trips waiting to be taken, and after a summer of such intense heat, it's time to enjoy the wonders of cold weather. We've put together some of the greatest weekend road trip destinations within five hours of LA, complete with snowmobiles, Italian delis, and even a town whose mayor is a golden retriever.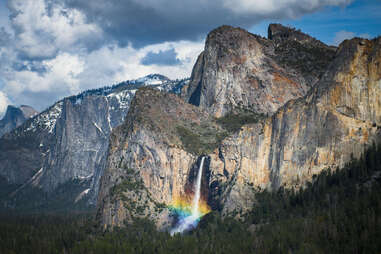 Soak up the fresh air in Yosemite
There's a reason Yosemite is one of the most famous national parks in the country. Not many places envelope you in pure, unabashed nature the way Yosemite does. It's not unlike the Grand Canyon; no matter how many gorgeous photos you see, it's somehow still not overrated. Yosemite's underlying beauty is front-and-center during the winter, which makes it a premiere choice for camping.
Whether you want to keep it as chill as birdwatching and relaxing under the stars, or as active as biking and horseback riding, this is going to be an outdoorsy weekend. There's a lot of joy in cooking your own food when you're camping, but if you don't feel like racing against the light or taking a chance on if fires are allowed, you might want to make things easy by grabbing some food on your way into the park. If so, Mariposa Take-N-Bake Pizza or Castillo's Mexican Restaurant are just the ones.
Drive: 5 hours
Stay:Find an amazing Airbnb near Yosemite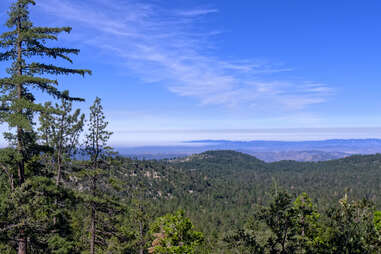 Get weird in Idyllwild
There are many mountain towns that surround Los Angeles, but none of them are quite like Idyllwild. For starters, it's an unincorporated community in Riverside, which gives it a distinctly different vibe than the rest of the county. There's very much an Austin or Portland air about the people that live here; they pride themselves on being offbeat and weird. You really have to be, when you've elected a dog as the mayor. Mayor Max 2020.
You can always rent a generic cabin in Idyllwild, but you could drive for miles and never find a place more odd or wonderful than Hicksville Pines Bud & Breakfast. A block of differently-themed cabins (a la The Madonna Inn), Hicksville has rooms designed like everything from a haunted house, to a cheesy romantic honeymoon suite, to a shrine to the Twin Peaks' Log Lady. Take advantage of the titular bud (California, baby) and breakfast for sure, but picking up some of the incredible pizzas from Idyllwild Pizza Company is a must.
Drive: 2.5 hours
Stay: Find an amazing Airbnb near Idyllwild
Rough it in Death Valley
If you're a normal person, scorching desert temperatures during the summer are a big no-no. Summers in Death Valley frequently top 120 degrees, but it's during the winter that you can actually have a nice stay. Take advantage of the rare 60 to 70 degree weather (but prepare for very cold nights) and explore the dunes in the least physically demanding way you can.
Zabriskie Point's crazy sunsets might be worth the whole trip, and since you won't be hoofing it down the mountain in 100+ degree heat, it's a no-brainer. You'll want to devote some time to staring at the sky, too—at night, the stars over the desert will be unlike anything you've ever seen, sprawling out above you like an observatory dome. Grab some beers to go from Panamint Springs Resort (they've got over 150 options), pop 'em open under the stars, and toast to Mother Nature. She's good at her job.
Drive: 4.5 hours
Stay: Find an amazing Airbnb near Death Valley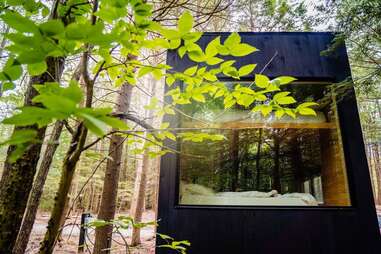 Unplug from society in Running Springs
Just west of Big Bear, Running Springs isn't going to top the charts of many vacation roundups. This is exactly what makes it the perfect place to disconnect, and Getaway House is here to help us do just that. Each of their tiny little cabin-houses come stocked with a functional bathroom, kitchenette, and hotel-quality bed situated next to a huge window that -- depending on which cabin they assign you -- sports a hell of a view. Outside each cabin they've provided fire pits (which unfortunately are only usable when the San Bernardino Forest isn't burning down) and a picnic table.
You'll want to keep dinner simple, so why not stop at one of the many terrific Italian delis in the Covina area on your way over (like Capri or Claro's) and set yourself up with some sandwiches or a charcuterie situation? Enjoy the fresh air and, trust us, take advantage of the cell phone lockboxes that they provide. It's nice to unplug. That's why you're here.
Drive: 2 hours
Stay: Find an amazing Airbnb near Running Springs
Play in the snow in Mammoth Lakes
If a traditional skiing or snowboarding trip is the winter vacation you crave, look no further than Mammoth. After investing over $1 million in COVID-based precautions and enhancements, shredding the gnar will be more than safe, and maybe even a rare chance to forget that we're living in the middle of the apocalypse.
Skadi is a mandatory dinner destination, and with disposable menus, contactless payments, and distanced tables, there should be very little guilt attached to going berserk on the menu—that's what tapas and wine bars are for, after all. Takeout options are plentiful, too, so whether it's Japanese comfort food from Gojira or tacos from Latin Market Taqueria, you're in good shape.
Drive: 5 hours
Stay: Find an amazing Airbnb near Mammoth Lakes
Enjoy the desert in Joshua Tree, CA
Joshua Tree is truly one-of-a-kind. The complete nothingness that emanates from the star-splattered sky at night here is an absolute titan of the California natural wonders hierarchy. It's scenic as hell during the day (which, during the winter, is a lot more manageable), too, what with all the eponymous Joshua Trees and weirdly picturesque rock formations. Of course you could always stay in a hotel at the outskirts of town, but the only real way to take in the desert's beauty is to camp or rent one of the many dome houses on Airbnb. You need to spend the night under the stars, and we've got a whole Joshua Tree guide dedicated to helping you do just that.
Grab some sandwiches from Natural Sisters or burgers from Tyler's on the way in if you want to sample the eats that are available, and even though we can't have the wild nights at Pappy + Harriet's that we miss so very much, they have adapted to the distanced patio situation. Then again, maybe it's a skip-the-prepared-food-and-BBQ-your-own ribs kinda night. And with perhaps the most beautiful night sky Southern California has to offer stretching out above you, that'll be just fine.
Drive: About 2.5 hours
Stay: Find an amazing Airbnb near Joshua Tree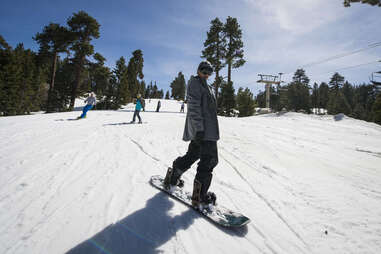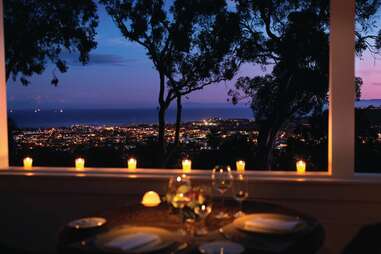 Treat yo'self in Santa Barbara
With a less-than-three-hour drive, Santa Barbara is a place that should be much more firmly rooted in your weekend getaway rotation. Besides the college wormhole that is Isla Vista (which you should avoid on Halloween weekend at all costs), Santa Barbara leans towards the upscale side of things, and it's built to host a weekend of luxury. Bring your own disinfectant and stay at the charming Belmond El Encanto or the beachside Harbor View Inn, go surfing, hit a spa, go kayaking… the list of ways to spend your day here goes on and on.
While dining options are limited at the moment, Top Chef-testant Phillip Frankland Lee's omakase sushi experience Sushi|Bar is doing CDC-compliant dinners. If you've been to the Encino counterpart, you know it's one of the absolute best sushi experiences you can have. And at $125 a person, the value is unbeatable.
Drive: About 2.5 hours
Stay: Find an amazing Airbnb near Santa Barbara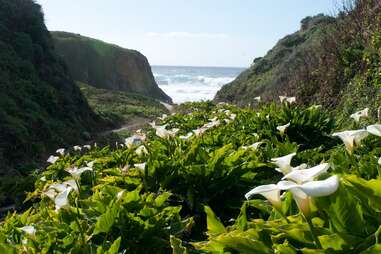 Gaze from the cliffs in Big Sur
Big Sur, like Joshua Tree, is one of those places that could turn even the most vehement East Coaster into a believer in California's undying wonder. If you're a cold weather camping addict, this is the place for you (Pfeiffer Big Sur State Park is only $35 a night). There's plenty of hiking around the area too, and when you get to the top, you can treat yourself to some unbeatable views from the cliff sides.
You'll need to pick up some beers and pork sliders (and don't forget sandwiches from the deli) from Big Sur Taphouse, but do your best to get over to Big Sur Bakery for cappuccinos and cinnamon rolls that just somehow taste better when you're staring at waves crashing against the rocks.
Drive: About 5 hours
Stay: Find an amazing Airbnb near Big Sur
Ascend to the heavens in Sequoia
Yosemite's well-deserved popularity tends to overshadow its southern counterpart, but we're here to tell you that Sequoia National Park is a true showstopper in its own right. Skip the hotel and rent yourself a cabin, because this is a place where you want to be entrenched in nature.
To say that the natural beauty is stunning here would be a serious understatement; Sequoia is a place you'll be wanting to hike. The 14 mile-long Alta Peak Trail is an absolute jaw-dropper the whole way through, but especially so if you make it up to the peak at 4,000 feet. There are plenty of waterfalls and other trails throughout Sequoia too, so if you're looking to spend a day appreciating the planet we live on, there really aren't many places better.
Drive: About 4 hours
Stay: Find an amazing Airbnb near Sequoia
Sign up here for our daily LA email and be the first to get all the food/drink/fun Los Angeles has to offer.