The Wildflower Superbloom Continues in California's Mountains This Summer
Head to the mountains to see some beautiful flowers as the blooming season progresses.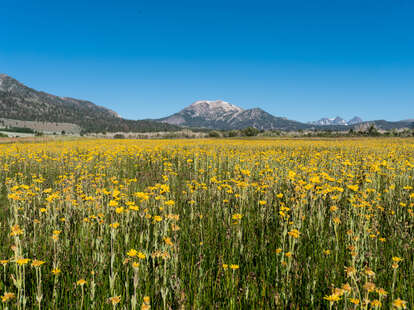 Photo courtesy of Mammoth Lakes Tourism
Photo courtesy of Mammoth Lakes Tourism
When the snow melts in the alpine areas of California, it makes for a beautiful display of various types of flowers cascading down the mountainside. What many people don't know is there's no set "season" for wildflower blooms in these higher altitude destinations of the Golden State. It's simply based on when temperatures start to climb, and the greenery begins to peek from the snow.
This past year felt like a particularly harsh winter for snowfall and rain in California, but the good news is that wetter winters will lead to a more robust bloom of bright summer flowers. From Yosemite to Mammoth and everywhere in between, here are some of the best spots to spot wildflowers across the mountain regions of California.
But before you get out and explore the best wildflower across the mountain regions of California, remember to be respectful of the flowers and their natural habitats. Follow "leave no trace" principles and be cautious not to trample the blooms in their home. Take photos without disturbing the plants, and never pick them –no matter how pretty they are!
Yosemite/Madera County
There's something magical about Yosemite in summer when the snow and ice melt and make way for the perfect climate to showcase more than 1,000 species of vibrant wildflowers. From the rich blue hues of gentians to alpine goldenrod, ranger's button and Sierra butterweed, and more, it's a rainbow of color.
Those who prefer to drive and see the blooms can explore these inspiring landscapes via the Sierra Vista Scenic Byway, a 100-mile road through the high country of the Sierra National Forest. Or, scope out some individual trails that will make for an experience like no other, such as on an adventure starting at Tuolumne Meadows, like the Elizabeth Lake trail, a moderate, steady trail with beautiful views of the water and lush greenery.
Mammoth Lakes
Mammoth has received a record amount of snowfall this year. In fact, the mountain anticipates being open for snowsports through July of 2023). Still, once the ground starts to peek out and the sun ushers those blooms from below, it's time to admire a full spectrum of flower shades from yellow to orange, red, and purple. And because there's a wide range in elevation and different types of soils found in this region, there will be a wide variety of flowers to encounter, including lupine, giant Indian paintbrush, yarrow, and the common monkeyflower.
Trekkers won't have to venture far outside town to explore the Mammoth Creek to Snowcreek Meadows trail, an out-and-back route that showcases some of the best blooms in the Eastern Sierra right from the center of town. This easy trek starts at Mammoth Creek Park and heads up the paved Town Loop along Mammoth Creek, crossing the road and merging into the natural trail of Snowcreek Meadow, which features a plethora of flowers. There's also the Mammoth Mountain Trail which is a much more challenging trek and travels through a range of elevation levels, but the effort more than pays off with sights of colorful flowers. This route climbs up from the ski resort and leads to a summit featuring panoramic views from the top.
Big Bear
Near Big Bear Lake in the San Bernardino National Forest outside of Los Angeles, there's a rare type of flower only found in one specific area due to the unique geography of Pebble Plains ecosystems. They're often called 'belly plants' due to the need to "flatten down on your belly" to see them as they're so tiny they're almost invisible to those who don't know where to look.
Explore trails in the 156-acre North Baldwin Lake Ecological Reserve which sits at about 7,000 feet of elevation and features an interpretive trail showcasing these rare wildflower displays and is known for hosting a wintering population of bald eagles. In this unique high-altitude environment, you'll see sights of iris, checkerblooms, yellow monkeyflowers, violets, and more.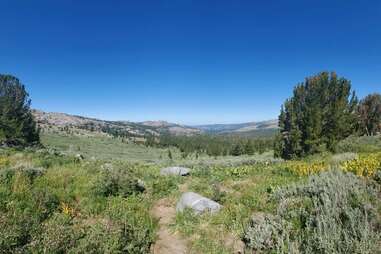 Tahoe South
In South Tahoe, the best place to see the wildflowers is typically in August (but keep in mind this may trend a bit later this year due to hefty snowfall) out at Kirkwood Mountain Resort and Carson Pass. Hikers can admire blooms of watercress, lilies, lupines, irises, mountain bluebells, larkspur, giant red paintbrush, and western columbine, among others. The Winnemucca Lake Loop is also a great spot for spotting blooms, and in addition to the flowers, hikers can admire other well-known geographic landmarks in the distance, including Elephants Back, Round Top, The Sisters, Caples Lake, Little Round Top, Red Lake Peak, and Freel Peak.
North Tahoe
North Tahoe is an explosion of color in the late summer. In Palisades Tahoe, spy Mule's Ears, Lupine, Paintbrush, Mariposa Lilies, and Penstemon, among other blooms. There are many trails to explore to encounter these petals firsthand, but perhaps one of the most well-known is a 3-mile, moderately challenging route called the Shirley Canyon trail, which is a local and visitor favorite. It's been dubbed "one of Lake Tahoe's best half-day hikes," boasting sights of waterfalls and bright wildflowers among other landmark sights with 2,000 feet of elevation gain and dog-friendly terrain. Those planning to take the tram down should check its operating schedule before hiking up.
From Incline Village, check out the Mt. Rose Trail, which features red alpine paintbrush, white-purple lupine, and pink fireweed blooming along the trail and spreading across the peak. Starting in Tahoe City, explore Page Meadows, where wildflowers like Portella, Sierra bog orchids, and camas lilies can be admired along the route. And in Carson City, there's the Marlette Lake Trail which is a 5-mile uphill hike that features wildflowers, including pink bog mallow, pink yarrow, and various lavender flowers.
Greater Redding Region
15 minutes west of Redding, explore the Whiskeytown National Recreation Area, which boasts beautiful wildflowers, including Toyon, California Buckeye, California Fuchsia, Yerba Santa, Cat's Ears and Pinnate Lotus, among a dozen other species of blooms.
This recreation area features numerous trails for all levels — including the 6.3-mile out-and-back Davis Gulch Trail with its beautiful views, including a tranquil creek and peaceful lake.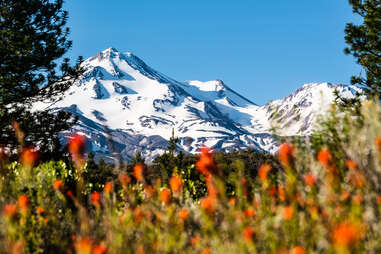 Discover Siskiyou
In Siskiyou, located in the northernmost part of California, about 50 miles North of Mount Shasta, explore some beautiful blooms like lush purple lupines or western Pasque flowers, among others. Visit the Lava Beds National Monument, which boasts one of California's most vibrant wildflower seasons, traditionally from March through September.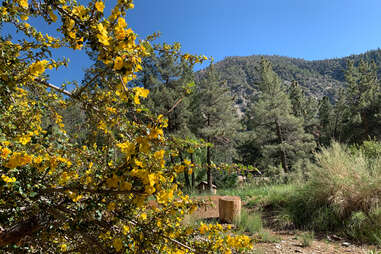 Paradise Springs — Huttopia
In the heart of the San Gabriel Mountains outside of Los Angeles, there's an oasis called Paradise Springs which hosts a storied destination called Huttopia, offering access to some of the best access to late summer blooms in the Southern California region. Nestled into the Angeles National Forest, this camp lets adventurers easily explore this outdoor space where a mountain spring flows through a wide canyon lush, featuring a range of greenery and wildflowers to admire. It's a safe and quiet respite with 150 acres of protected land outside of the city, made for those seeking refuge from the hustle and bustle of LA.