Travel
Sponsored by

How to Entertain Every Type of Out-of-Town Visitor at OUE Skyspace LA
Sponsored by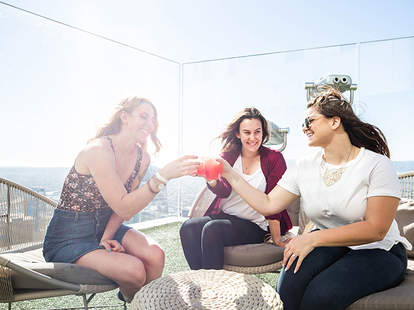 When you live in LA, you're guaranteed three things: almost perfect weather year-round, consistent traffic on the 405, and out-of-town guests. A trip here always sounds like a good idea for your friends and family who live in parts of the country with freezing winters and humid summers, and while visitors are great, it can be hard to know what to do with them when you're playing host. May we suggest taking them to OUE Skyspace LA, home of the tallest open-air observation deck in California. Since opening in 2016 inside the US Bank Tower downtown, it's been entertaining locals and out-of-towners with three floors of entertainment, family-friendly interactive exhibits, special events, and of course, the famous glass Skyslide. Oh yeah, and 360-degree city views from the top. Here's the best way to spend your time there, according to what type of visitor you're entertaining: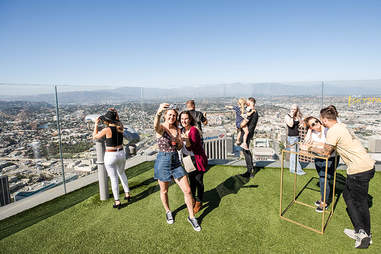 Courtesy of OUE Skyspace
For the social media-obsessed friend
We all have that one friend who needs to snap, filter, and hashtag their every adventure, even if it's just a trip to the grocery store. (Let's be honest, sometimes we are that friend.) Skyspace has epic views sure to inspire plenty of "likes" -- at 1,000 feet high, it is California's tallest observation deck and offers 360-degree views of the city, including the Santa Monica Pier and Catalina Island. It's the perfect backdrop for your guest to take golden hour Facebook photos, record Boomerangs in front of interactive artwork... it even has enough space for their latest TikTok routine. Plus, they'll be sure to give you a shoutout on the 'gram for bringing them here.
For the film buff
The Hollywood Sign is a quintessentially Los Angeles landmark, but the usual trek to see it involves dragging your visitors through literal hours of traffic to wait in line at the Griffith Observatory (cue internal screaming). Instead, take your starry-eyed friend to OUE, where they can view the Hollywood Sign from one of the tallest viewing decks in California. Continue exploring Tinseltown on the 54th floor, where visitors can learn about famous actors who launched their careers here and the movies and TV shows that were filmed in LA, like The Graduate, The Big Lebowski, Training Day, Arrested Development, This is Us, and more. Then, give your guest their 15 minutes of fame with a walk down OUE Skyspace's red carpet and click of a "paparazzi" camera to complete the star treatment.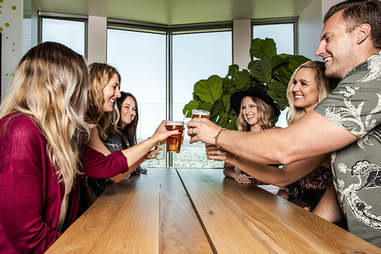 Courtesy of OUE Skyspace
For the beer & wine enthusiast
For that friend with a discerning (*ahem* picky) drink palate, the Skyspace Bar has something to quench their thirst, no matter their mood. Plus, sipping while soaking in the panoramic views from the open-air observation deck beats drinking at a stuffy dive bar any day. For wine drinkers, there are glasses of Duck Hunter Sauvignon Blanc, Chronic Cellars Purple Paradise, and OUE's very own Skyspace Rosé. There are also small bites to nibble on and speciality cocktails like the Daydream, which contains Malibu Rum and blood orange & pineapple juices, or the LA Melon made with Avion tequila, agave syrup, lime, and watermelon juice. The Garden Bar around the corner has plenty of local beers on tap, like Left Coast Brewing's Blonde Marvel and Firestone Walker's Mind Haze IPA. You can also make your LA friends meeting your hometown buddies a little less awkward with $5 pints, $7 glasses of wine, and $10 beer flights during the Garden Bar's weekday happy hour from 4-6pm.
For the early bird or night owl
If your guest is a morning person, keep them occupied at OUE Skyspace's monthly Sunrise Yoga at 7am, where you can take deep breaths and find your center on the outdoor deck while waiting for that second cup of coffee to kick in. For non-morning people, check the calendar to see if there's a Yoga in the Sky sunset practice happening at 6:30pm, or stop by for Skyspace Nights, their Friday and Saturday night event series featuring live DJ sets, silent discos, and musical performances, as well as monthly themed dance parties. Morning or night, no OUE Skyspace visit is complete without a ride down the Skyslide. The first of its kind in the country, this 45-foot fully enclosed slide is made of glass to continue those 360-degree views from a height of 1,000 feet above street level. So grab a mat and enjoy the ride. 
Courtesy of OUE Skyspace
For the fam
When you have family in town, it can be daunting figuring out how to please each member's sightseeing requests, but OUE Skyspace's 54th floor has exhibits that cater to each of their vacation needs. The parent who insists on wearing their favorite sports team's jersey (even in the off-season) will enjoy watching recordings of NBC sports anchor Fred Roggin breaking down famous game plays from LA's professional and collegiate teams. They can also learn about LA's history of hosting the Olympics, and snap a pic in the faux locker room. For the sibling with headphones glued to their ears, this floor will show them where some of the greatest musicians got their start in LA. Have them look at the old concert posters and famous vinyl records before belting out their favorite karaoke songs in the recording booth. And for your history buff grandparent, they'll love discovering little-known facts about LA's 82 neighborhoods to impress their friends and neighbors back home.