A berserk desert trailer-park with a BB gun range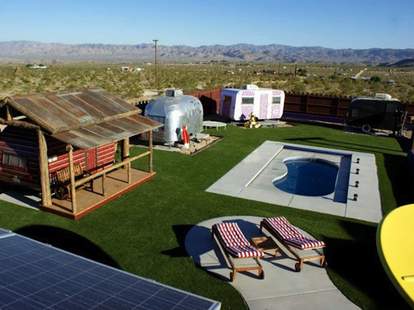 If you've ever wanted to live in a trailer park without actually, like, living in a trailer park, you should definitely check out Hicksville: a mobile-home mecca outside Joshua Tree that was dreamed up by writer/director Morgan Higby Night, and boasts eight themed trailers and two off-site lodges. But wait,there's more!: a solar-heated pool; games from horseshoes, to darts, to table tennis; a trailer bar you can rent for parties; a roof deck with a hot tub; and a freaking BB gun shooting range
At nighttime you'll bear witness to the vast night sky, with all its stars strewn about the universe. And if that doesn't make you feel insignificant, consider that you're sleeping in a trailer park.
One of their more "luxurious" options includes this off-site beaut dubbed the Rancho Diablo, which is situated on 7.5 acres and can sleep up to six-six-six
It's got an abundance of cupboards (!) and a full-sized refrig for storing your own food/ supplies, because how can you be expected to fall asleep without the comfort of a Bud Light Lime 30-rack and a bulk-sized package of Jack Link's nearby
For more intimacy, opt for The Sweet: an Airstream that accommodates 1-3 and sports an electric fireplace, a private patio, a BBQ, and a mini fridge, perfect for, like, at least a Bud Light Lime twelver.
The inside of The Sweet? It's sweet! It's like what the back of the Mystery Machine might look like if the gang was more into solving the mysteries of polygamy, with a wraparound green sofa, bright orange & green hues, and a pile of pillows and blankets you'll totally Shaggy on.