7 Openings That Prove Hollywood's Vinyl District Is the City's Hottest New Neighborhood
A slew of luxury hotels and restaurants have opened in recent months.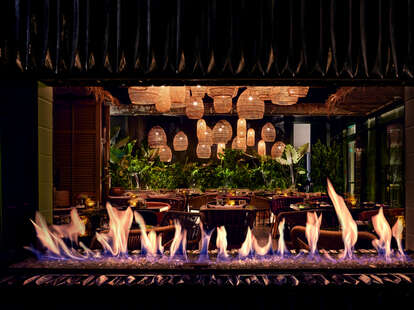 Photo courtesy of KA'TEEN
Photo courtesy of KA'TEEN
Like so many of us, Hollywood took pandemic shutdowns as an opportunity to reinvent itself, shedding its former reputation as a gimmicky, overtouristed neighborhood and emerging in recent months as a thriving center, with an abundance of exciting new restaurants, hotels, and nightlife options. A section of the neighborhood even earned a new name: the Vinyl District is marked by Hollywood and Sunset Boulevard on the north and south, and by Schrader Boulevard and Vine Street on the west and east, and seeks to honor the neighborhood's iconic history while inviting a new wave of artists, creatives, and entrepreneurs to play and stay in the area.
Hollywood has always enjoyed a slightly more debaucherous reputation than the rest of the city, famed for its clubs that once attracted hard-partying stars. While there's still plenty of fun to be had in the Vinyl District, it takes a choose-your-own-adventure approach to nightlife, offering options that range from intimate upscale dining to rooftop clubs with mechanical bulls.
Newcomers are joining local favorites like Beauty & Essex, Mama Shelter, and vinyl paradise, The Record Parlour. Just on the outskirts of the district are L'antica Pizzeria da Michele, a revered Neapolitan institution that came west in 2019; the high-end butchery and restaurant Gwen; and the new Godfrey Hollywood Hotel, which boasts the largest rooftop in the area. In 2022, the Vinyl District will welcome Mother Wolf, chef Evan Funke's ode to Roman cuisine, within the revitalized, art deco Citizens News venue, a 48,000-square-foot space that will host events as well as high-end restaurants, lounges, and private studios. Here are seven more spots to bookmark for the next time you're in the area:
The luxury lifestyle Thompson Hotel brand opened their first California location in Hollywood this fall. The 11-story hotel offers a dose of refinement on Wilcox Ave, with 190 guest rooms and 16 suites, a lobby lounge and bar, plus a rooftop pool with the Mediterranean-inspired Bar Lis, featuring stunning views of the Hollywood Hills alongside cocktails and canapes. Early next year, the hotel will debut Mes Amis, a new French dining spot from award-winning chef and pastry artist Lincoln Carlson.
Transforming an iconic recording studio that once hosted the likes of David Bowie, Stevie Wonder, Red Hot Chili Peppers, and Kanye West, Grandmaster Recorders positions itself as one of the best day-to-night options in the area, with an innovative Italian-meets-Australian-meets-American menu helmed by Aussie couple Monty Koludrovic and Jaci Koludrovic, with highlights like caviar cannolis, sourdough cavatelli with slow-cooked Margra lamb, and guazzetto di aragosta per due, a fragrant seafood soup with Maine lobster, mussels, clams, and lobster knuckle grits. There's also a late-night rooftop where you can enjoy bites and cocktails on tap, and the adjoining 71 Studio Bar will eventually host live music acts in a space that honors the recording studio's past with gold vinyl records, rock'n'roll memorabilia, and a four-foot disco ball that gleams from the ceiling.
Just opened in December 2021, think of tommie as the Thompson's relaxed, minimalist brother, offering a casual boutique experience across 212 rooms and seven suites, with rooms as low as $150 per night. The lobby features a self check-in station and a casual bar where you'll catch guests mixing, mingling, and working during the day. Chef Wes Avila (Guerrilla Tacos, Angry Egret Dinette) serves as executive chef of the hotel's signature KA'TEEN restaurant, a Tulum-inspired garden space with overflowing palms, string lights, wood accents, and fire dancers who shimmy by tables after dark. The menu honors Yucatan's rich culinary history with dishes like lamb neck barbacoa, a nopalito salad, and scallop ceviche tostada, plus a cocktail list that leans heavy on agave spirits. On the rooftop is Desert 5 Spot, a quirky Palm Springs- and '70s-inspired lounge with a pool, mechanical bull, games, and jewel-toned vintage furniture. An in-house honkytonk band provides the late-night soundtrack.
Many were suspicious when Amoeba Hollywood was forced to vacate its long-held location on Sunset Blvd, worried that the iconic indie record store—already struggling amid a drop in CD sales in the 2000s—might not survive a location change. Thankfully, those fears have been put to rest and the new Amoeba location in the El Centro complex in downtown Hollywood is just two blocks east and two blocks north of the original location. The original location has since been converted into the Immersive Van Gogh exhibition, which features 500,000 cubic feet, 60,000 frames of video, and 90 million pixels of projections that animate the famous Dutch painter's works, including The Potato Eaters, Starry Night, Sunflowers, and more. The exhibit includes a Sunflower Bar installation by David Korins and a yoga class where students are immersed in Van Gogh's masterpieces while they move through poses. In March 2022, a similar immersive exhibit featuring the work of Mexican artist Frida Kahlo is expected to debut.