A Boutique Hotel Reopens in West Hollywood After a Dapper Revamp
The reborn Palihouse West Hollywood has 95 stylish rooms, a new sushi bar, and a jaunty perspective.
Published on 12/7/2022 at 2:40 PM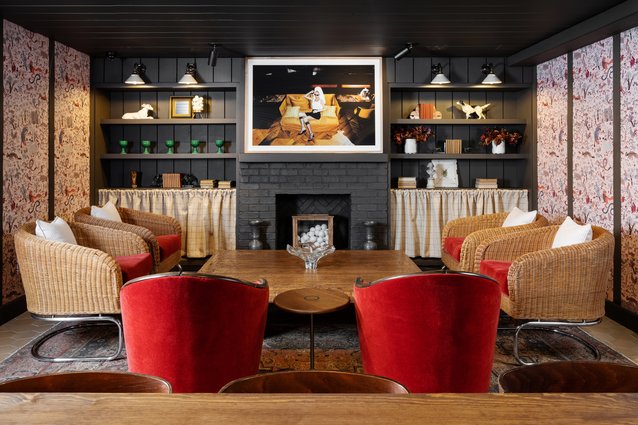 Reception Room at Palihouse | Photo by Caylon Hackwith
The intersection of 3rd Street and Orlando is wild at rush hour, a maelstrom of cars desperate to find some secret route through the crush of West Hollywood traffic, burning rubber to get to the next red light as fast as they can. So much the better, then, to be three stories above it, on the stylish deck of a suite at the new Palihouse West Hollywood, drinking in crisp winter air and crispier sparkling sake from Mezzanine Sushi downstairs.
The redesigned hotel from magnate Avi Brosh and the Palisociety group opens as the company is on the verge of its 15th anniversary, which makes this unveiling a particularly poignant one for the brand. Brosh is calling it their new flagship location, with 95 rooms, a heated guests-only pool and adjacent lounge, a private dining room, a lobby bar, and a sushi restaurant.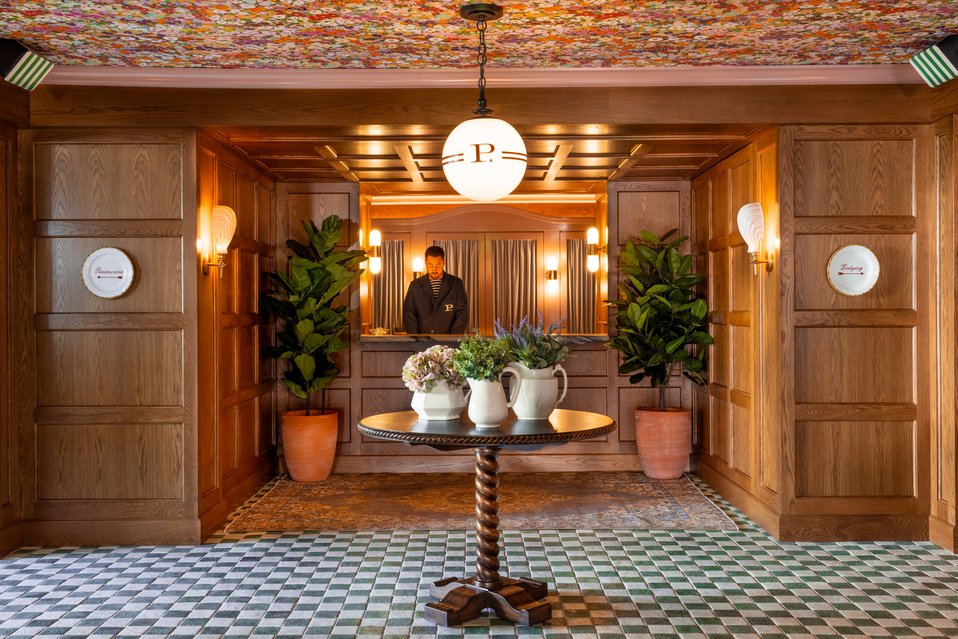 Front Desk | Photo by Jakob Layman

The hotel is newly decorated in their signature eclectic style, which they call "California quirky," blended with a little old fashioned, European-influenced charm. The effect is unique, a little like your hip grandma took a decorating spin through the All England Tennis Club at Wimbledon, with floral carpets and mismatched vintage plates on the walls, an earthy color palette with lots of deep hunter green, wood paneling, and latticework, and occasional exuberant bursts of wallpaper or tile.
Guest rooms come in a handful of different formats, ranging from 330- to 660-square-feet, many of them with decks or balconies, and the north-facing half often featuring glorious views of the Hollywood Hills and sometimes the Hollywood sign. Some rooms are wired for press junkets, and some rooms feel specifically designed to host an afterparty, but all of the rooms come with on-trend Smeg mini-fridges, Nespresso machines, a fully stocked minibar, and fancy toiletries from Diptyque.
Pool Lounge | Photo by Caylon Hackwith
Pool Lounge | Photo by Caylon Hackwith
The indoor/outdoor Pool Lounge area is particularly important to the structure of the hotel, a guests-only gathering place set on the interior side of the building, above and away from the chaos of West Hollywood out front. There's a complimentary lemonade and candy bar with several glass jars of candy to choose from, a private deck with striped furniture and statues, and a comfortable living-room style setup to kick back just off the pool.
The same level of care has gone into Mezzanine Sushi, a new concept designed by executive chef Casey Lane, whose resume runs mostly Italian but who has brought his fun, West Coast perspective to the Izakaya-style space. Sake is at the center of things, and the menu of drinking snacks is built around it, with a selection of small plates like an okonomiyaki-inspired Seafood Pancake and a konbini-inspired Chicken Katsu Sandwich. There are also wood-fired vegetables and proteins, many of which are served on kushiyaki-style skewers, and a tight list of cut rolls, hand rolls, nigiri, and pressed sushi.
Lobby Bar | Photo by Caylon Hackwith
The Lobby Bar has a classic California hotel menu of breakfasts and salads, a Club Sandwich, and Chicken Paillard. There are also modern cocktails served all day on the sunny street-side patio, with cafe tables and a fountain that bubbles gently under the clatter of bustling 3rd Street.
Brosh and Palisociety are passing the 15-year mark as a hospitality group, an industry that can make dog years look like tortoise years, but they show no sign of slowing down. They have seven more openings planned for 2022 and 2023, and if Palihouse West Hollywood is any indication, they are in good shape for the next 15 years too.
Ben Mesirow is an Echo Park native who writes TV, fiction, food, and sports. At one time or another, his writing has appeared in The LA Times, Litro, McSweeney's Internet Tendency, Los Angeles Magazine, and scratched into dozens of desks at Walter Reed Middle School.