13 Reasons to Go to Solvang's Ultra-Christmasy Julefest
Courtesy Solvang Conference & Visitors Bureau
If you find that the sprawl and hustle of LA just doesn't quite capture the nostalgic holiday magic you're looking for, consider taking a road trip into the Santa Barbara countryside this season. Just a short two-hour drive up the 101, you'll find Solvang -- a picturesque Danish town torn from the pages of a storybook -- where they really know how to do Christmas. Every December, the town celebrates Julefest -- a month of Noel merriment for which TimeMagazine named Solvang one of The 10 Most "Christmassy" Towns in the US.  
All the Christmas decorations, carolers, and parades you can handle; a two-day wine and beer walk; and the largest legal bonfire in the US made from burning Christmas trees make Julefest a singularly unique experience. Forget the Nutcracker, this is some full-immersion holiday fun. Here's why you should set aside the first two weekends in December to let Solvang jingle your bells -- and if you can't make it in the next couple weeks, there are plenty of things to do in Solvang year-round as well: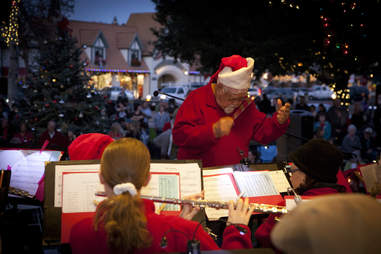 Courtesy Solvang Conference & Visitors Bureau
1. Sing and wine your way through the community tree lighting ceremony
December 2
The whole town comes out to kick off Julefest, the most wonderful time of the year in Solvang. Bands, ballerinas, choirs, and carolers provide live entertainment for this annual free event, which, this year, will also unveil a new 22ft-tall drought-tolerant LED tree. This is the first of many excuses to drink hot mulled wine and sing loudly in public. Come back the next morning for the Julefest parade at 11am on December 3rd.
Courtesy Solvang Conference & Visitors Bureau
2. Shop the Christmas markets
Dec 2-4 and 9-11
Shops extend their hours, offering free snacks and sips to lure tourists in for wine-fueled impulse buys. Drink in public while crossing names off your Christmas list with gifts like handmade felt toys, genuine Danish dresses (great for Euro milkmaid role play, er, whatever you want it for), and plenty of Euro-tchotchkes.
3. A two-day holiday wine and beer walk
Dec 11-12
Sixteen wine and beer tasting rooms throughout the village offer samplings of their goods over two days of holiday cheer. It's $45 per person for the two-day passport, which includes a souvenir wine glass; some wineries make special mulled wine or open a reserve batch especially for the festival.
Courtesy Solvang Conference & Visitors Bureau
4. It's not Christmas without a trolley
Explore the ins and outs of Solvang on a trolley tour of the quaint little town. Decide on the greatest holiday decorations and catch a glimpse of Santa all the while feeling like a guest on Mr. Rogers' neighborhood (if Mr. Rogers lived in Denmark and drank wine).
Courtesy Danish Mill Bakery
5. The Danish are the best at making danishes
No offense to the edible works of art from Thomas Keller, but there's just nothing like a simple, authentic European pastry, and Solvang provides just that -- adorable bakeries dot every block here. Olsen's and Mortensen's deserve honorable mentions but the cream cheese Danish at Danish Mill Bakery is the best in town: The sugar gets squarely balanced by tart cream cheese and the buttery, heavenly pastry dough. Order two and send a selfie to your gluten-free, sugar-free, dairy-free, pleasure-free friends back in LA.
6. Eat your weight in aebelskivers
Pancake. Balls. 'Nuff said. Get the traditional Danish treat at Solvang Restaurant.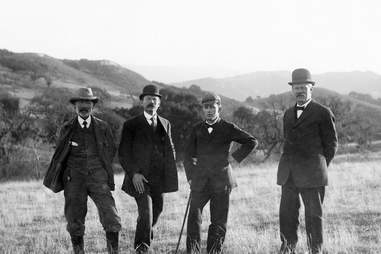 The founders of Solvang

| Elverhoj Museum of History & Art
7. Learn more about Solvang's unique history... and motorcycles
Solvang was founded in 1911 by a group of Danes who traveled West to dodge the Midwestern cold and build a Danish colony in the year-round sunshine. Solvang, which translates to "sunny field" in Danish, is populated by descendants of the colonials who have preserved the recipes, traditions, and cultures of their ancestors. You can learn more about the town's history at the Elverhøj Museum, realize you know nothing at The Wildling Museum of Art and Nature, and rev your engine at the Solvang Vintage Motorcycle Museum.
8. Take a book break at the Hans Christian Andersen Museum
Okay, maybe you're not the No. 1 Thumbelina fan, but stop into Solvang's Hans Christian Andersen Museum after a marathon of day drinking and you'll likely enjoy re-reading the stories as much as you did when you were a kid. Keep your eye out around town for Anderson statues like a bust of the Danish fabulist and replica of Copenhagen's famed Little Mermaid statue.
9. Find plenty of time to wine
Like Tuesday night book clubs and French language meetup groups, drinking copious amounts of wine is one of the true motivations behind a trip to Solvang. Local wineries give NorCal wine country a run for its money and, all-told, it's a far lovelier town than the rambling strip mall known as Downtown Napa. The region is particularly known for gorgeous strawberry-tinted rosés and the elephantine bouquets on the local viogniers. Solvang vintners claim it's the best region for viognier in the world. Tastings run daily all over town, so keep your eyes sorta-open for a fix whenever you need.
Courtesy Jim Barsch/Sunstone Chateau and Winery
Located steps outside Solvang in Santa Ynez, the soapstone bricks that make up the glorious Sunstone chateau came from a French soap factory once owned by Marie Antoinette, and once on the grounds at Sunstone you'll have to remind yourself that you're not actually in the South of France. Allow a good three hours for a visit here, and ask for Tom, who will tell you tall tales while providing equally impressive pours of the succulent Sunstone chard.
11. Drink, eat, repeat
Solvang has a slew of stellar restaurants, including First & Oak, whose Chef Snook has cooked in a chain of Michelin Star restaurants, including six years working under Gordon Ramsay (order the short rib bourguignon for a taste of traditional excellence). Root 246 has a nicely crusted halibut and nothing cuts the wine like the charcuterie plate from Succulent with curried nuts and homemade pickles.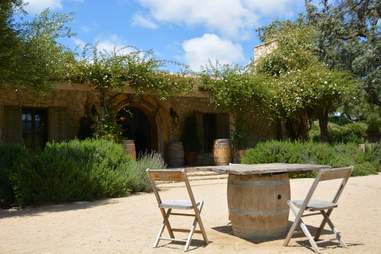 Sunstone Winery

| Flickr/Harold Litwiler
12. Explore the surrounding Santa Ynez Valley
When you've Julefest-ed your way through all of Solvang, consider taking a day trip to the neighboring towns of Los Olivos and Santa Ynez. They have boutique shops, restaurants, and olive oil tasting. Book an uber to get around: There's plenty worth drinking there.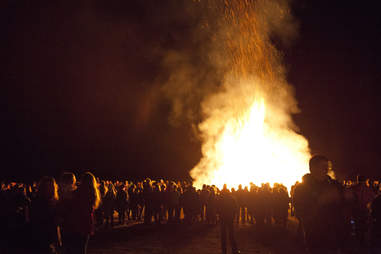 Courtesy Solvang Conference & Visitors Bureau
13. Christmas tree burn
January 6, 2017
This is it, folks: The grand finale. The big show. The capstone of Julefest and totally worth a return visit. At the annual Christmas Tree Burn, locals bring their retired Christmas trees to the edge of town, usually about 500 of them, where they are gathered and burned in a bonfire of pants-crapping proportions. It's the country's largest fire safety display, overseen by the Solvang fire department. Like Burning Man, only, like, Christmasier. And with more booze.
Sign up here for our daily LA email and be the first to get all the food/drink/fun Los Angeles has to offer.
Kelly MacLean is a writer, podcaster and all around fan of pretending she's in Europe. You can follow her on Twitter and Instagram, just don't follow her in real life because she'll definitely get you lost.