Paid Content For
Honda Civic
The 14 Best Designed Spaces in LA
Paid Content For
Honda Civic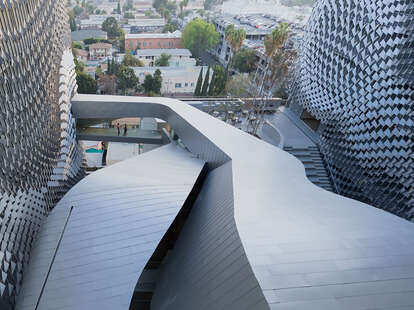 Iwan Baan
Iwan Baan
1. Crocker Club
Located in the former home of Crocker Citizens National Bank, the Crocker Club is the place to go to pretend you've got a trust fund. And then pretend blow that pretend trust. A reservation in the original vault comes with a personal DJ, a waitress to fetch you whatever you desire, and a private security guard to keep out the riff raff. Private chamber rooms, where the wealthiest bank patrons used to check out their safe-deposit-box riches, are a little more low-key (and don't have giant-ass stainless-steel doors). For the peasant crowd, there's the back room Ghost Bar's resident DJs, special guests, and jazzy hand-painted ceiling.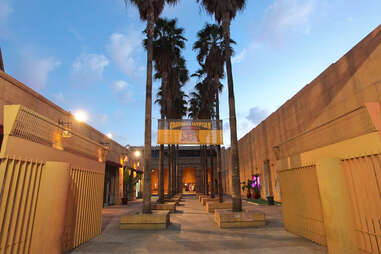 2. Grauman's Egyptian Theater
The craze with hieroglyphics and pyramids started after King Tut's tomb was discovered in 1922, and this is the Egyptian-themed theater -- opened that same year, and complete with a sunburst ceiling, massive courtyard, and 20-foot columns guarding the entrance. It was the site of the first-ever Hollywood film premiere and still shows a range of flicks. Unfortunately, an actor dressed as an Egyptian guard with a rifle is no longer marching back and forth across the roof announcing each performance, though nothing's stopping you from taking over (other than the police).
3. Griffith Observatory
This Art Deco, copper-topped domed structure has made cameos in seemingly a bajillion TV shows and movies. But its surrounding park with views of the LA skyline and Hollywood sign are as much a sight to behold as the building itself. Telescopes are available free for viewing the stars on a clear night. While those views may be few and far between, what with all the smog, the planetarium and 53-mile network of trails kind of make up for it. The planetarium was even used to train World War II pilots and Apollo astronauts in celestial navigation. Just don't go thinking you're qualified to navigate a space shuttle after a show.
4. Petersen Automotive Museum
This museum originally opened in 1962 as Seibu, a Japanese store. Now the only Japanese things you'll find in here are some of the cars, like the 2001 Honda S2000 driven in the movie classic 2 Fast 2 Furious. The place just underwent a huge (ahem, costly) renovation and is now bright red with 300-plus steel ribbon sections. Behind the shiny exterior sits the real chrome, with rotating displays organized by history, industry, and artistry. Hundreds more are in storage, waiting for someone to remove their car condom -- you know, those weird stretchy car covers that are supposed to protect it from dings and dents.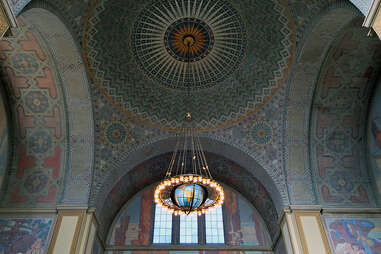 5. Richard J. Riordan Central Library
Some 6 million books reside in this, LA's main library, but the real reason to go isn't to check out the latest issue of Cosmo. Come for the Islamic-Art Deco-influenced Lodwrick M. Cook rotunda with its glowing globe chandelier. Stand underneath to see the signs of the zodiac and 48 lights representing the states at the time it was created. And then snap an Instagram for posterity (and all the proud feelings you'll get for garnering digital hearts). There's a ton of artwork beyond the rotunda, including murals showing California's history. Take one of the free tours given by library docents, the fancy term for volunteers, then chill out in the surrounding Maguire Gardens. The Egyptian/Mediterranean mash up on the outside is pretty sweet too, and helped land it on the National Register of Historic places.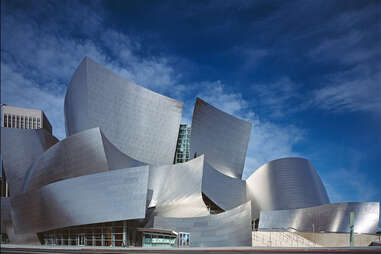 6. Walt Disney Concert Hall
Some say it's acoustically perfect, but the design you can actually see is pretty impressive, too -- enough to make it one of the most Instagrammed places in LA. It's designed by Frank Gehry, and even if the only thing you know about architecture is random terms like column and I-beam, you know anyone named "Frank" pretty much has his design game on lock. The warm fir-and-cedar auditorium contrasts with the concert hall's gravity-defying metallic exterior. Gehry also helped design the organ that looks like French Fries -- really beautiful, expensive French fries. The 3.6-acre complex includes a community garden on the third level that you can visit for free.
7. Our Lady of Angels Cathedral
The main cathedral is 11 stories and has virtually no right angles, which is no easy feat. The entrance -- if you can find it among the plazas, staircases, and colonnades -- is through giant bronze doors that may make you a convert just by looking at them. This cathedral replaced the Cathedral of Saint Vibiana after a devastating earthquake, and can supposedly survive an eight-point magnitude quake. Its materials are designed to last 500 years, though by the time its 500th anniversary comes around, it'll probably have been relocated to Mars –along with with rest of us.
8. Chateau Marmont
Modeled after a royal residence in the Loire Valley, this LA icon is the place to see-and-be-seen -- or not seen if that's your thing. Thick walls and secret entrances and exits have earned it a reputation as a place for the richest of the rich to misbehave, and staff are trained not to reveal any guest regressions. Led Zeppelin allegedly rode motorcycles through the lobby in the 60s, so you can probably get away with whatever you want. Despite the glitzy crowd, the vibe is surprisingly laid back. And you could always pretend to be famous in Europe.
9. Natural History Museum of Los Angeles County
This 1913 Beaux Arts building, listed on the National Register of Historic Places, retains its original exterior -- a combo of Spanish Renaissance ornamentation and Romanesque arched windows and brick walls. Translation of all these fancy pants architectural movements? It's a good-looking building. The stained-glass-topped rotunda is a crazy 75-feet in diameter, hovering over a floor of mosaic tile. And if none of that is super appealing, check out the 20-plus complete dinosaur skeletons, and ancient sea creature fossils. Everyone loves a baby T-Rex.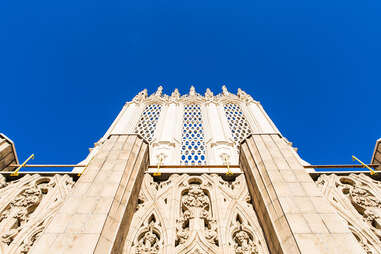 10. Ace Hotel
It may be the hotel of choice for hipsters, with its signature lobby photobooths, but the Ace brand has gotten quite good at preserving unique spaces while turning them into trendy lodgings. The LA outpost is located in the Gothic-influenced, nearly century-old United Artists building. They've even restored a theater from the 1920s that looks like a Moroccan cave; its vaulted ceiling is covered in thousands of tiny mirrors that quite literally make it shine and give you an urge to steal it.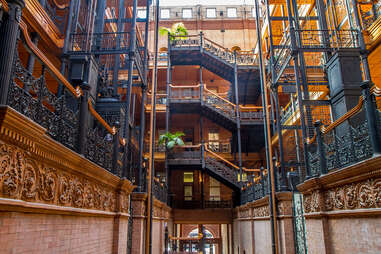 11. Bradbury Building
The Romanesque brick exterior of this place isn't half bad, but it's the inside that is really mind-blowing. Its 1893 Victorian court rises almost 50 feet, and wrought-iron grillwork, open cage elevators, marble stairs, and a glass-topped ceiling provide the visual equivalent of someone screaming "wa-BAM!" Access to the lobby area and first-floor landing are free, but beyond that is off limits since there are actual business trying to, well, conduct business.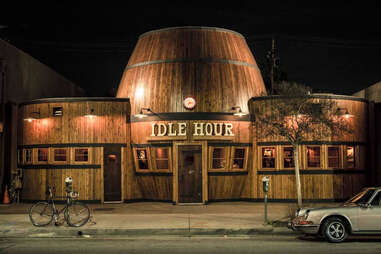 12. Idle Hour
This restaurant looks like a giant barrel from the outside, which is reason enough to enter, and as you'd expect, it's lined with wood throughout. It was built in 1941, at a time when businesses used thematic buildings to lure in new motorists as they puttered down roadways and got the road-tripping munchies. The pipe-smoking bulldog building, which originally sold the delicious combo of tamales and ice cream, is available for private parties, and there's an outdoor patio in the back for when all that wood becomes a little claustrophobic.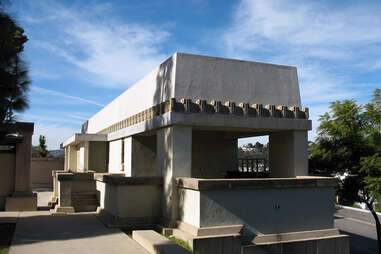 13. Hollyhock House
Located in Barnsdall Art Park, this Mayan-influenced house mansion is one of the area's only Frank Lloyd Wright houses that you can tour. It's currently being looked at for UNESCO World Heritage site distinction, so you know it's a big deal. It was also Frank Lloyd Wright's first LA commission, which was also kind of a big deal. The house gets its name from the hollyhock flower that's incorporated into its design, and was a favorite of the oil heiress property owner. Typical of the architect's desire to connect buildings with natural surroundings, the Hollyhock House is designed as half house, half garden. As for what to do after, the surrounding park hosts outdoor movie nights so bring a blanket.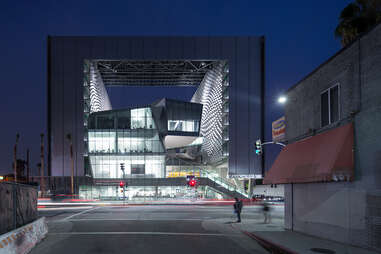 14. Emerson College LA
This super futuristic, eco-friendly building looks like a blazing cube of silver and glass, and you don't even need a college meal plan to eat at its ground-floor café. The 10-story silver frame incorporates multi-level terraces, plus an open-air amphitheater and an elm tree in fifth-floor courtyard that may make you forget you're in LA for about 0.05 seconds. Its automated sunshade system opens and closes to minimize heat gain, and rooftop solar panels heat hot water for the entire complex. The school hosts a film festival and you can rent out several of its spaces for receptions, birthday parties, or film screenings. Or on a random Monday. No one celebrates Mondays enough.