Whether it just turned 5 o'clock (or earlier, no judgment), or you're looking for the perfect nightcap, we've got you covered with our guide to the finest cocktails places to begin and end an LA outing -- with minimal Uber time -- from downtown to the beach.
Frolic Room
Peruse the Internet for information on Hollywood's legendary Frolic Room and you'll discover the following: LA's late great scoundrel-scribe Charles Bukowski was a regular; eccentric rich guy Howard Hughes once owned the neighboring Pantages Theater and often hosted private parties at the bar; and it was the last place notorious murder victim Elizabeth Short (aka the Black Dahlia) was seen alive. But what makes the down and dirty Frolic Room such a provocative place to grab drinks these days isn't so much its colorful history, it's the prospect of hunkering down on a barstool next to some mad hatter who might be down and out or famous, and has never ever searched the Internet for information on anything.
Good Times at Davey Wayne's
Just a 30-second Uber ride from the Frolic Room (it's LA, you're not really planning to walk a whole tenth of a mile, are you?) is a bar that seems to have been lifted from a '70s TV show set. Think shag-carpet. Davey Wayne's opened in 2014 and is the handiwork of LA nightlife virtuosos Mark and Jonnie Houston of Harvard & Stone, Pour Vous, and La Descarga fame. The Houston twins are quite fond of secret entrances, and the passageway to this flea market-furnished funhouse may be their most inspired. Inside it's pretty people boogying to groovy tunes, mass-brewed beer in cans, and fortified snow cones served from a repurposed trailer in the bar's spacious backyard.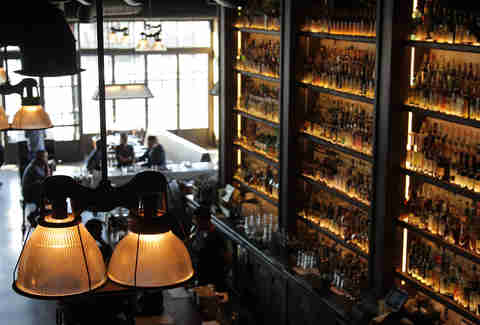 The Corner Door
For the record, it's not Venice, it's west Culver City. Ah, but the Corner Door is so geographically and spiritually aligned with Venice that any confusion is understandable. Cocktail geeks go gaga over this place and its supreme leader, Beau du Bois, who possesses exceptional drink-making skills and the fashion sense to match his lyrically alliterative bon vivant-ish name. Du Bois is a local legend; the man sings, and people come from all around to watch the magic. His bar program consists of top-notch cocktails that are balanced, creative and approachable. Corner Door has a reliable, neighborhood bar feel to it. You've just finished work, you breeze in, have a perfectly crafted drink or two, and coast on to the next spot.
Scopa Italian Roots
A mile due west of Corner Door, a robust Frisbee's toss from the Venice Pier, sits an expansive, bustling, well-appointed restaurant and bar considered by many the place to be on LA's west side. Scopa boasts an all-star lineup that includes Top Chef alum Antonia Lofaso, spirits and cocktail expert Pablo Moix, and a team of seasoned sommeliers led by Taylor Grant, who can narrow the origin of a grape down to a 5-mile radius. Scopa's back bar is as good as any in Los Angeles, so you can be sure to find something special to wind down your evening. On top of stellar food and adult beverages, Scopa serves up heaping helpings of quality people-watching night in and night out.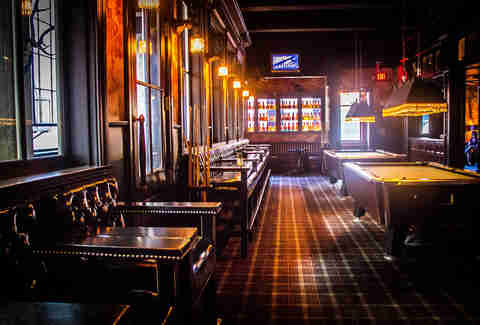 Seven Grand
Opened in 2007, Seven Grand was one of a handful of spots that ushered in the new golden age of cocktails in Los Angeles. And the whiskey... oh, the whiskey. Surely this downtown haunt boasts one of the largest collections of rare and high-end brown liquor in the country. It's home to City of Angels' "Whiskey Society," which hosts monthly tastings and education seminars. The spacious second-floor walkup is dimly lit and masculine, evocative of the places frequented by tough guys in crime novels. There are pool tables, of course. And another small speakeasy in the back called Jackalope, with its own ridiculous array of Scotch, bourbons and ryes, and Japanese whiskeys.
Crane's Downtown Bar
Crane's is a not-so-easy-to-locate neighborhood bar, with brick walls and distressed tile floors located inside an old underground bank vault. So you can forget about cell service. For real, forget about it -- leave the damn smartphone in your pocket and unwind. You'll be better off for it; electronic devices are the mortal enemy of good company. Crane's has a cozy laid-back vibe, friendly bartenders, and a refreshingly high good vibes quotient. There are a couple of TVs, some video games, a jukebox, and the cocktails are reasonably priced. In other words, it's tailor made for chillin' offline.
Happy hour isn't restricted to 5 o'clock or land for that matter -- it's day or night in the Emirates' Onboard Lounge for First and Business Class. And as of July 1st, you can catch a second daily flight from LAX to Dubai and beyond
The Mandrake Bar
Some might say that being the best bar in Culver City is on par with being a valedictorian at summer school, but we wholeheartedly disagree. These days, Culver City is where it's at. Particularly if you're among the 95% of Los Angelenos who can't afford to live or play anywhere closer to, ahem, Silicon Beach. The Mandrake Bar is divided into three sections -- the front bar, a room with a dance floor where they show cult classic films on a projector, and the softly lit patio in the rear. When the DJ's spinning, expect a heavy dose of old school jams and stuff from The Smiths. And when the patio closes at 11, it gets louder than bombs inside.
The Roger Room
When you've had your fill of Kool Moe Dee at ear-splitting levels, we suggest you head due north from the Mandrake to the quieter confines of The Roger Room where -- get this -- you'll encounter a laid back scene where people carry on honest-to-goodness conversations. This commodious 7-year-old canteen has been serving sublime cocktails from day one, and is a perennial "Best Of" list contender. Formerly home to the Coronet Pub, the tiny room has been remade in the familiar Prohibition-era style with some anomalous flourishes. Its mien falls somewhere between swanky and smudged.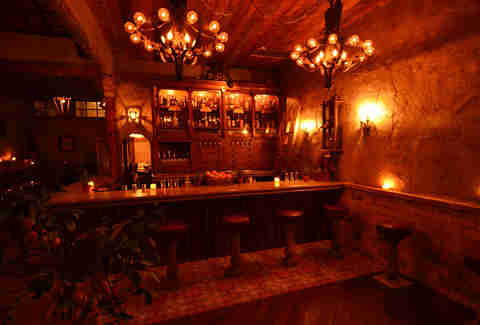 Harvard & Stone
Two years after it opened, this raucous East Hollywood hotspot was named Small Nightclub of the Year at the Nightclub & Bar awards in Vegas. It's also been nominated for a prestigious Tales of the Cocktail Spirited Award every year of its life. It is, simply, one of LA's most celebrated drinking establishments. The Houston brothers own it, and as we've established, they know what the hell they're doing. Harvard & Stone is big and loud and sexy. There's live music. Burlesque. A little bar in the back where some of the world's best bartenders regularly drop by and pull guest shifts. It's usually packed with off-duty celebs.
Melrose Umbrella Co.
For the record, they don't sell portable devices designed to protect you from the rain at Melrose Umbrella Co., they sell memorable experiences that include strong drink, grilled cheese, and tomato soup... whump whump! The name is an homage to the end of Prohibition. It's also a reminder that California could really use some precipitation. Melrose is a lovely place, to be sure, and yet another establishment fashioned in the ubiquitous post-Prohibition style, a genus saloonus we believe will remain in vogue at least a little while longer.
Brick + Mortar
We know you love Sunday Funday. We do too. Day drinking is a quintessential ingredient of any weekend well spent. And if you're going to drunk-brunch by the beach in this town, well, here's the place to do it, with mimosas and build-your-own bloodies. So you're gonna need food too, and the modern American cuisine they serve is superb. We recommend the stomach-settling brick oven pizzas. As for the people you will meet, well, it's generally a fun-loving crowd, many of whom were born during the Bill Clinton era. Plenty of big screen TVs make it an ideal spot for watching sports.
The Basement Tavern at the Victorian
This swinging subterranean space is located at the base of a two-story shingled mansion just two blocks from the beach in Santa Monica. The nondescript entrance is tucked around back, through a service door and down a flight of stairs past the kitchen— a well-worn nouveau-speakeasy contrivance that somehow never gets old. Drinks are excellent. Huge selection of high-end spirits. Top-notch service. Live music. Frivolity. The only thing missing is a window.