11 Cool New Art Exhibits to Check Out in LA Before They Disappear
From Van Gogh to Warhol, Afrofuturism, and more.
Photo courtesy of IMMERSIVE VAN GOGH
As impressed as we've been with our art community's creativity as they've pivoted away from in-person exhibitions to give us live streamed discussions, virtual experiences, and more, we've been counting down the return of IRL art shows like a bunch of kids on Christmas Eve. There's truly no better way to experience the gift of art and culture than in person. From immersive experiences to never-before-seen pieces, we're happy to report that LA's art scene is back and we have quite the bounty to choose from.
While things are back-ish, public spaces do have protocols. You can rest assured that the places listed below are taking precautions by limiting visitors, frequently sanitizing spaces, requiring face masks, and some may ask to do a temperature check. Here are all of the cool new art exhibits to check out in LA: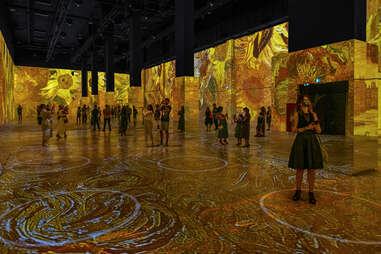 July 31, 2021-January 22, 2022
6400 Sunset Blvd (Hollywood)
Hot Girl Summer is turning into Hot Gogh Summer as five different immersive digital shows are traveling throughout the country dedicated to the work of Impressionist artist Vincent van Gogh. LA will see a piece of the action in late July via Immersive Van Gogh. The exhibition gives Angelenos a chance to be surrounded by large-scale projections of van Gogh's iconic works like Sunflowers, Starry Night, and The Bedroom. The artists' works are brought to life in a production that includes 60,600 frames of captivating video totaling 90 million pixels and 500,000+ cubic feet of projections set to original song compositions.
How to book: Advance tickets are required through their website.
Cost: General admission is $39.99.
On view through July 9
NeueHouse Hollywood
See rare and some never-before-exhibited photographs by Andy Warhol spanning throughout his career. The images serve as a visual diary of the artist as well as highlight the importance of the camera in Warhol's life and work. Visitors can expect to see famous Polaroids of celebrities like Dolly Parton, Jean-Michel Basquiat, Keith Haring, and Grace Jones, as well as lesser-known prints that capture the artist's creative process and social life.
How to book: Tickets purchased through their website are required.
Cost: General admission is $21.
On view throughout the end of the year
Hotel Figueroa (DTLA)
At the historic Hotel Figueroa, guests and art enthusiasts alike can explore Shyama Golden's inviting world where the mundane meets the fantastical. The exhibition includes 15 original works by Golden which touch on a variety of concepts including evolving notions of femininity, growth, healing, and connection during a time of isolation (something we all can relate to).
How to book: No advance tickets required. Walk-ins accepted.
Cost: Free
Permanent exhibition
940 E. 4th St. (Arts District)
Check into this interactive, immersive art installation where a 1960s Route 66 Motel meets Alice in Wonderland. However, don't think about staying overnight as this is not a functioning motel. This is the Madcap Motel where oddities like a mirrored chamber filled with moving lamps, doors that lead nowhere, and a room filled with oversized furniture await you.
How to book: Tickets must be purchased in advance through their website.
Cost: General admission is $40.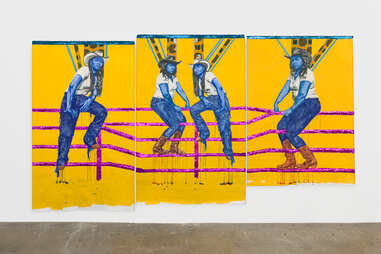 On view through January 17, 2022
California African American Museum (Exposition Park)
See Bahamian-American interdisciplinary artist April Bey's first solo museum exhibition in Los Angeles. The artist invites viewers on a journey through her intergalactic immersive installation inspired by Afrofuturism. Through living plants, video, music, photography, and large-scale mixed media paintings and textiles, Bey reflects on subjects like queerness, feminism, and internet culture.
How to book: Reservations are required through their website.
Cost: Free
On view through August 1 at
Skirball Cultural Center (Brentwood)
The Skirball museum reopened to the public with the Southern California debut of Ai Weiwei's Trace. Inspired by his own experiences as a human rights activist, Ai Weiwei created large-scale portraits of activists, prisoners of conscience, and advocates of free speech from around the world. Composed of thousands of pieces of LEGO bricks, each individual installation had to be assembled by hand. Expect to see the likeness of well-known figures, such as Nelson Mandela, Martin Luther King, Jr., Chelsea Manning, as well as many more.
How to book: Advance timed-entry reservations required through their website. Walk-ups will not be accepted.
Cost: General admission is $9; free to all on Thursdays with advance reservation.
On view through August 1
Hauser & Wirth (DTLA)
See one of the most commanding and rarely seen bodies of work by the founding member of Brazil's Neo-Concrete Movement, Lygia Pape. Renowned for her ability to reframe geometry. abstraction, and poetry, the works on display are inspired by Pape's longtime interest in Indigenous Brazilian peoples and their cultural practices.
How to book: Open to limited capacity. No advance reservations needed.
Cost: Free
On view through October 3
The Broad (DTLA)
After being temporarily closed for over a year, The Broad reopens with an exhibition that speaks to profound transitions, both personal and global, and a collective desire for healing and recovery. For Invisible Sun, The Broad tapped in works by artists like Alexander Calder, Keith Haring, Jenny Holzer, Cindy Sherman, and many more from their impressive collection, with 24 artworks that have never been shown at the museum and 16 that have been acquired since the museum opened. The exhibition is intended to be a space for reflection, education, and conversation, helping us confront current issues and envision a more just world.
How to book: Advance reservation through their website is required.
Cost: Free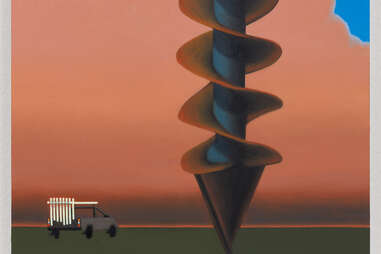 On view through August 1
Hammer (Westwood) and The Huntington (Pasadena)
In 2020, we saw a lot of museums and galleries adjusting to the "new normal" and making their exhibitions available online. The Hammer, however, opted to postpone the fifth iteration of their biennial Made in L.A, until it could be viewed in person. Together with The Huntington, the Hammer debuted Made in L.A. 2020: a version in all its glory in April 2021 which includes new installations, videos, films, sculptures, performances, and paintings of Los Angeles-based artists. Two versions of the exhibition can be found at both institutions, making the artists' works accessible to Westsiders and Northeastsiders alike.
How to book: For the Hammer, advance reservations through their ticketing page are strongly recommended. Walk-ins may be accommodated, subject to capacity limits. For The Huntington, you must reserve tickets through their website.
Cost: General admission to the Hammer is free; General admission to The Huntington is $25. Tip: Visit the Hammer first to receive free admission passes to The Huntington to view Made in L.A. 2020 in full.
On view indefinitely
Cakeland (Historic Chinatown)
There's always room for an art installation as elaborate and mind-bending as artist Scott Hove's Beauty War. Renowned for his decadently dark sculptures of delicious-looking desserts, Hove has created a frosted maze of rooms filled with his conceptual confectionaries that explore the integration of light and dark natural forces.
How to book: Walk-ins are welcome; booking an appointment through their ticketing page is recommended.
Cost: General admission is $20.
On view indefinitely
The Museum of Illusions (Hollywood)
Inside of the Museum of Illusions is a topsy-turvy world where up is down and down is up. Or so it may seem. Explore seven different rooms that give the illusion that you're hanging from the ceiling or performing some otherwise-impossible acrobatic move. If for no other reason, go snap some unbelievable shots for the 'gram.
How to book: Purchase tickets in advance through their website.
Cost: General admission: $30 adult general admission; Children tickets (6-12): $20
Keisha Raines is a freelance writer based in Los Angeles who loves talking about food, art, and hip hop. Follow her on Twitter and Instagram @ReishaKaines.