LA has a lot to love: 284 days of sunshine, beaches and mountains in close proximity, and arguably the strongest food scene on the West Coast, just to name a few. We've also got some of the best museums in the world, which means there's a constantly evolving collection of incredible installations and exhibits to explore. What's more, interactive museums are popping-up all over the city -- some use VR technology to enhance the experience, while other exhibits literally make you a part of the art. 
All this is to say, you're probably not making the most of all the cultural institutions at your fingertips. Whether you're looking to learn something new, dive deeper on a favorite subject, or just collect content for your Insta feed, the following exhibits and pop-ups are exactly what you need right now. Some are on perpetual display, while others are limited-time engagements you'll want to check out before they're gone forever. After all, can you really say you went to a museum if you didn't take pictures of it?
Recommended Video
Please Don't Hang Up: The Best Things to See, Eat, and Do in Seattle, WA
Indefinite installation on view at 1147 Palmetto Street 
Arts District 
You may have seen these domes at Coachella or Burning Man -- but if you haven't, you can now experience them in the Downtown LA Arts District. Samskara is a 35,000 square-foot virtual reality art exhibit featuring five 360-degree domes, created by visual artist Android Jones, merging art, technology and entertainment to bring a fully immersive projection show that allows 1,000 viewers to get lost inside the art (literally).
Cost: General Admission is $29
On view September 25 through March 1 at The California African American Museum 
Exposition Park
How can we forget Will Smith's loud, neon-printed wardrobe in The Fresh Prince of Bel Air? For over 30 years, Cross Colours -- the brand behind the urban apparel line, founded by LA-based designers Carl Jones and T.J. Walker -- have used their brightly-colored fashion designs to bring light to Afrocentrism and black youth. In this exhibit, viewers will have a chance to see the inspiration behind the line and how history plays a role in fashion trends and pop culture.
Cost: Free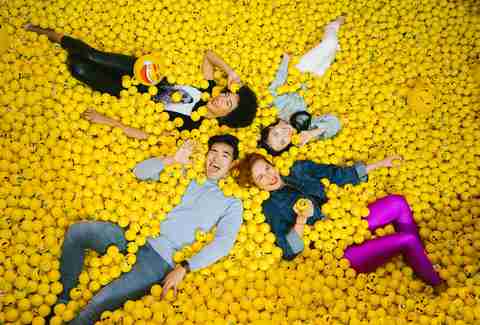 Permanent exhibit at 6757 Hollywood Boulevard
Hollywood
In 2013, Oxford Dictionary named "selfie" as word of the year, so whether you want to admit it or not, selfies are here to stay. Immerse yourself in colorful, Instagram-worthy rooms, pretend to walk the Oscars red carpet, dive into a pool of emoji balls, and shamelessly snap all the selfies your heart desires at the Museum of Selfies. Do it for the 'gram. 
Cost: Adults tickets are $25
Permanent installation on view at 217 South La Brea 
Fairfax
Flutter is a unique sensory experience that allows the guest to touch (and climb!) the art, use Virtual Reality, participate in a sound bath, and play larger than life-sized chimes. An exhibit that promises to leave you happier than when you walked in, the inaugural installation features a rotating lineup of 15 artists whose works have previously been on display at renowned museums like The Guggenheim and MoMa. You can feel good about your purchase, too, knowing that a portion of proceeds will benefit Lady Gaga's Born This Way Foundation.
Cost: General Admission is $28
Permanent exhibit on view at Marciano Art Foundation
Windsor Square
You've definitely seen photos of people standing inside Yayoi Kusama's galaxy-like Infinity Mirrored Room at The Broad, but the world-renowned contemporary artist also has another Instagrammable exhibit across town at Marciano Art Foundation. It's called With All My Love For the Tulips, I Pray Forever (2011), and consists of a floor-to-ceiling red polka dot room that uses oversized flower pot sculptures made with fiberglass-reinforced plastic to somehow give an illusion of depth, her signature artistic style.
Cost: Free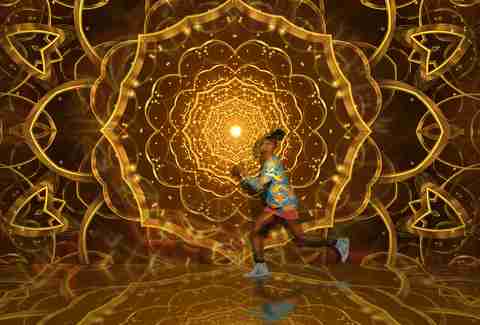 On view indefinitely at Beverly Center
Beverly Grove
Pretty much everything is digitized today, including art, and the Museum of Dream Space is a space dedicated entirely to digital art. The concept was inspired by Japanese artist Yayoi Kusama and her aforementioned Infinity Room exhibit (currently on display at The Broad). Each room or "dream space" will let your imagination run wild as motion sensored designs and colorful lights that illuminate the space.
Cost: General Admission is $32
On view through October 14 at LACMA
Mid-Wilshire
Snapchat may have paved the way for Instagram when it comes to short-form media content, but the social app hasn't disappeared (yet). The Sound Stories exhibit is a collaboration between Snapchat and artist Christian Marclay who uses sounds and images from real Snapchat posts for inspiration to create five audiovisual installations. Be careful what you post, as it might actually be part of the art.
Cost: General Admission is $20 or free for LA residents after 3pm Mon-Fri
On view through October 20 at LA Plaza Village
Downtown
Hello Kitty is going on a global pop-up tour to celebrate 45 years of cuteness. The 10,000 square-foot pop-up includes five rooms that will transport you to London, Paris, New York, Honolulu, and Tokyo, where you can commemorate the kitty that sparks happiness and friendship. Guests will also get access to the "Baggage Claim" gift shop featuring merchandise from exclusive collaborations with Herschel Supply Co., Levi's, and Girl Skateboards.
Cost: General admission starts at $27
On view indefinitely at The Museum of Illusions
Hollywood
From the creators behind the Museum of Illusions comes this latest interactive space, where you can walk around seven different rooms and pretend like you're dangling from the ceiling or performing some otherwise-impossible acrobatic move. If you're looking for Instagram content that will rack up likes, The Upside Down House is just the place.
Cost: General Admission is $25
On view through November 2019 at Petersen Automotive Museum
Mid-Wilshire
Electric bikes are all the rage these days -- or at least, that's what Silicon Valley startups think when a new fleet of bikes magically pops-up on the streets each week. Fittingly, Electric Revolution is an exhibit dedicated to all things electric motorcycles. Viewers will go back in time, learn the history of the electric bike, the craftsmanship that it requires and the future of bike designs. 
Cost: General Admission is $16
On view through December 8 at LACMA
Mid-Wilshire
Japanese people -- like pretty much everyone else -- love animals. They have cafes dedicated to them, they pamper their dogs better than most humans groom themselves, and they have a deep respect for their place in nature. That love of animals translates into the country's artwork, as well, as you can see for yourself in the ongoing Every Living Thing: Animals in Japanese Art exhibit at LACMA. Lions, dogs, cats, dragons, insects, and more are featured in the nearly 200 pieces on display, which include ceramics, metalwork, and woodblock prints.
Cost: General Admission is $25
On view through January 6 at the GRAMMY Museum
Downtown
A five-year project in the making, Face the Music is the brainchild of photographer Richard Ehrlich, who wanted to capture the facial expressions of iconic artists when listening to their favorite songs. The photography exhibit features 41 famous faces, like Sheryl Crow, Quincy Jones, and Michael Bublé.
Cost: General Admission is $12
On view through January 19 at MOCA
Downtown
To celebrate the DTLA museum's 40th Anniversary, The Foundation of the Museum: MOCA's Collection is a compilation of artwork that spans MOCA's eclectic collection over the last four decades, most of which has been influenced by its LA surroundings. 
Cost: General Admission is $15
On view through January 20 at Natural History Museum
Exposition Park
For all the climate change naysayers, this exhibit might make you think twice. Award-winning photographer Diane Tuft made the trek to the frozen continent to capture Antarctica's natural beauty in this captivating exhibit called Frozen in Time: Images of Antarctica. 
Cost: General Admission is $14 (if booked online)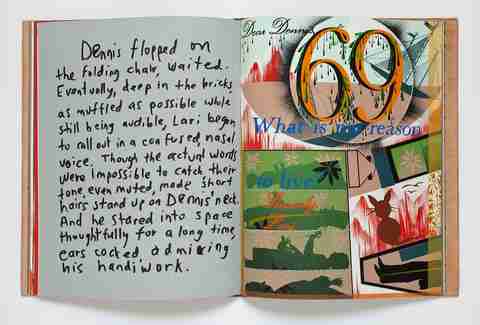 On view from September 29 through January 5 at Hammer Museum
Westwood
When the Hammer Museum commits all of its exhibition spaces to one artist (which has never been done before), you know it's an exhibit worth checking out. UCLA art professor and one of LA's most prolific artists, Lari Pittman, best known for creating art that responds to the pressing social issues of our time, will have over 30 years of colorful work on display. 
Cost: Free
On view from October 4 through March 2 at Norton Simon Museum
Pasadena
What's there not to love about the City of Lights? The romance weaved into the city, the charming architecture, the breathtaking Eiffel Tower -- it's all part of the upcoming exhibit at the Norton Simon Museum, where French artists draw inspiration from daily Parisian life during the late 1800s for their selection of oil paintings and drawings. 
Cost: General Admission is $15
On view from October 5 through December 29 at Annenberg Space for Photography
Century City 
While walls can be used for art, they're also used as barriers -- and more recently, they've been given a whole new (controversial) meaning since the 45th President came into office. W|ALLS: Defend, Divide, and The Divine is a free exhibit that explores the effects walls have had over the years through the lens of over 70 photographers and artists.   
Cost: Free
On view from October 17 through March 8 at Skirball Cultural Center
Brentwood
It's no secret: Customs and Border Protection isn't very popular in the news these days. While working as a janitor at an Arizona Customs and Border Protection station, Tom Kiefer rummaged through the trash and was moved by the confiscated items he discovered. El Sueño Americano / The American Dream: Photographs by Tom Kiefer looks at over 100 photographs of items, including letters, toys, and medication, that were on their way to becoming part of someone's American Dream before being discarded by border officials. Video clips of migrants and the artist are also part of this profound and timely exhibit, which takes a closer look at the challenges immigrants face and raises questions about The American Dream.
Cost: General Admission is $12 or free on Thursdays
On view from October 19 through February 16 at The Broad
Downtown
Iranian-born artist Shirin Neshat uses a body of work collected over her 30 year career to tell the story of Iranian's tumultuous history, living in exile, and even identity. Her largest exhibit to date, I Will Greet the Sun Again, will also showcase a few never-before-seen pieces in the United States.  
Cost: Tickets for this special exhibit is $20
On view from October 25 through February 17 at HHLA
Westchester
Calling all sneakerheads and art lovers: Sneakertopia is launching in LA with a 15,000-square-foot exhibit that features 70 foot murals, suspended sculptures, limited edition merch drops, rare kicks and many more installations to satisfy your culture cravings and social media feeds. Take a trip through the past, present, and future of sneaker culture with the pioneers in sports, music, film, art and fashion. Be sure to get the first glimpse of Sneakertopia before it travels to other cities around the world. 
Cost: General Admission is $38
Sign up here for our daily LA email and be the first to get all the food/drink/fun Los Angeles has to offer.