The Many Overlooked Simple Joys of LA
With its omnipresent traffic jams and Hollywood hustle, life in Los Angeles can get deceptively tricky, despite the city's laid-back vibe and sunny sensibility. The key is to make use of its natural assets when it comes time to take things down a notch. Ready to chill? You're in luck. Consider this your cheat sheet to LA's simplest pleasures.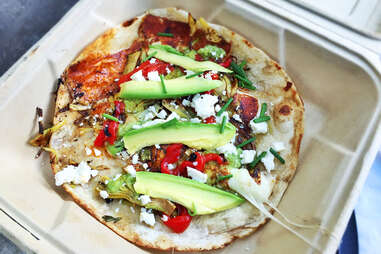 Grab a super tasty street taco
Cochinita Pibil, anyone? From the simple, James Beard-award-winning classics at Yuca's in Los Feliz to Ray Choi's roving, bombastic Korean pork legends at Kogi, not to mention the Mole Poblano with queso fresco at Guisado's in Boyle Heights, the duck tacos at Cacao in Eagle Rock, the al-pastors at Tacos Leo in Mid-City and the hard shells at Taco Lita in Arcadia, pretty much anywhere you find yourself in the City of Angels, an insanely savory, deliciously cheap taco waits within reach. The sheer abundance of the taco windows that lace LA's streets alone is staggering. Add in the food truck phenomenon and there's no excuse not­ to satisfy a tortilla craving the second it strikes.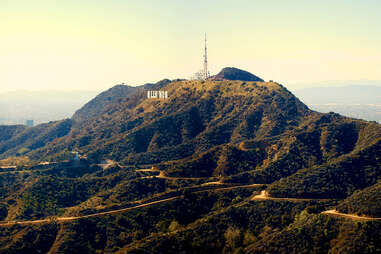 Hike a secret staircase
In a city studded with cinematic artifacts and architecture that begs to be photographed, movie relics like Silver Lake's Music Box Staircase abound. Infamous for its comedic role in the 1932 Laurel and Hardy film of the same name, the staircase is the same that the duo attempt to lug a piano up, and is one of many such staircases that wind through LA's hills, providing ingenious short cuts and jaw-dropping views. The trick is to train the eye to spot them. Start to look for a set of steps buried behind a hedge, and suddenly they crop up everywhere.
When LA gives you lemons, make lemonade
Ever since real estate magnates started hawking the region as a veritable Eden during its heyday, citrus and LA have remained synonymous. Given that the climate allows citrus to flourish year round, lemon trees have become a fixture throughout the city. Essentially every neighborhood houses at least one overflowing lemon, lime or orange tree, if not multiple. All this citrus bounty is (literally) rooted in a handful of trees at the Mission San Gabriel, established in 1771 in Alhambra. During the Gold Rush, when scurvy became an issue, the mission's navel orange trees provided seeds for booming groves that encompassed much of modern-day Downtown Los Angeles. So, for the original LA orange, pop by the Mission's gardens. Or, forage the remnants of the Gold Rush groves throughout the historic residential areas that encircle Downtown, like Elysian Heights, where lamp posts still double as hitching posts and lemon trees are as ubiquitous as Carroll Street's signature Victorian architecture. Why run to the grocery store when a recipe or drink demands one? Step outside, reach up and pluck.
Take a quick dip
Angelenos tend to admit that while they may have meant to make the most of the Pacific when they chose to settle down so close to it, once life rolls into motion, the intention falls by the wayside. (With the exception of diehard surfers, who put everyone else to oceanic shame.) A day at the beach becomes an ordeal. The sea beckons, but so do a thousand nagging chores. Locals' tip: keep the trunk of your car perpetually packed with beach necessities like towels, flip flops, sunscreen, a striped umbrella, and a boogie board. Suddenly, stopping off seaside on a whim seems so easy. A quick dip in the ocean quickly becomes a habit. Eventually, the ocean looks less like a hassle, and more like one's very own backyard.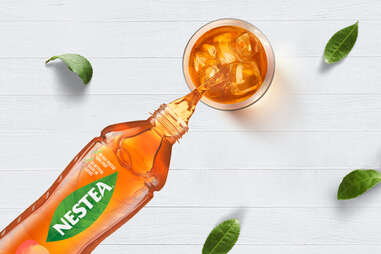 The New NESTEA
NESTEA has its own spin on Simple Joys, offering a new recipe including less ingredients and delicious tea leaves from Nilgiri, India. Because less is more.
Order animal style
After a while, it's tempting to take In n' Out for granted. But every time an out-of-towner touches down at LAX, the inevitable first request is for a pit stop at California's iconoclast. Given that In n' Out began in LA's Baldwin Hills, not gracing the premises on a regular basis could almost be considered sacrilegious. After all, the secret menu provides options for basically any kind of eater. From the double-double grilled cheese for vegetarians, to Protein Style for those avoiding wheat, and the drippingly tasty Animal Style burger, the simple pleasures of the Baldwin Hills original are open to everyone.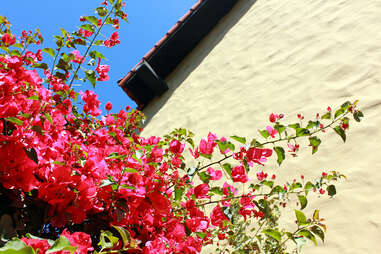 Bask in all that bougainvillea
Need a break from that iPhone screen? Look up more. Nature has done a very kind thing for locals by providing a parade of floral eye candy. Practically every hillside tumbles with swaths of blue ceanothus or tangerine orange California poppies. Mulholland Drive winds through endless vistas decked in native flora. For the bohemian splendor of sprawling oak trees, it's hard to beat Topanga Canyon. And while even LA's telltale freeways teem with bright bougainvillea, Silver Lake's Spanish architecture practically begs for the vine, which topples over every arched nook and courtyard cranny in jaw dropping shades of crimson and coral. The perpetual sunshine creates a haven for all kinds of zany cacti like Organ Pipe, Saguaro, and the flowering Claret's Cup (although, for the ultimate succulents fix, duck into the Huntington Gardens in Pasadena or Hot Cactus in Echo Park). Evening breezes stir up sweet wafts of night jasmine. And it's always time to stop and smell the old school roses that gave Pasadena the excuse for the Rose Bowl in the first place.
Rock the boat
Step one: stop by the Echo Park Boathouse for a blueberry lemonade from Beacon, the lake's wholesome, new café. Step two: pony up ten bucks for a pedal boat and a lifejacket. Step 3: start chugging and keep sipping your lemonade. Repeat. Until the throwback joy of boating among Echo Park Lake's water lilies and floating lotuses washes away every other worldly care. Bonus: pop by a street cart on your way out for a piping hot, foil-wrapped pork empanada or a frosty pineapple popsicle.
Bonfires
Beaches that allow night blazes may be on the brink of extinction in LA, But a handful of spots, including secluded Point Mugu and happening Dockweiler are still designated for bonfires. Cliffside Leo Cabrillo Beach even allows pups. An ideal spot for tidepooling, surfing, and hiking too, Cabrillo plies a plethora of concrete fire pits but given their first-come, first-serve basis, it's best to turn up during daylight to stake a claim. PS: don't forget the fixings for s'mores.