Los Olivos Is the Under-the-Radar Wine Town You Need to Visit This Year
This 2.5-square-mile town just went from rest stop to must-stop.
Welcome to Two Days Away, our series featuring weekend-long itineraries within a five-hour drive of your city—because sometimes we all just need a little adventure fix.
Throughout much of its history, the rolling hills of Los Olivos have been considered a mere place to rest on the way to somewhere else. It started as a stagecoach stop on the route between San Francisco and Los Angeles in the mid-1800s. When the Pacific Coast Railway added a line extension from Los Alamos to the new town in 1887, developers began calling it "Los Olivos" after Rancho De Los Olivos, a nearby ranch dotted with 5,000 olive trees.
Now a tourist destination in its own right, this pastoral Santa Ynez Valley town overflows with Old West charm. From hitting up the best tasting rooms and dining at destination-worthy restaurants to stocking up on cowboy boots for a horseback ride through the hills, here's your weekend itinerary for Los Olivos, California.
Travel time:
2 hours and 30 minutes from Los Angeles.
4 hours and 15 minutes from San Diego.
4 hours and 30 minutes from San Francisco.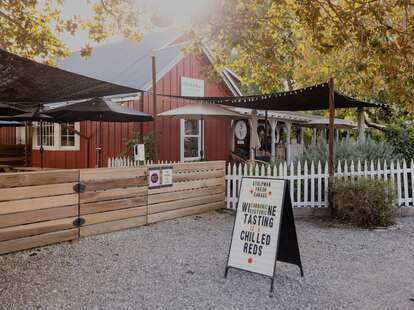 Photo courtesy of Craft & Cluster
Photo courtesy of Craft & Cluster
If you don't do anything else: Sip through Los Olivos's best tasting rooms
For such a tiny town, Los Olivos has an almost astounding number of tasting rooms within walking distance of one another, including some wine industry favorites. Start at Story of Soil for its low intervention pinot noirs and world-class gamay. Around the corner, Storm Wines offers flights of its classically styled pinot noir and Sauvignon Blanc. Down the block, Stolpman Vineyards boasts two tasting rooms that require reservations (though the staff will often take walk-ins when space permits). Stolpman pours natural-style, uncrushed, whole-cluster wines fermented via native yeasts in its adjacent Fresh Garage Patio. Meanwhile, the open-air Los Olivos Patio, with sleek yet comfortable outdoor sofas and lounge chairs, is where you'll find Stolpman's classic estate-grown wines. Finally, make an appointment at Holus Bolus for a tasting of organically-farmed classic varietals: One of the owners, Peter Hunken or Amy Christine, will most likely personally guide the tasting.
Photo courtesy of Craft & Cluster
Photo courtesy of Craft & Cluster
Fill your days:
Horseback riding in Los Olivos
Driving into Los Olivos—in pretty much any direction you look—you're going to see a horse. There are numerous breeders around, and the town is even home to one of the best equine hospitals in the entire state. So, if you're even remotely interested in horses, consider booking a ride for the full Santa Ynez Valley experience. In Los Olivos, Fess Parker Ranch Horseback Adventures offers horseback excursions on the upper mesa of Fess Parker Home Ranch. The rides, which offer stunning views of the valley and surrounding peaks, pass by cattle, wildlife, and an adorable herd of miniature donkeys. Plus, for an additional $20, guests can end their excursion with a tasting next door at the Fess Parker Winery. In nearby Santa Ynez, Vino Vaqueros offers private riding experiences through the grapevines and countryside.
Where to hike in Los Olivos
The rugged Santa Ynez mountains boast a number of hiking trails that are well worth the effort. The moderately challenging, 4.1-mile Lovers Loop Trail passes through grass- and oak-covered hillsides and offers prime views of the lower valley. It starts at the Grass Mountain Trailhead, which also marks the beginning of the challenging Grass Mountain Trail, a 5.2-mile out-and-back that goes up to the grass-covered and (sometimes) wildflower-studded peak, offering spectacular vistas of the region.
Where to shop in Los Olivos
Another great thing about strolling around Los Olivos's quaint downtown is the dozens of cute shops. Buy a pair of boots or a Stetson for your ride at Jedlicka's Saddlery, customize your straw or felt fedora at Global Eye Shop & Studio's hat bar, or stock up on luxury, ranch-inspired dresses, tops, and accessories at Wendy Foster.
Take advantage of local farms to stock your kitchen. Load up on local olive oil and take a beat under the trees at newly opened Olive & Lavender Farms. The beautifully bucolic property boasts more than 100 imported olive trees at what once was a blacksmith shop for the famous 1800s stagecoach stop at Lansing's Crossing, as well as numerous seating areas, where guests can chill and even bring a packed lunch. On your way out of town, make sure to hit up Finley Farms's self-service stand (it accepts Venmo) for fresh greens and other seasonal items to take home. Summerset Farm, a can't-miss stand right on 154, offers jams, honeys, and eggs year-round. Plus, it also offers pick-your-own berries in summer and pumpkins in fall.
Restaurants and Bars in Los Olivos
The crown jewel in the town's dining scene is Bar Le Côte. The French-farmhouse-meets-mid-century spot, overseen by the team behind Michelin-starred Bell's in Los Alamos, features European-inspired dishes starring fresh Central Coast seafood. Make sure to try the Day Boat Scallop Crudo, topped with a memorable combination of pickled mushrooms, crème fraîche, and dill pollen. If you really want to go all out, wash it down with a bottle of grower-producer Champagne Marguet from the short but nicely assembled wine list.
Given that it's set in the middle of farming and ranching country, it's no surprise that several top restaurants in Los Olivos serve a solid selection of locally-grown ingredients. Homey and casual Los Olivos Wine Merchant and Cafe offers salads, pizzas, and large plates featuring produce sourced straight from the owner's nearby farm for lunch and dinner. Another great spot for lunch and dinner is Nella Kitchen & Bar, run by the S.Y. Kitchen team, which features local ingredients on its Italian-leaning menu of seafood, meat, and Roman pinsas (hand-pressed pizza made from a mix of rice and wheat flours). The Tavern, the restaurant at Mattei's, serves locally sourced, wood-grilled meats and veggies paired with an impressive wine list (also great breakfast and brunch in the morning). Since opening, the trendy, saloon-like hotel bar has become a go-to for historically-inspired cocktails and a prime spot for watching local winemakers and cowboys mingle with the well-to-do guests and anyone else who happens to be around that given night.
For a more low-key drinking vibe, consider stopping into wine and beer bar The Other Room, a collaboration between Companion Hospitality (Bar Le Côte, Bell's) and the team behind the BackRoom at Solvang's Valley Brewers. It boasts rarer wines by the glass, hard-to-find bottles, and an excellent selection of California craft beers. Just don't expect to stop in for a nightcap unless that follows an early-bird dinner, as it's only open from 2 pm to 8 pm Friday through Tuesday.
Where to stay in Los Olivos
Until the newly renovated historic Inn at Mattei's Tavern threw open its doors this year, anyone who wanted to spend the night within stumbling distance of Los Olivos's abundant tasting rooms had to fight for one of the 19 rooms at Fess Parker Wine Country Inn or try to snag one of a handful of vacation rentals. That changed this year when—after four years of construction and who knows how many millions of renovations—Auberge Resorts reopened the historic Inn at Mattei's Tavern with 67 luxury guest rooms and cottages. The long-running hotel first opened its doors in 1886 to serve the rail and stage passengers making their trips north and south. (Original proprietor Felix Mattei eventually called it Mattei's Tavern.) As you'd expect, it's not cheap, but it enables visitors to actually spend a weekend in town. Whether you want to splurge or find a cute, affordable Airbnb, there's never been a better time to spend a couple of days in Los Olivos' walkable downtown.