The Best of Venice, LA's Quintessential Beach Town
Venice has always been a place defined by exaggerated, sweeping generalizations: A funky artists' enclave, a tacky tourist trap, a food-lover's paradise, a scene for skaters, an ever-gentrifying playground for the newly moneyed.
The truth is, Venice has been all of these things at one time or another -- and for better or worse, it's still a mix of 'em. You can still find local artists (though not as many these days) creating one-of-a-kind works along the boardwalk, watch impressive ollies at the oceanside skatepark, and get chased down the boardwalk by a guy who wants to sell you his CD (yes, in 2019). You can gawk at behemoth dream homes sitting next to century-old bungalows on the canals. You can get a greasy taco off a truck or an astronomically priced plate of truffle tagliatelle, and find yourself sharing a beachfront bench with a guy who's been surfing here since the '70s and used to hang out with Dennis Hopper.

Still, there's no denying Venice looks a lot different today than it did even five years ago. Where once you would have found decades-old restaurants and vintage furniture sellers, now stand gleaming outposts of corporate chains like Adidas, rag & bone, and Warby Parker. But that's not to say the offbeat spirit of Venice is completely gone. You just have to know where to look.
"It doesn't feel like this in Beverly Hills. There's still that easy-breezy, Venice Beach kind of chill vibe."
"This neighborhood has so many creative people, so many interesting people bringing interesting things to the table," says Venice resident Jason Neroni. He's the current chef and co-owner of The Rose: a sprawling, all-day eatery that he and his partners reincarnated in early 2016 after more than 35 years as local mainstay Rose Cafe. "There may be billionaires or millionaires or movie stars around, but it doesn't feel like this in Beverly Hills. There's still that easy-breezy, Venice Beach kind of chill vibe."
To wrap your head around this land of contradictions, all 3.1 square miles of it, you'll need to go beyond the beach and explore its many different sides: the chic restaurants of Abbot Kinney, the quaint quietude of the canals, the larger-than-life murals along Rose Avenue and Lincoln Boulevard. And yes, this includes a walk along the biggest tourist trap in town.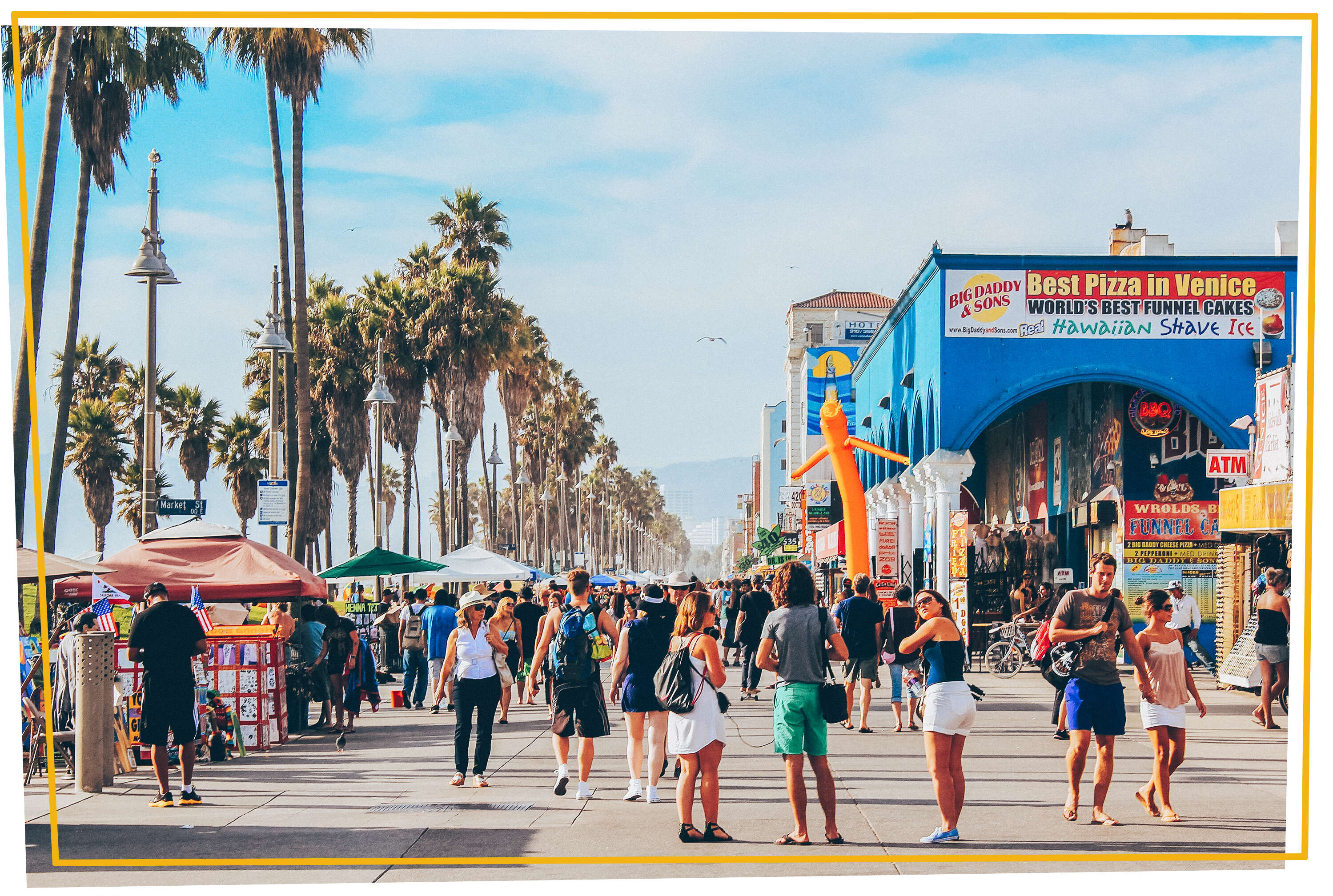 Start by people-watching at the iconic Venice Boardwalk
The Venice Boardwalk is LA's number-one tourist destination. Most Angelenos avoid it like a $30 parking lot, so nothing is going to feel particularly "local" here. It's loaded with dated souvenir and t-shirt shops, stands with '80s-era signs still offering sun lotion and batteries, and iffy medical marijuana outfits (yes, even after legalization).
But you'll also find a delightful cast of characters: artists and craftspeople of all types selling their wares, musicians and street performers with varying levels of talent. The opportunities for people-watching here are unmatched anywhere else in the city. In other words, you kind of have to walk the boardwalk at least once.
To be clear, this isn't the old-fashioned, wooden-plank kind of boardwalk you'd find in most American beach towns; officially known as Ocean Front Walk, it's really a long stretch of concrete paths for bikes and pedestrians.
A simple mile-and-a-half trek north from the Venice Fishing Pier takes you past the bustling basketball courts made extra famous by White Men Can't Jump and American History X (complete with bleachers for spectating), as well as Muscle Beach, the iconic open-air gym filled with beefy bodybuilders (who you can join by purchasing a $10 day pass). You'll also pass Venice Skatepark, where you can easily lose track of time watching riders of all ages pull off 360 kickflips and ollie impossibles with the Pacific Ocean as a backdrop.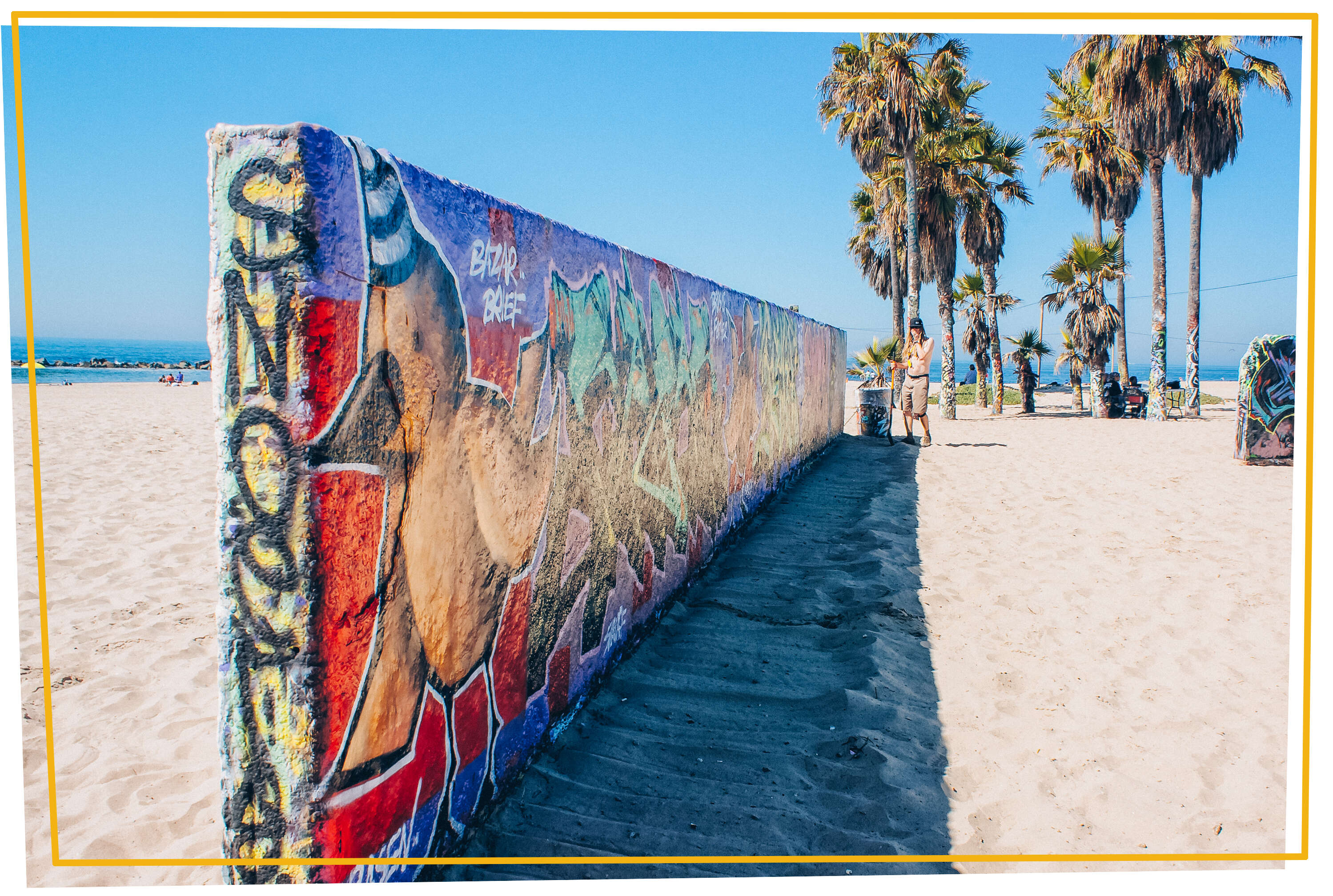 Scope Venice's legendary street art
Street art abounds throughout Venice, but many of the most notable murals are in and around the beach -- including the ever-changing Venice Art Walls. Standing on the sand between Windward and Market, the walls actually date back to the '60s (though painting them only became technically legal in the last 20 years), and you can watch artists add to the colorful history on weekends. That famous rendering of a shirtless Jim Morrison by legendary muralist Rip Cronk sits on the side of an apartment building at 1811 Ocean Front Walk, and you'll find the Venice version of Van Gogh's Starry Night-inspired at the corner of Wavecrest and Ocean Front Walk.
Chase the surf and embrace the sand
Experts will tell you there are better places to catch waves (Malibu for one), but Venice remains a popular spot for surfers of all levels. You'll spy plenty of wetsuit-clad boarders paddling out near the pier; Breakwater, located smack in the middle of the Boardwalk craziness, is probably the most popular (read: crowded) spot with typically shorter waves breaking in between jetties. If you're a beginner who wants to give it a go, there are plenty of surf schools that will happily supply you with gear and a lesson, like Aloha Brothers and Kapowui.
Not quite ready for the whole hang-ten thing? You can rent a boogie board for about $10 an hour. No judgement if you just go for a beach chair / umbrella combo (usually $40 for the day) and chill out for the afternoon.
Some good places to eat near the Venice Boardwalk:
Most of Venice's vaunted food scene is found away from the water (we've got a whole guide dedicated to Venice's best restaurants). It's rare, but not impossible, to get a good bite right on the boardwalk. Locals swear by window-service joint Poke-Poke (which has been kicking it long before the poke craze hit the mainland), while Schulzies -- also a tiny takeout window -- serves delicious homemade bread pudding in flavors from blueberry to Black Forest.
If you stray even a few yards off the beach, though, you'll be rewarded by a growing number of neighborhood spots, like small-plate-centric Dudley Market and beachy vibes cafe Great White. The original location of the now-conquering-the-world Modern Mexican chain, Tocaya Organica, is here, as well as an outpost of cult-status breakfast sandwich counter Eggslut that has a line snaking out the door most mornings.
On the block running from the beach to Pacific Ave (which has branded itself Washington Square), the definitely-don't-miss destination is Hinano Cafe: a real-deal dive circa 1969 with sawdust-covered floors, an aging popcorn machine, pool tables, and a cash-only policy. It's got a massive beer selection along with one of the best burgers in the city -- and yes, Jim Morrison really did carve his name in the wall here, but do yourself a favor and don't be the 500,000th person to ask the bartender where it is.
Love it or hate it, the boardwalk remains more independent, eclectic, and out-there than perhaps any other section of Venice. "Even now it's a little sketchy to walk on the boardwalk past 12 o'clock at night," says Neroni.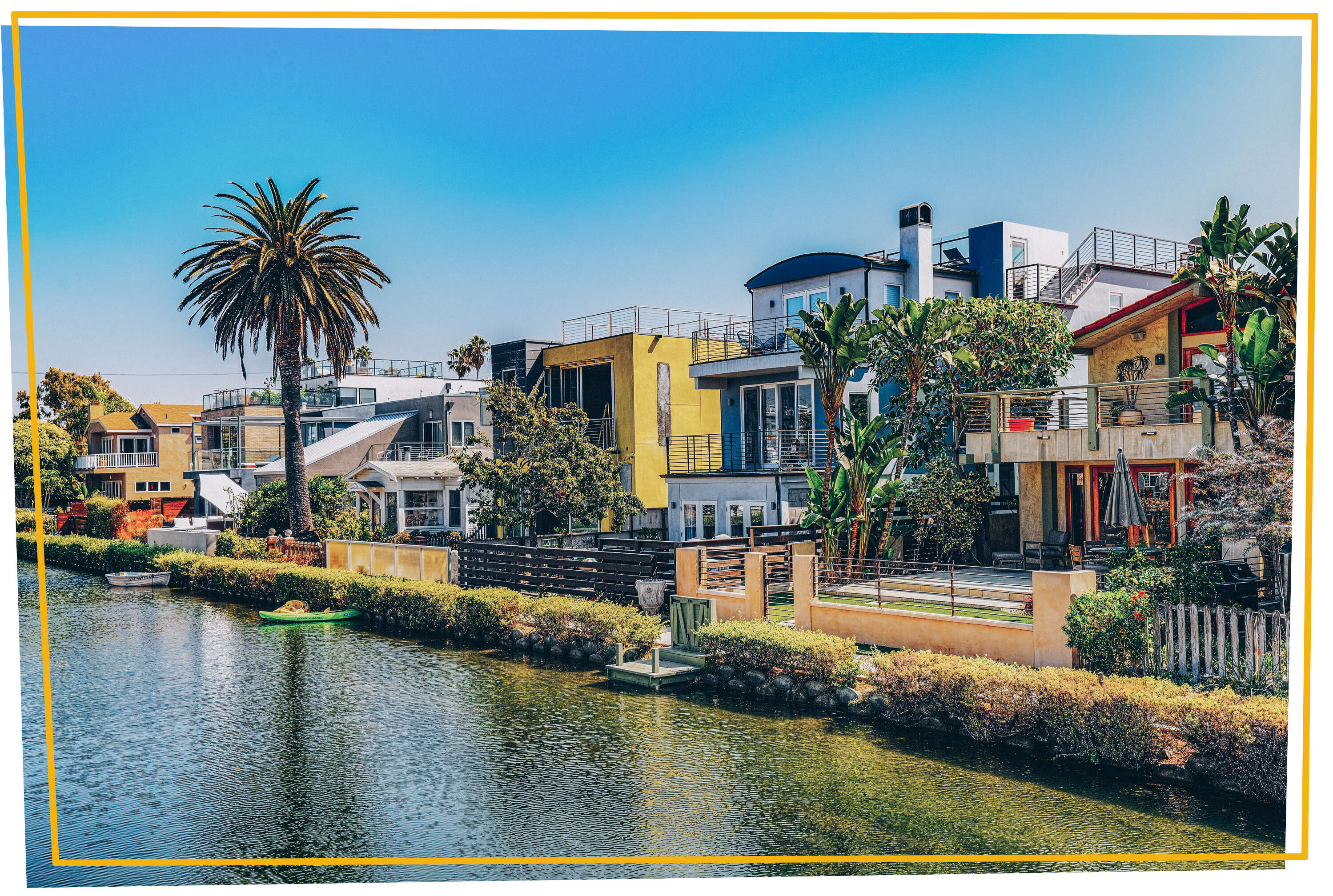 Leave the beach behind to cruise the canals
If you venture eastward down Washington Boulevard, away from the Venice Pier, you'll stumble on another local icon: the Venice Canal Historic District. This tight grid of waterways, arched wooden bridges, and walking paths was once part of a much larger network built back in 1905 to emulate the city's Italian namesake.
Lined with drool-worthy homes, green plants, and colorful boats, the canals are a welcome respite from the chaos of the boardwalk. Visit in the spring for blooming flowers and swimming duck families; or if you come in December you'll see the bridges and homes decked out in decorations, and an annual holiday boat parade that's been going strong for 36 years.
The canals are also a good way to get from Washington Boulevard to Venice Boulevard, which you can then follow away from the beach and on toward "the coolest block in America," Abbot Kinney. Just don't call it that to anyone's face.
Hit up the bars and restaurants on Abbot Kinney
No street has personified Venice's transformation more than Abbot Kinney Boulevard: an ultra-walkable commercial stretch that runs east of the beach for a little over a mile. An infamously short-lived Pinkberry franchise that opened in 2007 is often cited as Abbot Kinney's "there goes the neighborhood" moment that sped up the street's corporatization, but everyone has their own theory. Tami Halton Pardee, local and founder/CEO of real estate firm Halton Pardee + Partners, points to a temporary Smartcar showroom that also popped up in '07: "I think they came in as more of an advertisement... for the cache. In retrospect, that's what everyone else has decided to do."
While longtime neighborhood joints like Hal's, Joe's, and Abbot's Habit have disappeared, the street continues to serve as a culinary anchor for the area, playing host to a few of the city's most celebrated restaurants -- like Evan Funke's pasta palace Felix Trattoria (housed in the old Joe's space), and Travis Lett's modern-day Venice restaurant mascot Gjelina.
These acclaimed restaurants aren't exactly budget-friendly, and an influx of tech industry types moving into Venice has led to rising rents for fellow merchants and residents alike. Affordable housing has disappeared in communities like the historic African American neighborhood of Oakwood, nicknamed "Ghost Town." Oakwood sits just east of Abbot Kinney, and adjacent to Google's 100,000-square-foot Venice campus (in the Frank Gehry-designed Binoculars Building). These days, homes in Oakwood have a median listing price of nearly $1.5 million, and Venice now has the greatest concentration of homeless on the Westside. Multiple encampments line city blocks as activists, residents and officials debate what to do about the epidemic.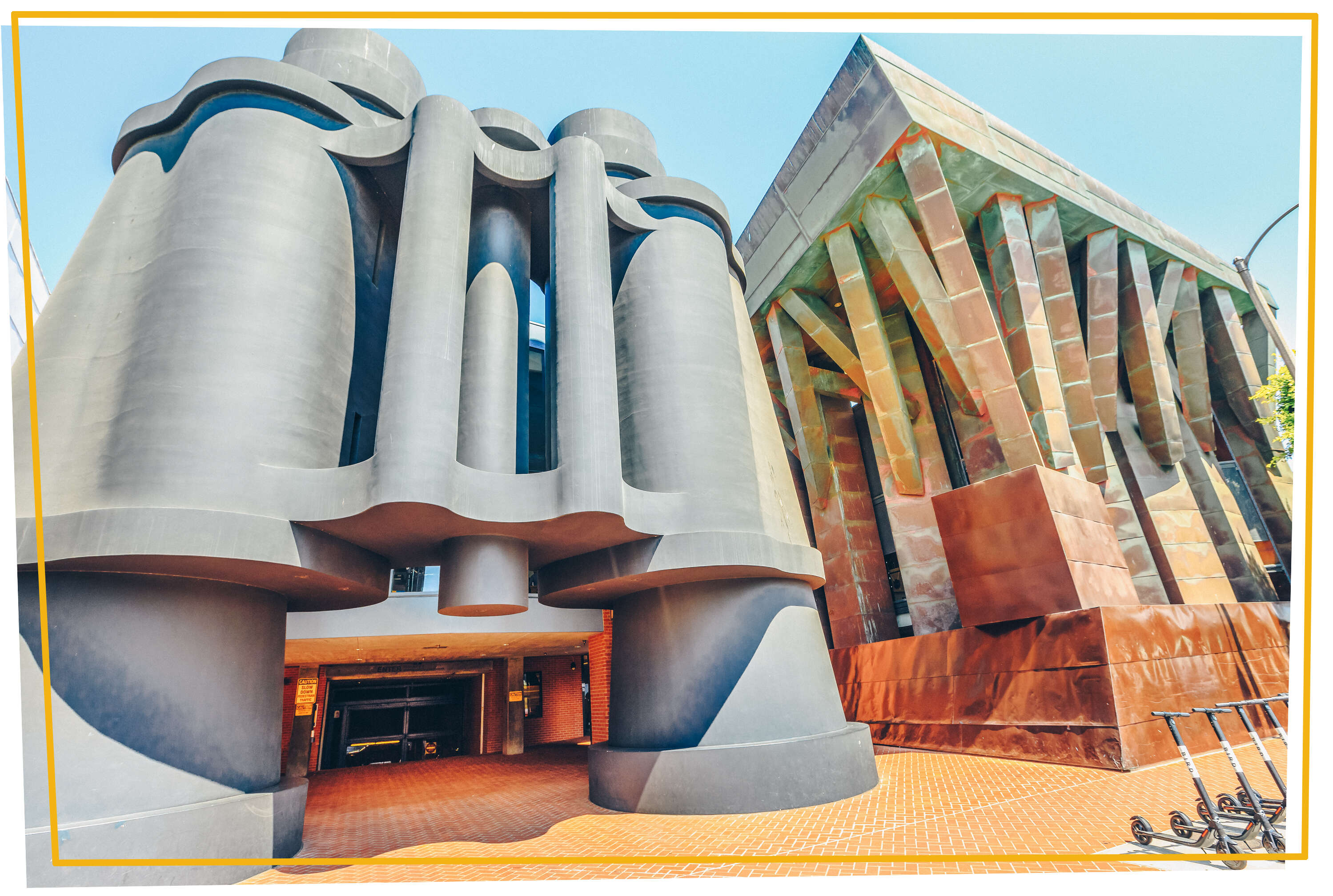 Some things haven't changed, though. Abbot's Pizza is one of the oldest eateries on the block, a sort of last-man-standing where people still show up for big, foldable slices with toppings like wild mushroom and olive pesto or tequila lime chicken and jalapeno. Richie Schiffer's owned the place since 1995; according to him, the arrival of Google down the street doesn't seem to have impacted business much. "When they came here they said, 'We're going to be a part of the neighborhood and help out a lot of businesses," Schiffer recounts. "The truth is they have their own gym, their own kitchen, chefs, and everything else. As far as them using a lot of the businesses, it doesn't happen."
If you're thirsty, check out the longstanding bar The Brig, with its melting pot of frat bros, hipsters, serious pool players, and product engineers. And Roosterfish, once one of the Westside's only bona fide gay bars, closed back in 2016 only to reemerge from the ashes two years later. Now the bartenders mix craft cocktails for a mixed crowd in an admittedly stylish space, but a trip to the restroom will give you a peek at its past via the porn that's still plastered to the ceiling.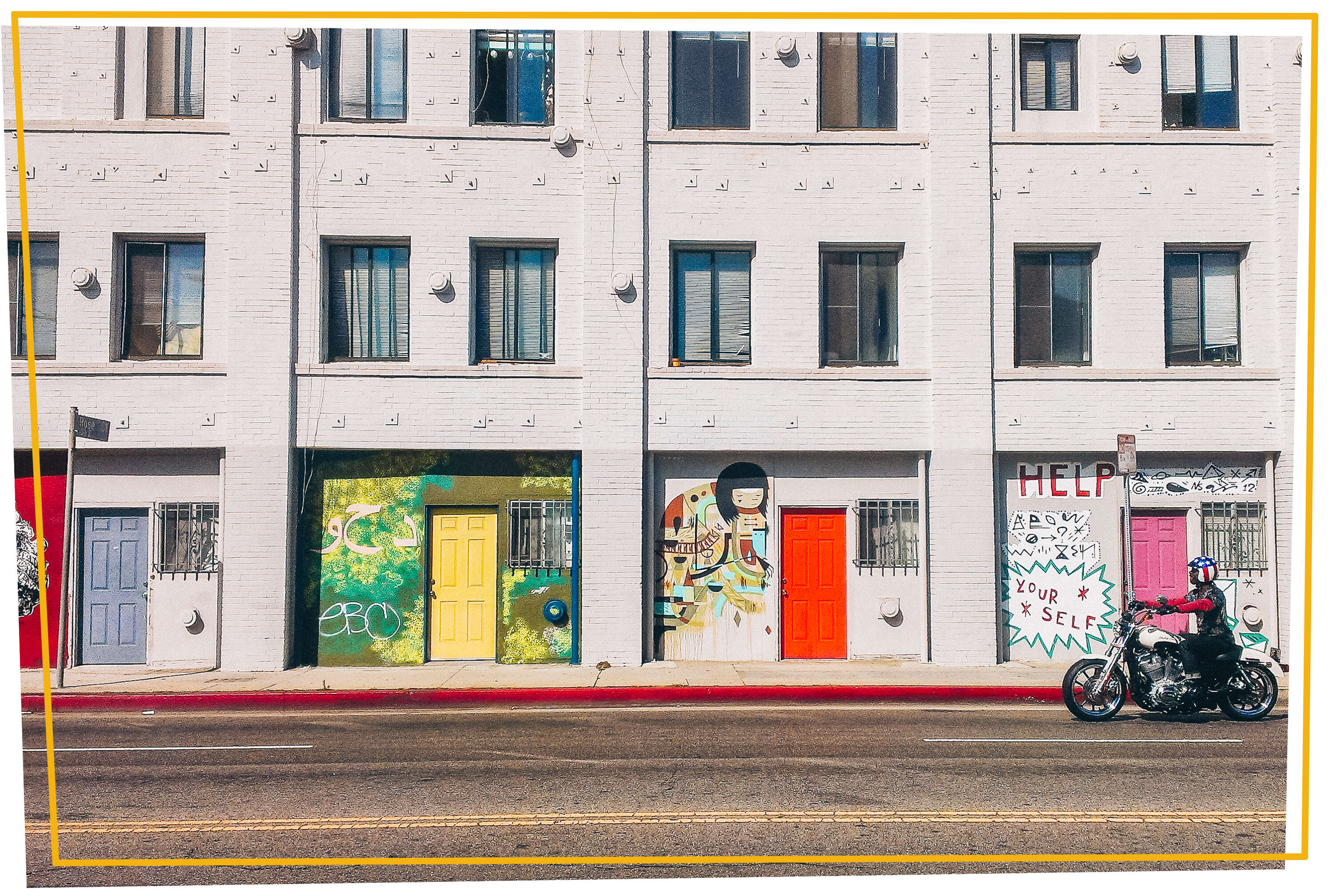 Or go for something a little different on Rose Avenue
Rose Avenue, between Lincoln and Pacific, also has an impressive range of restaurants for an evening of eating – like modern Indonesian Wallflower; spacious vegan venue Cafe Gratitude; itty bitty vino bar Venice Beach Wines; and airy mezcal and gourmet taco newcomer Chulita. Rose Avenue as a popular after-dark destination is a fairly new concept, according to Neroni. He opened his first Venice restaurant – the now-shuttered Superba – just up the street in 2011. "Rose still feels neighborhoody, but now at night we get regulars from all around, and a younger crowd. I don't think dinner would have worked here 10 years ago."

The sidewalks might have more foot traffic than the old days, but it still feels worlds away from elsewhere in Venice. "I guess Rose is still pretty independent," he adds. "Venice reminds me of New York. Rose is still kind of like Avenue C, and Abbot Kinney is like Avenue A."
Shop the art-and-design shops on Lincoln
Abbot Kinney was Venice's only real shopping street for years, but independent retailers slowly began rolling the dice elsewhere; Rose Avenue has been home to a bevy of boutiques for a while now, and the scene is spilling east. Though Lincoln Boulevard is still a long way from feeling strollable with its cell phone retailers, car washes, and liquor stores, there's a growing row of independent, oft-sustainability-focused shops taking over the semi-dilapidated storefronts along Lincoln.

At Amiga Wild -- semi-hidden next to an auto repair shop -- you can peruse apothecary, jewelry, and home decor. Sadie Gilliam, a jewelry maker who opened Amiga Wild in late 2017, says the area is still home to an art-loving community. She and co-owner Alisun Franson are trying to help modern-day Venice stay true to its artistic roots even as it develops, supporting artisans and hosting community programming like a monthly "Last Fridays" art show. "Our goal is to find a happy medium," says Gilliam, "and to create something that's never going to lose the heart of Venice."
Walk a few doors down and you'll hit Late Sunday Afternoon, dotted with sewing machines used to fashion scarves, hats, bandanas, and ascots (we know, we know) with locally sourced fabrics. The scraps are used to make dog beds that get donated to shelters. Nearby, model-turned-designer Christy Dawn uses upcycled, surplus fabrics procured from other labels to make a curated collection of vintage-inspired dresses.

And it's impossible to miss Venice Beach Land: a corner lot that looks like a sliver of Burning Man, housing an artists' studio and gallery filled with bean bag chairs, hula hoops, paintings, clothing, and vintage goods -- much of it sold out of RVs and old buses.
What Venice will look like in another five years is up for debate, but one thing that isn't is just how much people love this community -- whether they've been calling it home for decades or are just unloading their luggage from a Lyft. And even if that's the only thing they have in common, it's still something.

"We all have to get out of our boxes and start talking to people as people and being a community and embracing all of it," says Pardee. "That's the whole thing about Venice -- it's supposed to be colorful. Well, you can't just have the older people here or the younger people here. It's all of us."
Sign up here for our daily LA email and be the first to get all the food/drink/fun Los Angeles has to offer.