This Tourist Trap Is Transforming Into the Coolest Place to Visit on California's Central Coast
The Danish-inspired tourist town of Solvang in Santa Barbara Wine Country has a new guard of great restaurants, bars, and things to do.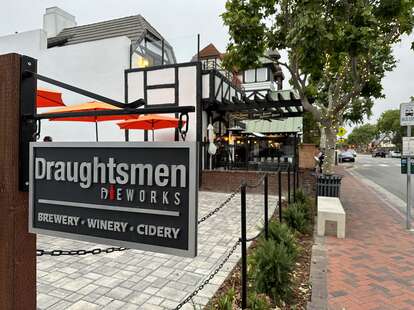 Photo by Ben Mesirow for Thrillist
Photo by Ben Mesirow for Thrillist
The best tourist traps pull the wool over your eyes, allowing you to sink into the experience and forget you're a mark. At a decent tourist trap, you may never lose the awareness that you're a rube, but you stop caring. And bad tourist traps plain suck, offering little and taking a lot, usually in the form of time, patience, and money. Over the eight decades that it has existed as such, Solvang Danish Town, a whole city built from tourist trap material, has slid slowly from the former categories into the latter—until now. This mostly dilapidated tourist town is suddenly cool again and one of the best places to visit in Santa Barbara wine country for food, drinks, and fun.
It may be hard to believe when you walk around the city, but the four creaky windmills, thatched roofs, and jaunty contrast-color balconies of Solvang are not Old World relics. They were built in the post-war era, often as facades over the top of existing structures. There was at one time a sizeable Danish community there, but they primarily built in California ranch styles; the town's design was a kitschy affectation from the jump. There is some silly charm in it, especially if you're the type who loves the New Orleans-themed parts of Disneyland or the aesthetic stylings of beat-up mini golf courses. But it has been a long time since anyone would call it trendy; the Danish royal family hasn't even visited since 2011.
Slowly, though, while most people were rubbing their noses on the glass case in front of old kringles and posing with giant red clogs, new things started to open. A wave is building, changing the tenor of things in town and giving the area a sorely needed refresh. Now you can finish browsing the year-round Christmas store and head down the block for a Michelin Bib Gourmand-quality meal; let your family linger at the Hans Christen Andersen Museum while you step away for some craft beer; take the whole gang wine tasting at a fantastic local winery with a tasting room right in town; and so much more. Here are all of the best things to do in the revitalized Solvang.
Travel time:
2 hours 30 minutes from LA
If you don't do anything else: Feed huge birds at Ostrich Land
This will sound wild considering the lede, but if you're looking for something fun and a little off-beat to do, Ostrich Land is one tourist trap that's actually worth it. Yes, the dozens of ostriches and emus are pretty gross, and yes, it smells pretty bad. Yes, it's absolutely a tourist trap, and no, you never forget that fact. But there are so many large birds, and they're so weird looking and huge and used to being fed by gawping humans—when else will you get this damn close to one? We all get to be rubes and marks every once in a while.
Fill your days:
Things to do outdoors in Solvang
Before you get down to the main business of the Santa Ynez Valley—food and wine—take a moment to enjoy one of the most beautiful places in California, Nojoqui Falls Park. The gorgeous oak woodland park spans 85 acres, with plenty of picnic tables and places to toss a blanket. The park's central attraction, though, is the easy hike up to the falls. It's a quick mile-long trail that hops back and forth across a lovely creek before it runs into the 80-foot waterfall, a mossy cascade of clear water down jagged rock.
Eat, drink, and sleep:
Where to eat in Solvang
Any discussion of Solvang's new guard has to start with Peasants Feast. The married couple ownership duo of chef Michael Cherney and general manager Sarah Cherney opened their dream restaurant at perhaps the worst possible time in recent history, April 1, 2020. But against all odds, they succeeded, and a visit to Peasants Feast immediately clarifies how they did—the food is spectacular, and the place is charming as hell. The daytime menu is devoted to sandwiches, with a few tacos, salads, appetizers, and a rotating specials board using fresh ingredients. They lean on interesting riffs on classics like Pastrami Smoked Salmon or Solvang Hot Chicken, and if you happen to catch a sandwich or taco made with local fish, don't skip it.
Earlier this year, they introduced a dinner menu, which more than lives up to the lofty standard set by their lunch menu. Dishes are more composed and refined, but the energy remains California casual, friendly, and approachable. The menu shifts all the time, but early highlights include mainstays like a Pork Chop Schnitzel and an unorthodox and delicious Sunflower Seed Risotto.
But Peasant's Feast isn't the only excellent restaurant in town. Another pandemic opening has been pushing the scene forward: the modern Central Coast-style steakhouse Coast Range. Anything from their excellent grill is worth a try, and all of the steakhouse classics are well-executed, but don't overlook their more adventurous and often rotating sides and appetizers. The Fritto Misto comes with Thai Chili Sauce and Furikake Aioli, the Creamed Corn comes with Jalapeño and Cotija, and the Ahi Tuna Crudo gets a hit of habanero mixed in with Yuzu Kosho. The attached Vaquero Bar is a treat, too, with a cocktail list divided into sections of takes on classics like Negronis, Mules, Martinis, Sours, and more.
Where to drink in Solvang
If you want to enjoy Coast Range's food in an even more casual setting, Draughtsmen Aleworks is just next door and has a special bar menu from the neighboring restaurant. You can get some stellar bar food, like a giant Housemade Pretzel, a Pastrami Burger, or a Brat Dog with housemade sauerkraut to go with Draughtsmen's very solid beer. The brews run the stylistic gamut from a Rice Lager to an Imperial Russian Stout, but they lean on the lighter side of the alcohol by volume spectrum, hanging under 6% for the most part. It's a lovely perspective on beer, a finer touch well suited to a long evening hanging out and playing games on their stylish and expansive patio.
Of course, if you're in the Santa Ynez Valley, it's probably for the wine, which has long been the region's major draw. There are a handful of tasting rooms right in town, but they got a particularly great new option last summer in Alma Rosa. The winery's estate is a few miles west, in the Santa Rita Hills on the other side of the 101 freeway, on mostly north-facing slopes with a cool ocean breeze. The wines are elegant expressions, primarily focused on the Pinot Noir and Chardonnay that grow so well in Santa Barbara Wine Country, with some other Rhone varietals and some rosé and sparkling wines, too. The tasting room is a refreshing break from the Old World architecture in the rest of town, modern with lots of glass and several fire pits in a pleasant courtyard space. And it doesn't hurt that the excellent Via Gelateria is right next door.
Morning drinkers have choices too—Good Seed Coffee Boutique opened a few years ago with an outstanding espresso drink program featuring their own beans. They also have a selection of organic baked goods and a particularly excellent selection of long-fermented heritage-grain sourdough bread, which they serve as toast or as whole loaves available for pre-order. It sounds a little bit like hipster mad libs, but it's more than worth the eye roll.
Where to stay in Solvang
The town is rife with condos, many of which are available for rent through your app of choice, and the area is also awash with adequate hotels and motels, most of which carry the standard Danish facade over totally average and mostly acceptable interiors.
But in its class, The Landsby is a rare standout. They've taken the Scandinavian thought but pushed it toward minimalist modern design, with blonde wood and white walls, dark accents, and a big outdoor courtyard. Mad & Vin, their in-house restaurant, is better than decent, and the lobby bar stays open until 11 pm on weekends—one of the later last calls in the sleepy town. And if that's still not enough, the for-purchase bottle of wine they cleverly stock in the mini bar is solid and generally reasonably priced.
And more hotel renovations are underway—in the next couple of years, the lodging options could look very different.