L.A. may be a sprawl, but shacking up at a crappy hotel because of it's location will actually just end up making you wish you were further away from everyone's judgmental looks. Thankfully, we've put together a list of the city's top hotels no matter where you need to be. Even Joshua Tree.

Century Plaza
2025 Avenue of the Stars; West LA; 310.228.1234
Conveniently located minutes from LAX and boasting spectacular views from their private lanais, Century Plaza is a luxurious haven for those seeking plush amenities, modern comfort, and quick access to the Staples Center, where you can watch Steve Blake try to be better.
Get the full story here...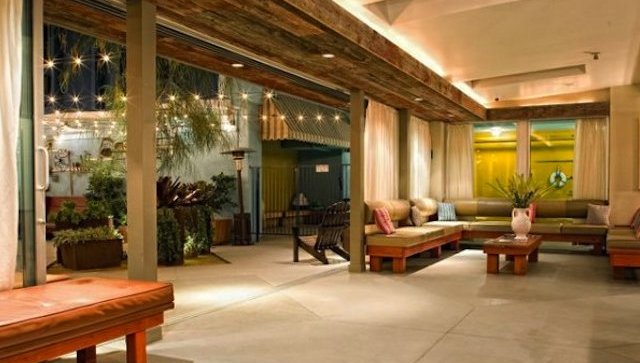 Farmer's Daughter
115 S Fairfax Ave; West Hollywood; 323.937.3930
Straddling the border of Hollywood/ West Hollywood/ Beverly Hills, FD's modern-rustic accommodations are more reminiscent of a polished barnyard loft than a swank LA hotel, and come with the comforts of an outdoor pool, food from adjacent resto Tart, and an open air picnic area where you can eat aforementioned food and prove to the public that while you may stay in barns, you weren't raised in one.
Get the full story here...

Hicksville Trailer Palace
Joshua Tree; Email for reservation
If you've ever wanted to live in a trailer park without actually, like, living in a trailer park, you should definitely check out Hicksville: a mobile-home mecca outside Joshua Tree that was dreamed up by writer/director Morgan Higby Night, and boasts eight themed trailers and two off-site lodges.
Get the full story here...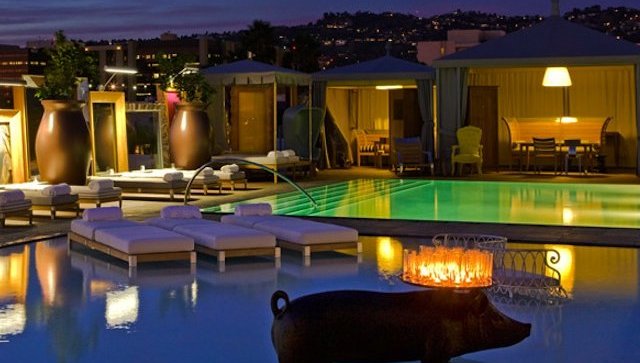 SLS
465 S La Cienega Blvd; Beverly Hills; 310.247.0400
Make Weezer all jealous by being at Beverly Hills hotel hot-spot SLS, where the culinary program's headed up by chef José Andrés (one of Time's Most Influential People of 2012), the fitness center is 2,500sqft, and the views from the rooftop pool range from the Hollywood sign to downtown LA.
Get the full story here...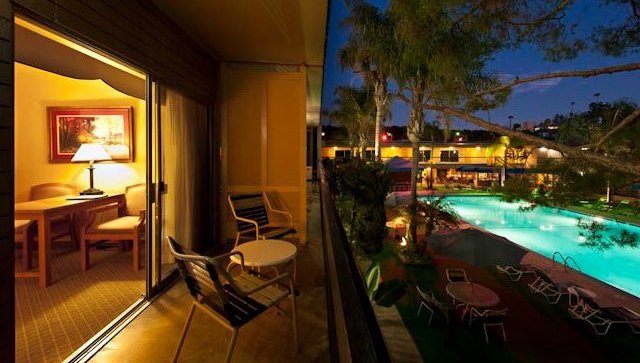 Sportsmen's Lodge
12825 Ventura Boulevard; Studio City; 818.769.4700
If you're looking to crash in LA for a few days, but aren't really into the shopping, clubs, or Moby's architecture tours, check out Sportsmen's Lodge: a quiet retreat nestled right on the edge of the San Fernando Valley, putting you near to Studio City and the outdoor activity wonderland that is the Trout Lakes.
Get the full story here...

The Grafton on Sunset
8462 W Sunset Blvd; West Hollywood; 323.654.4600
The Grafton: not just a unique 1950s alto saxophone constructed mainly from plastic, it's also a sweet West Hollywood hotel constructed mainly from concrete! With a heated saltwater pool and '50s-style decor that may or may not have been featured in the video for "Love Shack", Grafton offers a great alternative travel option for those fed up with traditional hotel experiences.
Get the full story here...

The Huntley Hotel
1111 2nd Street; Santa Monica; 310.393.8080
Lodged comfortably on the 18th floor of The Huntley Hotel, The Penthouse lounge is reason enough to book your stay, with food from esteemed chef Seth Greenberg, and a cocktail program from mixologist Ryan Magarian.
Get the full story here...

The Standard LA
8300 W Sunset Blvd; West Hollywood; 323.650.9090
With the Superior Oil Company being, well... not so superior, The Standard decided to invade their old space and lay down the foundation for a downtown hotspot, with oversized guestrooms, a rooftop pool bar, a biergarten, and a billiards/ping pong lounge where you can always have next... because everyone else is hanging out at the pool bar.
Get the full story here...