Historic Boutique Hotels That Make Highway 99 a Destination All Its Own
Take the road less traveled.
Photo courtesy of The Padre Hotel
Photo courtesy of The Padre Hotel
Highway 99, or California State Route 99, is the road less taken by tourists in California, most of whom opt for the scenic Pacific Coast Highway or zoom up and down I-5 between San Francisco and Los Angeles, but history runs deep along this highway. California State Route 99 was once part of the US Route 99, which ran from the US–Mexico border in California to the US–Canada border in Washington. Known as the Golden State Highway, it was a vital route in California, especially for Dust Bowl immigrant farm workers traveling across the state. The I-5 Highway has largely replaced the US Route 99, but a section remains and is now State Route 99 and runs through California's Central Valley from Bakersfield to Red Bluff.
The Central Valley is a major agricultural region not just for California but for the country. The area produces about 250 different crops, which make up at least a third of the country's fruits and vegetables, not to mention nuts, but that also means that most travelers to Central Valley are there on business. In the past few years, though, new hotels along this route have brought new life to historic properties along the Golden State Highway. All of which is happening in parallel with other revitalizations in the region. So, the next time you travel along Highway 99, skip the basic business hotels and stay at these beautifully restored historic boutique hotels instead.
Bakersfield, CA
Initially opened in 1928, The Padre Hotel in downtown Bakersfield was at one point most known for its haunted status. That is, until the renovation and reopening in 2010. The Padre is an eight-story hotel built in the Spanish Colonial Revival style, and it had its fair share of troubles and fell into disrepair in the 1960s. Now, it has been modernized and is Bakersfield's only AAA four-diamond hotel.
The historic art deco elements are present throughout the lobby, and the chic Western-themed ("Cowboy chic") decor is a nod to Bakersfield's strong agricultural ties. The rooms are all stylish and modern with retro colors. Each room boasts memory foam beds, Malin+Goetz toiletries, and flat-screen TVs.
The Padre has multiple dining options on the property, including the second-floor rooftop bar Prairie Fire, the all-day Farmacy Cafe serving locally roasted Cloud 9 coffee, and Brimstone, a modern-day saloon with daily happy hours. Rooms at The Padre Hotel start at $159 per night and can be booked here.
Visalia, CA
The building that now houses The Darling Hotel was originally the Tulare County Courthouse Annex, a five-story art deco structure built in 1935. The main courthouse was destroyed in an earthquake in 1952, but the annex building remained standing. Tulare County used it as offices before it was eventually abandoned in 2008. In 2020, it was renovated and reopened as The Darling Hotel.
Perhaps even more remarkable about The Darling is that it was purchased and restored by five local families instead of a corporation. The hotel has 32 rooms with art deco-inspired furnishings, marble-tiled bathrooms, and modern creature comforts like Smart TVs and steeped coffee bags from a local roaster, Component Coffee Lab. There is an outdoor heated swimming pool and a 24-hour fitness center.
The Darling has Visalia's only rooftop restaurant, The Elderwood, which serves craft cocktails and food from locally sourced ingredients. Rooms at The Darling start at $179 per night and can be booked here.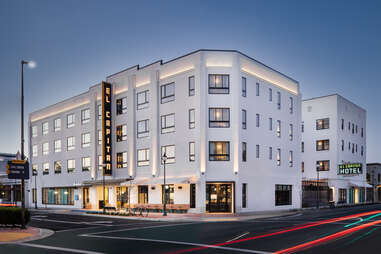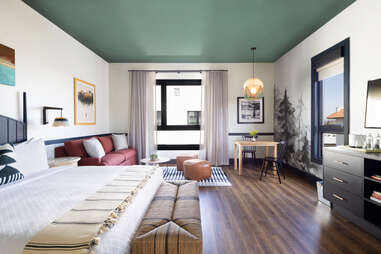 Merced, CA
The original El Capitan hotel was built in 1872 on 16th and N Street, but it was torn down to make way for a new railroad station in 1900 and rebuilt at its current location on Main and M Streets in 1912. The new El Capitan, which opened in 2021, incorporates new construction and a historically preserved annex wing reconstructed in 1936 following a fire. Even the newly constructed portion of the hotel includes materials from the original El Capitan, from the terracotta floor to wall paneling. Historic train depots inspire the lobby and common areas, and throughout the hotel are original artworks that were created by local artists or depict the region's agricultural ties.
The 114 rooms combine vintage touches like record players and rotary phones with modern amenities, including flat-screen TVs and Beekman 1802 toiletries. El Capitan is also home to Merced's best fine dining restaurant, Rainbird, which offers tasting menus prepared using local ingredients from farms in Central California. The hotel initially reopened as a Joie de Vivre property but recently switched to new management. Rooms at El Capitan start at $175 per night and can be booked here.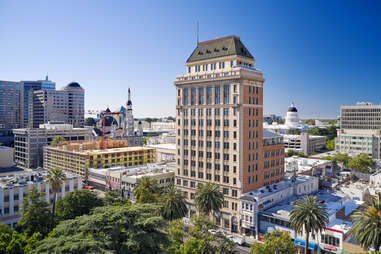 Sacramento, CA
The Citizen Hotel occupies one of Sacramento's oldest skyscrapers, a 14-story building built in 1925 for Cal Western Life Insurance by California's first state architect, George Sellon. The beautiful Beaux Arts building was converted into a hotel in 2008 and recently underwent another major renovation. The original arched grand entrance leads to a lobby that maintains the 1920s look and feels more like a library with shelves of books and velvet armchairs. On the other hand, the guest rooms received a new contemporary makeover with a subdued color palette and jewel-toned accents.
Because of The Citizen's proximity to the state capitol, which can be seen from parts of the hotel, it seems appropriate that the rooms feature vintage political cartoons instead of traditional artworks. Each guest room also boasts high-thread Italian linens, down pillows, and a spacious work desk. Stay fit using the hotel's fitness center or grab dinner at the on-property restaurant, Grange Restaurant & Bar. Grange features a two-story wine vault and a farm-to-table menu, making the restaurant one of Sacramento's best. Rooms start at $273 per night and can be booked here.
Fiona Chandra is an Indonesian-born freelance food and travel writer but she now calls Los Angeles home. When not eating and traveling, she's probably watching crime shows.