11 Stunning LA Hotels For When You Need a Staycation Reset
You don't have to go far.
Photo courtesy of The Edition
After staying close to home for the last year, not only do we know all of our neighbors by name, but we can now walk our surrounding streets backwards and blindfolded without a problem. Suffice to say, we're all ready for a change of scenery, and with California preparing to fully reopen, it's an impulse we can once again act upon.
Thankfully, we don't need to go far to reset with relaxing ocean landscapes, peaceful zen-like hills, or even a glitzy, over-the-top quintessentially LA stay. And to make it even more tempting to ditch your bed for one you don't have to make up in the morning, many hotels offer discounts and other incentives for locals in need of a staycation. Whether you're simply looking for a new neighborhood to prowl or if you're a tourist who wants to make the most of your stay, here are our favorite hotels around Los Angeles and everything you need to do if you decide to leave your room:
Home to the Sunset Strip, scores of fine dining restaurants, and luxury designer boutiques, plus many of LA's favorite gay bars, West Hollywood packs a ton to do in just two compact square miles. Think of the neighborhood as Hollywood's designer sibling, with plenty of crosswalks and narrow two-lane streets that make it one of the city's most walkable neighborhoods and a premiere destination for bar hopping.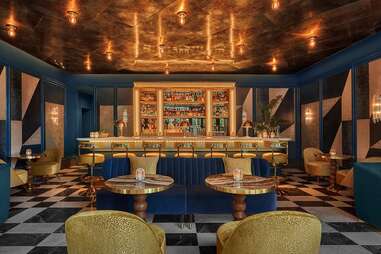 Where to stay: Right in the center of the action, luxury boutique hotel The Pendry is the latest addition to the Strip, boasting amenities that make it tempting to never leave the property, including a live entertainment venue, screening room, bowling alley, state-of-the-art fitness center, and The Britely, the hotel's exclusive, members-only social club. The Pendry also marks the highly anticipated return of chef Wolfgang Puck to the Sunset Strip as he helms the hotel's food and beverage concepts. Merois comes with stunning views of Sunset Blvd below and features some of Puck's most beloved dishes, plus new seasonal offerings that pair perfectly with the magical, open-air setting. Slightly more relaxed in atmosphere, Ospero features a wood-burning pizza oven and quaint, al-fresco terrace where guests can enjoy a casual meal any time of the day. Cocktails and small bites curated by Puck are also available at the intimate Bar Pendry and the rooftop pool.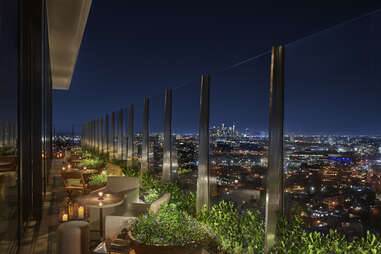 Launched in late 2019, it's understandable if you missed The Edition's unfortunately timed pre-pandemic opening, but now that you know, you can plan accordingly. The boutique hotel has 190 guest rooms, 48 suites, and two penthouses to choose from, all of them equipped with modern amenities and with many featuring large floor-to-ceiling windows and outdoor terraces complete with panoramic, palm-tree studded views. A stunning pool and bar await guests on the rooftop, with a Mexican-influenced dinner menu being served from 4–10 pm, and a beverage program that takes similar inspiration with tropical cocktails and plenty of agave spirits. Chef John Fraser spearheads the hotel's entire food and beverage program, which also includes Ardor, an all-day restaurant that plays on Fraser's California upbringing with a veggie-forward menu that's sourced locally.
Things to do: If you decide to venture outside of your hotel for food, West Hollywood is flush with options, ranging from casual eats to Michelin-starred luxury dining. For the former, head to chef Kris Yenbamroong's Night+Market for a menu of Thai family-style dishes and a stellar natural wine list. Norah's is a great option for eclectic American fare, or try the newly arrived Soulmate restaurant for Mediterranean-inspired shareable plates. E.P. and L.P. is the perfect place to park yourself and spend the day volleying between the newly revamped E.P. Restaurant, the rooftop on L.P, and the adjoining Las Palmas pop-up that feels like you've landed in a Baja California playground. Visit Employees Only's outdoor iteration Summer Social Club for cocktails and bites by up-and-coming restaurateurs who pop up throughout the week, then end your night at Harriet's Rooftop, where you can cozy up in Dave's corner, a nook dedicated to comedian Dave Chappelle, with well-crafted cocktails and a stunning view of the city. For LGBTQ-friendly entertainment, try Hamburger Mary's for a one-of-a-kind drag brunch experience, the Bayou for a Cajun-inspired dive bar with a late-night happy hour, and The Abbey for dancing, drinks, and surprisingly delicious desserts that are served till 2 am.
With the San Gabriel Mountains acting as its picturesque background, Pasadena provides a slower pace and fewer crowds, plus an array of compelling restaurant options and plenty of green spaces for recharging. Not the most walkable area of town, get around on the Metro's Gold Line or Pasadena Transit buses that allow free transfers between routes within 2.5 hours of your first ride.
Where to stay: Originally opened as a winter resort in the early 1900s, The Langham Huntington continues to attract guests who turn seasons into verbs ("We winter in Pasadena every year") more than a century later. Now open year-round, the luxury hotel offers free historical property tours to hotel guests, providing an overview of the 23-acre property and showing off California's first Olympic-sized swimming pool and courts where actress Jean Harlow once played badminton. There are more than 400 rooms to choose from, including a bounty of cottages and suites available for upgrade, and if you really want to take your pampering to the next level, book an appointment at the on-site Chuan Spa, which offers a sauna and herbal steam room, plus skincare and signature treatments inspired by Chinese Traditional Medicine. On the dining side, the poolside Hideaway is ideal for quick eats and grab-and-go options, while The Terrace offers a locally sourced Cal-fresh menu in an al fresco setting. Enter the Prohibition-inspired Tap Room for cocktails and artisanal wines served alongside elevated bar bites.
Things to do: Fun fact for the history and architecture nerds: all 22 blocks of Pasadena's Old Town have been designated under the National Register of Historic Places, meaning you'll be treated to Art Deco buildings and adorable brick-lined alleys as you peruse the pedestrian-friendly streets. An additional bonus? Old Town happens to be a hub for fine dining, with longtime favorites like Venezuelan coffee and chocolate shop Amara's Cafe, Bone Kettle for craveworthy bone broths and Southeast Asian eats, and sibling restaurants Union and U Street Pizza for Italian fare with locally sourced ingredients. Neon Retro Arcade is reopening as of June 18, with over 50 vintage arcade and pinball games that you can play as much as you'd like for just $10 an hour or $25 for a full day that includes re-entry. Over 125 years old, two-story Vroman's Bookstore is the oldest bookstore in Southern California, which we think is reason enough to stop by and support the shop with a purchase. Even with the Library Exhibition Hall and a few other galleries still closed, you can easily lose an afternoon strolling the 14 gardens at The Huntington, as well as the Huntington Art Gallery, the MaryLou and George Boone Gallery, and a portion of the Virginia Steele Scott Galleries of American Art that remain open. If you happen to visit on the second Sunday of the month, Pasadena's Rose Bowl Flea Market celebrates its 50th anniversary this year and is a gold mine for vintage wares and antique furniture.
If Weho is Hollywood's designer sibling, does that make Hollywood the generic option? Maybe, but sometimes as-seen-on-tv is exactly what we're craving, complete with our favorite Marvel and DC superheroes charging for photos at the corner of Hollywood and Highland. And in true Tinseltown fashion, Hollywood is a neighborhood that rewards those in the know, whether its access to a hidden, speakeasy-style bar, after-dark movie screenings in a fabled cemetery, or a historic, seven-acre Japanese garden perched in the hills.
Where to stay: The nearly-century-old Hotel Roosevelt might seem like the expected move for a Hollywood staycation, but it's one that's easy to easy to justify when it not only drops you right in the center of the Hollywood scene, but comes with food and beverage options like Italian steakhouse The Barish from famed chef Nancy Silverton, perfectly charred burgers from 25 Degrees, and Italian-inspired bites alongside craft cocktails and lawn games at The Spare Room… Somewhere Else. Plus there's that famous David Hockney-painted pool that's open exclusively to hotel guests and members of the Tropicana Swim Society.
But if you're looking to be a trendsetter (and in Hollywood, who isn't?), The Godfrey is finally taking August reservations. The latest luxury boutique has been teasing its opening since 2019, and will feature one of the largest rooftops in the area. Walking distance to all of the Hollywood hotspots, The Godfrey will dazzle with curated art displays, four bars, and an on-site restaurant that's billed as a "gastropub-meets-steakhouse."
Prefer to stay away from the action? The Cara Hotel is tucked away at the base of Griffith Park in Los Feliz, not far from the seminal Hollywood sign. Awash in muted tones, with bright rooms that feature private balconies and stunning views, plus a dipping pool and an on-site restaurant featuring a rotating selection of sustainably sourced, seasonal dishes, Cara offers a way to reset while still enjoying the best our city has to offer.
Things to do: After a year plus spent indoors, we certainly won't begrudge you for wanting to play Hollywood tourist. Taking a slow stroll down the main Walk of Fame drag to ogle at the various street performers and find your favorite entertainer's star is basically a rite of passage. Whenever you need a break, pop up to the rooftop at Mama Shelter and take in the 360 degree views with a cocktail in hand. Crate diving at Amoeba Music's new location is a must, and The Record Parlour is right around the corner with additional vinyls, posters, and records to peruse. Food options are aplenty: you can go the tourist route and nosh on diner food at Mel's Drive In, grab a slice of focaccia bread pizza at L'Antica Pizzeria da Michele, order your favorite Thai dishes at Luv2Eat Thai Bistro (don't be fooled by let the non-descript strip mall location), or go glam with a ride through Hollywood's winding hills that will lead you to the historic Yamashiro restaurant with Cal-Asian eats alongside an incomparable, bird's eye view of the city below. For after-dark fun, Good Times at Davey Wayne's is always well, a good time, as are most of Houston Hospitality's Hollywood bars, which also include No Vacancy, Black Rabbit Rose, and Madame Siam—each with its own fun and immersive theme. The best part? All of the bars are within easy stumbling distance of each other. Cinespia returns to Hollywood Forever Cemetery with a screening of Priscilla Queen of the Desert, in partnership with L.A Pride on Saturday, June 26, but they'll be screening movies all summer long in case you can't make the Pride Night showing.
Think of this famous LA enclave as a quintessential SoCal coastal town on steroids. It's home to a blissfully big beach, amusement-filled pier, increasingly excellent restaurant scene, live music venues, one of the best farmers markets in all the land, and Larry David. It's also a nightmare for drivers, but if you take the Expo Line here you can easily go car-free all weekend long.
Where to stay: Fronting Ocean Avenue, the Fairmont Miramar Hotel & Bungalows has surprisingly sprawling and lush grounds, anchored by the famous fig tree at the stately entrance along with luxe rooms, an intimate pool, and airy onsite restaurant Fig, which boasts a noteworthy happy hour Monday–Friday from 5–6pm where everything on the menu is half off. A couple of miles down the coast is the recently restored Venice V Hotel, Venice's only beachfront lifestyle hotel that, in its previous iteration as The Waldorf, once hosted the likes of Charlie Chaplin. With picturesque ocean views from each of their rooms and themed suites that range from The Artist to The Athlete to The Sun Lover, The Venice V caters to LA's creative nomads, providing the perfect setting for a personal artist retreat.
Things to do: You may have noticed there's a very large beach here, and you can easily fill a whole weekend with boogie boarding, surf lessons, stand-up paddleboarding, or just beach bumming it. For fun on dry land, you can rent rollerblades or bikes and cruise the paved path that parallels the beach. You'll need a car or Uber to get any hikes in, but they're worth it; try the always-jamming Los Leones Trail in nearby Pacific Palisades, or the bite-size 2.6-mile Temescal Canyon Loop that gains a good 900 feet. On Saturday mornings, follow the crowds to Santa Monica's monstrous Downtown Farmers Market, where you'll see wandering white-coated chefs picking up seasonal produce; it butts up against the Third Street Promenade, which you can stroll afterwards for a retail fix of mainly big national names like Apple and Adidas. Whatever you do, make sure you stop by Santa Monica Pier for fair food, bumper cars, arcade games, and take a loop around the ferris wheel for a stellar sunset view. If you're still hungry after your farmers market haul, head to Cassia's historic art deco space for a seafood-driven dinner of Southeast Asia-meets-California dishes, then skip dessert and slip out for a sip and a cheese plate at the adjacent wine bar Esters. A bit further from the beach you can hit up newcomer Fia with a Coastal Cal-Ital Mediterranean menu served on a posh patio that's covered in a clear tent come winter for dining under the night sky without the chill. Check out our full Santa Monica dining guide for more inspiration.
Downtown LA has experienced a renaissance in recent years, shifting from a once-gritty, affordable artist haven to an entertainment and dining hub that's quickly become crowded with luxe live-work loft apartments, polished cocktail lounges, and towering skyscrapers that are adding new peaks and valleys to the iconic skyline.
Where to stay: The historic Hotel Figueroa is a quick walk from the Staples Center and other Downtown attractions, but with a wraparound lobby bar, fantastical art gallery, coffin-shaped pool, outdoor deck for morning yoga, plus the Veranda poolside restaurant with Mexican-inspired eats and cocktails, you might be tempted spend your entire staycation on the premises. If you want to go all out, book the Featured Artist Suite and immerse yourself in a mini-museum with lush plant life and new and original works from artist Shyama Golden, whose mesmerizing collection The Portal is on display throughout the hotel for the remainder of 2021. Just down the block in the Fashion District, the Proper Hotel will open its doors this July, updating a landmark building with Mexican modernist design and a rooftop pool deck, plus three new dining concepts led by James Beard Award-winning chef Suzanne Goin and restaurateur Caroline Styne.
Things to do: Stop into the LA outpost of the global gallery of Hauser & Wirth with rotating exhibitions, an attractive outdoor courtyard and garden, and the city's first Artbook store. Also located in this space is Manuela and their new outdoor concept, aptly called The Garden, with both serving seasonally driven Southern plates and elevated cocktails. There's also the 28,000-square-foot Art Share LA, featuring the work of several dozen artists, in addition to Arts District Co-Op, full of independent retailers, stalls, and pop-up shops. Get your game on at Two Bit Circus, a "micro-amusement park" with tons of classic and virtual arcade cabinets (as well as some VR-infused escape rooms). Wait until Sunday to make your way to Row DTLA, a massive 32-acre, pedestrian-friendly complex that hosts the open-air food fest Smorgasburg on Sundays, featuring hundreds of vendors hawking everything from birria burritos to Burmese bowls. The always-crowded market was closed throughout the pandemic, but will resume its weekly event beginning on July 4. Guerrilla Tacos does a rotating menu with fillings ranging from carnitas to crab, all of which you should try. Don't skip over the still-buzzy, modern Middle Eastern spot, Bavel, where you'll get the duck 'nduja-topped hummus and kebab of meaty oyster mushrooms. Everson Royce Bar is the place to go for a menu of thought-out Boilermakers (you can't go wrong with the Radler and Mezcal), along with barrel-aged cocktails on the giant, tree-dotted back patio.
Silver Lake's undergone round after round of gentrification since the '90s, and while residents rightly lament that it ain't what it used to be, there's still a lot to love here. You can sip coffee at a quiet cafe, take fresh-air walks around the reservoir, do some vintage shopping, hit a renowned restaurant, and watch live music late into the night all in the same day.
Where to stay: Silver Lake got its first cool hotel with the opening of Palisociety's Silver Lake Pool & Inn. After a complete overhaul of a dilapidated '80s motel, the new space features 54 rooms with a mid-century feel thanks to grainy woods, velvet furniture, and custom terrazzo work. The place indeed boasts a big pool on an elevated deck in addition to the patio-heavy onsite restaurant and glam bar Marco Polo, doling out Cal-Italian fare.
Things to do: A stroll around Silver Lake's man-made, two-mile-plus reservoir could make for a zen start to your day. You can also take a break on the grassy Silver Lake Meadow, ideally with some selections from nearby Say Cheese, surrounded by native plant gardens, more walking trails, and views of the reservoir. Since Silver Lake is surrounded by hillsides, you'll find lots of steep (and public) staircases all around, but for a standout set that also boasts a bit of art, head to Micheltorena Silver Lake Stairs, made up of nearly 200 steps lined with trees and flowers with the bottom section painted in ultra-Instagrammable rainbow colors. Then check out well-curated Silver Lake Wine to do a little post-climb wine shopping (and sipping, if you can catch one of the regular tastings). Bright and airy Botanica relies heavily on fresh farmers market ingredients, and you can also pick up a quick house-made pastry or tahini bar if you're on the go. Get a taste of vegan soul food at brand-new VTree, or make your way down the block to All Day Baby for non-vegan, Southern-fried favorites. Pop into Eszett for an order of Big Fries that you won't want to share, plus a thoughtful wine list that features little-known Austria and California producers. For good brews and an even better rooftop beer garden, make your way to The Red Lion, a 60-year-old chalet-style institution with a Bavarian theme and tons of German offerings.