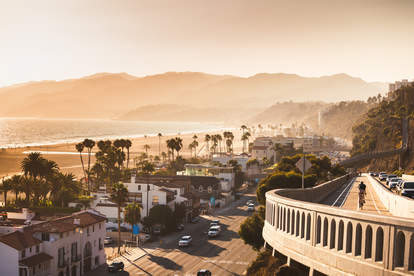 The Best Neighborhoods in LA to Spend a Whole Weekend
Whether you're a visitor or a local, navigating Los Angeles can feel overwhelming  -- probably because it sprawls for a whopping 469 square miles. By comparison, Boston clocks in at just under 90. That size requires a different approach: Instead of trying to tackle it all by racing from the beach to Downtown in one dizzying weekend, we recommend taking it slow. Focus on a single part of town so you can dig a little deeper while eating, drinking, and doing like a lifetime local for a few days. Here are five neighborhoods to consider for your next LA jaunt.
SANTA MONICA 
Think of this famous LA enclave as a quintessential SoCal coastal town on steroids. It's home to a blissfully big beach, amusement-filled pier, increasingly excellent restaurant scene, live music venues, one of the best farmers markets in all the land, and Larry David. It's also a nightmare for drivers, but if you take the Expo Line here you can easily go car-free all weekend long. 
Where to stay: Fronting Ocean Avenue, the Fairmont Miramar Hotel & Bungalows has surprisingly sprawling and lush grounds, anchored by the famous fig tree at the stately entrance along with luxe rooms, an intimate pool, and airy onsite restaurant Fig with a dedicated "cheese guy." The modern Shore Hotel feels more urban than beachy, but boasts ocean views from many of its sleek blue-walled rooms filled with sustainably sourced furnishings.
Things to do: You may have noticed there's a very large beach here, and you can easily fill a whole weekend with boogie boarding, surf lessons, stand-up paddleboarding, or just beach bumming it. For fun on dry land, you can rent rollerblades or bikes and cruise the paved path that parallels the beach. Trapeze School New York's LA location is right at the Santa Monica Pier, where the exhilaration of flying through the air circus-style is paired with the Pacific Ocean as a backdrop. You'll need a car or Uber to get any hikes in, but they're worth it; try the always-jamming Los Leones Trail in nearby Pacific Palisades, or the bite-size 2.6-mile Temescal Canyon Loop that gains a good 900 feet.
On Saturday mornings, follow the crowds to Santa Monica's monstrous Downtown Farmers Market, where you'll see wandering white-coated chefs picking up seasonal produce; it butts up against the Third Street Promenade, which you can stroll afterwards for a retail fix of mainly big national names like Apple and Adidas. For artsier independent boutiques and galleries, meander along nearby Main Street, which is also home to the California Heritage Museum, located inside the landmark Roy Jones House, built in 1894. 
Best restaurants: Stop by Ari Taymor's brunch-only Little Prince on Main Street, where many of his seasonal-inspired dishes with come out of the wood-burning oven (including the nine-grain pancakes). For a quick lunch along the Promenade, go for a mouth-torching fried chicken sandwich from David Chang's Fuku, part of the SocialEats. It's also worth a pilgrimage to Bay Cities, the Italian deli destination famous for sandwiches like its signature Godmother (layered with every meat known to man).
Step into Cassia's historic art deco space for a seafood-driven dinner of Southeast Asia-meets-California dishes, then skip dessert and slip out for a sip and a cheese plate at adjacent wine bar Esters. A bit further from the beach you can hit up newcomer Fia with a Coastal Cal-Ital Mediterranean menu served on a posh patio that's covered in a clear tent come winter for dining under the night sky without the chill. Check out our full Santa Monica dining guide for more inspiration.
Bars and nightlife: Bands of all types play several nights a week, including weekends, at underground vintage-y bar Basement Tavern. Check the calendar for live band karaoke. For cocktails and jazz, pay a visit to new tropical-inspired cocktail lounge Canary, where you can catch Grammy-winning headliner Dave Yaden kill it on the piano every Sunday night along with his band, rotating vocalists, and occasionally, burlesque dancers. 
CULVER CITY 
Culver's roots are in the movie industry, but new hotels and mixed-use projects are continually popping up thanks to a Silicon Beach boom and the arrival of an Expo Line stop. The neighborhood will likely look different in a year or two, so now is a good time to check out historic long-standing spots and buzzy new arrivals alike. 
Where to stay: The '20s-era flatiron-shaped Culver Hotel once put up cast members during the filming of The Wizard of Oz, and you'll now find memorabilia displays and old photographs throughout the property. The hotel underwent a renovation several years back; the grand lobby is now a good spot to catch live music, and its 46 rooms feature hardwood floors, chandeliers, and custom furniture. The ocean-blue Palihotel Culver City opened last year with 49 Art Deco-influenced rooms in a former boarding house, as well as Simonette: its ground-floor all-day French bistro-style restaurant with an attractive courtyard patio (which many of the rooms look out onto) and a classic cocktail program. 
Things to do: Wind your way through the immense mixed-use complex Platform to get your shopping fix, stopping at scratch-made ice cream shop Van Leeuwen for a scoop of honeycomb or vegan mocha latte along the way before plopping yourself down on a reclaimed lumber-made bench at the mural-flanked greenspace Platform Park. Dozens of art galleries are ready and waiting within the burgeoning Culver City Arts District, with a cluster around the intersection of Washington and La Cienega just east of downtown.
For a quick workout, join the hundreds of fellow climbers who take on the 282-step Culver City Stairs: a steep set that takes you to the Baldwin Hills Scenic overlook for sweeping views of the city. Whether or not you're a history buff, it's worth a visit to the one-of-a-kind Wende Museum, which boasts a seriously fascinating collection of Cold War art, artifacts, and archival documents from the Soviet Union and Eastern Europe. Get your fix of evening culture with an off-beat show at The Kirk Douglas Theatre, part of the Center Theatre Group and housed in a glam old movie palace.
Best restaurants: We've got a whole guide dedicated to Culver's best restaurants, but here are some highlights. Start your day with a space-age vibe and seriously inventive Scandinavian-influenced fare at Destroyer, Jordan Kahan's daytime (and much more affordable) counterpart to his over-the-top, tasting menu-only architectural gem Vespertine.
Head back over to Platform for some of Culver's best new dining destinations, like the West Coast outpost of Carlo Mirarchi's beloved Brooklyn pizzeria Roberta's, or the boho-glam Margot with its bustling glass-enclosed dining room and attached wow-worthy rooftop patio. Pay a visit to just-opened Piccalilli, where the guys behind food-truck favorite Mad Pambazos are crafting artful dishes using SoCal ingredients to mash up flavors from both Asia and the Southeast US. 
Bars and nightlife: No-cover live jazz happens every single night of the week inside the lobby of the Culver Hotel, where you can stake out a seat on a sofa by the fireplace and take in the tunes. Upstairs, the more intimate Velvet Lounge is also a solid scene minus the music. Pass through a closed-for-the-night barbershop to arrive at the speakeasy-style Blind Barber, which churns out solid craft cocktails and, randomly, a solid selection of grilled cheese sandwiches. Stanley's Wet Goods is a small-but-mighty wine/craft beer bar that gets jammed with post-work tech types on weeknights and hosts live music Sunday eves. Seventy7 Lounge is a back-alley cocktail bar with serious Parisian-vintage glam vibes inside, courtesy of its dimly lit chandeliers and retro Absinthe fountains. 
KOREATOWN
It may be less than three square miles, but this diverse neighborhood packs a punch with restaurants that go far beyond Korean BBQ, cool cocktail bars, Art Deco architecture, day spas, and some of the best karaoke dens in town.
Where to stay: Minimalist rooms with floor-to-ceiling glass, a sunny pool deck, and in-house dining and dancing options make Sydell Group's The Line a no-brainer. The hotel's greenhouse-enclosed eatery Openaire dishes up seasonal shareable plates and fresh cocktails, and its '80s-themed club Break Room 86 is tucked-away gem complete with arcade and games, menus hidden inside VHS cases. The nearly century-old Spanish Colonial Hotel Normandie has a totally different vibe with its original neon rooftop sign, Old Hollywood-style lobby, and rooms with leather upholstered-headboards and throw rugs. Classic-style burger joint Cassell's Hamburgers and precious cocktail den Club Normandie are both hidden inside.
 
Things to do: Koreatown's got a ton of great spas, but the most well-known wellness hub is the 24-hour Wi Spa, with its hot and cold pools and luxe "progressive" saunas. If you don't want to decide between golf and spa time, head for Aroma Spa and Sports where you'll get your drive on at the four-level range before unwinding with the sauna, baths, and massage offerings afterwards. You can also indulge in sensory (and retail) overload at neighborhood hub Koreatown Plaza, the frenetic sharp-edged indoor shopping mall perfect for both people watching and retail therapy.
Best restaurants: The versatile H Cafe does a daily all-day brunch with classic breakfast plates, along with lots of fried chicken-focused options, while lunchtime crowds swarm strip mall stalwart Kobawoo House for its specialty bossam. Hit the food court in the bowels of the Koreatown Plaza mall for a mix-and-match personal food fest, with massive $11 plates of deep-fried pork cutlets and sides from Tonkatsu House and steamy hot stone bibimbap from Gamja Bawi.
 
If you only have a single Korean BBQ meal, do it at Park's BBQ; just try not to get overwhelmed by the expansive menu. For a more raucous atmosphere, try Kang Ho-dong Baekjeong, where you'll find of marvelously marbled short ribs and rib eyes, slices of brisket, and hunks of pork jowl cooked over hot coals. It's also impossible to discuss Koreatown's food scene without mentioning Here's Looking at You, a critical darling and local favorite where the global dishes are boldly flavored, and the 50-seat dining room is always jam-packed. 
Bars and nightlife: You're in karaoke heaven, so prep your pipes accordingly. You can't go wrong at the rowdy Brass Monkey, where its wood-paneled suburban basement-feeling space is filled with a Soju-swilling crowd till the wee hours on weekends. For something more intimate, the neon-light bathed Pharaoh Karaoke Lounge offers 34 private rooms, 4,000 songs, a food menu, and bottle service packages. You can also book one of a few '80s-themed private spaces back at Break Room 86, for a steeper price.
ARTS DISTRICT   
For better or worse, this once-gritty neighborhood on Downtown's eastern edge is no longer the affordable artist haven it once was. Warehouse spaces and old industrial buildings have morphed into luxe live-work loft apartments, polished cocktail lounges, and some of the city's hottest restaurants. 
Where to stay: The brand-new boutique Firehouse Hotel is, indeed, located in a former firehouse building (you can enter through the original big firetruck-red doors and spot the markers on the floor where the poles used to stand). There are just nine guest rooms replete with pane windows and posh Parachute bedding and linens, each of which is done up differently and named for the vibrant color incorporated into its decor. 
Things to do: It's the Arts District after all, so stop into the LA outpost of global gallery of Hauser & Wirth with rotating exhibitions, an attractive outdoor courtyard and garden and the city's first Artbook store. There's also the 28,000-square-foot Art Share LA, featuring the work of several dozen artists, in addition to Arts District Co-Op, full of independent retailers, stalls, and pop-up shops. Get your game on at  Two Bit Circus, a "micro-amusement park" with tons of classic and virtual arcade cabinets (as well as some VR-infused escape rooms).
Wait until Sunday to make your way to Row DTLA, a massive 32-acre, pedestrian-friendly complex where you'll find the always-crowded open-air food fest Smorgasburg, featuring hundreds of vendors (on Sundays only) hawking everything from birria burritos to Burmese bowls.
Best restaurants: Pop by Bon Temps in the morning for a pan au chocolate or pastrami-laced croissant paired with a cold brew, or a raclette-topped burger and frites come lunchtime. Guerilla Tacos does a rotating menu with fillings ranging from carnitas to crab, all of which you should try. Don't skip over the still-buzzy, modern Middle Eastern Bavel, where you'll get the duck 'ndjua-topped hummus and kebab of meaty oyster mushrooms. Nearby at Nightshade, Top Chef alum Mei Lin focuses on a fusion of Asian fare including her famous prawn toast. At casual trattoria The Factory Kitchen, fresh pastas get paired with sauces like shellfish-saffron cream a house-made truffle butter. Michelin-starred San Francisco chef Melissa Perello also recently rolled out M. Georgina, her double-patioed new venture with a kitchen anchored around a wood-burning oven.
Bars and nightlife: Inspired by Japanese venues, hi-fi listening lounge In Sheep's Clothing boasts a beautiful display of both audio equipment and albums in a dimly lit space that feels straight out of Tokyo (but is actually hidden behind Lupetti). Just don't break the rules by talking above the music. Everson Royce Bar is the place to go for a menu of thought-out Boilermakers (you can't go wrong with the Radler and Mezcal) along with barrel-aged cocktails on the giant, tree-dotted back patio. 
SILVER LAKE 
Silver Lake's undergone round after round of gentrification since the '90s, and while residents rightly lament that it ain't what it used to be, there's still a lot to love here. You can sip coffee at a quiet cafe, take fresh-air walks around the reservoir, do some vintage shopping, hit a renowned restaurant, and watch live music late into the night all in the same day.
 
Where to stay: Silver Lake got its first cool hotel last year with the opening of Palisociety's Silver Lake Pool & Inn. After a complete overhaul of a dilapidated '80s motel, the new space features 54 groovy rooms with a mid-century feel thanks to grainy woods, velvet furniture, and custom terrazzo work. The place indeed boasts a big pool on an elevated deck in addition to the patio-heavy onsite restaurant and glam bar Marco Polo, doling out Cal-Italian fare.
Things to do: Silver Lake's man-made reservoir is fenced off, but it's still worth strolling the 2-mile-plus trail that surrounds it. You can also take a break on the grassy Silver Lake Meadow, ideally with some selections from nearby Say Cheese, surrounded by native plant gardens, more walking trails, and views of the reservoir. Since Silver Lake is surrounded by hillsides, you'll find lots of steep (and public) staircases all around, but for a standout set that also boasts a bit of art, head to Micheltorena Silver Lake Stairs, made up of nearly 200 steps lined with trees and flowers with the bottom section painted in ultra-Instagrammable rainbow colors. Then head to well-curated Silver Lake Wine to do a little post-climb wine shopping (and sipping, if you can catch one of the regular tastings). 
Best restaurants:Sqirl is guaranteed to have lines snaking out the front door, but stick it out for globally inspired bowls and a completely over-the-top ricotta toast. Bright and airy Botanica relies heavily on fresh farmers market ingredients, and you can also pick up a quick house-made pastry or tahini bar if you're on the go. Pop into sleek cafe Lamill for a wallet-busting coffee and the best raspberry muffin you'll ever have. Find out what all the fuss is about over Ma'am Sir, where you'll find longtime chef Charles Olalia serving up his unique take on Filipino fare. At the comfortable Alimento, Zach Pollack does a mix of regional Italian fare and house-made pastas that ranks among the best in the city. While quirky Mh Zh has no website, menus are written in marker on a paper bag, and its seating is limited, but you should still make time to try its Israeli-Mediterranean fare.
Bars and nightlife: For good brews and an even better rooftop beer garden, make your way to The Red Lion, a 60-year-old chalet-style institution with a Bavarian theme and tons of German offerings.  If you're looking for a different style of kitsch while you imbibe, try Cha Cha Lounge replete with thatch roof tiki bar, foosball tables, life-size Willie Nelson cut-outs, and an ultra-affordable happy hour that runs till 9pm nightly. And check the schedule for shows at indie rock live music mainstay Satellite.
Sign up here for our daily LA email and be the first to get all the food/drink/fun Los Angeles has to offer.