These Completely Road Trip-Worthy Cities Are Less Than a Day's Drive From Louisville... So What Are You Waiting For?
Drink in the last few dregs of good weather this fall by hitting the highway. Louisville folks are lucky to live in a town that's less than a day's drive from a surprising number of major cities east of the Mississippi. Our supreme location is why UPS has a hub here -- and why so many of America's packages pass through our city.
While we've all probably done the quick day trip down to Nashville, up to Cincy, or over to Indy and back again, for this last road trip of the season, it's time to venture a little further out. Be sure to take in a quirky site or two along the way -- after all, a good road trip is as much about the journey as the destination.
Atlanta in the Fall

| ESB Professional/Shutterstock
Atlanta, Georgia
6.5 hours, 417 miles
There's plenty to see and do in
Atlanta this fall
. If you're trying to stretch out the thrill of Halloween a little longer, head to Hotlanta for the
Buried Alive Film Fest
November 17th through the 20th: we're talking 20 hours of horror flicks at Five Points' 7 Stages Theatre.
Where to stop:
Flip a coin with your road-trip buddies to see who's going to be the DD who gets you all safely back on the road after your stopover at the Jack Daniel's Distillery in Lynchburg, Tennessee. There are several different tours to choose from, and while most of them are pretty walking-heavy, a bus tour is offered if that's more your thing.
The Sculpture Fields at Montague Park is a fairly new, highly Instagrammable attraction located in Choo-Choo-Chattanooga, Tennessee. Right now, there's 28 large-scale sculptures, and it's billing itself as "kite-friendly," so if you've got room in the car for one, go ahead and bring it.
Queens Road West in Charlotte, North Carolina

| Jill Lang/Shutterstock
Charlotte, North Carolina
7.5 hours, 472 miles
Kiss summer farewell aboard Charlotte's Brews Cruise. One of Charlotte's
33 things to do before you die
, this bucket list-worthy boat ride will introduce your taste buds to a selection of beers from the city's 30 local breweries.
Where to stop:
To get from Louisville to Charlotte, you have to pass right through the Great Smoky Mountains. While the mountains are certainly a sight to behold, one could argue the region's best offering is the inimitable Dollywood. We're talking 150 acres dedicated to one of the most charming women in existence, after all.
If a trip to an amusement park is too much of a time suck mid-trip, you can drive a couple hours more before getting out of the car to stretch your legs in Asheville, North Carolina. Get classy and have a glass of wine as you stroll around the Biltmore Estate. You might recognize these fancy digs as the mansion Macaulay Culkin called home in the 1994 cinematic masterpiece Richie Rich.
Courtesy of NMAAHC's Sweet Home Cafe
Washington, DC
9.5 hours, 606 miles
If you're part of the lucky set of folks who snagged tickets to the new National Museum of African American History & Culture in DC before they sold out, you're in for culinary delights at
the museum's Sweet Home Café
alongside historical exhibits at a museum that was long overdue.
Where to stop:
Make the Trans-Allegheny Lunatic Asylum in Weston, West Virginia, one of the sites you see along the way. This sprawling stone building served as a mental health facility until it was closed in 1994, when presumably it was discovered haunted buildings aren't so great for your psyche. You can get wild with a ghost tour or go mild and do a heritage tour.
This is your last chance to take in the oddity that is Lawyer's Farm in Thurmont, Maryland. For the low, low price of $7 -- plus an additional $10 if you want to take your turn on the pumpkin cannon (you do) -- you can tour this fully operational hay farm, which also happens to be a pumpkin patch, littered with zip lines, corn mazes, giant robots, and an equally giant teepee.
Chicago Helicopter Tours

| Courtesy of Kamil G Photography
Chicago, Illinois
5.5 hours, 325 miles
If you live in Louisville, you've probably already been to Chicago a dozen times, so see another side of the city on one of its many
great tours
. Get those legs pumping on Bobby's Bike Hike Chicago tour, or stuff yourself stupid with deep dish on Chicago's Pizza Tour -- don't forget to remind your road trip buddy to bring the Lactaid!
Where to stop:
Indianapolis is a destination unto itself, but it's also your best bet for an interesting stop on your way to Chicago. For a short, funky stop on your trip, visit the Museum of Psychphonics, a small shrine to Afrofuturism. The standout piece in the collection is a small-scale replica of the Mothership George Clinton used to make his stage entrance during Parliament Funkadelic shows.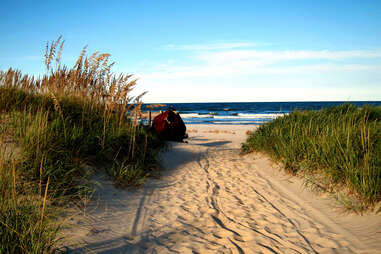 False Cape State Park

| Flickr/Taber Andrew Bain
Virginia Beach, Virginia
10 hours, 668 miles
Virginia is for lovers, so tell New Bae to buckle their seatbelt, you're headed to the beach. Get some alone time in at False Cape State Park, where you're sure to fall for the park's miles of pristine beaches and hiking/biking trails.
Where to stop:
Get an early start on your drive to the beach, and allow time for a detour to Point Pleasant, West Virginia, the home of the Mothman urban legend. This urban legend is so popular it gave the world The Mothman Prophecies book-- and a movie, too. Roadside America ranks it at as one of the best roadside attractions to see. Beyond the statue, there's also a Mothman museum to tour, and next year, if you pass through in the middle September, you can time your trip to coincide with the annual festival.
The Natural Bridge in Rockbridge County, Virginia, has been making lists like this one since before lists like this one were even a thing. Its website boasts that the "Natural Bridge is one of the oldest tourist destinations in America." The bridge is a natural arch made of limestone. Pass through now to also revel in all the fall foliage of the surrounding national park.
Orlando, Florida
13 hours, 855 miles
Chase summer south to Orlando. Early November is rumored to be one of the least busy times of year for all the area amusement parks. You'll also find that many have their Christmas decorations up by mid-month, so you can use your trip as an excuse to take a cutesy photo for your family holiday card -- you know, if you're into that sort of thing.
Where to stop:
If you don't want to get waylaid in Atlanta on your way down to Orlando, stop off for food in Marietta, Georgia. You'll find an eclectic mix of restaurants, all highly rated -- and delightfully diverse. You can feast on Trini, French, Cuban, Colombian, and Israeli food. Oh, and of course, BBQ.
Florida is so weird, you could probably hop off at any exit and find something worthy of your Snapchat story. But if your road trip lands on a weekend, Waldo Farmer's and Flea Market in Waldo, Florida is worth your time. You'll see more than 900 vendors shilling curiosities and delectables at this bazaar of weird… so stock up on road snacks while you're there.
Sign up here for our daily Louisville email and be the first to get all the food/drink/fun in town.
Minda Honey is a woman of many words with more than a few to say about Louisville. Follow her on Twitter & Instagram: @mindahoney.