8 New Arts Experiences in Miami, from Van Gogh to Graffitti Exhibits
Miami's art scene is back and waiting for you.
Presented By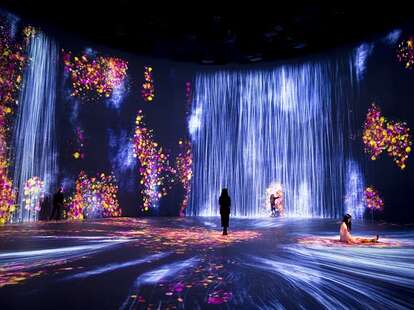 It's safe to say that Miami has shed its reputation as an "up-and-coming" art destination. Perhaps it was the arrival of Art Basel in the early aughts or the maze of murals that is now Wynwood, but Magic City has certainly solidified itself as a must-visit destination for art lovers. And as people from other art capitals like New York and San Francisco flock here, it only stands to get better. This rest of this summer and into fall, you can check out some of the world's best offerings for interactive and experiential art, as well as some standout new additions from local favorites. Read on for what to see, from Vincent Van Gogh to Tracy Turnblatt.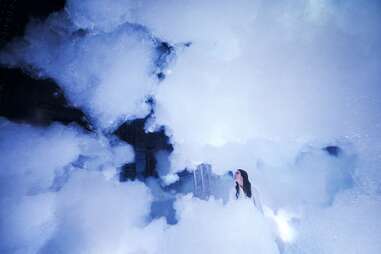 Superblue, Allapattah
The Instagram hit of summer has most certainly been Superblue, the new, 50,000-square-foot experiential art space in Allapattah. The first-of-its-kind museum features only three artists at a time, and actually gives them a cut of the ticket revenue as part of the deal. Its first exhibit is "Every Wall is a Door," a look at humanity and its effect on the environment. For this, you'll don a coat and goggles and walk through clouds in "Massless Clouds Between Sculpture and Life," touch perpetually-changing flowers on a wall and watch them wilt in real-time as you do, and climb a staircase made to look like lungs. Expect to enter a new state of mind on your tour — we're all for putting your phone down and taking it all in along the trippy journey. FYI: Because it's so popular, crowds can get big at Superblue even with timed entrances, so go during the week between 11 am and 3 pm to make the most of your time here. All staff are required to wear masks.
Cost: $36 for adults.
Olympia Theater, Downtown
It seems 2021 is the year of immersive Van Gogh exhibits, with not one but two gracing Magic City at the same time. This one at the Olympia Theater brings guests through 300-plus floor-to-ceiling projections of the artist's sketches, paintings, and simple drawings; providing a unique, larger-than-life retrospective of his work. It also boasts a virtual reality gallery called "A Day in the Life of the Artist," where you'll see through Van Gogh's eyes the spaces that inspired works like Vincent's Bedroom at Arles and Starry Night. Budget about an hour-and-a-half or so to get through it all, especially if you're planning to take pictures. Masks are required for all guests, with controlled capacity and traffic flow to encourage proper distancing.
Cost: $35 for adults; $20 for children.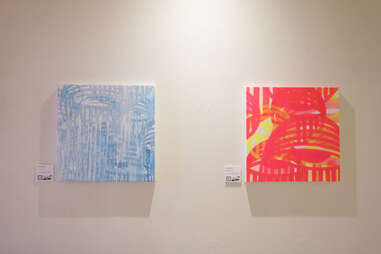 Confidante Hotel, Miami Beach
Wynwood's Museum of Graffiti has partnered with the Confidante Hotel to bring a little bit of Wynwood Walls to Miami Beach. This summer and fall, renowned graffiti artist Ahol Sniffs Glue (real name David Anasagasti) takes over the lobby with an eye-catching exhibit called "On Location." He's been serving as the hotel's artist-in-residence all summer, creating each piece onsite at the Confidante's 1930s House. Masks are suggested, and the hotel has murals and other artwork outside by the pool.
Cost: Free. No tickets required.
Wynwood
The world of being a woman is a complicated and challenging one to say the least, and Womanish founders and sisters Dionna and Danyelle Gray set out to create a visual and immersive way of expressing it. They teamed up with over a dozen artists to create 15 interactive spaces, where men and women alike can explore different facets of womanhood. Rooms like "Censordish," "Moodyish," and "Consumerish" allow guests to photograph themselves in a number of art installations designed to reflect various aspects of life. The exhibit runs at only 25% of the building's 5,000-square-foot capacity to maintain safe distances, and all non-vaccinated guests are required to wear a mask.
Cost: $37 for timed entrance ($47 for flexible entrance).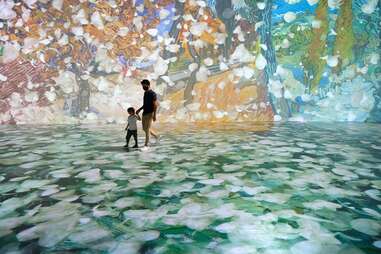 Ice Palace Studios, Wynwood
The other half of Miami's Van Gogh double header is this walk-through exhibit in Wynwood, which runs through September 12. The timed-ticket event begins with a colorful retrospective on the artist's life, where you'll learn how he went from a seminary student to artist who cut off his own ear, and much about his intricate relationship with his brother. Arrows direct guests into a large room where Van Gogh works surround you on screens, slowly replacing each other and setting you in the middle of some of his masterpieces. The portraits are particularly alluring, watch them carefully and see if you can catch the faces moving. Increased cleaning protocols are in effect and the venue offers plenty of room to spread out. Between this and "The Immersive Experience," you'll exit feeling like a veritable Van Gogh scholar.
Cost: $37 for 16+; $24 for children age 5-15.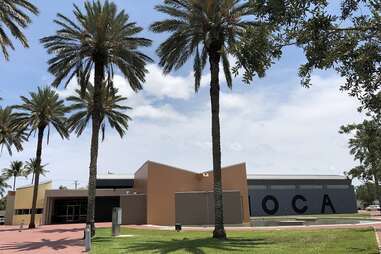 Museum of Contemporary Art, North Miami
During the height of the COVID outbreak, the Museum of Contemporary Art sought a way to bring art to people in a place where they felt safe. The result was Art on the Plaza, a year-long series of new, temporary public art from local artists. The works all sit in MOCA's breezy outdoor plaza, so guests can experience them while still breathing fresh air. Up next, from September 3 to November 14, artist Najja Moon will explore reflection and self-empowerment through a massive mirrored sculpture. Inside the museum, you can check out "My Name is Maryan" from November 17 through March. It's a full exhibit of paintings, drawings, film, and sculptures from Polish artist Maryan.
Cost: Art on the Plaza is free; $10 for adults for admission to the museum.

Adrienne Arsht Center for Performing Arts, Downtown
Live musical theater is finally back up and running in South Florida, and though the pandemic robbed us of a month of our Hamilton run, we've still got some solid shows coming to town over the next year. Hairspray hits the stage from December 28 – January 2, with six-time Tony winner Dear Evan Hansen coming to Miami February 15-20. Spring brings Anastasia from March 22-27, which while not exactly like the Disney classic is still pretty superb. The Arsht Center will be seating at full capacity, and requiring masks to be worn throughout the performance. If you want a drink or cookie at intermission, you'll be able to enjoy those at select shows, sans mask, at designated spaces around the theater.
Cost: Ticket prices vary by musical.
Allapattah
Though the Rubell Museum has been open since 2019, the largest contemporary art museum in the Southeast sometimes gets overlooked, tucked next to the Metrorail tracks in Allapattah. The sprawling museum includes 52,000 square feet of exhibitions, featuring early works from the likes of Jean-Michel Basquiat, Keith Haring, Jeff Koons, and Rashid Johnson. (So a visit here can easily fill half a day or more.) It's also home to Leku, a beautiful indoor/outdoor restaurant with fine dining takes on traditional Basque cuisine. The museum requires masks for its visitors, and it's fairly easy to stay apart from others with so much real estate to explore.
Cost: $15 for adults.
Clorox wants to help give you confidence to get back out there. That's why they've partnered with the Cleveland Clinic and CDC Foundation to form the
Clorox Safer Today Alliance™
, helping brands like United Airlines, Enterprise, and AMC Theaters create healthier public spaces for us all.
Clorox® Disinfecting Wipes
also come in convenient on-the-go sizes, so you're covered wherever you go.