W
hen people
visit Miami on vacation
they're here for one thing:
Publix Subs
. But also the beach. And our coastlines don't disappoint: we've got the best beaches of any big city in America, with swaths of bright white sand and turquoise water stretching for miles.
Of course, like so many of the beautiful things in Miami, our beaches aren't anything close to natural. When settlers first came to the shores of Biscayne Bay in the late 19th century, what's now Miami Beach was nothing but a collection of sandy mangrove islands, not good for much other than breeding mosquitoes. Then, Carl Fisher dredged the Bay and filled the island, threw up some hotels and covered the coast in sand, creating a vacation paradise that was never supposed to be there.
But ultimately, Miami is the beach. And the beach in its own little way, is Miami. It has grown to define Miami's identity. It went from 1950s celebrity playground to retirement community, to drug-fueled gangland, and then back to glamorous vacation destination -- all in about 75 years. Many beaches may look the same on the surface, but the crowds and neighborhoods that surround them are decidedly different. The Miami you'll find depends on which stretch of sand you're on.
Beginning on Miami Beach's southern tip at South Pointe Park, you'll walk past the glass high-rises and wealthy Europeans who have built the Miami of today. Moving north, you'll stroll past blaring Spanish music and smell cigars near 8th Street, like you might on the other Calle Ocho on the mainland. You'll wander through the gay section at 12th, and might happen upon a drag show at Palace. You'll see Instagram "models" taking the same bikini shot 100 times and club promoters handing out fliers. And somewhere, at some point, you'll see something completely bizarre and other-worldly, like a guy roller-blading with a python around his neck, and say to yourself, "Only in Miami."
To experience Miami without leaving the sandy confines of the beach, here are the eight best places to find great swimming, nude sunbathing, salsa music, deserted shores, snorkeling, and all the other things you come here to see.
Recommended Video
Please Don't Hang Up: The Best BBQ & Barcade in Dog-Friendly Kansas City
South Beach
Art deco hotels and rented lambos make up the Miami of pop culture fantasy
Thanks to LeBron James and a slew of geographically-ignorant basketball commentators, people seem to think ALL of Miami is South Beach. Not the case. South Beach is one section of Miami Beach, a barrier island chain across Biscayne Bay from the city of Miami. And though it can get a little toursity, if you've never been to Miami it's an absolute must-visit.
The art-deco-and-rented-Lambo South Beach of rap video fame sits primarily between Fifth Street and the Collins Canal at 24th Street, and is easily the most-visited part of Miami. It's home to the largest collection of art-deco architecture in the world, sidewalk salsa dancers, drinks the size of your head, and parrots you can pose with. Locals might not love it, but for a visitor it is quite simply the most "Miami" beach in Miami Beach.
As you start walking, the scene varies, starting off quietly around Fifth, turning into an all-out Latin music and hip-hop party around Eighth, LGBTQ around 12th, and luxury hotel cabanas around 17th. So it all depends on what you're looking for. The beach is massively wide, and even on a crowded Sunday there's plenty of space for everyone.
Where to eat/drink: Ground zero for all beachfront partying in South Beach is The Clevelander, a hotel on 10th Street with an outdoor pool and bar that birthed the Miami Vice frozen cocktail. It's absolutely worth hitting for one drink, and if you want more head to 8th Street and Wet Willie's, where you can enjoy even your frozen cocktails with a balcony view of the ocean. For something more refined, head to A Fish Called Avalon, possibly the best seafood restaurant in Miami. Or Havana 1957 if you want some sorta-authentic Cuban food. If you're dead-set on drinks-the-size-of-your-head Instagram pictures, nowhere is better than Sugar Factory. Just don't plan on eating anything for a while after.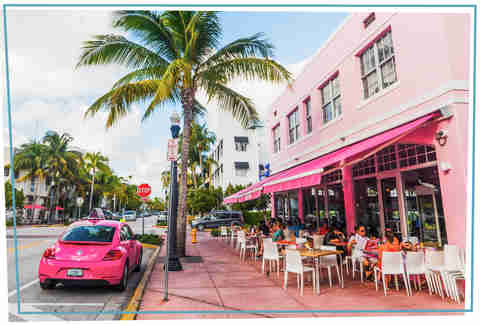 South of Fifth (SoFi)
The locals beach surrounded by glass towers
Technically, yes, South of Fifth is still considered South Beach. But turning right at the end of the MacArthur Causeway brings you into a far calmer, quieter, more-relaxed stretch of sand. The neighborhood is residential and only has a handful of bars and clubs, so the beach is not nearly as raucous as you'll find north of Fifth. There's a rock jetty at the end of the beach you can stroll. And on weekends the cruise ships sail by, creating the eerie sensation of watching a 20-story building float past.
This is the last part of South Beach where topless tanners tend to splay out, since the camera-toting masses tend to stay north. So European visitors feel more comfortable and at home. Parking can be a pain, however, as there are no close garages around. Your best bet is to arrive before 11am and snag a spot on the street, or park in the garage on 7th Street and walk south.
Where to eat/drink: SoFi is home to one of Miami's most storied dive bars at Ted's Hideaway, which is full of off-duty club workers and beach bums at noon, and strung out club-goers and escorts at 5am. There's also Big Pink, a classic diner serving breakfast all day and massive burgers, with a heaping side of bad service. Lulu's Surf Cantina has solid tacos at the Marriott Stanton. And Santorini by Georgios at the Hilton Bentley is the best Greek restaurant in Miami. For a fantastic view, hit the bar at Smith and Wollensky and watch the sunset over the Miami skyline.
Crandon Park
The postcard-perfect palm-lined paradise
Miamians know the best beaches in the city sit across the Rickenbacker Causeway in Key Biscayne. The first you'll encounter is Crandon Park, a soft-sand slice of paradise that feels like a deserted tropical island. The water here is bright turquoise and calm as a lake, making it the best place to bring kids who want to get in the bay. There's also no shortage of paddleboard and kayak rentals, and it's calm waters make it an ideal place to swim.
You'll have to pay to park if you drive -- $5 during the week and $7 on the weekend. But you can load your car up with people and it won't cost you extra. The beach isn't nearly as wide as you'll find in South Beach, but it goes on for a while and the distance from the city (about 40 minutes from South Beach with traffic) keeps the crowds down. It might be a little out of the way if you're staying in one of the tourist areas, but for a picturesque, palm-lined beach nowhere in Miami is better.
Where to eat/drink: Crandon Park doesn't have much in the way of concession stands, so your best bet here is to reserve one of the barbecue shelters and bring your own stuff. There's a Winn Dixie on Key Biscayne that sells whatever you'd want to grill (and beer!), and an afternoon alternating between the shade of the barbecue and the sun of the beach is one of the best ways to experience Miami.
Bill Baggs State Park
Feel like you're on a deserted island just a few miles from Downtown
At the far end of Key Biscayne you'll find Bill Baggs State Park, a slice of Florida's deep wilderness marked by a historic lighthouse and views out to Stiltsville. The narrow beach here feels like you've washed up on a marshy island, with views out to the ocean and nothing else. On a weekday in the summer, you'll often be the only person here, where you can set up shop under the lighthouse and enjoy the quiet seclusion. 
On the weekend, it's a different story as this beach is the most popular in the city among families. That's not to say it's not still a beautiful place, it's just to say that the parking lots might be full, and you'll be sharing the sand with a lot of little kids. Much like Crandon Park, the water here is usually still and shallow, and during the warmer months it can actually be hotter than the air outside. Still, Bill Baggs is the best way to see the landscape of what South Florida was before it went condo, while still getting in some quality beach time.
Where to eat/drink: The park has two restaurants -- Boaters Grill and Lighthouse Café. Boaters sits on a little bay carved out of mangroves, and is a peaceful place to enjoy fresh seafood while watching boats float in. As the name might imply, it's the most accessible if you're visiting the park by water. Lighthouse Café is closer to the beach, and offers the same fresh seafood as Boaters with a sprawling patio to take in the sunshine.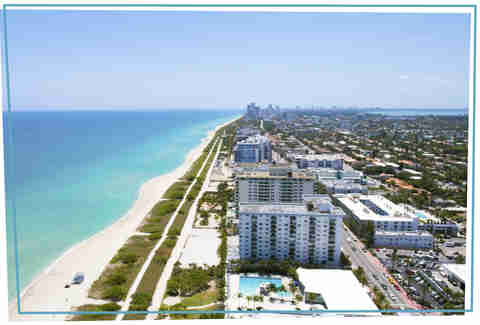 Surfside
Miami's best little beach town
The town of Surfside used to feel like a throwback to the Miami Beach of yesteryear, with an art deco main drag populated by delis, beach shops, and old Italian restaurants. But the city has transformed as of late, welcoming Miami's newest Four Seasons in 2017 and a slew of new restaurants that are drawing a lot more tourists. Now the beach that was once the domain of older folks and seasonal residents has a different crowd, as young families have flocked to Surfside for vacation.
The sand is the same coarse, dredged stuff you'll find in all of Miami Beach, fronting magnificent light blue water stretching off into the horizon. It's a quieter, more affluent feel than you'll find in South Beach, and is ideal for getting out of the hustle. It's also fairly easy to access, since luxury hotels haven't grabbed up all the beachfront land quite yet. Parking can be tricky, since there aren't many garages up this way. The city lot on 71st Street might be the best move, with a walk up the sand to Surfside.
Where to eat/drink: The delis aren't all gone from Surfside, and the best one to hit is Josh's Deli where you'll get giant hand-cut sandwiches perfect for taking to the beach. You can also cool off with ice cream from Serendipity Creamery, or relax after a long day in the sun at 26 Sushi and Tapas. For drinks, head to the new Four Seasons, where they've turned the historic old hotel that stood there into Le Sirenuse, where you'll have a sprawling view of the beach to go with a glass of cold rose.
North Beach
A throwback to the old days and communities full of Argentines and Israelis
North Beach, the last bastion of gritty art deco Miami Beach, sits around 71st Street, where mega developers and luxury hotels haven't quite taken hold. The neighborhood is ripe with communities from Argentina and Israel along with the usual mix of Latin American countries you'll find in Miami. So a day on the sand here will have you hearing at least four different languages and probably even more kinds of music. The beach is hyper-local, as tourists tend to skip over North Beach on their way from South Beach up to Surfside. It's got a big public parking lot, and is the best beach to hit if you want to go where the locals go. 
The park at 71st Street also has a big bandshell, where weekend music festivals and small concerts happen frequently. Check the city's website to see if anything is scheduled during your visit, as it's one of the most underrated venues in Miami.
Where to eat/drink: North Beach is the odd beach locale where you can still eat or drink affordably. El Rancho Grande has some of the best margaritas in Miami and sits just a couple of blocks from the sand. On the Rocks is a cool local dive bar that feels especially refreshing after being in the sun all day. If you want to drive a little, Shuckers on the 79th St. Causeway is a massive outdoor waterfront space and a local institution.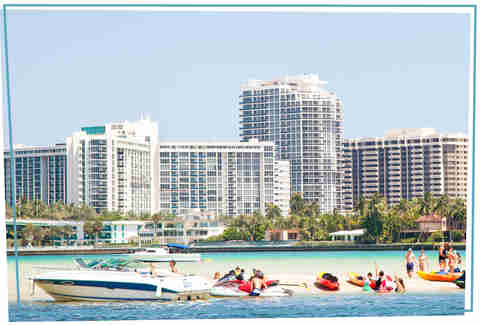 Haulover Beach
The local nude beach
For the unaware -- more on them later -- Haulover is Miami's nude beach. Well, clothing optional beach. But within about three minutes of walking onto the sand here, you'll feel like a colossal asshole if you're strutting around with your suit still on. If you're gonna go to Haulover, go all-in. The crowd is neither the nude beach of your fantasies filled with tanned European models and sexy swingers. Nor is it the sea of tattered sun-worn skin and white hair you've heard Florida's nude beaches can be. It's got literally everyone and every body type, with lots of families and foreign visitors mixed in.
You'll have to park across A1A in the park's lot, as there's nothing that's walking distance from here but more beach. It's $5-7 depending when you go, and you'll have to walk under the road, across the jogging path, and past the bushes before you disrobe. Within a few minutes it'll feel perfectly normal to be laying on the beach in nothing but sunscreen. And with so many people it's the perfect place to try nude sunbathing if you've never done it before.
Where to eat/drink (or in this case, some helpful tips): There's really nowhere to eat or drink here save for a single concession stand, so bring a picnic lunch along. Also, it is absolutely worth the $20 to rent a beach chair for the day; you'll be shocked at all the places sand gets even when you put out a towel. For a bit of entertainment, set up near the beach entrance and watch joggers who were not aware of Haulover's reputation stumble upon a sea of naked bodies. It happens at least twice an hour and the looks on their faces are always priceless. 
Hollywood Beach
A northeast-feeling boardwalk, with enough Florida to keep it weird
Technically the town of Hollywood isn't in Miami. But if you're staying north in Sunny Isles or Aventura, Hollywood Beach is easily the best beach. It's also the closest thing we have to a boardwalk beach town in South Florida, where bars, restaurants, and tacky tourist shops butt right up against the sand. It's the only place in South Florida where you can bar hop with a front row seat to the ocean, while heavily-tanned and colorful locals roll by on beach cruisers.
The sand is a little softer up here than you'll find down in Miami, and parking isn't too bad if you arrive early enough and park in the big municipal garage. It's also the best beach in South Florida for people watching, combining the convenience of a boardwalk with a local population of folks that look like they just stepped out of the Florida Man Twitter page.
Where to eat/drink: One of the best burgers in America can be found at Le Tub, a charming little beach shack sitting right on the Intracoastal. Just allow about two hours for the experience as there's always a wait and the burgers don't come quick. The Taco Spot might be the most underrated beach restaurant in South Florida, a high-quality Mexican joint right on the boardwalk. For something more upscale, hit Etaru at the Hyde Beach House where robata-grilled meats and exquisite sushi are served on a patio with sweeping views of the Atlantic.
Sign up here for our daily Miami email and be the first to get all the food/drink/fun in town.