Clearwater Beach

| Jon Bilous/Shutterstock
Clearwater Beach

| Jon Bilous/Shutterstock
No matter what's on the agenda when it comes to a Tampa visit, most out-of-towners are going to have one immediate question: what's the best beach? And hey, that makes total sense. The Gulf of Mexico is famous for its turquoise waters, pillow soft white sands, and a carefree barefoot vibe that makes it the ideal place to embrace a true beach vacation.
But let's be honest, when qualifying the best beach, there are so many things to consider. Are you someone looking for activities? A strip of old Florida beach bars? The chance to see wildlife? Or perhaps you just want to check the hell out and forget about life for a while. Lucky for you, these eight beaches have something for every type of beachcomber. As an added bonus, they happen to be -- hands down -- the best in the Tampa Bay area.
And I should know, I grew up going to all of them. Plus, I have the sunspots to prove it.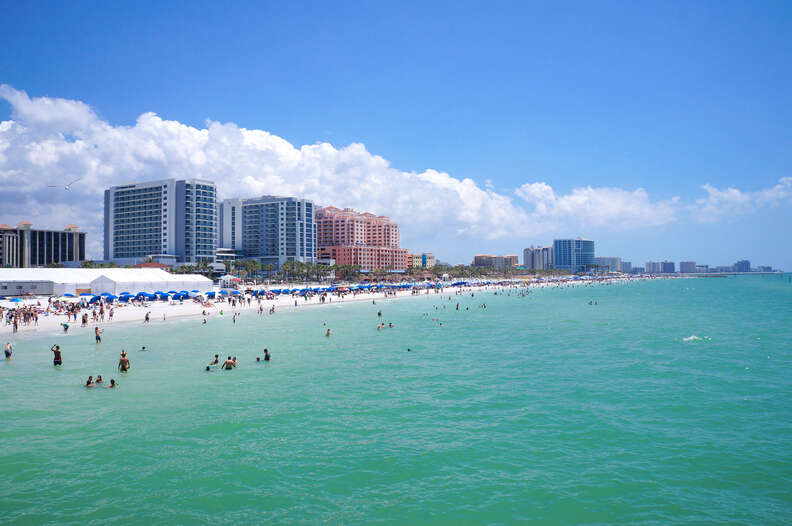 Clearwater Beach
Like Endless Summer, but with even better sand
Clearwater Beach is a right of passage in Tampa. For locals, it's likely the beach you frequented most in your teen years because of the rowdy scene at Pier 60; when you get older, you go there in spite of that (and the Scientologists) because it's still one of the best beaches on the planet. From the miles of powder white sand, charming beach and rooftop bars, and slew of water sports like parasailing and jet skiing -- not to mention the unparalleled sunsets -- it's crystal clear why Clearwater always seems to top the "best beaches" lists every year.
Where to eat/drink: If you didn't go to Frenchy's for a grouper sandwich, did you even go to Clearwater Beach? The answer is no. Also, if you leave without taking in sunset and a Mai Tai from the famous rooftop lounge Jimmy's on the Edge you will experience major FOMO.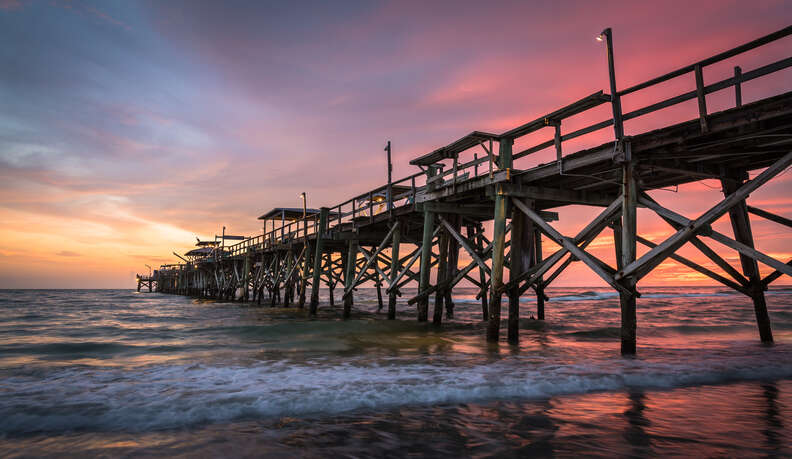 Redington Beach
A beach town where everybody knows your name (even when they don't)
People often assume "St. Pete Beach" makes up every inch of sand in Pinellas County. But in reality, the coast is lined with pockets of different beaches like Madeira, Indian Rocks, and one of its stand-outs, Redington. The main reason for its awesomeness is, unlike the more mainstream St. Pete Beach, it's extremely low-key. In fact, this is area is primarily residential, meaning it's the perfect place to score a beachside AirBnB when those snowbirds head back north; not to mention, it makes for a far-less crowded beach. It's also just got a great "hey neighbor" feel about it, and is walkable to cool spots like the Seabird Sanctuary -- a hospital that treats 3000 injured birds each year before releasing them back into the wild that's open to the public (and located right on the sand).
Where to eat/drink: Friendly Tavern is a must-stop. Go for the deck beers, buffalo wings and smothered fries…stay for the great crowd and unbeatable karaoke.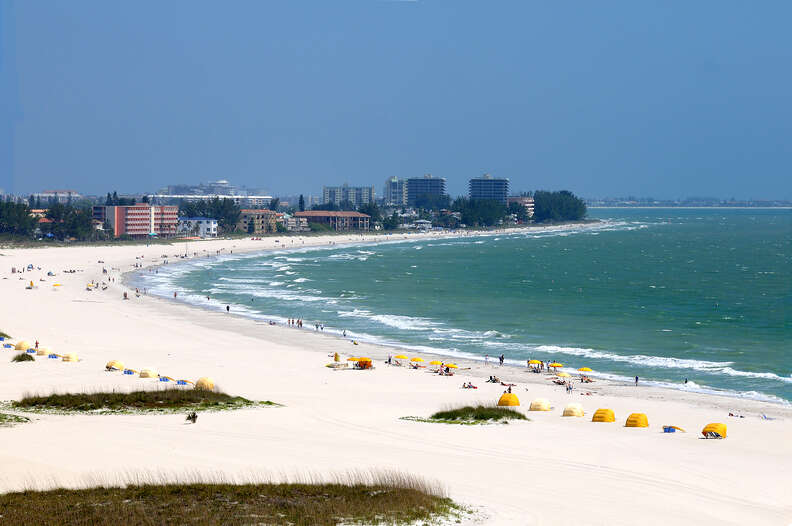 Treasure Island
The perfect beach for all ages to soak up the sun and fun
Treasure Island is the ultimate catch all for a perfect beach day. It's a much wider beach than its neighbors meaning there is far more space to spread out, situate your coolers and chairs, and respective beach games. It's location is very central, there's a giant water slide perched right on the sand (ideal for kiddos), and even on the best days, it's never too crowded that you feel claustrophobic.
Where to eat/drink: Grab a Cuban sandwich at The Floridian (you are in Tampa, after all!) and nearby Ricky T's will satisfy all your umbrella cocktail needs. Or, if you want to go ultimate Florida, the main parking lot for Treasure Island just happens to be located directly across the street from Publix, and therefore, PUB SUBS. Just saying.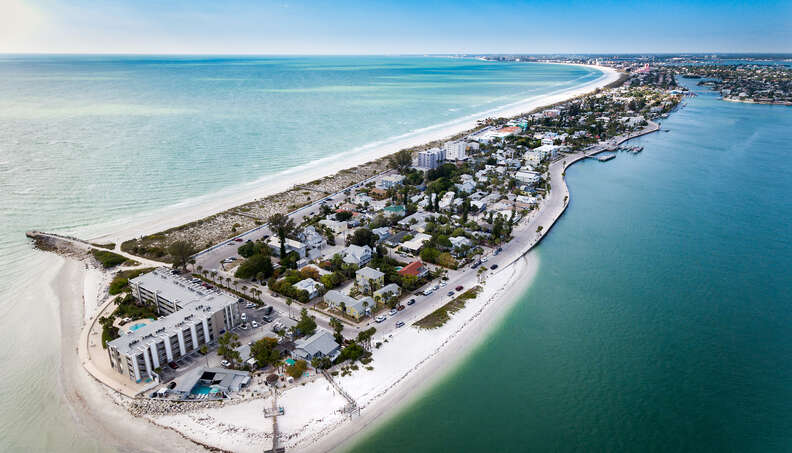 Pass-A-Grille
The rustic "pot of gold" at the end of the beach rainbow
If this list was entitled "Liz's favorite Tampa beaches" (which, honestly, it may as well be), then this would be at the top of it. Maybe because this barrier-island beach is reminiscent of a small surf town; literally a one-block-wide silver from which you can watch boats passing through the channel or hop a shuttle to the untouched Shell Key. Maybe it's because arriving there cruises you past the stunning Don CeSar before winding you through a labyrinth of picturesque beach houses. Maybe it's the rustic sand dunes, charming bars and ice cream shops right across from the sand -- or just the fact you can almost find a parking spot. Most likely, it's all of the above. But to me, nothing beats Pass-A-Grille.
Where to eat/drink: For a real dockside eating experience, look no further than The Wharf: peel + eat shrimp, crab cakes, and rum runners as you watch the boats cruise by is as summer day as it gets. And for a rooftop sunset complete with cocktail and live music, hit up The Hurricane.
Caladesi Island
Your very own version of Castaway
So, here's some trivia meets math for you: Caladesi Island used to be Honeymoon Island -- and vice versa -- because the two islands were once one single barrier island that was split in half during a hurricane in the 1920s. But that's not the only reason I split them on this list. It's also because Caladesi is now only accessible by ferry from Honeymoon Island, and should never be overlooked as it's even more serene in its Castaway feel than its nearby neighbor. Between the two of them, they offer an incredible amount of untouched coastal wilderness, and this breathtaking other half brings it with a protected state park engulfed in crystal clear waters, sand as white as snow, as well as both three-mile hiking and kayaking trails to explore mangroves' natural habitat up close and personal.
Where to eat/drink: Same as Honeymoon, there's not much when you're on the island (perhaps less so since it's only accessible by ferry). My advice: bring along a few snack packs, or hit up Dunedin on the way home.
Pine Key Island (aka Beer Can Beach)
Locals only vibe at its best
No one who lives in Tampa actually calls this place Pine Key, or perhaps even knows that's its real name. Around here, it's just "Beer Can." And while this nickname doesn't necessarily scream pristine, it's one of the city's true gems. The "trashy" name is really derived from the fact this is a known local boaters' hangout. For one, that's the only way you can get there. But more so, because it's an excellent place to thrown down the anchor before throwing a few back on deck, or on the sand -- that just also happens to include a "floating" tiki bar. Sure, it's a non-operational one -- there's no zoning for that (at least yet!) on this little 11-acre island -- but it really adds to the "no rules" vibe Beer Can has always seemed to maintain.
Where to eat/drink: Whatever you want! Because, well, you have to bring it. Unless you're a fast swimmer, there's nothing commercial nearby. But this is a great place to BYO-picnic.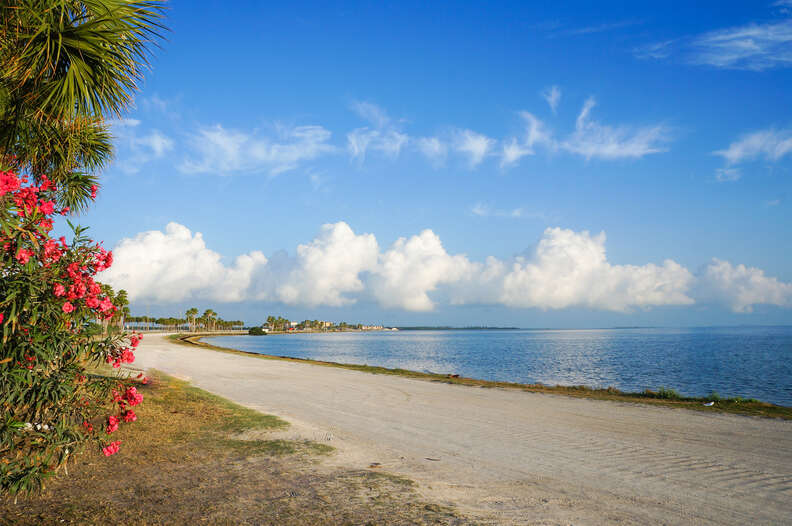 Honeymoon Island
A tranquil slice of heaven just a hop skip from charming Dunedin
Let's get the obvious out of the way: this natural barrier island has a long history of being romantic as hell; it actually got its name from a 1930s Life Magazine contest for newlyweds to win a two-week honeymoon stay on the island. And nearly a century later, it's still one of the most visited state parks in Florida due to its four miles of untouched beach, famous "Osprey Trail" along which you can spot endangered wildlife and ecosystems, and even a dog beach. Bikers will also love the fact the famous 30+ mile Pinellas Trail winds the length of the Dunedin Causeway directly to the Honeymoon Island State Park entrance.
Where to eat/drink: On the actual Island, it's slim pickings -- but just over the bridge is Dunedin which is packed with cute cafes and breweries. Down lobster rolls at Lucky Lobster Co., local brews at Dunedin Brewery, before indulging with hand-churned ice cream in a homeade waffle cone at Strachan's.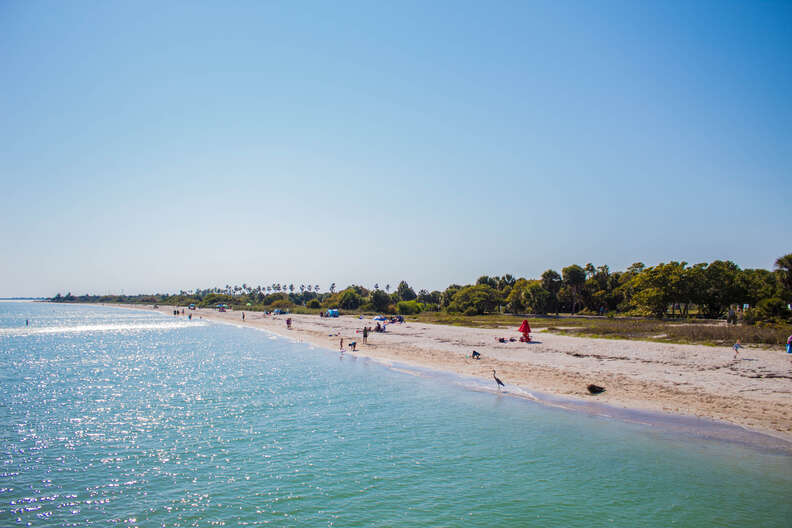 Fort DeSoto
Historic Old Florida meets remote bliss
Fort DeSoto is more than 1,000 acres of absolutely untarnished, rustic, incredible Florida wilderness. Is it a beach, national park, historical landmark, or a museum? It's all of the above, really. Depending on which spot you pick to set up shop, it's an entirely different experience. First there's the 7 miles of beach (and the water every which way is always a gorgeous sky blue). There's also a couple fishing piers, extensive trails winding through the area's five interconnected islands, plus plenty of areas for a secluded picnic under a palm tree. And no matter what, don't miss the1898 Spanish-American War fort, which was once inhabited by Tocobaga Native Americans. From there, you can also can hitch ride via ferry to the completely serene and uninhabited Egmont Key, where troops were once stationed during the Civil War, to explore abandoned houses, go shelling, and spot tortoises before diving in with a snorkel to uncover treasures around old shipwrecks, and if you're lucky, playful dolphins.
Where to eat/drink: Not going to lie to you: there isn't a whole lot around Fort DeSoto, thus the basis of its beach appeal. For food, your best bet is to pack your own coolers -- there are also designated grills in the picnic areas. You can also hit up a concession stand truck for drinks, snacks, and ice cream.
Sign up here for our daily Miami email and be the first to get all the food/drink/fun in town.
Liz Newman
is a contributing writer for Thrillist.