The Best Spas in Miami to Unplug and Unwind
You deserve it.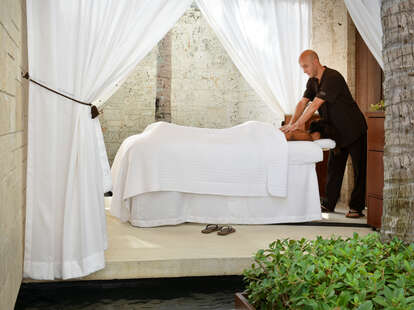 Photo courtesy of Valmont for The Spa at The Setai, Miami Beach
Picture this: you're away from your phone and computer, wrapped in a plush robe, sipping warm tea as you wait for your massage therapist to retrieve you from a zen-filled relaxation lounge. Seriously, there's nothing better than treating yourself to a spa day, and in a bustling city like ours, chances are you could use something that will leave you feeling peaceful and relaxed.
Whether you need to sweat our last night's martinis in a Turkish hammam or want to be a little extra glowy for your next date night, there's a spa (or two) around town that has exactly what you need on the menu. From fancy hotel spas to more affordable neighborhood favorites, here are seven spas worth checking out in Miami.
Aventura
Located inside the JW Marriott Miami Turnberry Resort, this spa spans three floors with several treatment rooms, a full service salon, and a huge fitness center. From the moment you step into the locker room you're greeted by friendly and knowledgeable staff who will give you a tour of the facility before escorting you to a locker where you'll find the coziest robes in the game. Treatments range from traditional massages to detox therapy to body wraps and electro sound lymphatic drainage. Plan to arrive early or stay late (or both) to enjoy the soaking area, Himalayan salt room, and music therapy steam room.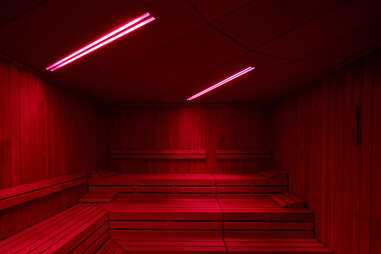 Miami Beach
The largest luxury spa in South Florida, this 70,000-square-foot space is perfect for the ultimate day of treating yourself. Not only is there a long list of treatment options, but booking a massage here means you'll get access to all of Carillon's amenities. Plan a full day around this visit as you'll want to check out the experiential rain showers, igloos, foot baths, Finnish showers, crystal steam food, vitality tub, and herbal laconium. And that's just what you'll find in the locker rooms—there's also a three-story rock climbing wall, two pools, and beach chairs waiting for you on the sand.
Coral Gables
If you're looking for a no-frills, affordable massage, this is it. The space is bare bones and dark, but you don't really need an appointment and the prices are right. From hot stone massages to hour long foot massages that start with a little neck and shoulder action before you sink into a large recliner and have pressure point in your foot activated, you'll leave here tension free and totally relaxed. Don't shy away from letting your masseuse know how you like your pressure—they tend to be on the stronger side.
Little Havana
Get your glow on with a facial at this Little Havana hidden gem. Offering facial cupping, a buccal massage (where they place their hands in your mouth and massage from the inside out), gua sha facials, and even an express facial offering that will get you in, out, and glowing in less than 30 minutes. Cozy, clean, and quiet, Habits Skin Lab is that midday treat your face deserves.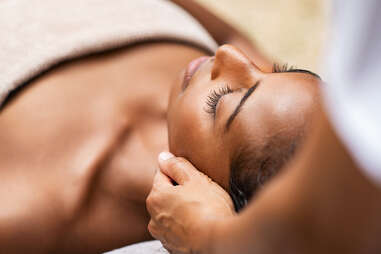 Wynwood
Situated right off bustling Wynwood's main drag is a special sanctuary that's dedicated to making your face feel its best. Each facial is customized to your skin because estheticians know that no two faces are alike. Using only clean beauty products, you can opt for express, signature, superGlow, and superDetox treatments that each come with non-pushy recommendations to treat your skin. If you're on the hunt for routine facials, they've got a membership program that offers discounted treatments and products.
Belle Isle
Far from being just standard, this spa recently completed a massive renovation that left it shiny and new—and even more popular among locals. With customizable treatments meant to work through your body's specific needs from body wraps to hydrotherapy, The Standard Spa has it all. Plus you'll have access to the Turkish-style hammam, Roman waterfall hot tub, Finnish sauna, mud lounge, arctic plunge, and infinity pool. With all that under one roof, it's pretty clear why their membership program is a local favorite.
Miami Beach
With a limited number of treatment rooms, this spa makes sure every single one comes with a view of the ocean or The Setai's gorgeous pool deck. Most of the rooms can accommodate couples, making it one of the more romantic spas in Miami with a large soaking pool. Using ancient Balinese and Thai massage techniques paired with state of the art skincare products, the treatment menu includes over a dozen massage options like deep tissue, athletic vitality, full body exfoliating, and more.