Photo courtesy of Brightline
Photo courtesy of Brightline
All aboard, y'all! It's Trains Week at Thrillist. In celebration of our borderline obsession with trains—fast trains, slow trains, wine trains, even snow trains (and, no, not the Snowpiercer kind)—we're dedicating our site to all things trains. Throughout the week, you'll find stories and guides that'll make you want to buy a ticket, promptly change your status to "choo-choo," and meet us in the bar car for a bucket list-worthy locomotive adventure.
To all of us in Miami, Orlando may as well be Canada. It's not that the city is cold and has a strange obsession with Tim Horton's—it's that the effort required to get there can feel more tedious than traveling to Toronto. Just over 235 miles separate Florida's two most popular destinations, but the stretch of paved swampland that sits between them is a painful purgatory of traffic and thunderstorms. What should be a three-hour drive is stretched to five if the wrong drivers are on the road (which they always seem to be).
Flying isn't much better, as the bulk of your transit time is spent getting to the airport and waiting in security lines. And you have just enough time during the 35-minute flight to open your laptop before the flight attendant tells you to put it away. No matter how you get there, going to Orlando requires a lengthy travel day. So whether you're traveling north for business or want to visit the Mouse, there's a serious barrier.
But Brightline—our sunny, citrusy, high-speed train that's making quick trips to West Palm and beyond a reality—is trying to change all that. By the end of this summer, the route will finally get its crowning leg with service between South Florida and Orlando. The three-ish hour trip will cost about the same as a flight ($79 in Smart class), but will allow you to work, binge shows on Netflix, or sip chardonnay as you coast up the peninsula. Brightline hopes this will close the gap between cities and change the way our state—and the millions who visit it—think about traveling in Florida, but can we all get on board?
High speeds and high-end amenities change perception
"We have this perception that cars equal freedom," Brightline President Patrick Goddard muses as he presides over the ribbon cutting at the sparkling new Orlando station. That's because getting into a car and hitting the road is easy, and problems only arise once you hit traffic or struggle to find parking, he says.
"The friction on a train is at the front end. How do I get to the station? Or how do I get from the station to my final destination? Once people start to get past that, they understand the intrinsic benefits of train travel versus driving."
Aside from the whole fewer-cars-on-the-road thing, the intrinsic benefit of train travel is it allows you to sit back and relax en route to your destination. But since many Americans' only experiences with train travel are the oft-delayed Amtrak and regional rails in the northeast, changing that perception is an uphill climb.
On its mission to change the way we think about train travel, Brightline started with its staff. Goddard came with over a decade working in hospitality, and he says the company aims to approach its business more like a boutique hotel with a platform than a train station.
"People wonder why a hotel guy is involved in a train," says Goddard. "It's because we care about the experience, not just the commodity of transportation. We want people to walk through those doors, and be stress free."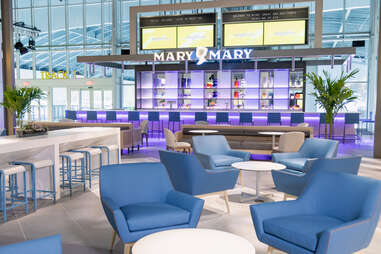 The rest of the luxury comes through amenities. The boarding lounges are sleek and modern, with oversized, cushy seats and power outlets and USB plugs at every turn. Premium lounges offer free drinks, including a high-tech Tended Bar system, where you can mix your own cocktail on a touchscreen and take your first sip in under a minute.
Once you're on board, the seats are larger than first class airplane seats, large leatherbound luxury chairs with oversized tray tables and more outlets. There's free WiFi too, and a cart rolls through offering cold drinks and light snacks. Even when the train has to slow down or stop, you never mind the delay because the world Brightline's created is one you don't want to leave.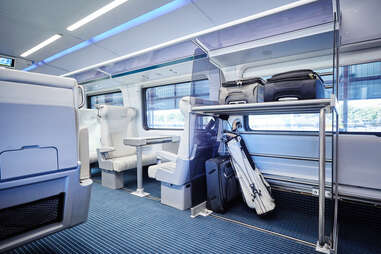 Connections turn Orlando into Florida's front door
Even while opening routes through Aventura, Boca Raton, and West Palm Beach, Orlando has always been Brightline's endgame.
The high-speed rail estimates there are more than 35 million trips between South and Central Florida each year. If that's even close to accurate and Brightline can capture even 10% of those trips, the train will be a roaring success. Though much of that success is dependent on getting both visitors and Floridians to think of South and Central Florida as one destination, and Brightline as the figurative road through it.
The northern terminus of that road is Brightline's new Orlando home, a high-tech masterpiece that's a short walk through the parking garage from Orlando International Airport's terminal C and a five-minute train ride to the rest of the airport. The station makes MCO connections easy, and Greater Orlando Aviation Authority CEO Kevin Thibault says intramodality was always the airport's master plan.
"We're sitting on 12,000 acres here. To give you perspective, you could fit MIA, LAX, and JFK in this footprint," he boasts. "So back in the '70s, the forefathers of this airport planned this as a multimodal hub for the state. [Brightline] is making that a reality, so whether your destination is Miami or the rest of South Florida, you're basically saying, 'Welcome to Florida,' right here."
"You're basically saying, 'Welcome to Florida,' right here."
The ease of connection doesn't just apply to visitors. With a clean, smooth three-hour connection from downtown Miami to MCO and two hours from West Palm Beach, the train effectively could turn Orlando into a fourth South Florida airport.
"We have 34 airlines with 150 direct connections out of this airport," Thibault says. "And we're not held by a major carrier monopolizing the whole thing. So if you're in Miami and you want to go see your Aunt Sue in Kalamazoo, but the only direct flight to Kalamazoo is from Orlando, you can take the train to Orlando and not have to connect."
The reverse, he acknowledged, is also true for people in Central Florida who want to take advantage of MIA's nonstops to Latin America and the Caribbean. It also opens up the region for international visitors, many of whom are accustomed to taking trains from major airports to other large destinations.
"In Europe and Asia, it's extremely natural to have this type of connection ," he says. "Now you're providing them with an environment they're comfortable with, so it opens up the whole state."
Getting the rest of the state on board
Brightline's convenience isn't solely for visitors or departing locals—it can be a revolution in how Floridians travel within their home state, too.
That revolution has already started in South Florida, where ridership has doubled since the train debuted in 2018, and people regularly make leisure trips between cities because driving is not involved. The hope is, that attitude extends to greater Orlando.
"We've seen such success in people coming up from Miami," says Lindsey Wiegmann, PR director at Discover The Palm Beaches. "We expect the same coming out of Orlando. It allows us to capitalize on the international flights to Orlando, and maybe people want to spend some time in a theme park, then pop down for a couple days at the beach. And we're only two hours away."
Business between the regions may get easier too. Orlando Economic Partnership CEO Tim Giuliani says the convenient train connection opens his region up to the financial markets in South Florida.
"Miami's a financial center, and so it will connect the huge workforce we have here to that financial center in Miami," he says. "It then allows those Miami startups, those finance companies, VCs, to get better access into Orlando. So I think it's a win-win for South Florida and for Orlando."
Of course, Brightline is privately owned, and starting a similar service in other regions would require someone with deep pockets willing to make a multi-billion dollar investment. Therefore whether Brightline is able to revolutionize transportation in America remains to be seen. For now, the train is satisfied in making Orlando feel closer than it ever has—or, at least, a little closer than Canada.
Matt Meltzer is a Miami-based contributor for Thrillist, veteran of the United States Marine Corps, former pageant judge in the Miss Florida America system, and past contributor to Cosmopolitan magazine. Matt graduated with a BBA from University of Miami and holds a master's in journalism from the University of Florida. He currently lives in Miami with his Betta fish, Bob.