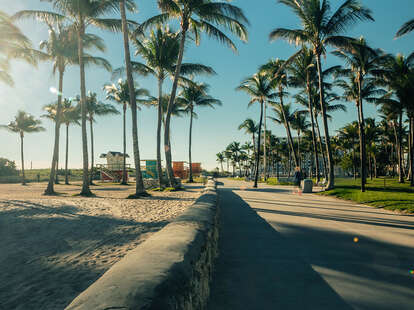 For most visitors, Miami brings to mind sexy beaches and legendary nightlife -- both as much fun as you've heard, but residents know this city has plenty more to excite you. To bring you the most spectacular oceanfront paradise experience, we took some local suggestions for the best stops in 12 Miami neighborhoods and created a day trip guide to each. By the end, we won't be surprised if you're inspired to extend your trip.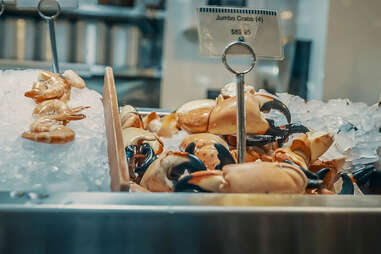 When you imagine Miami, you're really imagining South Beach: Art Deco buildings, beautiful beaches, and, yes, equally beautiful people. You really have to make at least one pilgrimage to Joe's Stone Crab, a SoBe institution serving Florida seafood classics for decades. But don't make a reservation -- instead, head to Joe's Take Away, the adjacent counter (reopening August 1) for the same iconic stone crabs and key lime pie. Pack extra napkins, though, because you're taking this picnic to a WALLCAST at the New World Symphony, where concerts are projected onto the side of New World Center, in the middle of SoundScape Park, viewable for free.
Wynwood is one of the biggest culture centers in the country. It's a neighborhood known for its street art, so take a tour of the Wynwood Walls. The best way to do that? Pub crawl. The Wynwood Local Beer & Graffiti Art Tour will show you two scenes at once as you tour both murals and craft breweries. Or follow your own path, and after absorbing all that art, tuck in at Vera Sur or Concrete Beach for a locally brewed pint. All that walking works up an appetite, so check out the food truck scene at The Wynwood Yard. It's an outdoor pop-up with everything from healthy vegan bowls to indulgent mac & cheese dinners, and on Friday nights a "Taste of The Yard" pass will grab you a sample at each truck for $25. You'll often find dance action here, too, as DJs and bands play regularly. If you'd rather beat the heat than your feet, the O Cinema nearby screens films from Back to the Future anniversary parties to local production premieres.
Downtown Miami's new residential scene has made a walkable, historic part of the city -- home to cultural sites and century-old buildings to enjoy by day -- worth sticking around to hang out with the after-work crowd. Here, you'll find the Perez Art Museum Miami (aka PAMM) and the Frost Science Museum, dedicated to all things science-minded -- as well as Stranger Things laser shows. After wandering through their air-conditioned exhibits, head to La Centrale, a 40,000-square-foot Italian food hall where you can dine in, or pick up a few ingredients to make dinner yourself.

Who needs to visit Cuba when this historic Miami neighborhood recreates it right here? There are cigar rollers on the sidewalk. There are open-air fruit markets. There are cafecitos -- which you should enjoy at Versailles, the landmark Cuban restaurant on Calle Ocho that has acted as a pseudo-town center for Cubans in Miami for years. That pick-me-up should give you enough energy to hit the dance floor at Ball & Chain, a local music venue playing both live jazz and salsa. Finish the night with helado at Azucar, which serves 24 flavors daily -- but you're definitely not getting vanilla. Instead, opt for the guava and cream cheese, dulce de leche, or pineapple and sugarcane to cool off.

To get a true sense of the area's Afro-Caribbean culture, food, and history, Little Haiti Cultural Complex is the place to kick off the day. Here, Haitian art is celebrated in ceramics, folk dancing, and more. You can explore the ongoing exhibits during the day, but it's also home to one of Miami's best night activities: the Sounds of Little Haiti, where dancing, art sales, and tons of Creole food converge (for free!). On Saturdays, head to the Caribbean Marketplace to shop through even more creations from local vendors, like housewares and fashion accessories. Afterward, Chef Creole is the spot for lunch -- this local joint has spread throughout the city, but the Little Haiti location is the original, serving up queue boeuf, griot, and fresh seafood.
Get your bearings with a tour of the North Beach "Miami Modern" architecture for a lesson in modern design. Mid-Beach is home to Faena; one of the most talked-about hotels in Miami is also an entertainment venue hosting cabarets like "Sensatia" -- a circus-like show combining acrobatics, live music, and more into a complete sensory experience. For dinner, you won't want to miss The Grill at Bal Harbour, where beef is the right call: burgers, steaks, short rib, and French dip sandwiches are all acclaimed dishes here, but don't worry, vegetarians: You'll flip for the grilled artichoke.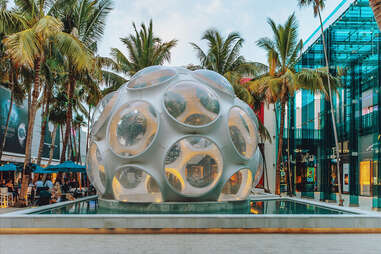 The Design District is your destination for funky art galleries, haute design, and the city's best shopping. Here, even former post offices and warehouses are being redesigned as art. Your first stop? The Institute for Contemporary Arts, where you'll find contemporary modern art, including massive outdoor sculptures. Then check out The Buckminster Fuller Fly's Eye Dome for an architectural bent on trippy futurism. Now that your head is full of creativity, fill your hands with same by browsing labels like Christian Louboutin, Prada, Louis Vuitton, and Hermes, alongside eclectic home decor shops with vintage fridges. Don't worry if you get a little spendy, because dinner is at St. Roch Market, a chic food hall that provides something for everyone.
South Dade, surrounded by Biscayne Bay and the Everglades, is full of farmland, producing tropical fruits and wines. But first you need to see the Coral Castle. Ed Leedskalnin spent 28 years turning 1,100 tons of coral into a complete sculpture garden -- all by hand. After lighting up your social media with photos, taste locally-grown exotic fruits at Robert Is Here, a fruit stand that's been selling star fruit, papaya, and pineapples alongside Key lime hot sauces and guava butters since 1960. Cap off the day with a tour of Schnebly's Redland Winery, and watch the sun drop from a Tiki hut or communal picnic table, as you sip outlandish fruit wines, such as lychee.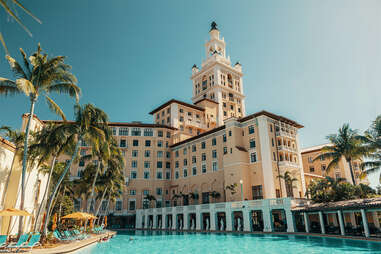 As one of South Florida's oldest cities, this little slice of European paradise offers streets filled with Mediterranean-inspired architecture… and also a bustling nightlife and restaurant scene. First thing, head to Books & Books -- it's a bibliophile's dream, with plenty of cozy nooks to curl up in. Take your poolside reading to the swanky Biltmore Hotel, home to the East Coast's largest pool. Cabana rentals start at $160 for the day and include a flat-screen TV, two chaise lounges, and poolside cocktails service. If you're keeping your spending in check, head to the Venetian Pool -- a public swimming area dug out from a coral rock quarry and filled with spring waters from a nearby aquifer. Caves and waterfalls surround it, and entrance is only $15-$20 depending on the time of year.
Before Miami was Miami, there was Coconut Grove: a village with a boho vibe along the Biscayne Bay. It's been attracting artists, musicians, and a few business tycoons since the 1800s. Shake A Leg Miami offers basic instructions on stand-up paddleboarding plus a board rental for $25. After working up an appetite (seriously, SUP can be a workout) head to the Greenstreet Cafe to see why the locals flock here for brunch. (They also flock here for drinks and late-night bites, if you prefer.) Order the Nutella-filled French toast -- you've earned it, after all. Before you leave, the historic Vizcaya Gardens deserve a photo opp -- it's a century-old estate with 10 acres of manicured gardens to wander.
Historic Overtown is at the center of Miami's black history, and a vibrant and vital aspect of the city. Here, musicians and artists like Aretha Franklin, Count Basie, BB King, and Ella Fitzgerald performed at the Lyric Theater -- in operation since 1913. You can also catch "Lyric Live" -- a monthly show hosted by the Black Archives every first Friday featuring local comics, live bands, and DJs in a variety show setting. If you're coming to the neighborhood on a Sunday, long-standing staple Jackson Soul Food is at its busiest and tastiest -- and you may even spot a celeb. Don't leave without visiting the extremely important (and relevant) Black Police Precinct and Courthouse Museum.
Just south of Miami you'll find the Everglades: 1.5 million acres of marshland that are home to some of the most interesting (and endangered) species of wildlife in the country. Yes, that means there are gators here (both in the waters and on local menus) and the best way to see them is with an expert. For that, turn to the Dragonfly Expeditionary Club. Biologists and naturalists guide a wading tour through clear waters to see native orchids and cypress domes. It would take you a lifetime to see it all, but Coopertown Airboat rides will give you an en excellent overview at high speeds. You can also hike through Shark Valley, a National Park with a 45-foot observatory tower that will allow you to see the true reach of this expansive region. Then, stop at the Miccosukee Indian Village to explore the history and artifacts of the native tribe that still calls the Everglades home.
Those who enjoy a more detailed look at nature should float through Biscayne Bay to the northeast of the Everglades. Kayaking Biscayne National Park is a great way to luxuriate amidst tropical beauty, but you can take a deeper look in an equally relaxed manner by snorkeling among the coral reefs and shipwrecks. Taking it easy is a way of life once you drop anchor at Key Biscayne, so leave a little time for strolling the Miami Seaquarium and then resting at one of the many sunset view restaurants. You've earned this relaxation.
Even after all that excitement, you're only at the start of the fun Miami offers. Since cataloging it all would take an entire website, you're in luck; you can find exactly that at MiamiandBeaches.com, so you can start plotting your next adventure once you complete these ones.