Here's the thing about nights in Miami: They never cool off. The same blanket of sultry humidity that engulfs the city by day sticks around for the after party, only this time it's joined by a circus of neon lights and bars that don't close. While the days in Miami might be beautiful, the nights are what make it Miami. A hot, sticky, anything-can-happen playground ruled by hustlers, credit-card millionaires, and college-educated courtesans.

A night that starts with mojitos on Calle Ocho somehow finds you eating the best barbecue of your life with a local rapper outside a strip club in Opa Locka. Or what began as rooftop drinks in Brickell will turn into an invite to Italy on a private jet and end with a sunrise from a yacht near Fisher Island.
Of course, our city has grown up from its party-til-you-die reputation, and while you can definitely still have your rage-til-sunrise nights, you can also try cocktails from the best bartender in America, tour through one-act plays in shipping containers, or eat a five-star dinner at midnight. Whatever your flavor, Miami has it for you. And here's where to find it.
Wynwood
South Florida Bingo isn't just for Boca blue-hairs! Every Wednesday you can stop into Miami's most colorful cocktail bar and play Bingo with Miss Toto -- a fabulous drag queen with biceps the size of your head. Prizes include drinks, cash, or prizes from Shinola and other nearby Wynwood businesses.

Brickell
Perhaps the biggest drawback to Miami -- other than its drivers -- is that it's completely flat. The only way to get an elevated vantage point is to literally take an elevator… 40 floors up to the top of the East Hotel. There you'll find Sugar, an Asian garden with craft cocktails and views all the way from the Everglades to South Beach, where you can take in the colors of the city from its highest publicly-accessible vantage point.

Dania/Miami
Perhaps the only thing more '80s-Miami than pastel suits and perpetual sniffles was jai alai, a game that involves hurling a ball at a wall using a sickle-shaped basket at hundreds of miles an hour. Patrons go, enjoy $1 beers, and bet on who they think will win… kind of like horse racing but way more fixed. It's making a comeback in 2019, with South Florida's first new frontons opening at Calder and Magic City Casino.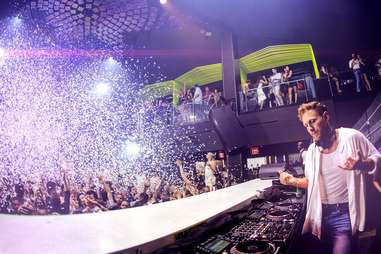 South Beach
If there's one thing Miami is synonymous with, it's clubs full of beautiful models, A-list DJs, and people dropping more on a bottle of Grey Goose than they did on their car payment. LIV and Story are the stars of Instagram, but if you're planning to go, take heed: Groups of ladies should be able to get in no problem. Rolling six dudes deep? It may be a long night in front of the velvet rope.
Eat dinner at midnight… or 5am!
Citywide
One of the wonderful advantages of living in a Latin American city is that dinnertime tends to skew late. Which means most of our best restaurants are not only open until midnight, but they also don't even get busy until 11pm on weekends. That said, if you find yourself hankering for a second dinner, bars like Sweet Liberty and The Anderson offer restaurant-quality food well into the wee hours. And you can never go wrong with late-night staples like La Sandwicherie and Big Pink.
Hit a taco shop with a secret speakeasy
Citywide
Sometime around 2015, someone changed the Dade County Code to stipulate that any new taco shop required a "secret" speakeasy in the back serving a massive variety of tequilas and mezcals. At least that's how it seemed, because since then we've seen Bodega, two Coyo locations, Tacocraft, and El Santo with tequila dens behind nondescript doors. Oh yeah, and Taquerias el Mexicano in Little Havana with a bar behind its upstairs "candy shop."
Downtown
If you've never heard of Microtheater, it's a popular Spanish concept where people perform short plays inside makeshift theatres made from shipping containers. Tickets for each show cost only a few dollars, and you hop from show to show, sipping cocktails in the grassy courtyard in between. Miami's version is mostly in Spanish, but offers some shows in English too.
Little Havana
Yeah, Calle Ocho can run a little touristy. But usually by nightfall the busses have left and the streets fill up with people looking for a little slice of Cuba on the U.S. mainland. Here you can stroll down the street, grab a fresh-rolled cigar and a mojito from a streetside bar, and dance to the live bands and Ball & Chain and the Cubaocho Museum. Then grab a Cuban coffee at any ventanilla and get ready for round two.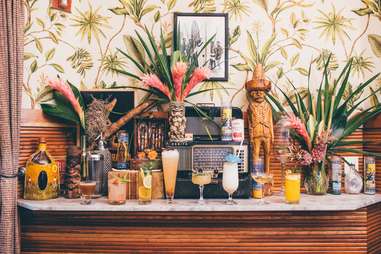 Sample some of the best craft cocktails in America
Citywide
Though our city gets a rep for $20 vodka-sodas and $12 light beers, we're also home to some of the most creative bartenders in America doing stuff you won't see anywhere else. Get a drink at Café la Trova, run by Tales of the Cocktail's American Bartender of the Year Julio Cabrera, for some mind-bending takes on Cuban classics. You should also say hello to Wil Thompson at Jaguar Sun downtown. Or if you're visiting, walk over to the Freehand Hostel in Miami Beach and have a drink outside at Broken Shaker.
South Beach
Stuff like "health" and "plans for tomorrow" went out the window the minute you decided to go out in Miami. So never mind the smoke and belly up to the bar at Mac's Club Deuce, where happy hour might start at 8am but drinks are still reasonably priced at night. It's a constant cross section of hustlers, tourists, club-goers, and shady characters. Just don't be surprised if you look up and realize you've somehow been there for four hours.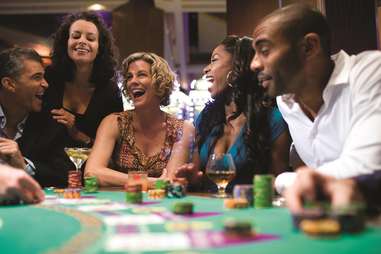 Hollywood
Drop yourself onto the floor at the Seminole Hard Rock Hotel and Casino in Hollywood and you'd think you were somewhere in Las Vegas. The massive sea of slot machines, poker tables, and lively bars make it one of the most exciting casinos in America. It also hosts frequent concerts, comedy shows, and boxing matches, and later this year will have a whole hotel shaped like a guitar.
Downtown
There's really nothing quite like kicking off a Friday night by enjoying a fine, minty-tasting chocolate product and watching a bunch of lasers jump around to "Dark Side of the Moon". Our gleaming new Frost Museum of Science offers part of that opportunity every other Friday with its Laser Evenings, which in addition to Pink Floyd laser shows also features everything from laser Michael Jackson to laser Beyonce.
Pompano Beach
If you've never heard of harness racing, it's a little like Ben Hur; except instead of racing to a crowd of screaming Romans, these chariots are racing in front of a crowd guys in polyester shirts who moved here from White Plains sometime in the 1980s. That said, it's still an exciting way to bet on horses under the lights at the Isle Casino, and one of the few tracks left in America where you can catch this lost art.
West Dade
It's hard to believe, when you're inching through the concrete canyons in Brickell, that we're less than 20 miles from complete nothingness in the swamp. And creepy as a nighttime drive to the Everglades might be, heading to one of its many campgrounds to lay back and look at the stars is one of the best ways to remind yourself we're not that far from nature. Just, ya know, remember a lot of Off!
Watch the show on Ocean Drive
South Beach
Once in a while, it's fun to play tourist in your own town. Or, at least, see why all the tourists get so excited to come here. So post up with a drink the size of your head at Sugar Factory or grab a beer at The Clevelander, then sit back and enjoy the all-night circus that is Ocean Drive.
Miami Beach
Combining the colorful light of the city nights with the on-water recreation of the daytime, Miami Beach Paddleboard offers a 90-minute SUP tour where your board comes equipped with LED lights. The tour starts at sunset and you'll see the city transform from day to night as the turquoise water glows under you.
South Beach
Sure, what was once a quirky collection of local restaurants and boutiques is now the domain of Lululemon and H&M. But it's still a beautiful pedestrian mall filled with human statues, musicians, robots, and enough other street artists to keep you just as entertained as anything in that Apple Store.
Sample the city at one of our many food halls
Citywide
Three years ago, the closest thing we had to a "food hall" in Miami was the bounty that is the Dadeland food court. Now you can't park your car without finding a food hall full of some of the city's best restaurants, headlined by the TimeOut Market and Lincoln Eatery in South Beach, St. Roch Market in the Design District, The Citadel in Little Haiti and 1-800 Lucky in Wynwood.
Downtown
It's not a REAL night out in Miami unless someone, at some point, at least suggests going to E11even. And why not? Where else can you stroll in at 3:30am, stand next to an indiscernible pro athlete at the tip rail, tuck dollars in a dancer's g-string, probably see Rick Ross do a couple songs, then confusingly walk out $450 poorer as the sun rises over what's left of your dignity?
SoFi
You'll either feel a lot better, or, like, exponentially worse after a long night out, if you head to South Pointe Park and watch the sunrise. Enjoy the light purples and oranges creeping up from the horizon from the waist-deep ocean water, or sit on a hilltop with views of the flickering skyline and try and forget there are people getting up to exercise.
Sign up here for our daily Miami email and be the first to get all the food/drink/fun in town.
Curt Hollingsworth is a writer in Miami who's seen way too many sunrises after nights out meeting C-list celebrities, spending way too much on tequila sodas, and getting offered yachts at "discount" prices.