With more than 1,000 miles of glistening, crystal clear coastline in Florida, the Sunshine State has its fair share of bridges. They make the lives of thousands of Floridians easier, providing shortcuts through the state's water-clad landscape. But more importantly, they are the greatest way to get a glimpse of Florida's most beautiful sceneries. Think of it as a real-life version of your phone's panorama setting. Whether you're sitting in traffic or traveling specifically to a nearby bridge, keep your camera close by for some serious #LandscapePorn.
Broad Causeway
North Miami Beach
Every few miles, there's another bridge that connects Miami's mainland with the beach. But over the years, the scenery has changed. Often with high-rise skyscrapers obstructing oceanfront views. That's why there's Broad Causeway. As you ride from into the Surfside/Bal Harbour area, catch one of the last open views of the Miami coastline.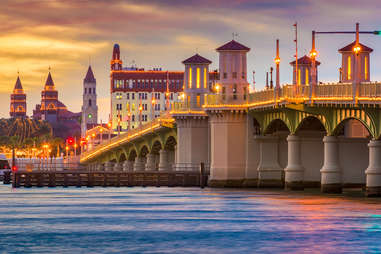 Bridge of Lions
St. Augustine
Guarded by a pair of marble sculptured lions, this double-leaf bascule bridge is a staple of historic St. Augustine, offering a link between the Matanzas River.
Acosta Bridge
Jacksonville
Stretching across the St. Johns River in Jacksonville, the Acosta Bridge is known for its blue neon lights, which illuminated the near 100-year-old bridge every night until last year thanks to technical/financial reasons.
Julia Tuttle Causeway
Miami
Driving anywhere near I-95 is a drag. But when your commute includes a trip over the Julia Tuttle Causeway, which connects the interstate in the west with Miami Beach in the east, it's the perfect way to remind you why living in Miami's traffic-fueled paradise is worth it.
Sunshine Skyway Bridge
Tampa
High above Florida's emerald-green Gulf waters, cars traveling across the Sunshine Skyway Bridge appear to soar into the sky. The concrete cable-stayed bridge extends nearly 30,000ft, connecting frequent drivers between St. Petersburg and Terra Ceia through Hillsborough County waters.
Seven Mile Bridge
The Keys
Connecting Florida's peninsula with the Keys, the Seven Mile Bridge guides motorists and pedestrians through a seemingly endless ocean. Built in the early 1900s, the bridge features two side-by-side structures -- one for cars, and one for cyclists and walkers. Once you make it to the end, welcome yourself in a classic Keys manner: with seafood and barrels of cold beer of course.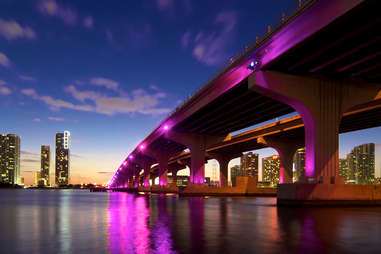 MacArthur Causeway
Miami
This six-lane causeway links Downtown Miami with South Beach via the Biscayne Bay. It's known to harbor traffic, giving drivers more than enough time to take in near 360-degree views of the Magic City.
Buckman Bridge
Jacksonville
More than three miles in length, the east-west bridge carries more than 100,000 vehicles each day over the St. Johns River. It's become so popular over the years that it even has its own Twitter account.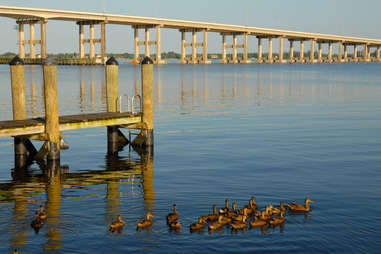 Caloosahatchee Bridge
Fort Myers
Standing at about 55ft, this Fort Myers bridge spans over the Caloosahatchee River, explaining its hard-to-spell name.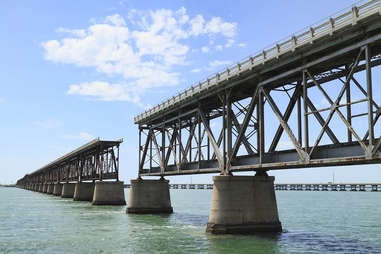 Bahia Honda Rail Bridge
The Keys
Once part of the Overseas Railroad, the bridge was partially destroyed in a hurricane in 1935. Though it was rebuilt, it was later deemed obsolete thanks to a more modern bridge. A few years later, two of the truss spans were removed to ease boat traffic. Today, the easternmost part of the structure still remains and welcomes pedestrians, providing a scenic view of the surrounding area.
Gandy Bridge
Tampa
This bridge was the first to cross the Tampa Bay, cutting the driving distance between St. Petersburg and Tampa from 43 miles to about 19.
Venetian Causeway
Miami
A frequent site for local cyclists, the Venetian Causeway is one of Miami's most bike-friendly paths, which are undeniably hard to come by.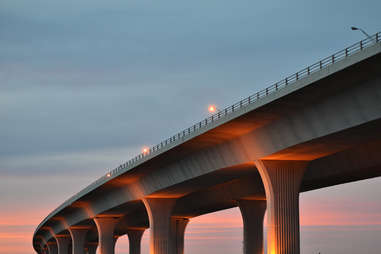 Roosevelt Bridge
Stuart
Crossing the St. Lucie River, the Roosevelt Bridge transformed the sleepy town of Stuart into one of Florida's most quaint destinations.
17th Street Bridge
Fort Lauderdale
Though the 17th Street Bridge was built to ease traffic, it serves as one of the best locations in Broward to catch a picturesque, sunset view over the water.
Rickenbacker Causeway
Key Biscayne
Escape the craziness of Miami's city life with a trip over the Rickenbacker Causeway, connecting Miami's mainland with the barrier islands of Virginia Key and Key Biscayne. It'll make you forget you were anywhere near the tourist-filled, Pitbull-loving city you love to hate.
Sign up here for our daily Miami email and be the first to get all the food/drink/fun in town.
Clarissa Buch is a food and culture journalist who unapologetically drives really slow over scenic bridges #sorrynotsorry. Follow her foodie-adventures on Instagram and Twitter.