Sleep Like a Billionaire at This Surprisingly Affordable Ocean Drive Hotel
The Pelican Hotel, owned by Diesel founder Renzo Rosso, recently underwent a chic restoration with help from the Diesel creative team.
Published on 12/14/2022 at 3:00 PM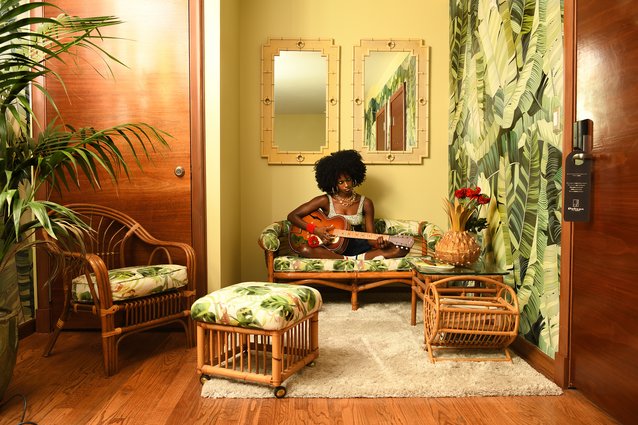 Photo Courtesy of the Pelican Hotel
Billionaire Diesel founder Renzo Rosso purchased the Pelican in 1994 after his plane made an unplanned stop en route to Bermuda, and it's been his home away from home ever since. But when he's not occupying its James Bond inspired penthouse—maybe because he's crashing at one of his other investments, including London's Chiltern Firehouse—the aquarium-walled one-bedroom suite with its oceanview terrace hot tub are now available for overnight bookings.
The Pelican just completed its second renovation after Rosso acquired the hotel more than 20 years ago. The lowrise art deco hotel was in a state of disrepair back then, and Ocean Drive was in flux. There were no towering palms, volleyball courts, or international art fairs out the front door, but the skinny jeans king says he immediately fell in love with the sun-drenched sex and squalor surrounding him. "I saw old people in wheelchairs that were going to die and a beautiful model on the beach—I bought the hotel 48 hours later," Rosso says.
Photo Courtesy of the Pelican Hotel
Rosso reimagined the hotel when the city was in a cultural flux between its 80s Miami Vice-era and before movies like The Specialist and The Birdcage redefined Ocean Drive as a 90s paradise. He tasked members of Diesel's creative team to each redesign one of the hotel's 28 rooms with retro cinematic themes like "psychedelicate" girls and "lust in space," while keeping to himself the top floor residence, which boasts one of the largest balconies on Ocean Drive.
But even back then, Rosso wasn't the most famous fashion figure on the street; his friend Gianni Versace's villa, Casa Casuarina, was one block to the north, and the two men met for breakfast every morning at the iconic News Cafe one block to the south. By the time Rosso's vision was realized, the Pelican served as a living room for even more beautiful people. "All of the Ford modeling agency were downstairs, Helena Christensen, Naomi Campbell…" Rosso says.
Photo Courtesy of the Pelican Hotel
Photo Courtesy of the Pelican Hotel
In recent years, Rosso feared the street had become too commercial, but decided to reinvest during COVID rather than sell and relocate. At the same time, the newly restored Tony Hotel, named for developer Tony Goldman, the man behind the original News Cafe, opened a few doors down.
"Why have a house when you can have everything?" Rosso asked. "When you have a hotel it's better than a house, 24-hour service, everything you want."
Of course, if you can't live in hotels for more than one weekend at a time, Rosso still has you covered. He's bringing the Pelican's same level of service to two Diesel-branded apartment complexes coming soon to Wynwood and Las Vegas.
Photo Courtesy of the Pelican Hotel
In the meantime, you can stay at the Pelican for as little as $219 a night in newly renovated rooms, plus a collection of smaller penthouse suites down the hall from Rosso's. Play out your B-Movie fantasies inside a South American jungle room, or in a mile-high nod to Pan Am's heyday—you'll find the scenes have been staged with impeccably sourced and restored vintage furniture dating as far back as the 1930s. Off set, enjoy easy access to complimentary beach chairs down the block, and an all-new streetfront Pelican Cafe helmed by chef Wendy Cacciatore, who puts a vacation spin on the Emilia-Romagna classics he serves at Nonna Beppa, in Manhattan's West Village, and Via Emilia 9, in Miami Beach, with handheld bites like panzerotto, a cross between a calzone and an empanada.
On opening weekend, the cafe was packed but a police officer debated whether the cafe tables were close enough to the hotel's palm green facade. The issue? There needed to be enough room for wheelchairs to roll down the sidewalk. Another sign it's like the 90s all over again here.
Adam Robb is an investigative reporter and luxury writer based in New York City. His words and pictures have appeared in GQ, The Intercept, and T: The New York Times Style Magazine, among others. He sometimes writes about his misadventures at presstrip.substack.com