The Best Long-Weekend Destinations Near Miami
Sean Pavone / Shutterstock
We live where everyone else vacations, so it's no surprise that during the summer, Miami is packed with tourists. Of course, when that happens, real Miamians want nothing more than to get out of town. Here are nine places where you can escape the chaos of Miami… without being thrown into the chaos of another tourist town (*cough* Orlando *cough*).
ST. AUGUSTINE
Distance from Miami:
313 miles north; 4 hours, 40 minutes
You go to this city for two reasons: history, and because it makes you feel like you're actually in Spain. Founded by the Spanish in 1565, it's the oldest permanent European settlement in North America, which might be a dead giveaway when you see Castillo de San Marcos fort and its weekend cannon firings, horse-drawn carriages driven by locals in old-timey costumes, and the cobblestone roads of the historic downtown area, like the pedestrian-only, shop-lined St. George Street. The culinary scene, beaches, and proximity to world-class golfing are also viable reasons to make the trip. Your weekend will be incomplete without stops at Pizza Time, Michael's Tasting Room, or Columbia Restaurant, and if you cross the Bridge of Lions (regal, eh?) and head south on A1A, you'll find a totally different world: quiet, white-sand beaches lined with 21st-century villas.
Where to stay:
Casa Monica Resort & Spa
puts you right in the middle of the historic district, and its luxe accommodations make you feel like you're the king or queen of Spain.
athlux / Shutterstock
CAPE CANAVERAL
Distance from Miami:
214 miles north; 3 hours, 10 minutes
Let's be honest, you go here for the rockets. Cape Canaveral is less than 20 minutes from the Kennedy Space Center on Merritt Island, but since there's nothing to do on Merritt Island, you'll want to stay in Cape Canaveral. It's a beach town with plenty of fishing, boating, water sports, and fun-in-the-sun to keep you busy for a weekend, but don't forget the real reason you're here: to spend a day at NASA. While there, check out the center's different "Mission Zones" (dedicated to each era of the space program -- Gemini, Apollo, etc.), see if you can pilot a spacecraft in the Space Shuttle Atlantis® simulator, or sign up to attend lunch with an actual astronaut. Then, head back to Cape Canaveral for fish, "Tahiti taters" (it's like a warm potato salad), and live music at Grills Seafood Deck & Tiki Bar.
Where to stay:
Radisson Resort at the Port
because it's right on the beach, offers a "Kennedy Space Center Package" that includes two tickets, and when NASA does nighttime launches, you can see the rockets from the sand.
Alex Couto / Shutterstock
CRYSTAL RIVER
Distance from Miami:
312 miles northwest; 4 hours, 45 minutes
It doesn't get more low-key than Crystal River. This fishing community is mostly known for its manatees because it's the only place in Florida where you can legally swim with -- and touch -- the marine mammals. The river's constant 72-degree temperature attracts more than 800 of the threatened manatees during winter, but from April to September, there are significantly fewer in the area -- which opens up King's Bay for summer boating. On the water, go snorkeling, fishing, and scalloping, or if you want to stay dry, opt for golfing at Plantation on Crystal River or biking along Withlacoochee Bay Trail. And in a town like this, it should come as no surprise that eating seafood is a given. You can get some of the best at Charlie's Fish House, Margarita Breeze, or Cracker's Bar, Grill & Tiki.
Where to stay:
The 232-acre
Plantation on Crystal River
has rooms starting at $123/night, which gives you access to its spa, the surrounding natural springs of Kings Bay, and a quiet, Old Florida experience.
Romrodphoto / Shutterstock
ISLAMORADA
Distance from Miami:
85 miles south; 1 hour, 45 minutes
Head here when you want to get away to the Keys, but you don't want to drive all the way down to Key West. Islamorada (whose name is famously mispronounced: it's "eye-luh-murr-ah-da" not "ees-la-more-ah-da") is just as relaxing and fun as Key West -- minus the half-naked ladies at Sloppy Joe's and tourist photo opp with a giant buoy. Post up at Lorelei Restaurant & Cabana Bar, Hog Heaven, or Marker 88 for fried calamari, grouper sandwiches, and painkiller cocktails, and spend the rest of your day on the water. Stand-up paddle boarding, kayaking, snorkeling, and boating are all huge here, as are sunsets. Get a real Florida experience when you combine all of the above: Hop on your SUP board, paddle past the mangroves and crocodiles in Indian Key Historic State Park, and come back to shore for another painkiller while you watch the sunset.
Where to stay:
Amara Cay Resort
, both because of the oceanfront location AND the swinging chairs in the lobby.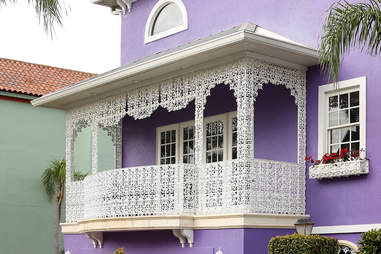 Jillian Cain Photography / Shutterstock
MOUNT DORA
Distance from Miami:
261 miles northwest; 3 hours, 50 minutes
Located 30 miles north of Orlando, this quaint, walkable town looks like one of those Christmas villages you put up during the holidays, minus the wreaths and fake snowmen (unless you visit during the winter). Go here for antiquing, art galleries, boutique shopping, or one of the city's many festivals. Antique fairs and its Fourth of July celebration are the summer's most popular events, and the dining scene is pretty global for small-town Florida. Get English pub grub at The Frog & Monkey, modern cuisine inspired by Florida's diverse heritage at 1921 by Norman Van Aken, high tea at The Windsor Rose Tea Room, Key West-meets-Cuba fusion at Pisces Rising, and everything from classic American breakfast sandwiches to wine and dips at One Flight Up.
Where to stay:
The 134-year-old
Lakeside Inn
is an architectural icon (listed on the National Register of Historic Places) and a popular spot to stay. It's right in the heart of Mount Dora and within walking distance of all the shops and restaurants.
Susanne Pommer / Shutterstock
NAPLES
Distance from Miami:
127 miles west; 2 hours
Sometimes, we east-coast Floridians need to escape to the west coast, and Naples is an easy place to do that. It's trapped between the Everglades and the Gulf of Mexico, and from Miami, it's easily reached via I-75, or basically a straight shot on the slightly longer but more scenic Tamiami Trail, which takes you right through the Everglades and Miccosukee Indian Village. Naples itself appears straight out of a Vineyard Vines catalogue, and you can walk anywhere in this pastel-colored sleepy town. If you're not tanning or boogie-boarding at the beach -- or, like all the men here, golfing -- spend your day on Fifth Avenue South for mid-range and high-end shopping, and stop for breakfast or lunch at Jane's Garden Cafe on 3rd, or late-night Italian eats at gastropub Bar Tulia (which stays open until midnight on weekends). Sunsets in Naples are a must-see, so at the end of your day, join the masses heading to Naples Pier to get the best view. (Pro tip: If you don't like Italian, eat early. Most restaurants here stop serving food at 9pm.)
Where to stay:
Unlike the $300/night hotels right in downtown Naples, the
Trianon Old Naples Hotel
has rooms that start at $139/night on weekends and is located just a few blocks from Fifth Avenue.
Sean Pavone / Shutterstock
PALM BEACH
Distance from Miami:
73 miles north; 1 hour, 15 minutes
There's a reason Mar-a-Lago is here -- Palm Beach is a city built for millionaires. In fact, it's
the third-richest ZIP code in America
. Like a real-life
Stepford Wives
(minus the robots, but possibly with an appearance by Nicole Kidman), the lawns are as perfectly-manicured as the locals' faces, the number of yachts in the water rival cars on the street, and there are boutique hotels instead of high-rises. Its popular shopping street, Worth Avenue, ends at the beach and is Florida's own version of Rodeo Drive. Even if you can't afford to buy what you see, the window shopping and people watching around Gucci, Saks, Chanel, and Lilly Pulitzer is reason enough to go.
Where to stay:
The Brazilian Court
hotel is just a few blocks from Worth Avenue, has Daniel Boulud's Café Boulud restaurant and Frédéric Fekkai's namesake salon & spa, and is a frequent lodging choice for celebrities and politicians. If that's not enough of a draw, consider the perks -- like a chauffeur that will drive you to the beach in a Cadillac Escalade.
LesPalenik / Shutterstock
POMPANO BEACH
Distance from Miami: 37 miles north; 40 minutes
Once you get north of Fort Lauderdale, drive up A1A along the Atlantic Ocean and you'll see throngs of 1970s-built, high-rise condos right on the ocean. Congrats, you've found Pompano Beach! One of the few remaining South Florida beach towns not to be overrun with commercialism, the so-called "Heart of the Gold Coast" is where you go for sport fishing, boating, clean beaches, and hidden foodie gems. Go to The Foundry for its woodfired pizzas, or to Burgers & Suds for the Wilson Burger (it's smothered in mac & cheese and bacon). If you're willing to take a drive, Jaxson's Ice Cream Parlour is about a half-hour away and a South Florida icon. The ice cream sundaes are great, but most people actually come here for their one-pound Artillery hot dog.
Where to stay: Anywhere on A1A -- it's lined with chain hotels and boutique motels, all of which sit right on the sand and have unspoiled views of the Atlantic Ocean.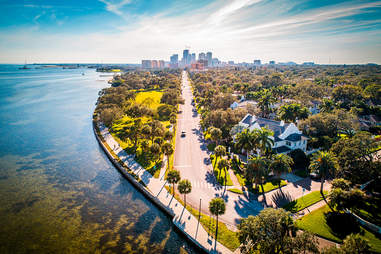 Noah Densmore / Shutterstock
ST. PETERSBURG
Distance from Miami:
267 miles northwest; 3 hours, 50 minutes
Once just a sleepy retirement town, today, this coastal city has everything. There's a strong restaurant and bar scene, weekly farmers markets packed with beach-loving millennials and their dogs, and a St. Pete/Clearwater Craft Beer Trail (breweries in town include Green Bench, Cycle Brewing, and 3 Daughters) where you can taste the regional specialty, Florida Weisse, a traditional Berliner Weisse-style wheat beer fermented with tropical fruit. The art scene is as popular as the beaches; boutique art galleries spill out onto the streets during the monthly Second Saturday ArtWalk, while mural tours and the Dalí and Chihuly museums never disappoint. If you want to hit the gulf, head to St. Pete Beach -- and be sure to check out beach bars like Undertow, The Drunken Clam, and Rum Runners while you're there. And don't even get us started on the food: From smaller joints like Lolita's Wine Market and Karma Juice Bar & Eatery, to food halls like Mazzaro's Italian Market and award-winning chef Michael Mina's Locale Market -- and adjacent FarmTable Cucina -- you'll never go hungry.
Where to stay:
Sirata Beach Resort
, where you have Rum Runners bar on-site, white sand beaches, solid sunset views, and a less than 20-minute drive to downtown St. Petersburg.